Erling Braut Haaland: 2020's Golden Boy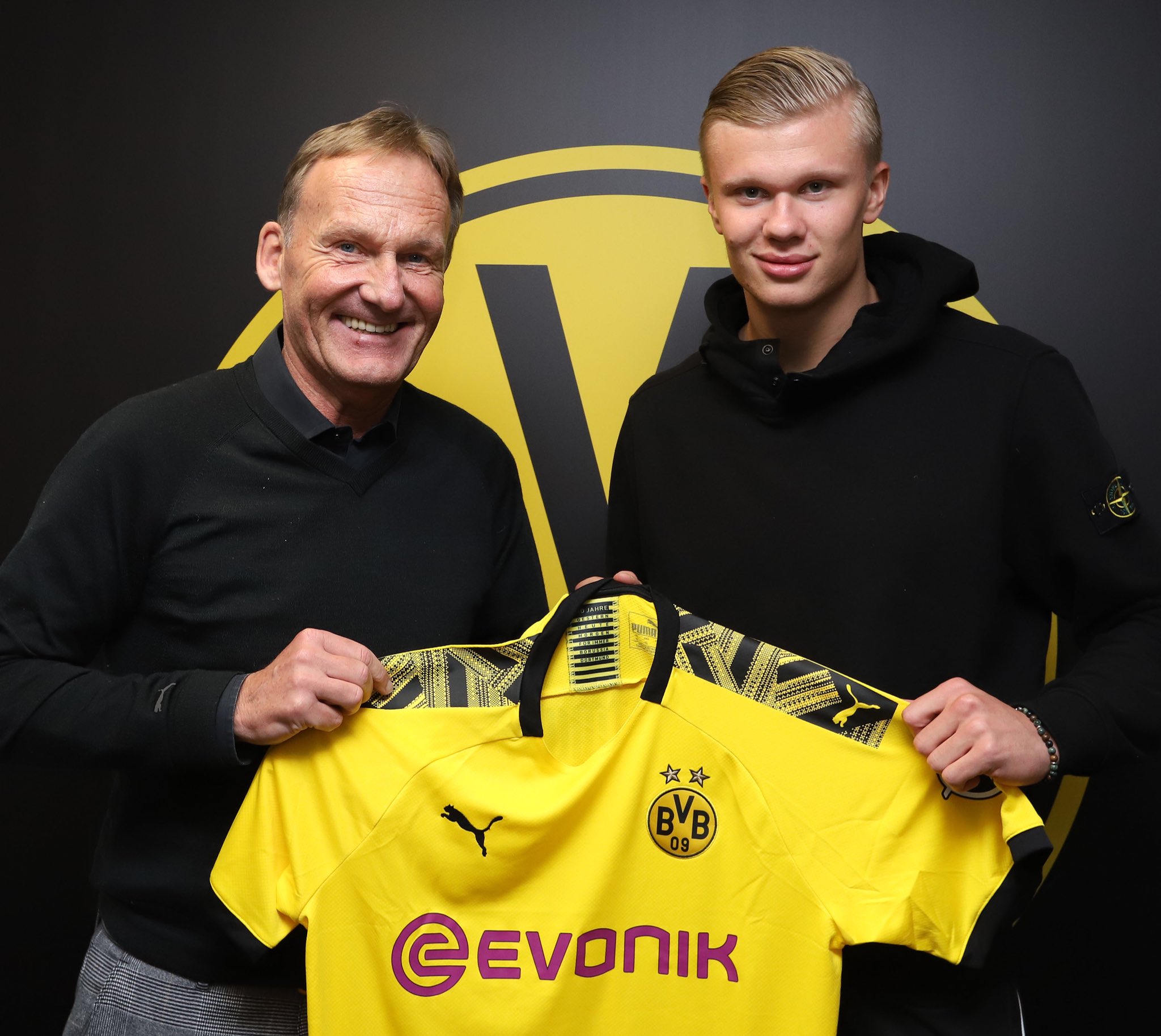 Erling Braut Haaland: 2020's Golden Boy
Erling Braut Haaland was named as Golden Boy for 2020 on Sunday, and remarkably capped off the day scoring a stunning four goals in the Bundesliga. The 20-year-old Norwegian scored three goals in 15 minutes plus another in the 79th to give Borussia Dortmund a resounding 5-2 victory, from being 1-0 down at half time.
Their star striker signed for £18m from Austrian side, RB Salzburg in January. Since then he has continued to impress, scoring goals for fun and winning his team games- earning the nickname "the machine".
In the Golden Boy shortlist, Erling faced a number of tough opposition that were up for the award. However there was only one stand out winner. He beat the likes of Barcelona's Ansu Fati and Bayern Munich's Alphonso Davies to the top spot. The award is given to the best player aged 21 or under from the top-tier European leagues.
Since joining Dortmund he has scored 31 goals in 30 games – at least one goal every match. On top of that he has produced six assists and formed a great team partnership with the likes of Marco Reus and Jadon Sancho. With Dortmund second in the league at the moment, Haaland is helping them mount a serious title challenge to stop Bayern winning their 9th title in a row.
With his current goal scoring form there is no limit to his potential. After a successful 2020, Haaland continues to reach new heights. As the Norwegian pursues to light up other clubs radars, Dortmund are relishing the rewards from their January signing.
We take a further insight into who Erling Braut Haaland is, and his journey in becoming one of the best young talents of this generation.
Woke up today to a nice surprise 👀 and ending the day with four goals and a nice win! 😁 pic.twitter.com/Rb6eA6gkqq

— Erling Haaland (@ErlingHaaland) November 21, 2020
Who is he?
Born originally in Leeds, Erling Braut Haaland's spent his first few years in England. His father, Alf-Inge Haaland, was playing for Leeds United in the Premier League at that time. It wasn't until he was three he moved to Norway. Starting his professional career at hometown club Bryne FK, he quickly began to attract attention from other clubs.
Failing to score in 16 matches for his club, he moved to Norwegian side Molde FK at the age of 16. 20 goals and six assists in 50 games for his new team however, earned him a transfer to Austrian giants RB Salzburg the following year.
RB Salzburg
It was with the Austrian side that he began to gain recognition around Europe as being a top striker. Haaland scored 29 goals and seven assists in 27 appearances, including eight of those goals coming in the Champions League.
He scored five hat-tricks for the club and became the first person ever in the Champions league to score in each of his first four attempts on goal. RB Salzburg later won the 2018/19 season and their domestic cup that year. He also was chosen as Austria's best player of the year for his fine goal scoring form.
His natural instinct and eye for goal awarded him his £18m move to Dortmund. After scoring a 23 minute hat-trick on his debut, he put his name firmly on the map. His incredible form has made him one of the brightest young talents for the future.
Norway
He has also shone on the international stage as well. In May, he won the 2019 U20 World Cup golden boot, after scoring an emphatic nine goals in their 12-0 win against Honduras. Nine.
Since then he has played seven games for Norway's senior men's team, scoring six goals in the process. Unfortunately for Haaland his goals couldn't stop them from bowing out of the Euro qualification playoffs, after losing 2-1 to Serbia.
For his 6ft 4in frame, Haaland is unusually very athletic and quick. He is a very powerful player and has quick movement off the ball. This gives himself the ability to create goals for himself and get in open positions. Along with this, he can obviously score goals. His remarkably quick rise to stardom makes him one of the best strikers in the world right now.
Erling Haaland's updated Borussia Dortmund stats after last night:

👕 Games: 30
⚽️ Goals: 31
🅰️ Assists: 6

MACHINE. 🤖 pic.twitter.com/B58fUwamHq

— Oddschanger (@Oddschanger) November 22, 2020
Borussia Dortmund spotlight
After Erling Braut Haaland's prolific form for RB Salzburg in the Champions league, many expected the same results for Dortmund. And he did not disappoint. In the 2019/20 season he scored 44 goals at the age of 19. 16 of them came for Dortmund, when he arrived mid-season and instantly made an impact on the first team.
This season he has scored 15 goals in 12 matches, four of those coming in the Champions League. Having scored 10 in the Bundesliga this term, he is only one goal behind arguably the best striker in the world right now- Robert Lewandowski.
Since joining the German giants, he has scored 31 goals and produced six assists in 30 games. Haaland boasts one of the best ratios in terms of goals to games, showing his clinical and deadly finishing. Statistically he takes 3.8 shots per game, which is an extremely high goal return rate.
Not only does he provide his team with constant goals, he also produces chances as well. Given his quick agility and speed, Haaland often finds himself in positions where he can create opportunities for his teammates. He makes 1.2 key passes a game and for such a prolific striker, he isn't shy of an assist.
Under manager Lucien Favre, Haaland has developed into one of the best finishers in the world right now. So much so, Favre forgot how many he had scored at the end of their 5-2 win on Sunday. He has certainly lived up to expectations so far and is handling the pressure on the big stage with ease.
The only Dortmund players to ever score 10 goals after 8 matchdays 🐝⚽️

Aubameyang – 2015/16
Aubameyang – 2017/18
Haaland – 2020/21 🆕 pic.twitter.com/V16dRgLnne

— Bundesliga English (@Bundesliga_EN) November 23, 2020
What next for Haaland?
It has been reported that numerous clubs are after Dortmund's main man. The likes of Liverpool and Real Madrid are amongst the list of clubs that are interested in his services. With these types of clubs looking to sign Haaland, it may be enough to tempt him into a move away from Dortmund.
His impressive form over the last couple of seasons has no doubt taken him to new heights. Borussia Dortmund are a great club and they compete in the Champions League each year. However, they would not be included amongst the few elite clubs of European football. 
Having said that, it may be vital for his development that he remains at this kind of club. Dortmund are a team that is more than happy to start Haaland each game week. Whereas he might be fighting for a place if he was to make a jump too early.
It is important in this modern day era, that young, talented players do not succumb to the pressures of having a large profile. So often we see a bright future star not live up to their potential, because of the hype surrounding them. Although, Haaland's character doesn't seem one that will be easily effected by this, most notably seen through his interview techniques.  
However with a bright future ahead of him, Haaland has the potential to see out a long, successful career at the top level. Regardless of the club he plays for, if he can continue to score goals at the same rate he will be a fantastic player. Dortmund will be determined to retain their star man for as long as possible. Could he be a future Ballon d'Or winner?
We hope you enjoyed the article 'Erling Braut Haaland: 2020's Golden Boy.' Do you think Erling Braut Haaland is one of the best strikers in the world right now? Let us know!
Read more on football here: