Alphonso Davies: From Refugee To Riches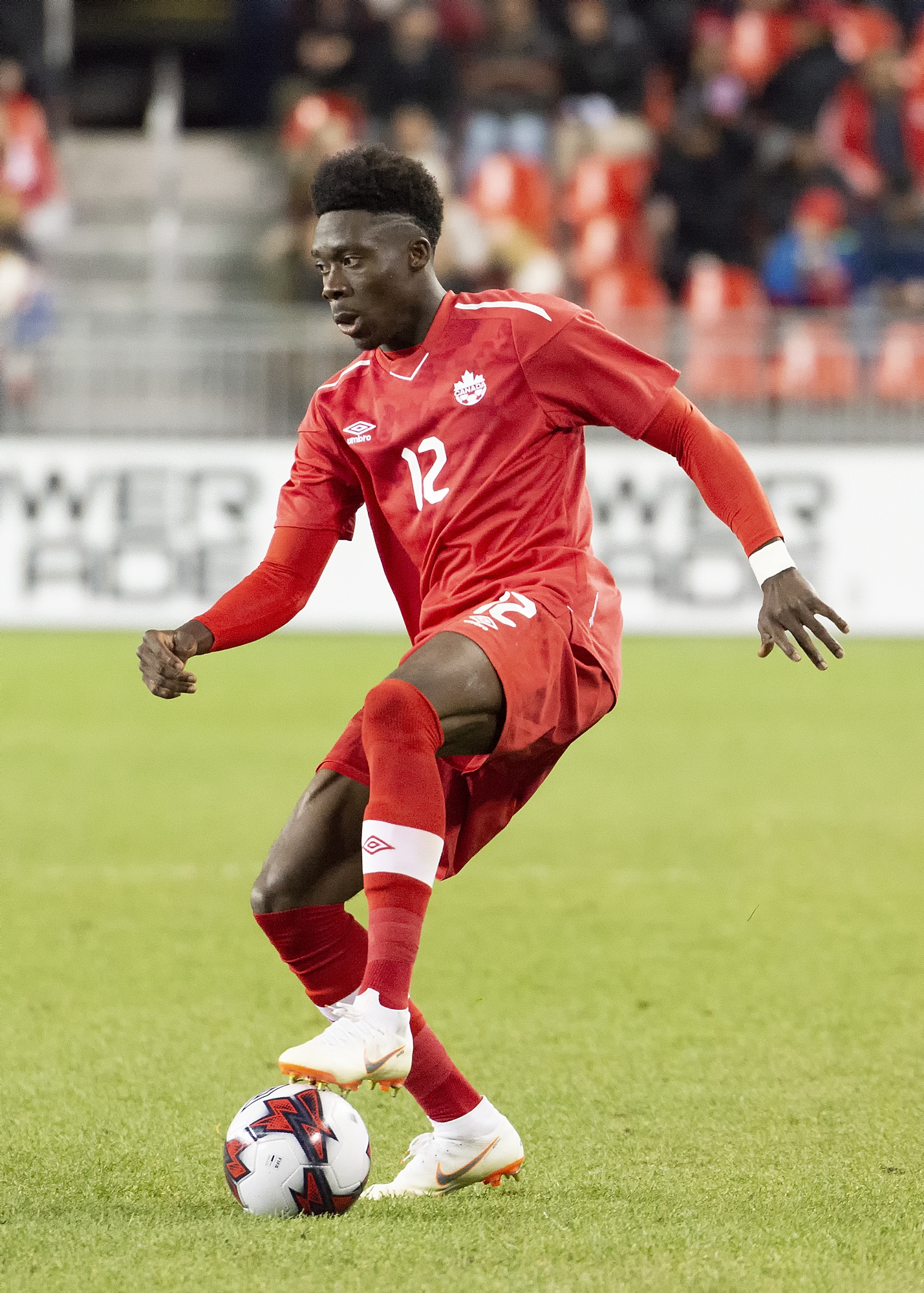 How Alphonso Davies became one of the world's most exciting footballers
Alphonso Davies: From Refugee To Riches
At 19 years old and now a Champions League winner, Bayern Munich's Alphonso Davies has quickly become the face of a nation's football team, even if that nation would perhaps call football soccer. The young Canadian left-back arrived in Bavaria in 2019 from MLS side Vancouver Whitecaps FC, but there is a far greater journey which has led the talented and quite frankly rapid full-back to his current stardom.
Let's just watch that Alphonso Davies moment of brilliance against Barcelona again, shall we? 🤩pic.twitter.com/ilMqbS3NwO

— Goal (@goal) September 1, 2020
Born in Buduburam, Ghana, amongst a refugee camp after his parents had fled the civil war in Liberia. Life was immediately not simple for Davies, filled with the search for clean water, food, and all the other necessities to living a somewhat stable life.
Luckily his family were able to immigrate to Canada when Alphonso was five years old, settling in Edmonton, Alberta. The future Bayern Munich boy attended the Mother Theresa Catholic school, the place his talent first caught the attention.
Alphonso Davies was born in a refugee camp in Ghana.

He moved to Canada aged 5 with his family after fleeing the second Liberian Civil War.

Signed for Bayern for £13m in 2018 from Vancouver Whitecaps.

Wins the Champions League aged 19!

An inspiration!pic.twitter.com/IQGCCZ9bZM

— BT Sport (@btsport) August 23, 2020
After playing in school football teams, it quickly became apparent Davies was too talented for his school counterparts, at 14 he joined the Vancouver Whitecaps' residency program.
Soon after at just 15 years, eight months, and 15 days old Davies made history as the first player born in the 2000s to play in the MLS. People were beginning to wonder just how far this young Ghanaian immigrant could go.
🗓️ June 1, 2016: I watched a 16-year old Alphonso Davies make his professional debut for the Vancouver Whitecaps here in Ottawa, 4 years later he's a starter for Bayern Munich and one of the top U21 players in the world pic.twitter.com/W1KbRx6Tzk

— Walid Ziani (@bylka613_) May 17, 2020
Having represented his new homeland at junior levels and in 2017 being named the Canada U17 Male Player of the Year, he received his Canadian citizenship – Davies soon found himself fast-tracked into the Canucks Les Rouge senior side.
Aged just 16 the supreme talent made his international debut in a friendly against Curaçao, the youngest player to play for the national team, although he did not look at all out of place.
Later in 2017 came Davies' finest hour as a young adult, scoring twice from left-back in Canada's opening Gold Cup 4–2 victory over French Guiana. He then went on to score against Costa Rica earning the youngster the Golden Boot as the tournament's top scorer, the Young Player of the Tournament award, and a place in the tournament's Best XI selection, remarkable for a boy amongst men.
It was these performances which brought the explosive pace and power of the versatile left-back to the attention of the world outside of North America,  European clubs including Manchester United, Chelsea, and Liverpool, all sent scouts to Vancouver to see the teenager.
Domestically accolades came left right and centre for the adopted Canadian, multiple MLS All-Star Roster appearances, alongside being named the Whitecaps player of 2018, by now his move away from the MLS became a matter of when and not if.
17-year-old Alphonso Davies for Vancouver Whitecaps in 2018:

✅31 games
⚽️8 goals
🅰️10 assists

Beginning of something very special… pic.twitter.com/E5reza7NiL

— Football Talent Scout – Jacek Kulig (@FTalentScout) July 20, 2020
In July 2018 Vancouver announced they had agreed on a deal to sell Davies at the end of the ongoing MLS campaign, to German giants Bayern Munich, quite the move for a boy from a refugee camp in Ghana, to one of the world superpowers. The deal was believed to be worth around US$13.5 million, with bonuses which could take the deal up to US$22 million, bonuses which had possibly already been achieved given Davies' success in Germany.
Davies made his Bundesliga debut on January 27 2019 against VfB Stuttgart as a second-half substitute. Before becoming the first Canadian to score for the Bavarian club on March 17 against Mainz 05.
However, it was the 2019/20 campaign that brought out the best in Alphonso, starting Bundesliga matches and Champions League contests as the season progressed. The 19-year-olds form made him quickly became almost undroppable.
Alphonso Davies' 2019/20 Bundesliga season by numbers:

❍ 29 games played
❍ 464 passes ending in final third
❍ 213 recoveries
❍ 83 take-ons completed
❍ 70 tackles
❍ 67 touches in the opp box
❍ 37 chances created
❍ 34 fouls won
❍ 5 assist
❍ 3 goals

Rookie of the Season. pic.twitter.com/grzJqlyjTN

— Squawka Football (@Squawka) June 27, 2020
Davies was pivotal as Bayern moved through the Champions League stages, dismissing all-comers along the way, as well as Munich's charge to the Bundesliga title and the DFB Pokal Cup.
The left-back started the match that clinched the Bundesliga title as Hasni Flick's side beat Werder Bremen 1-0, during which Davies broke the record for the fastest speed clocked in the Bundesliga, speeding down the left wing at a remarkable 36.51 kilometres per hour (22.69 mph).
But it's not just speed which makes Davies such a phenomenon, his defensive attributes and his ability to go past players in an attacking sense and deliver telling crosses have all contributed in his rise to prominence on the global stage.
Perhaps Davies' finest moment on the international stage came in 2019 when he helped Canada to their first win over rivals USA in 34 years, scoring the opening goal of their CONCACAF Nations League match.
However, on August 23, Davies all but completed domestic football, at the tender age of 19 when he started in the Champions League final against Paris Saint-Germain, Bayern winning 1–0 to complete a continental treble, Davies became the first Canadian male international to win the Champions League. Undoubtedly his finest moment in a burgeoning carer which could see him go right to the top if he isn't there already. 
Already a national hero to the nation of Canada, the sky is truly the limit for the boy from the refugee camp in Ghana who made a better life for himself through hard work and undoubted natural ability, who now boats a Champions League, Bundesliga and DFB Pokal winners medal, as well as thousands and thousands of admirers the world over.
With a World Cup in his adopted nation on the horizon, this will not be the last you hear, read or see of Alphonso Davies.
We hope you enjoyed this article 'Alphonso Davies – From Refugee To Riches'. What do you make of Davies's meteoric rise to stardom? Let us know!
Read more on football here: