Where Next for Lionel Messi?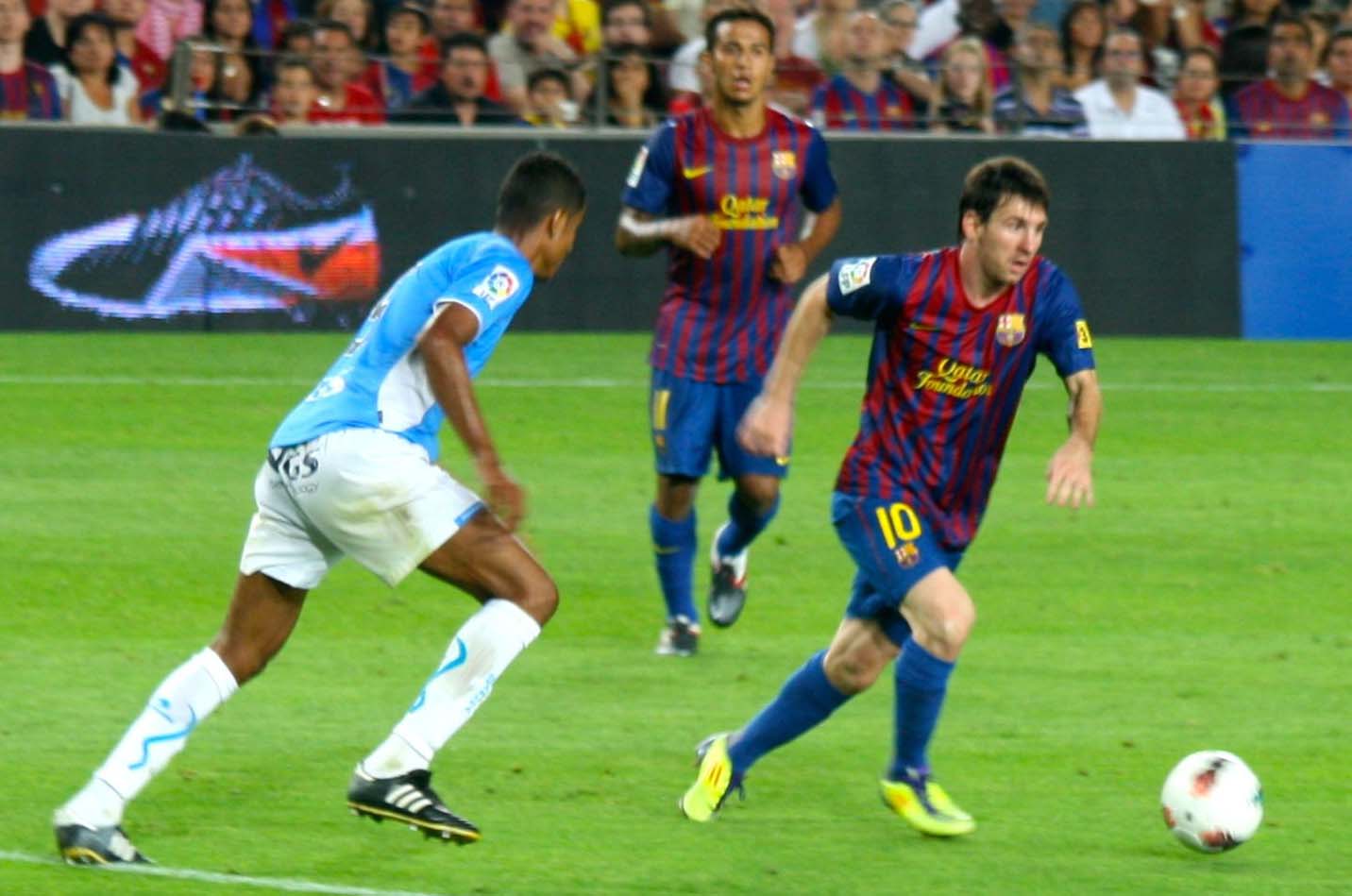 Could Messi Really Leave Barcelona?
Where Next for Lionel Messi?
2020 has been a strange year, but seeing Lionel Messi don another clubs jersey could be the strangest thing yet.
I will be evaluating which clubs could financially afford to pay Messi's reported €60,395,769 per year wages (according to Football Leaks). As well as which clubs would suit Messi's style of play and where he can be best utilized in current squads as well as explain the complicated situation he find himself in at FC Barcelona.
Firstly, the obvious clubs that could support Messi's gigantic wage bills are PSG and Manchester City. So, lets evaluate them first.
Messi's Wage Package At Barcelona – ⚽️ £60,395,769 euro basic yearly wages (£988.000 a week).

⚽️ £9,100,000 per year on image rights.

⚽️ £13,000,000 a year on possible bonuses plus signing on & loyalty fee (£120,000,000 over 5 years). pic.twitter.com/rmNfeAhM2W

— PredictionHQ (@Predictionhq) August 25, 2020
Paris Saint-Germain F.C.
Reaching the Champions League final was a huge landmark for PSG, but they couldn't quite get over the finish line.
Adding Messi to this squad would obviously be a huge coup but placing the Argentine between his friend and ex-teammate Neymar and the world-class young talent of Kylian Mbappé would create a nightmare prospect for any defensive line.
One of the main requests of Messi in recent years to Barcelona president Josep Maria Bartomeu was to re-sign Neymar, maybe he should join him in Paris instead.
A huge reason why Neymar joined the Parisian side was to escape Messi's shadow, but he could find himself eclipsed once more by the little magician.
Messi's reunion with Neymar in Paris wouldn't be a bad move according to the PSG boss! 🔵🔴 pic.twitter.com/znhlDJwCF1

— 3whistles.com (@3whistles_com) August 27, 2020
Manchester City FC
Let's address the painfully obvious first, Pep. Pep Guardiola is a massive pull for Messi's signature.
During Pep's Barcelona's managerial spell between 2008-2012 Messi won the UEFA Champions League twice under the Spaniard. That's half of his Champions League successes. Messi already knows how to play in Guardiola's Cruyff-esque style of play.
If Messi signs for City, he could link up nicely with his good friend and godfather to Messi's son Sergio Aguero. Messi can also play with the next Argentine superstar Gabriel Jesus.
Both PSG and City are desperate to claim their first Champions League/European Cup titles, and both have squads to attract Messi to their projects – and what a legacy he could leave if they're successful.
Although, Financial Fair Play (FFP) will be monitoring both sides like a hawk.
Manchester City are convinced they've a chance of signing Leo Messi, as reported on @guardian_sport. The board (and not only Pep…) feels they're the favourite to find an agreement IF Barça will let him leave this summer. Still waiting for next steps. 🔵 #MCFC #Messi https://t.co/sfTpCfF5em

— Fabrizio Romano (@FabrizioRomano) August 27, 2020
Other Contenders:
Inter Milan
Internazionale and Messi are rumors that refuse to go away.
It has been reported that both Lionel Messi and his father Jorge both own apartments in Milan and near to Inter Milan's offices (according to Football Italia). With Inter's new wealthy Chinese owners the club believe that they have the financial means to pull off such a deal.
Serie A is a league that tends to attract older strikers due to its less physical, yet very tactical teams. As shown with Cristiano Ronaldo (35) the transition from La Liga to Italy can be easily made and at the age of 33 the league could suit him.
However, although Antonio Conte has made a drastic improvement and provided some much needed stability to Inter with a second place finish in Serie A and a Europa League final, I'm not fully convinced Messi suits his style of play.
Where next for Lionel Messi? 🤯

Could Inter be his next destination? 🤔

Alongside Lukaku and Lautaro in attack 😍 pic.twitter.com/95eIg0yOnY

— Goal (@goal) August 26, 2020
Conte attacking uses full-backs and three center-backs while opting for a more old-school striker partnership with two up-front (Lukaku and Martinez). This automatically means one of the two very in-form forwards will have to be dropped to allow Messi a central role, as he will surely not be asked to play a full-back role.
Messi also cannot play as a number 10 or a free role behind the forwards because Conte's very rigid tactics don't allow for this, which is the same reason why Eriksen hasn't been a success thus far at Inter.
I personally would love to see Messi apply his magic to Serie A and while the prospect of Messi and Ronaldo reigniting their domestic rivalry is mouthwatering, I don't see Inter and Conte being that club.
Yet, Inter could have an advantage over other clubs as they can provide Barcelona a decent offer with a potential trade including Barcelona target Lautaro Martinez.
Liverpool
Klopp and Liverpool are a team that like Manchester City have plenty of possession and in theory will give Messi a lot of opportunities to work his magic at Anfield.
Messi could also play in any of the Liverpool front three positions (Mane, Salah and Firmino).
Although, I don't see Messi pressing as much as Firmino is required to do and I also struggle to see Messi putting in a defensive shift as well as the current Liverpool team does, but maybe that is unfair as he hasn't been asked to do that at Barca for quite some time.
Liverpool rule out making a move for Lionel Messi.

— Anfield Watch (@AnfieldWatch) August 27, 2020
Manchester United
One of the biggest football brands in the world and another club that could easily match Messi's monstrous wages. If United could attract Messi to the Theater of Dreams Ole Gunnar Solskjaer wouldn't think twice about building the team around him.
Lionel Messi would also be the kind of player  the Red Devils need to restore their former glory, but it would be a huge risk for Messi to take.
Plus, United couldn't meet the transfer fee of Jadon Sancho from Borussia Dortmund, so I think Messi is unlikely to say the least.

Bayern Munich
Having just won this years UEFA Champions League the Bavarian giants are arguably the most attractive side for Messi to win his fifth UCL title at.
That being said, Bayern don't need the 33 year old's wages burdening Hans-Dieter Flick's project and they aren't a club known to spend silly money either.
Juventus
There is an argument to suggest that a front three of Messi, Ronaldo and Dybala would break the footballing world. And I would second that belief.
However, the Pirlo era has begun in Turin and Juventus are not in any position to take on another mammoth wage on top of Ronaldo, Dybala and De Ligt.
All we want to see is one season of Lionel Messi and Cristiano Ronaldo playing together 😍 pic.twitter.com/RC5RkiFenb

— FootballFunnys (@FootballFunnnys) August 25, 2020
Real Madrid
Easily the most unlikely on this list for obvious reasons. And I'm sure we all remember the treatment Luis Figo received from Barcelona fans when he made the very same move back in 2000.
But pigs head aside, I can't envisage Messi leaving Barca for their historic rivals. However, if Messi is as angry with the Barcelona board as it has been reported it would be quite some statement.
Newell's Old Boys
Messi has always talked about retiring at his boyhood club of Newell's Old Boys, and it would be logical place for Messi to see out his playing days. There is also a large proportion of Argentine's that don't see Messi as being truly Argentinian.
Messi joined Barcelona's famous youth academy La Masia at the age of just 13 where they not only developed him into arguably the greatest play ever, but also a man. The Blaugrana also paid for Messi's expensive hormone deficiency treatments, an investment that has definitely paid off!
But nevertheless, many Argentine's don't look at Messi as fondly as Maradona because Messi has never played club football in his home nation. But at only 33 years of age, Messi has at least three years of top quality European football left in him before even thinking about his long-awaited homecoming.
8-year-old Leo Messi playing a youth tournament with Newell's Old Boys.

These moves, this left foot… 🐐 pic.twitter.com/DbtxKHRLJp

— Football Talent Scout – Jacek Kulig (@FTalentScout) August 27, 2020
Chelsea
Frank Lampard has reportedly expressed his interest in Messi (who wouldn't) and with a young squad Messi could provide the world-class experience needed to guide this young, exciting squad to silverware.
However, The Blues have already spent a lot this summer with Kai Havertz and some much needed defensive signings reportedly on their way I can't see how Chelsea can afford another huge signing this summer, let alone smashing their wage structure.
Barcelona
We've been here many times before with Messi and Barcelona. Every time previously after Messi has either threaded to leave or expressed an interest to do so he has received a larger paid contract, yet this time it feels most likely.
Tensions have been rising for a number of years between Messi and the board of directors, specifically with club president Josep Maria Bartomeu and sporting director Eric Abidal.
Abidal in particular angered the squad earlier in the season after he questioned their professionalism under previous manager Ernesto Valverde.
Josep Maria Bartomeu is ready to step down as Barcelona president if Lionel Messi changes his mind and decides to stay at the club, sources have told @moillorens and @samuelmarsden: https://t.co/eFvumFJHwA pic.twitter.com/3meVyDaQRz

— ESPN FC (@ESPNFC) August 27, 2020
Messi has been unhappy with the clubs recruitment over the past few windows, for example their inability to re-sign Neymar. The club has also decided that Luis Suarez is no longer in their plans, who Messi has a great relationship with.
Now Messi has finally put in an official transfer request, his contractual situation becomes quite complicated. Messi has a €700 million release clause, however Messi also has a clause in his contract that allows him to walk out of the Camp Nou for free every season.
Messi's agreement with the club is to sign a year extension every season if he's happy with the direction that the club is moving, if he is not Barcelona claim that he had to inform them that he was not signing before the end of the season (May/June).
However, due to the season being extended due to the CoronaVirus pandemic Messi claims that this clause should still apply. This makes the world of difference because if clubs have to pay either the €700 million release clause (or any transfer fee) that will make it extremely difficult for Messi to move, and will limit his options significantly.
However, Abidal has now been sacked and Bartomeu's presidential term is soon to be over.
The clubs presidential elections are set to take place in March 2021 and could prove to be a really historically significant moment for the club.
Current president Bartomeu has just hired Ronald Koeman as Barcelona manager, however the candidate Messi reportedly supports is Victor Font who's ambition is to employ Messi's ex-teammate Xavi as manager.
Ronald Koeman is ALREADY facing the sack at Barcelona next year…with presidental candidate revealing he will FIRE Koeman to hire Xavi https://t.co/pdMcAeuBpn

— MailOnline Sport (@MailSport) August 19, 2020
Personally, I think this is a politically calculated move by Lionel Messi to remove the current board immediately as they all fear Messi leaving the club above all else. This situation has been brewing for awhile now, but after Barcelona's humiliating and record breaking 8-2 defeat to Bayern Munich in the Quarter Finals of the Champions League the situation as reached the level of a crisis.
The only problem is that Barcelona have a club policy that the current board must clear all debt and make the club financially stable by the next election or else they pay the debt out of their own pocket and removing Messi's wages may become an attractive proposition for them.
However, if this isn't a political move from Messi and he does leave the club it might not be the end of the world.
Firstly, Barca have to start planning for a Messiless world sooner or later, he's already 33.
Secondly, with the contractual situation and internal political civil war it's clear that although Messi is a legendary, world-class footballer and the greatest to ever play for Barcelona, he has too much power regarding the off-field decisions at the club (even if he is their record goalscorer with 634 goals).
No player should be bigger than the club and Barca's famous motto has always been 'Mes Que Un Club' (More than a club). They should remember that.
Finally, if this is the decision Messi has taken, the last thing Barca need to do is ruin the legacy that he has built at the club. He has been loyal to them since the age of 13 and if they can aid him in departing on good terms, both the player and the club could benefit.
This could allow Koeman to build the next chapter of FC Barcelona and Messi can finally prove his doubters wrong and show off his world-class talent in a new league.
But if Messi does stay and Barca find the spending money, Koeman could get the best out of Messi as well as attracting the likes of Lautaro Martinez, Eric Garcia, Georginio Wijnaldum, Donny van de Beek and Memphis Depay who have all been identified as targets while Koeman reportedly wants to utilize Griezmann and Coutinho, it may not be all doom and gloom for Barcelona.
Be it Messi or not.
We hope you enjoyed this article 'Where Next for Lionel Messi'. Where do you think Lionel Messi will be playing next season? Let us know!
Read more on football here: