What do Barcelona do now?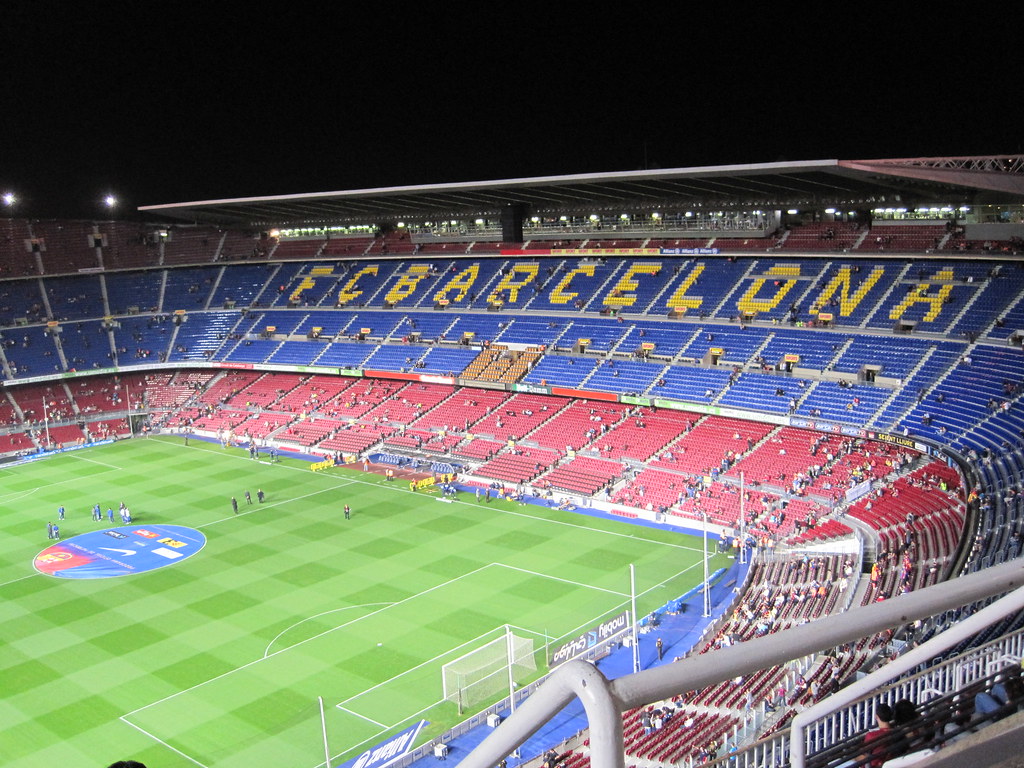 What do Barcelona do now? Extended Feature on the Crisis in Catalonia
A rampant Bayern Munich absolutely embarrassed FC Barcelona on Friday night, winning 8-2 in the Champions League quarter finals. It would be bad enough if this was over two legs, but losing by this margin in just 90 minutes is their heaviest defeat in 69 years. Gerard Pique summed up the situation well in his post-match interview: "We have hit rock bottom now".
Barcelona 2-8 Bayern Munich
When Sergio Busquets misplaces four passes in the first three minutes, you know Barcelona are in trouble. In the first quarter of the match, they actually looked like they might be in it. David Alaba's 7th-minute own goal cancelled out Thomas Müller's early opener and gave the Catalan side hope. They targeted Bayern's high line and left flank, and could have been 3-1 up after 10 minutes. However, look closely at the aftermath of their equaliser, and you will see David Alaba smiling, almost laughing off the own goal. Maybe he knew what was to come. Bayern reclaimed the lead 20 minutes into an even game, after Sergi Roberto attempted to dribble out and Perišić scored.
Bayern were high but compact, while Barça's midfield was painfully open, and within seven minutes Gnabry scored their third. The Catalans gave the ball away at the back so frequently, collapsing under Bayern's press. It was 4-1 at half-time, as Barca simply could not cope with the pace and power of the German side. However, if they lost the first half 4-1 because Bayern outplayed them, the second half comes down to a lack of character.
When Luis Suarez converted in the 57th-minute, a few desperate Catalonian viewers may have hoped that they would produce another major European comeback. Instead, Joshua Kimmich made it 5-2 six minutes later after some breathtaking play on the left wing from Davies. To rub salt in the wounds, Barcelona's on-loan Philippe Coutinho came on against his parent club and ran riot. He assisted Lewandowski and then scored two himself, all within the final ten minutes.
8-7 – Bayern Munich have scored more goals (8) than Barcelona have had shots (7) in tonight's game. Embarrassment. pic.twitter.com/GoGEGmUtlv

— Optajean (@OptaJean) August 14, 2020
Ernesto Valverde's incredible cover-up job has been exposed
The incredible thing is, European humiliation is nothing new to this squad. Last year, they threw away a three-goal first-leg advantage to go out at Anfield in the semi-final. Two years ago, they were knocked out in Rome, again in a quarter-final, despite winning the first leg 4-1. The year before that, they were battered 4-0 by PSG, although their stunning second leg comeback covered that over at the time.
After Friday night, they have won just one of their last nine Champions League knockout ties away from home. This includes five defeats, two of which were 3-0s and two 4-0s. On the back of this record, it would be fair to question how I could possibly refer to Valverde's reign as 'incredible'. However, back-to-back La Liga titles, a Copa del Rey and a Spanish Super Cup, now seem a pretty good performance. This was all with a team that has had major issues ever since selling Neymar to PSG in 2017.
They capitulated without him on the return from lockdown, bottling the title defence and falling short in the cup too. Lionel Messi called out his own team for being "very inconsistent, very weak, beaten for intensity, beaten for motivation". That was before they lost 8-2.
Goodbye Quique
Will this result, and consequent sacking, ruin Quique Setien's chances of another top job? Absolutely. Even so, the 61-year-old was never destined for a job at an elite club. He even admitted himself that he never expected to get this job. In fact, he only got it because the club's first three choices – Xavi, Mauricio Pochettino and Ronald Koeman – all turned them down.
They could see that the mess facing them was not one that a managerial appointment alone would tidy up. Setien, on the other hand, would never get another shot at it so up he stepped. In terms of footballing philosophy, he fit the billing. The problem was that he never had the personality to take control of a dressing room run by veteran leaders. The Barcelona drawing board has needed to be wiped a lot cleaner than just the top corner in which the manager's name is written, and no one gave Setien a cloth to wipe it with. It didn't look like anyone on Friday was playing to save their manager, or could have if they wanted to.
Terrible Transfers have Tortured Culers for years now
At the time of the Neymar deal, Barça fans were nowhere near as negative about it as they are now. No one doubted that they were losing one of the best players in the world, but the fee of €222m more than doubled the transfer record of the time (Paul Pogba, €105m), and they knew that this would be reinvested.
Indeed, Barça had a history of selling big-name strikers and replacing them with better fits. For example, Pep Guardiola sold Ronaldinho, Eto'o and Ibrahimovic amongst other big names. The problems have come from what they have done with their money in recent years. They have spent over €800m since they last won the Champions League five years ago, and none of the 30+ players can truly be considered a success.
Looking at the lineup against Bayern, the spine of Messi, Busquets, Pique, Suarez and Alba has not changed from their 2015 triumph. As good as they are, this spine is now too old. It is in need of major surgery rather than just a trip to the chiropractor. Transfers such as Arturo Vidal were popular with fellow South Americans Messi and Suarez, but he is the same generation. Barça's average squad age is over 29 this season, one of the highest in the Champions League. Unsurprisingly  Juventus, who are going through a similar club crisis, join them in this category.
29 – The average age of Barcelona's starting XI tonight is 29 years and 329 days, making it the oldest line-up they have ever named for a Champions League match. Know-how. #UCL

— OptaJoe (@OptaJoe) August 14, 2020
The Three €100+ million players
Of this €800+ million spent, there are three massive transfers that stand out. Philippe Coutinho's transfer to Barcelona remains the third most expensive transfer of all time. Barca signed him using the majority of the money from the Neymar sale, with the idea of replacing Andrés Iniesta. The slight problem that the board overlooked, however, is that he fits neither role. An outright number 10, Coutinho struggled on the left of a midfield three in Iniesta's role. He also wasn't dynamic enough to play on the left wing in the Neymar-sized hole.
Barça weren't about to change the system the 4-3-3 system they are so devoted to in order to fit him in. Even if they did play with a 10, Messi would obviously take that role for himself. A year after signing, Coutinho went out on loan to Bayern. He has had a mixed season, and they won't be taking the option to sign him permanently. Regardless, he came on to be involved in three goals against his parent club, the ultimate embarrassment for the Catalans.
Two for this man ❤️ pic.twitter.com/nLSIC3q7RZ

— CHAMPIONS OF EUROPE 🏆 (@FCBayernEN) August 14, 2020
Significantly, of the six most expensive transfers ever, two are €100m+ signings by Barça. Against Bayern, one of these signings, Antoine Griezmann, came on at half-time but had no impact on the already-lost tie. The other, Ousmane Dembélé, stayed on the bench for the entirety of the match. To be fair to the latter, this was his first time in a match-day squad this year due to his injury problems. Although, these issues, alongside some attitude problems in his early days, mean he has been another failed transfer.
As for Griezmann, he was only signed last summer because the Blaugrana failed in their attempt to resign Neymar. Similar to Coutinho, the Frenchman doesn't fill an obvious position in the team. Not only this, he does not match the club's style of play, and hasn't lived up to high expectations. This deal feels like it only happened to fulfil the demand for a marquee signing, and because the player was very keen for it.
What about La Masia?
✓ Most touches
✓ Most successful passes

Oh, you think La Masia is your ally? But you merely adopted Tiki-Taka: I was born in it, moulded by it. pic.twitter.com/73W3G8KD5t

— Squawka Football (@Squawka) August 14, 2020
The famed academy and innovation hub at Barcelona has maybe slightly declined, but the club have also stopped using it. Many youngsters have moved to other big clubs and been allowed to do so by a board that seem to have forgotten how many of Guardiola's side came from within their own ranks. The best La Masia graduate since the golden generation of Xavi, Iniesta and Busquets, and the only one at their level, is Thiago. He starred on Friday night, but it was for the opposition that he was pulling the strings. Thiago signed for them in 2013 for just €18 million after the Barca board messed up his contract.
Last summer, Frenkie de Jong was bought for €75m from Ajax, who share the Cruyff philosophy, yet he looked lost in Lisbon. The way Thiago beats him so elegantly in the footage below would have been painful for all associated with Barcelona. To be fair to de Jong, he does actually look like a good signing, and the very definition of Barcelona DNA. Frustratingly, he has played in all kinds of advanced positions this year, when he is perfect to take Busquets' role at the base of midfield. They just have to play him there, and stop clinging on to the old guard.
Thiago Alcântara 🪄#UCL pic.twitter.com/rTWfQ4WARA

— #UCLfinal (@ChampionsLeague) August 19, 2020
Bartomeu outlines the bigger issue for the Blaugrana
In a normal season, you would expect Barcelona to throw a lot of money at this problem, and a revamp of the squad would be a realistic prospect. Not so easy in a season dominated by a global pandemic. They, like so many clubs, are struggling to balance the books. Therefore, they will not be able to instantly bounce back with the €100 million signing of Lautaro Martinez paired with the return of Neymar for even more. These moves were discussed before lockdown, but the president confirmed that there is no way they can happen this summer.
If the situation wasn't bad enough with the sporting collapse in the middle of a pandemic, there are also club elections to contend with. The politics in the highest reaches of this super-club have always played a major role in the sporting side of it, and the elections meant for next summer are offering an additional major set of hurdles.
Money Money Money
The club rule is that no board can leave the club in debt. If there is any at the end of their term they must settle it out of their own pockets. Well, the club is definitely in debt, heightened by coronavirus, and they only have one season left in charge. Actually, it was one season, but now the elections have been brought forward to March.
The plan would have been to avoid a heavy-spending summer, balance the books and pass over to the new regime. Instead, they are faced with squaring up during a pandemic and with an overpaid, ageing mess of a squad. 70% of the clubs income is spent on first-team wages, and this will prove the hardest obstacle in answering the question of what do Barcelona do now.
🔊 @jmbartomeu: "It is a matter of responsibility. Moving the elections to March 15 will allow us to make a smooth transition" pic.twitter.com/Bms4oScQYc

— FC Barcelona (@FCBarcelona) August 18, 2020
The vast majority of candidates for the elections have said that they will bring Xavi in as head coach. If they do so, we could well see Puyol and Jordi Cruyff in on the sporting side as well. This would be a popular appointment and be the start of a new era, but the elections have only been brought forward to March. As a result, the rebuild will start without this potential leadership team, who will not come near the club before this time. The current board need to do their best to solve the footballing problem themselves. They are at serious risk of tarnishing their legacy even further, not to mention a vote of no confidence. The ideal situation for them would be to get a successful rebuild on track and get their potential candidate to continue their work, rather than change everything up again in seven months time.
What do Barcelona do now?
Firstly, Ronald Koeman is coming in as manager, signing a two-year contract. Eric Abidal, the former left back turned sporting director, is also out of the door after asking to leave. He has been at the heart of problems at the Nou Camp since the public falling out with Messi in February, although maybe not all his own fault. His right hand man, Ramon Planes, is going to take over his role.
In his interview on Tuesday, Bartomeu revealed that all but the following players are for sale:
Barça president ruled out the chance of opening talks with Man United to Ousmane Démbélé: "He'll stay. Messi, Ter Stegen, Lenglet, Semedo, De Jong, Griezmann and Démbélé are not for sale".

J. Bartomeu also added that "Coutinho can stay here, if Koeman want him". 🔵🔴 #transfers

— Fabrizio Romano (@FabrizioRomano) August 18, 2020
This opens up the possibility of moves for big names including Suarez, Busquets, Pique, Alba, Vidal and Rakitic. However, all are over 30, and under the conditions of the COVID-19 pandemic, suitors will be hard to find. They are all on very high wages and have now been brutally exposed as past their best, despite the wealth of medals they possess. It has already been reported that Busquets and Alba will refuse to leave unless paid off by the club. Suarez has been linked with a return to Ajax, and the strong relationship between the clubs could see that become a real possibility. That would see Messi losing his closest friend, however, and the board cannot afford to upset him further.
🇺🇾 @LuisSuarez9 for @FCBarcelona:

🏟 283 Games
⚽️ 198 Goals
🎯 109 Assists

🏆🏆🏆🏆 La Liga
🏆🏆🏆🏆 Copa del Rey
🏆🏆 Supercopa de Espana
🏆 Champions League
🏆 UEFA Super Cup
🏆 Club World Cup

🗞 @ElChiringuitoTV are reporting that @AFCAjax have bid €15million for him. pic.twitter.com/7IOENVkNkD

— SPORF (@Sporf) August 20, 2020
Squad players such as Umtiti, Neto, Firpo, Roberto, Braithwaite would also all be allowed to leave, but none of them have impressed or carry the same pedigree as the above mentioned players. One thing is certain, Barcelona need to balance their books. Balancing them demands player sales and wage cuts, and they desperately need this to rebuild their squad.
Can Koeman Cure the Catalans?
The last time the club finished with zero trophies was 2007-08. What followed was Pep Guardiola's promotion from his role as B team head coach, and his formation of one of the greatest teams to ever play the game. Eight years after he left, the club is in a yet bigger hole, and they need another man to come in and recreate Pep's revival on an even bigger scale.
Pep was the holding midfielder in front of a defence led by Ronald Koeman, in the team managed by the club's ultimate talisman: Johan Cruyff. Therefore, the 57-year-old is a favourable appointment, as fans will hope that he will follow in their footsteps. He did a good job at Southampton and had a good first year at Everton, but Barça have always made appointments based on philosophy and relationship with the club rather than past performance. It is worth acknowledging that he seemed to be building well in his two years with the Dutch national side, and that the link between the club and the Netherlands has always been a strong one.
😍 #KoemanCuler 👕💙❤️ pic.twitter.com/zmb08vcVRZ

— FC Barcelona (@FCBarcelona) August 19, 2020
Koeman's managerial career started with him bringing through players such as Sneijder, van der Vaart and Ibrahimovic at Ajax. The board will be hoping he can therefore help introduce Riqui Puig and Ansu Fati from La Masia as well as new signed youngsters Francisco Trincao and Pedri. In the past, he has favoured fast and direct wingers, so Barcelona fans may finally see some of what they paid for from Ousmane Dembélé, if he stays fit. Fati and Trincao are also players that could fit this role. His time at Valencia is noteworthy, where he tried to force out veterans in a similar situation. Koeman ended up losing the battle and lost his job in 2007.
Who might they bring in, if they can?
Miralem Pjanic's swap deal with Arthur is already sealed, but he doesn't offer anything different to the Brazilian and actually just joins the ranks of players aged 30+. One exciting player Barça do look likely to bring in is Eric Garcia. He is a former La Masia centre back who has broken into the Manchester City team this year. He also only has one year left on his current deal, and Guardiola confirmed that he is unwilling to re-sign.
Pep Guardiola has revealed that Eric Garcia has told Manchester City he does not want to sign a new contract and believes the young defender wants to leave the club.

— Sky Sports Premier League (@SkySportsPL) August 6, 2020
Based on his Holland side as well as others previously, Koeman likes to have a more flexible midfield set up. He adapts to the players he has more so than is traditionally done at the Nou Camp. The rumour mill has already been churning in terms of other deals. Talk is that he wants to be reunited with Donny van de Beek, with whom he worked for the Dutch national side. Obviously this will heavily rely on Barça solving their massive monetary crisis. If they cannot, then Arturo Vidal could be his goal-scoring midfielder in the short-term, or even Coutinho if he decides to keep him.
They have been linked with another Ajax player in right back Sergino Dest, although, with Semedo surprisingly making it onto the president's list of players not for sale, it seems he will be given another chance instead. The day after his appointment, social media was suggesting that Koeman is also keen to bring Gini Wijnaldum to Spain. He only has one year left on his deal at Liverpool, and the Reds have been heavily linked with a move for Thiago, who you would expect to take the Dutchman's place in their midfield. Whilst it is unlikely that Barça could bring in both him and van de Beek, pairing these two with de Jong would see Koeman replicate his midfield from the Dutch national side, in which de Jong excels.
New men or not, expect Koeman to make the Barcelona midfield a lot more dynamic than the positional one that was ripped to shreds by Bayern Munich on Friday night.
Messi
If Koeman goes for a flexible midfield and direct wingers, Messi may end up as a false 9. He was so successful in this role for Guardiola. It would allow him the optimal freedom and lack of defensive responsibility that his age demands. With the Argentine "never closer to leaving than he is now", Barcelona need to establish whether the 33-year-old is sticking around for the rebuild, or trying his luck reuniting with either Guardiola at City or Neymar in Paris.
Does he back them to create a new winning side before his career comes to an end? If not, could a new club manage to negotiate his €700m release clause, or wait and sign him for nothing?
The idea of a false 9 will only work if Koeman uses the flexible midfield and direct wingers he has used in the past. Another option could be playing Messi as a 10 in a 4-2-3-1, with Griezmann at number 9 if Suarez leaves. It is also equally likely that Koeman would stick to the 4-3-3 shape. His history of adapting to the players he has means this all depends on the personnel the board can provide.
His main challenge will be whether he can keep Messi, and then balance his specific needs with the youth and energy that this team is crying out for. Time will tell to what extent he will be able to change this squad, balance the books, or if he will stay on past the elections to take the job further. However long he lasts, the job is immense – and it needs to start immediately.
🙅‍♂️ "Changes have to be made because the recent image of the club is one nobody wants."

👑 Ronald Koeman on his plans to regain @FCBarcelona's prestige in world football. pic.twitter.com/VT8p10B3g8

— SPORF (@Sporf) August 20, 2020
We hope you enjoyed the article 'What do Barcelona do now: Extended Feature'. In your opinion, what do Barcelona do now? Can the Catalans solve their crisis? Let us know!
Read more on football here: