Derby-Day distraction: A tale of match reporting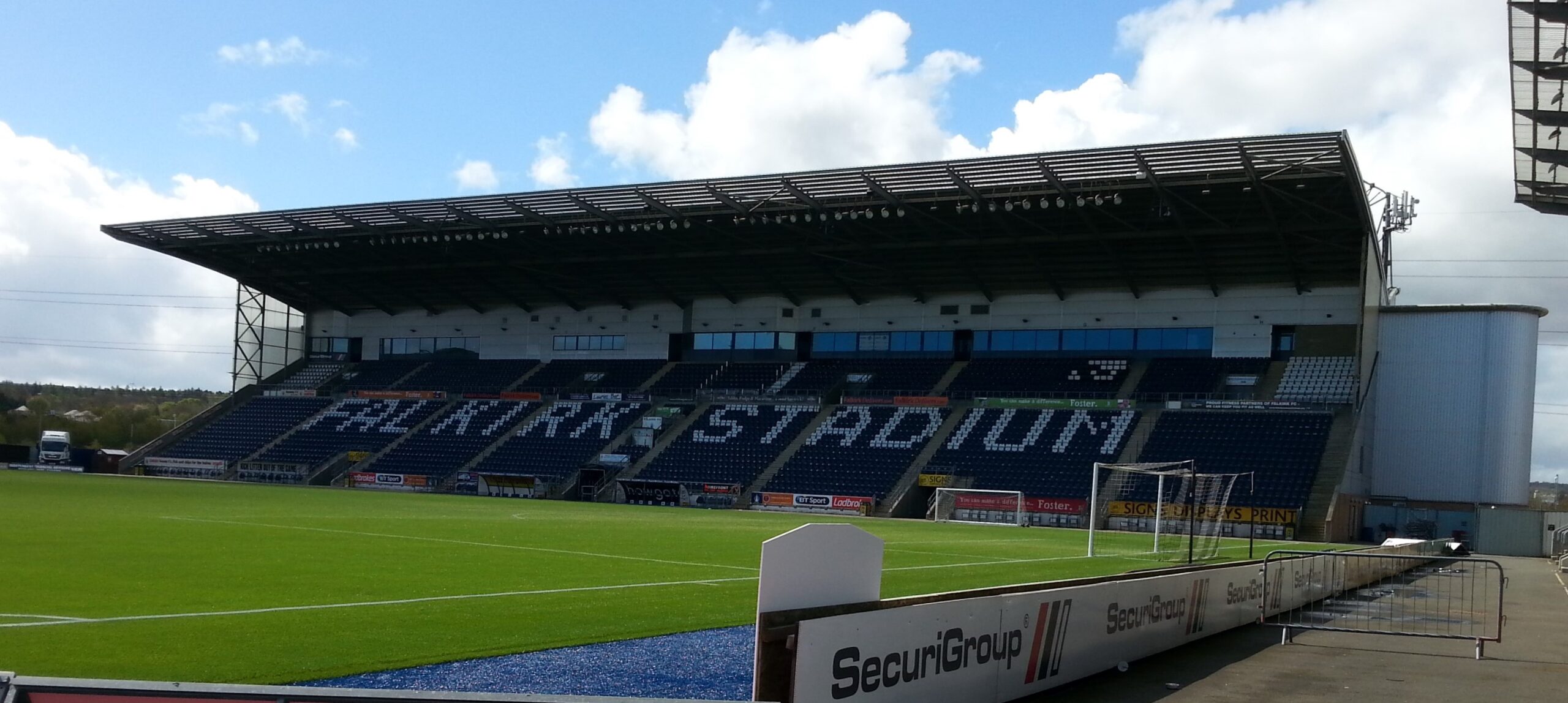 Took the Train to Falkirk High;
Spotted Rula Lenska at the Station.
Bare-Bulb-Bright Sunshine;
Derby-Day, August 2015.
Manchester aside, Glasgow attracted the bulk of UK Sport Media attention. However, Lowland League action was my distraction. And the motive was two-fold.
Firstly, to gain a better understanding of the nuance surrounding match reportage, and secondly, attempting to avoid the result of the aforementioned Old Firm Derby. The Midday Kick-off in Glasgow added to my dilemma; but if you don't try, you don't get.
At the Falkirk Stadium, The University of Stirling were hosting Lowland League Title favourites East Kilbride. The visitors epitomised the Rags-to-Riches potential of the newly-formed 'Pyramid' League system; much lauded by the Scottish Football Association hierarchy.
The respective Winners of the Lowland and Highland Leagues, would Play-off for the opportunity to challenge the bottom club in League 2. Outright victory would ensure full Scottish League Status; (provided; your stadia and business model complied with strict SFA approval). As simple as building a pyramid, some might suggest.
Between Station and Stadium obstacles presented themselves – notably patrons enjoying a half-time cigarette outside a lively public house. However on arrival at the Falkirk Ground I was none-the-wiser with regard to the situation in Glasgow's East-End. Welcomed by representatives from both sides, and provided with Team-Lines, I took my seat in the Stand.
East Kilbride's squad was peppered with experience. Ex Partick Thistle pro Adam Strachan pulled the strings in midfield; and with the likes of Robbie Winter in reserve, it would prove a tough assignment for the Pre/Post Graduates of Stirling. The Visitors; (worthy of their two-goal advantage early in the second half) were rattled by a well-worked Stirling reply, which threatened (momentarily), to de-rail them. A rather fortuitous penalty award restored their two-goal cushion, and 'Kilbride were good value for their away win.
Departing the Stadium, I thanked the appropriate people and began the homeward journey. Making sense of my disheveled notes helped cocoon my return train journey. I engaged briefly with a Hibs Fan as I disembarked at Waverley Station; but he looked as if he had lost a pound and found a penny, (despite his sides 1-0 Victory).
Laptop unfamiliarity delayed my final draft a further few hours; its delivery aided by the accommodating staff within the Carlton Hotel. I caught the last Bus home unaware as to the Old Firm outcome. My Parents were sat-up in bed reading, and my Dad's smile said it all. After all, he often waxed lyrical about the virtues of public transport, and the values of grass-roots Football.
We hope you enjoyed this article 'Derby-Day Distraction: A Tale of Match Reporting'. What is your favourite Derby-Day match up? Let us know!
Read more on football here: