Who Will be the New Messi and Ronaldo?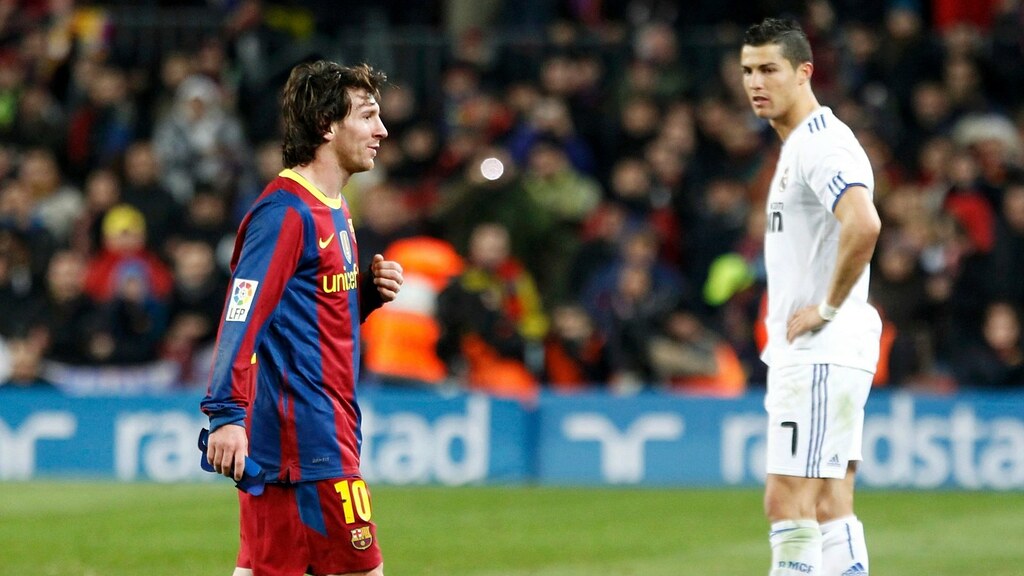 Which players will replace Messi and Ronaldo as the best in the world?
Who Will be the New Messi and Ronaldo?
Lionel Messi and Cristiano Ronaldo have dominated world football for years now. Together the pair have won 11 out of the last 12 Ballon D'ors, with only Luka Modric breaking the streak in 2018. They also have 11 of the last 12 FIFA The Best awards. They have scored 1272 goals combined in 1581 games. It is hard to see anyone achieving success of this scale any time soon, but which young stars will take their places as the best in the world?
Neymar on Messi, Ronaldo and the Ballon d'Or 🏆

"Messi and Ronaldo have of course dominated [the Ballon d'Or] because over the last 10 years they have not been from this planet. It would be an honour to win it."

— Goal (@goal) August 22, 2020
Kylian Mbappé – PSG
Mbappé is seen by most as the biggest talent in world football. At the age of just 21 he has won 4 Ligue 1 titles, 4 French cups and was a key player in France's World Cup triumph. He already had a 4th place Ballon D'or finish at the age of 19, so it's hard not to see him winning the award in the future.
Could he reach the levels of Messi and Ronaldo? Well, when he turned 21 he had scored 103 goals. At the same age, Messi and Ronaldo had bagged 42 and 27. Mbappé is definitely ahead at this stage, and I would certainly back him as the most likely to dominate in the same way Messi and Ronaldo have.
Kylian Mbappe's career so far:

Golden Boy ✅
World Cup ✅
Ligue 1 (x4) ✅
Coupe de France (x2) ✅
Coupe de la Ligue (x2) ✅
Champions League❓

He's still just 21 🤯 pic.twitter.com/84AYkVNLjK

— Goal (@goal) August 19, 2020
Jadon Sancho – Borussia Dortmund
The former Manchester City winger surprised many when he left England for Dortmund, but since then he has surprised us even more with his incredible performances. It's safe to say he has taken the Bundesliga by storm. In 99 games he has 34 goals and 43 assists. This impressive return and his flair on the ball have made him a target for top clubs. If United ever reach a deal with Dortmund for his transfer, Sancho will likely light up the Premier League too. Definitely a future contender for the Ballon D'or.
SE11 born & raised. It's all in the sauce 🔥🔥🔥 @Nikefootball @nikelondon Getearly access here: https://t.co/Y5xQANIm1o pic.twitter.com/tqfUnxdfg5

— Jadon Sancho (@Sanchooo10) August 21, 2020
Erling Braut Haaland – Borussia Dortmund
Haaland is a goalscoring machine. He rose to prominence with his performances on the European stage as well as in the Austrian league for RB Salzburg. After scoring 29 goals in 27 games for Salzburg he earned a move to Borussia Dortmund. So far he has 16 goals and 3 assists in 18 games for BVB. His confident persona is comparable to Zlatan Ibrahimovic, and he Haaland could become even better than Zlatan if he continues scoring goals like he is at the moment. If the football doesn't work out, there's always music to fall back on…
Ansu Fati – Barcelona
La Masia has produced many talents, but few have an impact as quickly or effectively as Ansu Fati. He has made the jump from youth football to La Liga with ease, and has been a star in an underwhelming, ageing Barca side. Barca will be hoping the pressure isn't too much for him, like it seemingly was for Bojan and other La Masia stars.
"I really like him and I try to help and support him. He's an amazing player and he's got what it takes to succeed. You have to remember that he's only 16. I hope he keeps on enjoying it and that all the fuss around him doesn't have a negative impact on him because he has the quality to become one of the best." – Lionel Messi on Ansu Fati
Barcelona youngster Ansu Fati (17) is called up for the Spanish national team for the first time 🇪🇸

What a talent 🔥 pic.twitter.com/4EftWYxJiU

— FifaCMTips (@FifaCMTips) August 20, 2020
Kai Havertz – Leverkusen
Chelsea target Havertz has already established himself as one of the stars of the Bundesliga at just 20 years of age. He gets good numbers from attacking midfield, can also play out wide and up top with his proficiency in the air. If his move to Stamford Bridge goes through he will have a great chance to show what he can do on the world's biggest stages.
Vinicius Jr – Real Madrid
One of many Brazilian talents at Real Madrid, Vinicius has brought his samba flair to the Bernabeu. He has impressed Madridistas with his impressive skills and electric pace. If he improves his finishing he could become a world beater.
✨ @viniciusjr, @RodrygoGoes, @ReinierJesus_19 and Kubo are among the nominees for the 2020 Golden Boy award! 👏#HalaMadrid pic.twitter.com/cfDOXgrjUt

— Real Madrid C.F. 🇬🇧🇺🇸 (@realmadriden) August 16, 2020
Joao Felix – Atletico Madrid
Atletico splashed £113M on Felix at 19 years of age and with one season of professional football under his belt. While his time at the Wanda Metropolitano hasn't been a huge success, he has shown glimpses of brilliance. Simeone's defensive style has made it hard for Felix to adapt to La Liga, but he still has plenty of time and potential.
Honorable Mentions
Alphonso Davies (Bayern Munich), Trent Alexander Arnold (Liverpool), Mason Greenwood (Manchester United), Rodrygo (Real Madrid), Rayan Cherki (Lyon).
We hope you enjoyed this article 'Who Will be the New Messi and Ronaldo?'. Who do you think will replace Messi and Ronaldo as the best players in the world? Let us know!
Read more on football here: