The Most Famous Ballon d'Or Snubs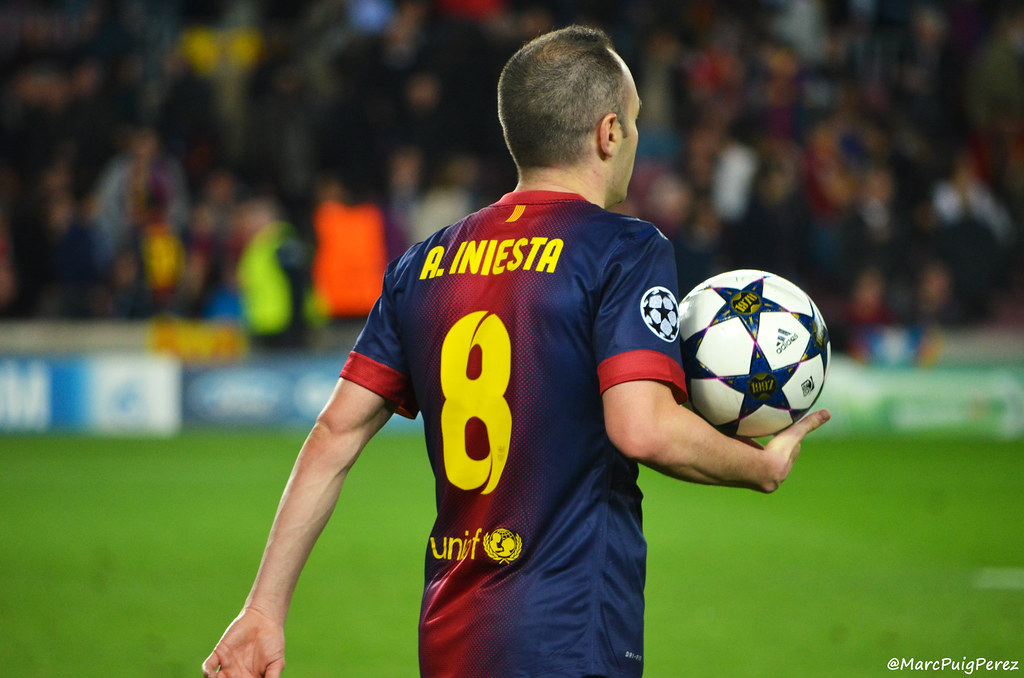 The Most Famous Ballon d'Or Snubs
With Robert Lewandowski's notable snub from this year's awards ceremony – with the now seven-time Ballon d'Or winner Lionel Messi pipping him to 1st place – the Polish striker isn't the only noticeable player to miss out on the prestigious accolade. Various notable players have missed out, failing to secure the Ballon d'Or despite an illustrious career.
An award dominated by the likes of Lionel Messi and Cristiano Ronaldo – with a few surprise winners scattered amongst the usual candidates – who are the most famous players never to win the Ballon d'Or?
Paolo Maldini
The first notable snub for the prestigious Ballon d'Or Award is Italian giant Paolo Maldini, a one-club man his entire career with AC Milan. Regarded as one of the best defenders of all-time – playing as a full-back before transitioning to centre-back duties later in his career – it's a surprise that the man dubbed 'Il Capitano' wasn't recognised with an award for his many years as AC Milan's colossus at the back.
Maldini's versatility to play anywhere along the back four saw a lengthy and successful career transpire at the San Siro, alongside a well-rounded game which saw the Italian battle valiantly whilst also remaining composed when the ball came to him. Not an aggressive centre-back, his intelligence to stand off players made him one of the toughest defenders to face. Winning 25 trophies with Milan, the personal accolade of the Ballon d'Or eluded him.
Xavi Hernandez
Overshadowed by his fellow Barcelona teammate Lionel Messi at the Camp Nou, it was a surprise to see Xavi hadn't also been awarded a Ballon d'Or for an illustrious career. Now Barcelona's manager after recent turbulent times, his playing days saw him regarded as one of the finest midfielders of his generation.
Runner up to the Argentine in the UEFA Best Player in Europe award in 2011, he was always in the shadow of more decorated individuals. Renown for his passing ability, pinpoint whilst finding his teammates, he was also a diminutive figure whose agility and skill found him pockets of space all over the pitch.
Winning 32 trophies in his career, Barca's number 6 had an extremely successful career. Affectionately known as the 'Puppet Master', his crucial role in Barca's free-flowing game deserved a Ballon d'Or.
Andres Iniesta
Xavi's midfield partner at Barcelona also warranted a Ballon d'Or nod, finishing runner-up in 2010 whilst coming third two years later in 2012. Of the same build as Xavi in the midfield, Iniesta's attributes saw him as the more attacking option of the two.
Regarded as one of the trickiest dribblers of all time, Barca's number 8 could work his way out of a tight space with his dribbling alone before finding a spare Barca shirt to start an attack. He was often regarded as a big-game player, coming out of his shell so to speak when his club and country came calling. Scoring the winner in the World Cup Final in 2010, his crucial goal breaking the deadlock, should Iniesta have been given the Ballon d'Or in that year? Unfortunately for Andres, Messi was at the peak of his powers.
Winning Man of the Match in the World Cup Final, the Champions League Final and the Euros Final, he couldn't quite add a Ballon d'Or success.
?️ "If he dribbles, if he carries the ball and goes at people, everything flows."

?? Visionary midfielder Andrés Iniesta… @andresiniesta8 | @FCBarcelona | #UCL pic.twitter.com/YS4AxAEjaX

— UEFA Champions League (@ChampionsLeague) December 2, 2021
Manuel Neuer 
Goalkeepers often get overlooked for the big awards, and with the long and successful career Manuel Neuer has had, he could well feel hard done by. Still only 35 years of age, the German shot-stopper feels like he's been around forever.
A staple of the Bayern Munich team since the turn of the 2010s, the German is ever-reliable. Bursting onto the scene with Schalke, before announcing himself on the world stage in the 2010 World Cup in South Africa, the Gelsenkirchen born keeper has never looked back. Known for his agile reflexes, alongside an ability to play out from the back, he is often regarded as the complete modern goalkeeper.
Playing a crucial role in two Bayern Munich trebles, making nearly 300 appearances for the Bavarians, he was shortlisted in 2014 and finished in the bronze medal position. With Lev Yashin still the only goalkeeper ever to receive the Ballon d'Or, and Neuer being upstaged by the likes of Jan Oblak and Alisson in today's game, the Golden Ball might well have deserted him.
Thierry Henry 
Regarded as one of the best strikers in Premier League history, the Frenchman missing out on the Golden Ball is a strange one. Runner up to Juventus' Paolo Nedved in 2003, the Ballon d'Or bypassed the Arsenal legend.
A match made in heaven, Thierry Henry at Arsenal under Arsene Wenger in his prime was a joy to watch. A clinical finisher by nature, his goals for The Gunners were always audaciously taken. Dazzling defenders with his skill, he would often lash one past the unsuspecting keeper. An unpredictable player, his outside of the box strike against Manchester City sticks out alongside his solo run goal against fierce rivals Tottenham Hotspur.
A crucial component of the famous Invincibles, Arsene Wenger's side going an entire Premier League campaign without defeat, this is a notable snub. Scoring goals for fun too at Barcelona after Arsenal, he was deserving of the Ballon d'Or accolade.
Arjen Robben
Another attacker makes the list, the tricky Dutch winger Arjen Robben is deserving of his place as a notable snub. Initially making his name in his native Holland, before a move to Chelsea in-between, his plaudits would come in a 10-year spell with Bayern Munich.
His trademark throughout his career was his ability to cut inside and finesse past any goalkeeper he faced, usually to devastating effect. Moving more centrally to take aim, using his preferred left foot, he struck fear into his opponents. With Frank Ribery occupying the other channel, the two became a fearsome duo for The Bavarians.
He would finish in 4th place in the Ballon d'Or Rankings of 2014, below the usual suspects of Lionel Messi and Cristiano Ronaldo. Arjen would often get under the skin of his opponents, labelled as a 'diver' by fellow footballers. But, with a goal and an assist in Bayern Munich's Champions League final at Wembley in 2013, he was a player for the big occasion who won at all costs. Clinical and confrontational, the Ballon d'Or bypassed the Dutch winger.
Andrea Pirlo 
Recently manager of Juventus, Pirlo's playing career far outweighs his unspectacular start to coaching. In the same ilk as Xavi and Iniesta, Pirlo is seen as one of the finest deep-lying playmakers to ever grace the sport.
Regarded as proof that 'God exists' by former teammate Gianluigi Buffon, Pirlo's ability to play as a defensive midfielder and an attacking option made him a versatile option for his various Italian clubs. Able to spray long passes for fun, Pirlo was also adept with skill on the ball. Beating players with sheer creativity over pace, Pirlo's free-kicks and penalties were another trademark of the Italian's game. His panenka penalty over England still haunts me to this day, chipped down the middle expertly.
Winning Serie A Titles, Champions Leagues and a solitary World Cup as a collective, he could only make do with falling short of the Ballon d'Or award.
Pirlo pings the ball past Frank Rost #OTD in 2005 ? ? @acmilan | #UCL pic.twitter.com/tVzLOdAO1U

— UEFA Champions League (@ChampionsLeague) December 6, 2021
Raul
The final choice is a Real Madrid icon, their second all-time goalscorer in Raul. Scoring 323 goals in 741 appearances for Los Blancos, he is cited as one of the greatest strikers ever.
Wearing the number 7 for Real Madrid, before Cristiano Ronaldo joined, the Spaniard's consistency from a young striker to an experienced forward is remarkable. A well-rounded striker like Thierry Henry on the list, Raul could often score a goal from nothing. Whether it was curling one from outside the area, chipping one over a helpless keeper, or simply tapping it in, he would score.
Furthering his career in Germany with Schalke, scoring goals for fun in the Bundesliga at the age of 33, recognition in the form of a Ballon d'Or never arrived. But, with six La Ligas and three Champions Leagues under his belt, he had an illustrious career without that accolade.
We hope you enjoyed the article 'The Most Famous Ballon d'Or Snubs'. Are there any other players that you believe deserved to win a Ballon d'Or? Let us know!
Read more on football below: