The Best Championship Strikers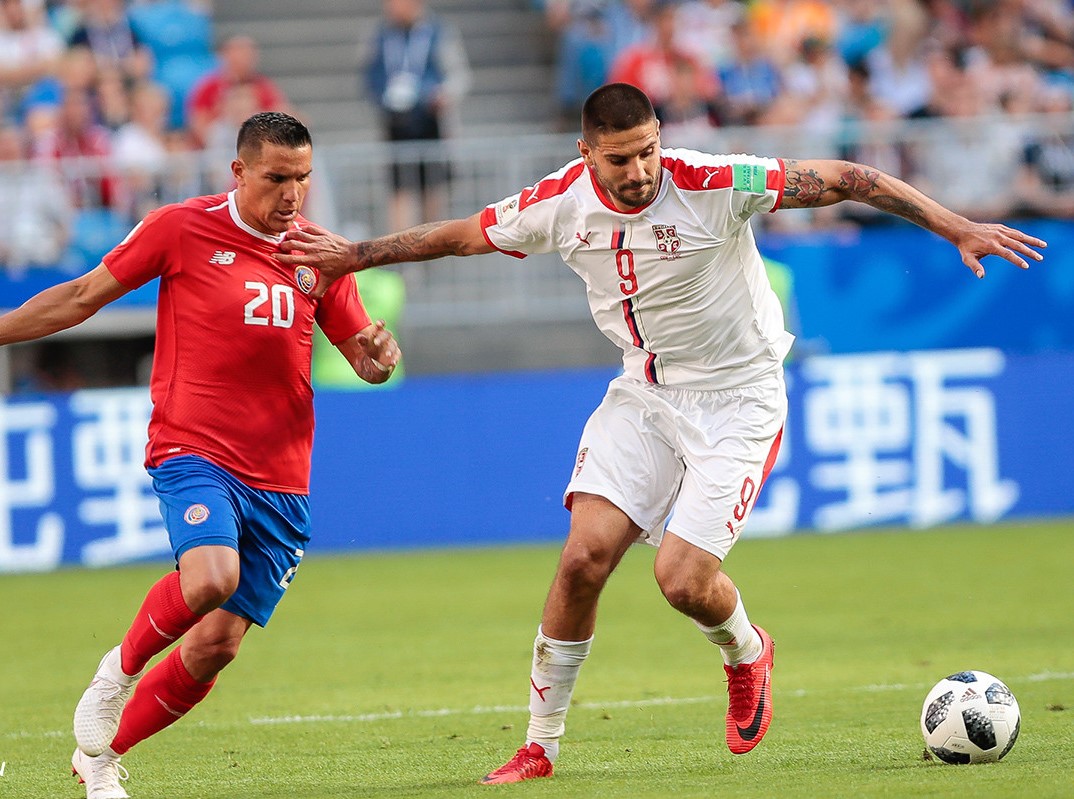 Who is the best Championship striker of all time?
The best Championship Strikers
Since its inception in 2004, there have been some great strikers who have played in the English Football League Championship.
The ever-increasing riches that are on offer in the Premier League, means that the benefit of winning promotion from the Championship is lucrative to any club. That's why any team who wants to be successful needs to have a talisman who will take on the goalscoring burden and help their team win promotion to the promised land. 
Goalscoring can be considered one of the hardest things to do in football. There is a fine line for any striker between being worshipped as a hero or subjected to ridicule. That's why they need to be strong mentally to go with the technical skill that is needed to be a great goalscorer. Whilst the role of a striker has changed over time, it's their goalscoring exploits which they are ultimately remembered for.  
The Championship has had a good mix of strikers who have come down from the Premier League, those who have progressed upwards through the lower leagues, and those who have arrived from clubs overseas.  
So, who have been the best Championship strikers? Let's take a look at some of those who have made a name for themselves in the second tier of English football.  
Ross McCormack 
Cardiff City, Leeds United, Fulham, Aston Villa, and Nottingham Forest
McCormack has scored a total of 120 goals in the Championship, which currently puts him second in the all-time list. His goal scoring ability is also backed up with the joint record for the most assists from a striker with 55. Demonstrating that not only was McCormack a deadly finisher, but he was also a great provider for the teams he played in.  
Whilst the best strikers would earn success for their teams through promotion, McCormack was often playing in sides that were not competing at the top of the table. This makes his great goalscoring record all the more impressive as his individual performances probably helped to keep his teams in the Championship.
The former Scotland international had his best goal scoring season in 2013/14 when he scored 28 goals for Leeds and won the golden boot award. He managed to score 15 goals or more in 5 of the Championship seasons he played in.
His record at Leeds earned him an £11m move to Fulham. Further success at Craven Cottage led to a £12m transfer to Aston Villa. Unfortunately, his career began to tail off at Villa Park. Despite this, McCormack can still be considered as one of the best Championship strikers.   
🔝🔟 Ross McCormack pic.twitter.com/KmuPu5C94U

— Leeds United (@LUFC) March 30, 2020
Aleksandar
 Mitrovic
Newcastle United and Fulham
Mitrovic's goal scoring record in the Championship demonstrates how lethal he is at this level. In 99 appearances so far, the Serbian international has notched up 62 goals. 
After an unimpressive first season in the Championship with Newcastle in 2016/17, his goal scoring exploits took off when he joined Fulham on loan for the second half of the 2017/18 season. His 12 goals in 17 games helped to earn Fulham promotion to the Premier League, they subsequently signed him permanently for £22m that summer.  
Whilst his goals were unable to prevent their relegation the following season, Mitrovic finished as the league's joint-top scorer in 2019/20 with 26 goals. His goals once more helped Fulham to win promotion back to the Premier League via the playoffs. Unfortunately, as with their last visit, relegation followed again. 
He is currently leading the goalscoring charts in the 2021/22 season with a remarkable 20 goals in 17 games for Fulham. With over half the season still to play and the form he is in, Mitrovic is on course to potentially break the record for the most goals scored in a single season. 
⚽ Championship goals so far this season

Aleksandar Mitrovic – 20
Swansea – 20
Reading – 20
Middlesbrough – 19
Bristol City – 19
Birmingham – 18
Preston – 18
Blackpool – 18
Millwall – 17
Peterborough – 17
Cardiff – 16
Derby – 13
Barnsley – 12
Hull – 11

🇷🇸 Mitro's on fire #FFC pic.twitter.com/9FUGskxP5T

— Betfair (@Betfair) November 6, 2021
Glenn Murray
Crystal Palace, Reading, Brighton & Hove Albion, Watford, and Nottingham Forest
Glenn Murray worked his way up from non-league football and ended up playing in the top 6 tiers of English football. Having helped Brighton earn promotion to the Championship in 2010/11, he moved on to their rivals Crystal Palace.
Murray's first season at Palace was underwhelming. It was his second season in 2012/13 where Murray showed his ability as a consistent goalscorer at this level. He became the first player to score 30 goals in a season and this helped Palace seal a return to the Premier League via the playoffs. Unfortunately, during the playoff semi-final, Murray suffered a serious knee injury which would sideline him for the final and much of Palace's Premier League return.   
After struggling to find form, he had a loan spell at Reading before returning to Brighton in 2016/17 for a second spell. Murray once again demonstrated his ability and had another strong goal scoring season. His 23 goals for the Seagulls earned them their first promotion to the Premier League and gave Murray another shot at it.
David Nugent 
Preston North End, Portsmouth, Leicester City, Middlesbrough & Derby County
Nugent has amassed 415 appearances for 5 different clubs and currently holds the record for the most goals scored in the Championship with 121 goals. He also leads the way with the most assists by a striker, jointly held with McCormack. 
After starting his career with Bury, Nugent joined Preston in 2004 and his impressive performances in the Championship earned him a surprise call up to the England squad. Soon after this, he moved to the Premier League when Portsmouth signed him in 2007. He was unable to make his mark in the Premier League and returned to the Championship when Portsmouth were relegated in 2009/10.
Nugent had his best goal-scoring season in 2013/14 when he scored 20 goals for Leicester City. His goals and assists that season earned The Foxes promotion to the Premier League. Although Nugent hasn't had the high-scoring seasons that some of the others have had, his consistency and experience mean he is a strong candidate for the best Championship striker.  
Teemu Pukki
Norwich City
When Pukki arrived in English football in the summer of 2018, few would have predicted the impact he would have. He joined Norwich on a free transfer from Danish side Brondby and it didn't take him long to find his feet in English football. He quickly earned a reputation for superb movement and a cool composure in front of goal. 
In Pukki's first season, the Canaries clinched an unexpected promotion to the Premier League. This in part was down to Pukki's 29 goals which won him the golden boot that season. He was awarded the Championship Player of the Season and named in the Team of the Season.
Unfortunately, Norwich weren't able to stay in the Premier League and made a return to the Championship in 2020/21. Once again, the Finnish international found his form and netted 26 goals as Norwich clinched the title for the second time in three seasons.
His 55 goals and 14 assists across his 2 seasons in the Championship have been so important to the Canaries' recent success. 
Jordan Rhodes
Ipswich Town, Huddersfield Town, Blackburn Rovers, Middlesbrough, Sheffield Wednesday, and Norwich City
Jordan Rhodes initially made a goalscoring impact in League One with Huddersfield Town. After helping to get them promoted to the Championship in 2012, Rhodes moved to Blackburn Rovers for £8m where he would continue his form.
Rhodes was at Blackburn for three and a half seasons and scored a total of 83 league goals for them. In his three full seasons at the club, he scored over 20 goals. His best goalscoring season was in 2012/13 when he scored 29 goals. This was not enough to win the golden boot though, as Glenn Murray beat him to it with 30 goals.  
Middlesbrough forked out £9m to take him to the Riverside for the second half of the 2015/16 season. Rhodes was then part of the squad which won promotion to the Premier League later that season.  
Despite not replicating the volume of goals that he had in his earlier career, Rhodes can still be classed amongst the best Championship strikers. He currently sits fourth on the all-time list with 115 goals.  
Billy Sharp
Sheffield United, Doncaster Rovers, Southampton, Nottingham Forest, Reading, and Leeds United
As a consistent goal scorer in the English Football League, there are few who can boast the record that Billy Sharp has. In fact, he has scored more goals in the EFL during the 21st Century than any other player. This includes 118 goals in the Championship, which puts him third in the all-time list.  
Sharp has been a consistent goal scorer at each of the clubs he has played at and has scored 10 goals or more in 6 of the Championship seasons he has played in. He has also laid on a total of 46 assists.
He had his most productive season in 2018/19 when playing for Sheffield United and scored 23 goals. This contribution helped The Blades to earn promotion to the Premier League.  
Ivan Toney
Brentford
Whilst he may have only played one season in the Championship for Brentford, Toney broke the record for the most goals scored in a season when he hit 31 goals during the 2020-21 season.  
He was signed from Peterborough in the summer of 2020 after a successful goal scoring season in League One. Toney showed that it would not affect his ability to consistently find the net despite the step up.
His 31 goals along with 10 assists helped to earn Brentford a place in the playoffs at the end of the season. Toney scored in the second leg of their semi-final win against Bournemouth. He scored again in the final against Swansea to earn Brentford a 2-0 win and promotion to the Premier League for the first time in their history. 
We hope you enjoyed the article 'The Best Championship Strikers'. Who do you think has been the best of all time? Are there any other strikers that could be included? Let us know!
Read more on football below: