The New Generation of Football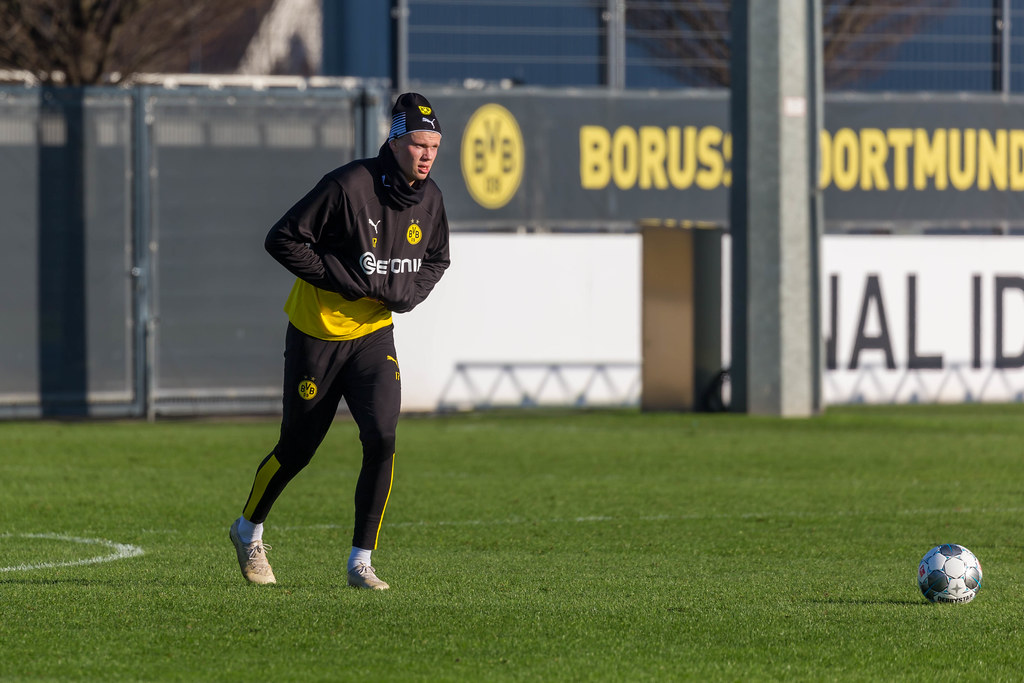 The New Generation of Football
Everything has a beginning and an end. Right now, we are at the final stages of the careers of Cristiano Ronaldo and Lionel Messi. Their rivalry, sportsmanship and battles have delivered one of the most prestigious football eras of all time.
However, the world of football is entering a new era. As the stars of the previous generation are slowing down, it is time to accept the transition and welcome the youngsters that have the potential to become the new superstars. Below you will find the list of the best young talents in football.
10. Bukayo Saka
Nationality: English
Position: Winger
Club: Arsenal
Age: 19
Saka has had a spectacular journey in the Premier League. He started as a promising left-back but was later transitioned to a winger due to his offensive abilities. The youngster from England is slowly building up his reputation for Arsenal. His goal against Chelsea could be argued that it is a candidate for a goal of the season. Saka offers a wide variety of skills as he is an energetic and tenacious player. To go along with that, Saka has incredible pace and can cross the ball towards the penalty area at any time. Despite that, there is much room for improvement for Saka. Since he is quite young, the Arsenal staff are yet to see how he deals with criticism and pressure. At 19 years old, Saka is one of the best young talents in the Premier League.
9. Vinicius Junior
Nationality: Brazilian
Position: Winger
Club: Real Madrid
Age: 20
Vinicius Junior has made it clear that he is one of the best youngsters in La Liga. The Brazilian wide man has the pace and the skills to make it count when necessary. Zinedine Zidane has been developing the youngster after his signing from Flamengo back in 2018 by mainly playing him on the left-wing. The strengths of Vinicius Jr. are his incredible pace and dribbling. However, Zidane has expressed concerns over his decision-making skills and ability to play off-ball. The Brazilian youngster is far from a polished player, but at only 20 years of age, there is a long way to go.
8. Joao Felix
Nationality: Portuguese
Position: Winger
Club: Atletico Madrid
Age: 21
Felix was signed by Atletico Madrid and immediately made the headlines as the second most expensive teenager in the world. He joined Benfica for 126 million euros in 2019. The Portugal winger has enjoyed success under Diego Simeone's demanding physical play. Simeone has praised Felix's field awareness and first touch. Additionally, Joao Felix has been regarded as a crowd-pleaser due to his elegant plays and swift body movements. Felix remains one of the most prominent young talents. If he can capitalize on the mounting pressure that is building on his shoulder, Felix can become one of the best. At 21, he has some of the greatest achievements to his name.
.@joaofelix70 aos 21 anos ??

??? Liga NOS
??? La Liga
??? Liga das Nações
?? Golden Boy
?? Jogador Revelação do Ano pic.twitter.com/83AphzBqRO

— HG35 (@hg35design) May 23, 2021
7. Pedri
Nationality: Spanish
Position: Winger / Attacking Midfielder
Club: Barcelona
Age: 18
You could think that Pedri is a product of Barcelona's youth academy. He has all of the necessary skills such as great touch, passing, and vision. However, the attacking midfielder was signed by Las Palmas back in 2019. Pedri himself has made it clear that he wants to play like Andres Iniesta and the comparisons are there to be seen. Being capped for the upcoming EURO at the senior level, Pedri has a bright future. Ronald Koeman moved Pedri from his initial winger position and so far that has been giving great results. Pedri's tactical play in the center of the field combined with his vision is a dangerous factor in Barcelona's offensive scheme. Despite that, Pedri can definitely improve his defensive aggression as well as his confidence. If he takes more shots he can definitely score up to 15 goals a season as a midfielder.
Soy el primero que quería ganar en un día tan especial, pero que nadie dude de que sacaremos esto adelante ?Confíen en nosotros ?#euro2020 #ESP pic.twitter.com/Uo22RAhNbF

— Pedri González (@Pedri) June 14, 2021
6. Jude Bellingham
Nationality: English
Position: Midfielder
Club: Borussia Dortmund
Age: 17
Bellingham's ascension from battling regulation with Birmingham to being a dominating presence in Dortmund at the Champions League in less than a year is a promising factor for the young star. Bellingham is slowly turning into the iconic "Number 8" midfielder. With great passing skills, stamina, and vision, Bellingham can one of the brightest midfielders in football. At 17 years old, the English midfielder has improved beyond comprehension. Expecting more of him at the age of 17 would simply be unfair since he has delivered on every side of the field.
Ready. #EURO2020????????? pic.twitter.com/lcfjHvXUhO

— Jude Bellingham (@BellinghamJude) June 12, 2021
5. Ansu Fati
Nationality: Spain
Position: Winger
Club: Barcelona
Age: 18
Ansu Fati was being compared to the heir of Lionel Messi. However just as he started to rise to the top he got a meniscus injury that has kept him off the field for months. Before the injury, the young winger showed promises of pacing, dribbling, and effective crossing. If Fati can stay healthy after the injury he can become Barcelona's top star. Right now it's all about getting fully fit and match ready. If Fati does not become injury-prone in the long term, then he has a bright career ahead of him.
¡Estoy muy contento de anunciaros mi nominación al Laureus Breakthrough del año! ¡Es un honor para mi! Gracias @laureussport

I'm very excited to announce my nomination for the Laureus World Breakthrough of the year! It's an honor for me! Thank you @laureussport #Laureus21 pic.twitter.com/ixiXrTA8kL

— Ansu Fati (@ANSUFATI) February 24, 2021
4. Matthijs de Ligt
Nationality: Dutch
Position: Defender
Club: Juventus
Age: 21
De Ligt won the Golden Boy award back in 2018 and ever since he has been breaking expectations. He was Ajax's youngest captain ever and a product of their academy. Juventus bought him for 75 million euros, which made him the fourth most expensive defender ever. A promising talent, De Ligt has great passing and defending skills. Additionally, he can stay calm under pressure and wins over 70% of the challenges in the air. The only downside to De Ligt is his pace. If he can build up stamina and cover more distance, he is certain to become one of the best defenders of the game.
Squadra ❤️?? @juventusfc pic.twitter.com/BABPHXQ0Qd

— Matthijs de Ligt (@mdeligt_04) February 9, 2021
3. Phil Foden
Nationality: English
Position: Midfielder
Club: Manchester City
Age: 20
Phil Foden has solidified himself as one of the best midfielders in the Premier League. The product of the Manchester City academy has been only improving. Additionally, he is the main part of England's international squad for the Euro tournament. Foden moves around the pitch effortlessly and constantly scans the pitch for the best positions available. His passing and vision make him a true catalyst for the Manchester City Offense. If Foden can stay focused and calm during games he can deliver some of the best passes in the Premier League. He has also proved to be a tireless runner, often hustling for loose balls.
2. Jadon Sancho
Nationality: English
Position: Winger
Club: Borussia Dortmund
Age: 21
Since his muscle injury at the end of February, Jadon Sancho has only kept coming back stronger, showing his natural-born talent. Last season, the youngster stunned the Bundesliga with his offensive performance. Whether on the left or right-wing, Sancho's thirst for playing the game is vivid. He wants to run, score and get the ball. His agile build and pace make him very difficult to contain by the defenders of the opposition. Overall, Sancho is a great prospect but must focus on staying in form, since he does not perform great defensively when out of form.
1. Erling Haaland
Nationality: Norwegian
Position: Striker
Club: Borussia Dortmund
Age: 20
One of the most talked-about young players ever in the history of football. Erling Haaland is something else. His 37 goals from the 38 games he played speak alone. He had a phenomenal season for a 20-year old. When his release clause of 75 million euros kicks in next season, the club will certainly be eyeing down the youngster. Haaland is simply a perfect striker. His raw power, pace, and strength make him the complete "Number 9" forward. He has all the physical and mental qualities to compliment his offensive game. At 6 foot 4, the striker is a powerhouse in the air, scoring headers with ease. The only room for improvement for Haaland is if he can sustain the pressure that has been building. Haaland is a true superstar in the making and possibly the next generational player.
We hope you enjoyed the article 'The New Generation of Football.' Which of these players do you think will be the greatest? Let us know!
Read more on football below: