5 solutions to England's T20 middle-order dilemma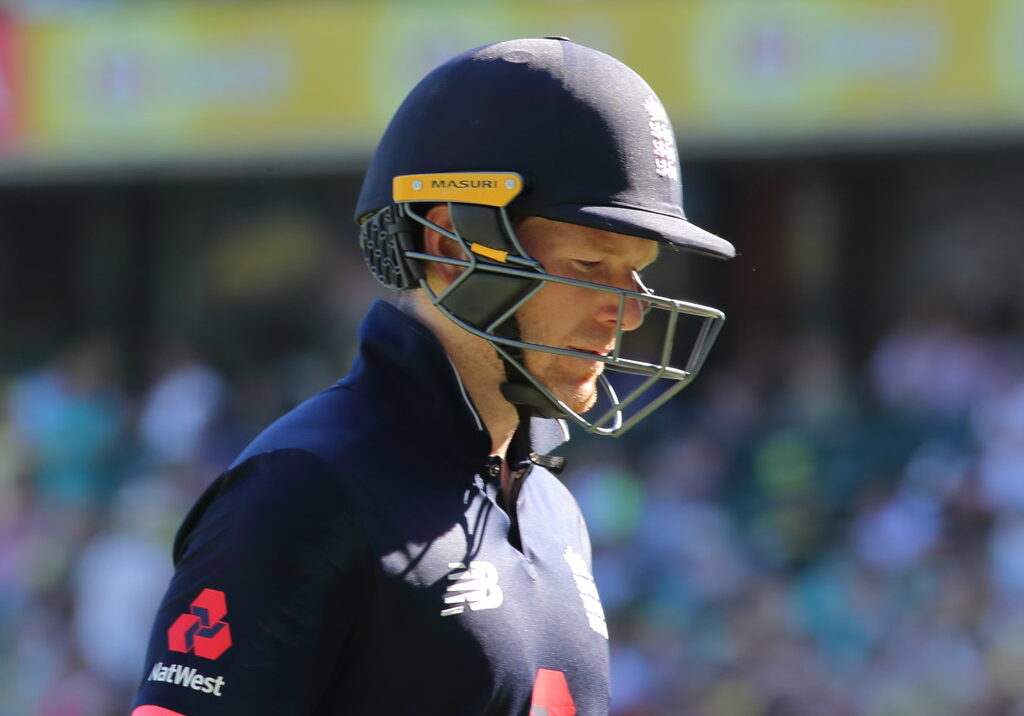 5 solutions to England's T20 middle order dilemma
With Eoin Morgan's side suffering a 3-2 defeat to India in the five-match T20I series, England's middle-order has come under criticism from the likes of former England captains Michael Vaughan and Nasser Hussain.
Concerns were raised regarding lack of balance between left and right-handed batsmen in the middle-order, with left-handers Dawid Malan, Morgan, Ben Stokes and Sam Curran batting at three, five, six and seven respectively. This failed to trouble Indian bowlers who took wickets and remained economical without being challenged with a change in angle and variation which would come with different handed batsman at the crease.
The situation is not as simple as just chopping and changing though.
With selectors and management facing a conundrum, we take a look at the solutions that could add much-needed balance to England's middle-order ahead of the T20 World Cup later this year.
1. Open with Malan and move Buttler down the order
Throughout the recent series, Dawid Malan continued to show that his style of batting consists of playing himself in during the early stages of his innings. This isn't usually considered a problem, with Malan demonstrating his ability to pile on the runs when comfortable at the crease on numerous occasions.
Although the Yorkshire batsman struggled to put runs on the board in Ahmedabad, whilst using up a high proportion of deliveries. In the first, second, third and fourth fixtures, Malan struggled to score runs at a rate that arguably held his team back.
Modest scores from Virat Kohli's side in the first and third matches saw England cruise to victory in spite of Malan's slow scoring, though unsuccessful run chases in the second and fourth fixtures are evidence of how Malan's low scoring rate early on can be detrimental to his team.
To nullify the potential problem and provide a right-handed balance to the middle-order, Morgan could reshuffle his opening partnership. If Malan were to open, this would allow him to face deliveries at the earliest possible point in an innings. Meaning that whilst he finds his way at the crease he is not consuming deliveries at a later stage -where power hitting is often required- though, his low scoring rate could hinder the number of runs produced in the powerplay which is seen as a vital phase in T20 cricket.
This would then see Jos Buttler move down the order. The wicketkeeper's record as an opening batsman in T20 cricket cannot be discounted, though he has the ability to bat anywhere in the lineup. Despite never batting at three in a T20 fixture previously, you would presume he would slot into the role seamlessly. Although, Buttler also impressed throughout the 2016 T20 World Cup hosted in India when batting in a middle-order role, which is indicative of his talent and his ability to perform in any role asked of him. His preference may be too open, though it would not be ridiculous for Morgan to ask one of England's best-ever white-ball batsmen to bat at three, four, five, or six if it benefits the balance of the team.
2. A T20 return for Root
A straight swap at three would of course readdress that much-needed balance in the middle order. Joe Root is without a doubt England's best player of spin, and this was once again demonstrated in the recent test series against India. With the T20 World Cup returning to Indian shores in October, any successful batsman will have to figure out how to score runs against spin bowling at a reasonable rate.
Root did exactly that in 2016. The Yorkshireman combined orthodox strokes with guile and creativity to lead his side to the final, he also ended as the competitions' third-highest run-scorer and with a sublime average of 49.80. 83 runs from 44 balls in a must-win clash against South Africa also showcased Root's ability to score runs quickly, finishing with a respectable strike rate of 146.47 throughout the tournament.
However, Root has not played a T20I fixture since 2019, although his figures remain impressive with an average of 35.72. He also responded to being left out of the T20I squad for the 2020 summer in emphatic style. In five T20 Blast innings for Yorkshire last year, Root scored an outstanding 657 runs @69.5 with a strike rate of 144.8. Backing up his ambition to play T20 cricket for his country.
Root's inclusion in the current T20 lineup would more than likely see the omission of Dawid Malan. It would not be comprehensible to bring in the control and touch of the test-match captain by dropping the power and ball-striking ability of a Bairstow, Morgan or Stokes.
Therefore Malan would presumably be the man to make way due to the similarity in style, though Root's bowling ability -which was seen with figures of 2-9 in the 2016 final- could potentially give him a slight edge on the number one ranked T20 batsman.
3. Include a right-handed all-rounder
Whilst there are potential changes to the top six that could be made to restore balance to the batting lineup, the introduction of a right-handed all-rounder would do just that.
Whilst Sam Curran has displayed his ability with bat and ball across the T20 format, his face may not fit at seven as a left-hander. This is despite his deceptive medium-fast bowling and destructive hitting which saw him become a valuable asset across the previous two IPL campaigns. In 2019 Curran took a memorable hat trick to secure a remarkable comeback for Kings XI Punjab, and in 2020 CSK saw such potential in his batting ability he was trusted to open.
Though Curran's direct rival for the all-rounder slot is Moeen Ali, another left-handed batsman. Like Curran, Ali has proven his value to England on various occasions and still has a lot to offer. The Worcestershire man's ability to go big with the bat was seen as recently as the second test match in Chennai, where he hit 43 runs of just eighteen balls which included five sixes. Ali's value in T20 cricket was seen in the recent IPL auction where CSK opted to pay £700k for his services.
The problem that Morgan and co face, is finding a right-handed all-rounder of equal pedigree to Curran and Ali. The most recent right-handed all-rounder to appear in England colours was Lewis Gregory, but an extremely underwhelming average of 7.00 in six innings and one wicket from eleven overs does not merit a starting berth in the side. But he has continued to show his ability in competitions such as the PSL and BBL.
Many would presume Chris Woakes is a genuine option to bat at seven, however, the Warwickshire man has not played a T20I since 2015 and has since admitted his T20I days are probably behind him. Liam Dawson is another right-handed all-rounder that has been in and around the squad, though his T20 strike rate of 114.06 is not what England will be looking for to finish games off.
This one may be down to the selectors to unearth a gem from the county circuit, easier said than done though. It would be a surprise if one of Curran or Ali were not to play that role at the World Cup.
4. Bring Hales back from the blue
A mainstay of English T20 cricket up until his recreational drugs ban in 2019, Alex Hales has continued to showcase his ability in domestic leagues across the world. But it was his form in the recent Big Bash League -where he was the tournament's top run-scorer- that has caught the attention of fans and media alike.
Though Hales has only batted outside of the opening partnership on five of his 60 T20I appearances due to his explosive hitting in the powerplay. His return would mean either moving Jos Buttler down the order or making a straight swap with Jason Roy, though the latter option would have little effect on the balance of the middle order.
However, there is no doubting the Nottinghamshire batsman's ability, and he has importantly proven this since his omission from the white-ball squads. Hales has the most T20 runs of any batsman since the start of 2020 and of the top 10 run scorers in that period, he has the greatest strike rate too. His overall T20 average of 31 with a strike rate of 137 from 61 games is almost identical to the likes of Chris Gayle, David Warner and Quinton De Kock, who are all considered prolific run-scorers.
With whispers emerging that Morgan is willing to start reintegrating Hales into the team this summer if England can find a place for him in the team, it could be highly beneficial to their T20 World Cup aspirations. But the question of balance still would remain if he comes in at the top.
5. If it ain't broke don't fix it
England's T20 record is still admirable despite the series defeat to India. Prior to the recent series, Eoin Morgan's side had won ten out of their last fourteen T20I fixtures, dating back to 2019. Whilst it's important to remember that India are ranked as the second-best T20 side in the world and are no pushover.
So why change things massively?
Jason Roy's welcome return to form saw him average a reassuring 29.8 throughout the series, whilst Jos Buttler has an impeccable average of 48.47 when opening the batting in T20I fixtures.
Despite Malan's batting approach being questioned throughout the series, he is still ranked as the number one T20I batsman in the world and Jonny Bairstow solidified his position at four by averaging 39.33 in the five games. Morgan may have struggled with the bat although his undoubted place as England's best-ever white-ball captain means he cannot be dropped, and Ben Stokes is a high-quality performer with both bat and ball. Whilst as previously mentioned, Sam Curran and Moeen Ali have bundles of ability.
In other words, there is no strong case for any of the seven to be dropped.
But a potential area of weakness has been identified and it will be down to Eoin Morgan, the selectors and the coaching staff to find a way to eliminate the lack of balance.
We hope you enjoyed the article '5 solutions to England's T20 middle order dilemma.' What do you think is the best solution for England? Let us know!
Read more on cricket here: