The highest-paid NBA players in the current rosters
The wages in the NBA are big but who are the highest-paid NBA players?
With the vast income they generate into the organisation, it is no surprise that the players involved earn millions each. It isn't just their wages that boost their bank balances. Many players have million-dollar endorsement deals that give them that extra income. 
Players earn millions through shoe deals, clothes deals and much more. You have also got the clever investments the players make to increase their revenue. The income can be endless for the NBA stars.
This isn't to say that the players don't deserve their big wages for the hard work they put in. The NBA calendar is demanding. Games come thick and fast.
Even in the COVID-19 era, the NBA continues to grow and give away big money contracts to its star players. The highest-paid NBA players have secured the bag, and then some.
10. Damian Lillard – 30 Years Old – Portland Trail Blazers
Total Earnings: $39 million
Salary: $25 million
Endorsements: $14 million
The six-time All-star player and former NBA Rookie of the Year earns a good wage slip at Portland. Lillard has been a hit in the league since being drafted in 2012 as a round 1 pick 6 by Portland.
Lillard has again been crucial this year for the Trail Blazers. He has averaged 29.8 points, 7.8 assists and 4.3 rebounds. With these solid stats, Damian has been able to push Portland to the 6th spot in the Western Conference.
9. Chris Paul – 35 Years Old – Phoenix Suns
Total Earnings: $40.1 million
Salary: $33.1 million
Endorsements: $7 million
The 15-year pro has been hitting double-figure points since he started in the NBA in 2005. Paul has certainly turned back the years this season. His 16 points per game average, 8.7 assists and 4.7 rebounds have pushed the Suns to second in the West. 
Paul isn't as marketable for sponsors as he used to be but his court skills keep him earning the big money. The guard looks set to earn another money boost next season. Paul has an option that is rumoured to be worth around $44.2 million, a no brainer for point guard.
Chris Paul tonight:

29 points
9 assists
4 rebounds
50% FG

Point God 🔥 pic.twitter.com/aKtToIflMl

— NBA Central (@TheNBACentral) April 8, 2021
8. Kyrie Irving – 29 Years Old – Brooklyn Nets 
Total Earnings: $43 million
Salary: $26 million
Endorsements: $17 million
Part of a dream set up at the Nets at the minute, Irving continues to earn big money in the NBA. The 7-time All-Star player and one time NBA Championship winner is still regarded as one of the best in the league.
This season has been like so many others for the round 1 pick back in 2011. Averaging 27.7 points, 6.1 assists and 5 rebounds. Irving and co are expected to bring glory to Brooklyn this year and find themselves 2nd in the East.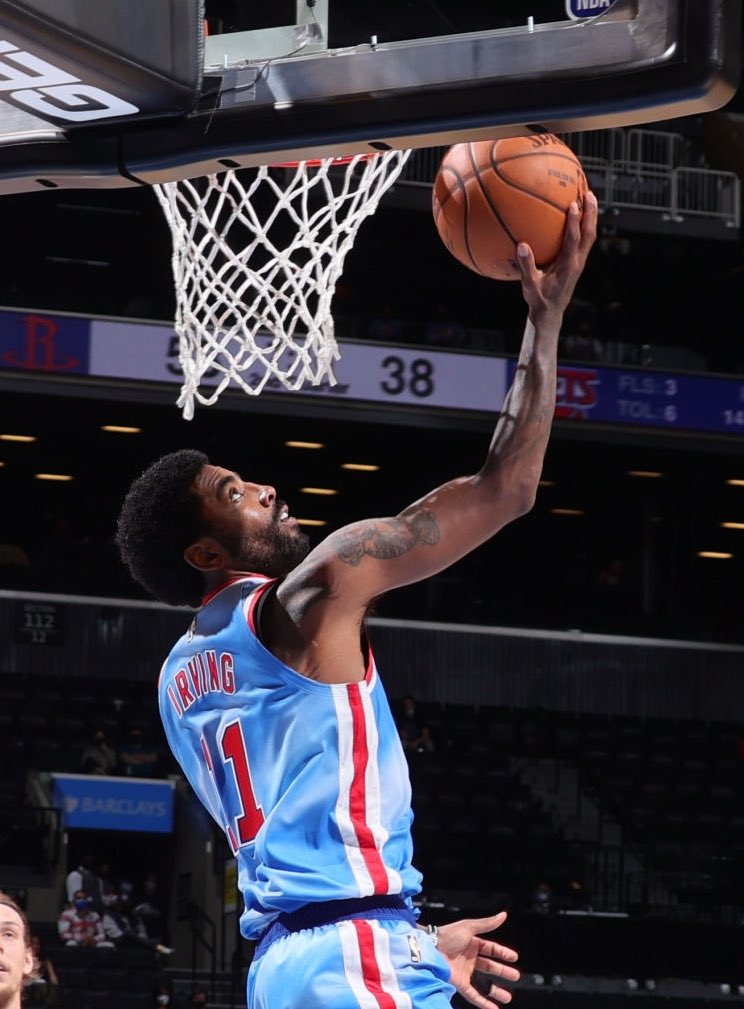 7. Klay Thompson – 31 Years Old – Golden State Warriors
Total Earnings: $43.3 million
Salary: $28.2 million
Endorsements: $15 million
Part of the Golden State team that dominated over the past 10 years. Thompson played a crucial part in that team and will be crucial if the Warriors can overturn their current downfall. 
Thompson is 5-time All-star, 3-time NBA Champion and 2-time All-NBA player, so it is no wonder Klay brings in the big bucks. This year he has been hit with injuries but has averaged 21.5 points, 2.4 assists and 3.8 rebounds.
The Warriors star also has big sponsorship deals with Tissot, Mercedes-Benz and a massive deal with Chinese show partner Anta. 
When Klay Thompson hit 3 threes in less than a minute pic.twitter.com/DAjoaRIzEu

— Antonin (@antonin_org) April 5, 2021
6. Giannis Antetokounmpo – 26 Years Old – Milwaukee Bucks
Total Earnings: $49 million
Salary: $22 million
Endorsements: $27 million
The Greek God at Milwaukee. A 2-time NBA MVP, 5-time All-Star and an overall monster on the court. Giannis is fast becoming the new face of the NBA, and the money is following him. 
Giannis recently signed a deal with the Bucks worth $228 million. A deal that will see Giannis cement himself as a big earner in the NBA for seasons to come.
Off-court Giannis is becoming a popular face for sponsorship deals. Rumours have suggested there are talks to make a movie based on his life. This would stand to make Giannis more money on top of his current stacks. 
5. James Harden – 31 Years Old – Brooklyn Nets 
Total Earnings: $50 million
Salary: $33 million
Endorsements: $17 million
A real contender for MVP this season, Harden is showing why the Nets gave him a massive contract. Harden's move to the Nets sent shockwaves across the league and showed the Nets intent. It also came as a big payday for Harden. 
The move has also been fruitful for the Nets. Harden has helped push Brooklyn to the next level this season. The vast amount of points he has been scoring has ensured even with their often shaky defence, they are up there this season.
Harden is one of the names expected to be in contention for the MVP this season. The Beard has 25.9 points, 11.1 assists and 8.2 rebounds as he looks to claim his first NBA Championship ring. 
It wouldn't be wrong to imagine that as the Nets grow in league stature, their players become more marketable. Harden may be set for an increase in endorsements over the next few years.
4. Russell Westbrook – 32 Years Old – Washington Wizards
Total Earnings: $58.1 million
Salary: $33 million
Endorsements: $25 million
The 9-time All-Star has had a shaky few years in the NBA but he still makes it to fourth in the list. Russell seems to be making up for it this season, hitting double figures with all stats that include  21.8 points, 10.5 assists and 10.5 rebounds. Unfortunately, it hasn't been enough to drag the Wizards up the conference. Though with stats like those this season, Westbrook may have one final big-money move left.
Westbrook's earnings are helped along nicely by his big sponsorship deal with Nike. Russell also has sponsorships with the likes of PepsiCo and Samsung which help keep Wizards star in the top of the highest-paid NBA players.
3. Kevin Durant – 32 Years Old – Brooklyn Nets
Total Earnings: $65.2 million
Salary: $31.2 million
Endorsements: $34 million
The final piece in the Nets big three, Kevin Durant, continues his big earning from basketball. He is a real big hitter in the NBA. His honours list shows why he makes the top three of the list. 11-time All-Star, 2-time NBA Champ, 1-time NBA MVP and many more.
Durant's contract is almost up, but I'm sure there will be some big money moves available to him come that time. According to Forbes,  Durant turned a $1 million investment into $15 million. The Nets star invested in food-delivery service Postmates, good with a ball and the stocks.
2. Steph Curry – 33 Years Old – Golden State Warriors
Total Earnings: $74.4 million
Salary: $34.4million
Endorsements: $40 million
The 3-point king of the NBA, shooting guard Steph Curry has been the face of Golden State for several years. Curry is also the face of 3-point shooting, he is regarded as one of the best 3-point shooters in history. 
Steph is a 7-time All-Star, 3-time NBA Champ and 2-time NBA MVP. Curry will certainly go down in the NBA Hall of Fame and his money-making will continue on court. As with Klay Thompson though, Curry will be focused on turning around the Warriors rut in the past two seasons.
Off-court, Curry is set to profit from the clothing range he has created with Under Armour. The Curry Brand, which includes footwear, clothing and accessories, could make $20 million a year. If the brand takes off, Curry could make even more.
1. LeBron James – 36 Years Old – Los Angeles Lakers
Total Earnings: $95.4 million
Salary: $31.4 million
Endorsements: $64 million
As you probably expected, the King is at the top of the list for highest-paid NBA players. Regarded as one of the best in NBA history, LeBron has made the most of his elite status to make money off-court. James has big-money deals with PepsiCo, Beats, Nike, to name a few. King James will also star in the new Space Jam movie, pushing his earnings even further up.
The Lakers star looks set to continue for another couple of years and his stats are still up there with the best. LeBron has 25.4 points, 7.9 assists and 7.9 rebounds this season.
The money James is making looks set to make LeBron a billionaire in no time. This would make LeBron only the fifth sportsman to make it to a billion whilst still active. It seems only a matter of time before that happens.
Who is next?
As spectators slowly return to the arenas around America, the finances will continue to grow and so will player wages in the upcoming years. Along with the wage increase, there will be continuing developments with sponsorships. Brands like Converse are looking to make their way back into the NBA scene. To do this they will have to pay a player big bucks. Something I am sure players won't turn down.
Will we see the likes of Zion Williamson, Ja Morant or Trae Young takeover in the next years and become top of the highest-paid NBA players? Or will King James and co continue their dominance of the highest-paid players in the NBA?
We hope you enjoyed the article 'The highest-paid NBA players in the current rosters.' Which NBA player do you think be will be next to top this list? Let us know!
Read more on the NBA here: