Fighters at a Glance: Darren Till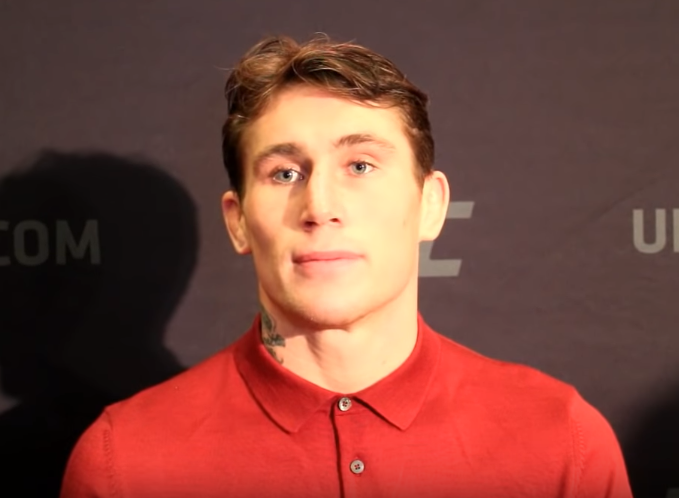 Taking a Closer Look at Darren Till
Fighters at a Glance: Darren Till
Today is going to be a start of a series from myself "Fighters At A Glance" where I shall be going through a fighters UFC career as well as their fights within the organization. On today's segment we are looking at the UFC career of 'The Gorilla' Darren Till.
On the Rise
Darren debuted in the UFC back in 2015 as a up and coming youngster at the age of 22. Darren's debut came against Wendell Oliveira Marques, this was a dream debut for Till has he defeated Wendell one minute and thirty seven seconds into the second round. Till's second fight came against Nicolas Dalby and it wasn't to be on the occasion for Darren, although he didn't lose the fight it did end up in a majority draw.
In May 2017 with a layoff of over a year Till came back and fought Jessin Ayari, finding winning ways once again as he fought out a unanimous decision victory. A few months later Till was back inside the famous octagon this time against Bojan Velickovic. Darren continued his undefeated streak after fighting his way to another unanimous decision victory.
Main Events
The biggest fight of Till's career came in 2017, getting booked into his first UFC main event, fighting no other than UFC legend Donald 'Cowboy' Cerrone. The fight couldn't have gone any better on Darren's part, as the Merseyside fighter knocked out Cerrone just four minutes and twenty seconds into the first round.
After the fight with Cerrone Darren was awarded one of his dream fights, being billed as the main event of a UFC card in his home town of Liverpool. Darren's "dancing partner" for the night was Stephen "Wonderboy" Thompson. Both guys fought a tough fight but it was Till who came out the victor on the night with a unanimous decision victory. A lot of fans weren't happy with the result on the night with many thinking Thompson had done enough to get the win.
Title Shot
Regardless of what the fans thought after the Wonderboy fight, Darren still came 0ut victorious. This propelled Till into a title fight against then Champion Tyron Woodley. However the Woodley fight would bring Till's undefeated streak in MMA to an end, as he suffered his first ever loss being submitted in the second round by Woodley.
After the Woodley fight Darren took a fight against UFC veteran Jorge Masvidal at UFC London. The start of the fight went as planned for Till as he dropped Masvidal in the opening exchanges. However in the second round Till was on the bad end of a series of devastating blows from Masvidal and was knocked out in the second round.
Weight Change
After suffering his first two MMA losses, Darren made the change to go from Welterweight up to Middleweight. His first fight at Middleweight was at Madison Square Gardens against Kelvin Gastelum. Darren fought his way to a dominant decision win. After the fight Till was very open about his mental health and anxiety going into the fight and after his two losses and I think that is something we can all admire and respect.
Till's last fight came against number one contender Robert Whittaker. Although Darren didn't win this fight, losing via decision, he did fight a very good fight nonetheless. Till was set to fight Jack Hermansson in December but has had to pull out due to an injury.
Lets see what 2021 brings for Darren Till and lets hope he can become the next British UFC champion.
Can't wait for more nights like this 😍

Two years ago today, @darrentill2 came out to Sweet Caroline in front of a sold out crowd in his hometown of Liverpool…

One of the greatest walkouts in UFC history 🙌 pic.twitter.com/0lLOahBZ6z

— UFC on BT Sport (@btsportufc) May 27, 2020
We hope you enjoyed this article 'Fighters at a Glance: Darren Till'. Who would you like to see Darren Till fight next? Let us know!
Read more on UFC here: