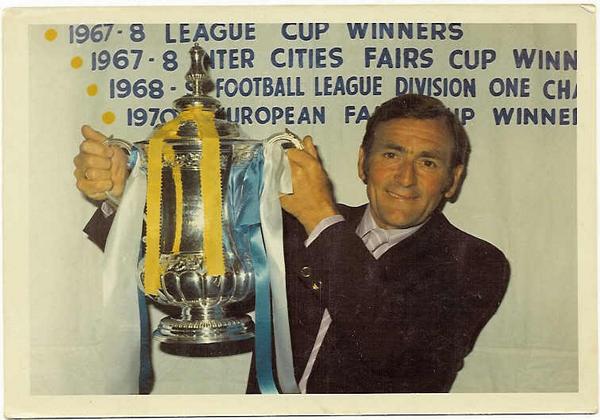 The Magic of the FA Cup
They Can Be Heroes
On the eve of Bowie's debut at Glastonbury in 1971, Charlie George and the Gunners headlined Wembley Stadium. The gig attracted 100,000 colourfully-attired revellers.
The Arsenal frontman pitched the perfect note late in extra-time, securing his place in FA Cup folklore. His unique and often imitated celebration, befitted his new-found rock-star status.
On this day in 1971 League Champions Arsenal had to overcome Liverpool in the FA Cup Final at Wembley to complete the double. They did it the hard way, in extra time after falling behind to a Steve Heighway strike, with goals from Eddie Kelly and Charlie George.

Charlie George pic.twitter.com/MkbF0hXWm7

— Gunner Rob (@bergkamp_henry) May 8, 2020
This weekend, these iconic cultural events present themselves to TV audiences craving fresh impetus – supporting the belief that the symbiotic relationship between Music & Sport, continues unabated. The performance by Charlie George and his band proved to be a defining moment in BBC broadcasting, (notably) North of the Border.
The thirty-minute extra-time period was broadcast 'live' to a Scottish audience. Previous interaction with English Football, consisted of a late-night highlight package, often bereft of drama.
The impact on the fashion industry in Scotland was also noteworthy, with the sales of cross-border provincial club shirts, highly prevalent. The contemporary 'retro' market further supports this testimony.
The FA Cup has long been recognised as the tournament of dreamers, with many of the favoured elite falling victim to clubs from the lower divisions. In '72, Hereford United outsmarted Newcastle; a year earlier Colchester humbled Don Revie's Leeds, as did Sunderland in the Final of 1973. Countless other examples exist. However the infrastructure enveloping modern-day A-Listers, has greatly diminished the prospects of breakthrough artists repeating similar feats.
Over to John Motson: 'Radford. Radford again. Oh What a goal! Radford the scorer. Ronnie Radford!'
This is how the #FACup used to be like.
Muddy Pitch, Big crowd, Cup upset and fans enjoying themselves.#HerefordFC beating #NUFC 2-1
(FA Cup 3rd Rnd Rep 1972). pic.twitter.com/yNemQvL54i

— OldFootballPhotos (@OldFootball11) August 22, 2018
Given the aforementioned financial rewards aligned to Premiership membership, it's hardly surprising the FA Cup has lost some of its allure.
However, the tournament warrants the utmost respect for entertainment value alone. Who can forget Ricky Villa's sublime slalom-run, to seal the trophy for Spurs, or Ryan Giggs' semi-final trickery, to thwart Arsenal? The Football authorities and Broadcast Media have a duty to address the socio-economic constraints placed on supporters/subscribers. The importance of the free live-stream to Scottish audiences in 1971, cannot be overstated.
Manchester United, Arsenal, Chelsea and Manchester City have emerged from this weekend's ties. One step closer to Cup glory.
August's headliners – TBC
We hope you enjoyed this article 'They Can Be Heroes'. Who do you think will lift the FA Cup this season? Let us know!
Read more on football here: