The One and Only – Jack Nicklaus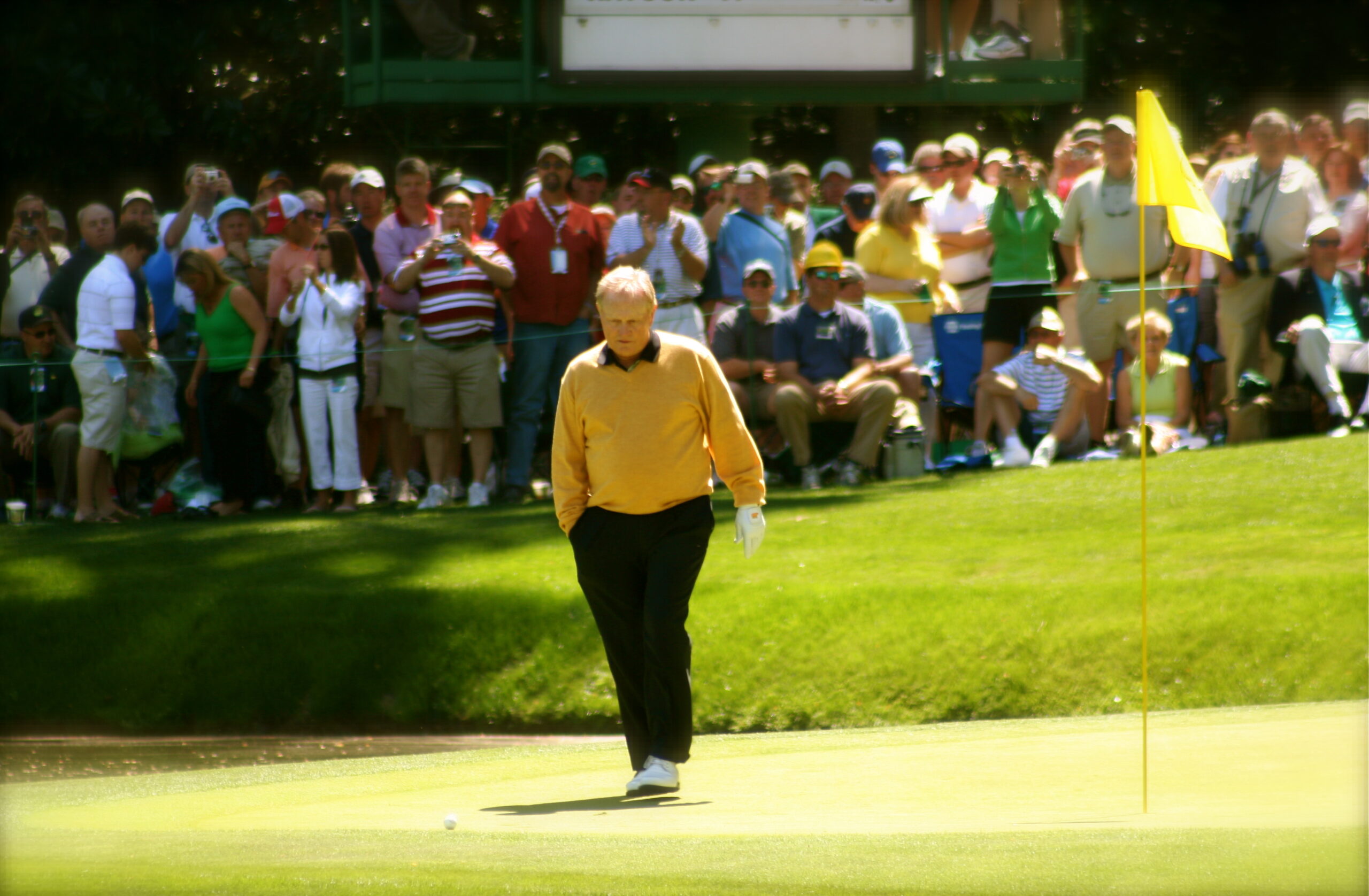 The One and Only – Jack Nicklaus
A native of Columbus Ohio; Jack's formative years were spent within Upper Arlington High School.
Nicknamed the 'Golden Bears', their moniker would become (singularly), synonymous with their young protege.
A promising junior, his golfing scholarship progressed exponentially within the amateur ranks. Jack became National Champion in 1959 (aged 19), and by the following fall, his growing reputation was gloriously enhanced by finishing second (behind Arnold Palmer no-less), in the tournaments pro-equivalent.
Marriage and impending Fatherhood corresponded with the arrival of his second US Amateur Title (1961), thus fast-tracking his decision to join the professional golf tour.
What transpired during the ensuing 44-year career, forms an integral part of sporting folklore. Etiquette and humility were pivotal characteristics within his DNA, and a certain symmetry exists in relation to his golfing achievements.
A record haul of 18 Major Titles were made up thus: 6 US Masters, 5 US PGA Titles, 4 US Opens and 3 Open Championship Claret Jugs.
Nicklaus' inaugural 'Major' was secured at the 1962 US Open in Oakmont Pennsylvania; triumphing (after an 18-hole play-off), over fans' favourite Arnold Palmer. And book-ended (in arguably his finest performance), at the 1986 US Masters in Augusta, Georgia – at the tender age of 46.
His closing Round of 65 (seven-under-par), included a roller-coaster Eagle-Birdie-Birdie run on the home stretch, which simultaneously galvanised greenside-galleries and a global TV audience.
Nicklaus proved to be equally magnanimous in defeat. Who can forget those countless head-to-heads with 8 Time Major Winner Tom Watson – culminating in their iconic 'duel-in-the-sun', at Turnberry Links in the summer of 1977. Or the epitome of sportsmanship afforded Tony Jacklin – in their Ryder Cup singles showdown at Royal Birkdale in 1969.
It seems only fitting that the Royal and Ancient Golf Club, re-evaluated their (traditionally rigid), Open Championship rota in 2005 –  thus allowing the incomparable Jack Nicklaus an opportunity to bid farewell atop the famous Old Course at St Andrews.
Playing alongside Luke Donald and close ally Tom Watson, Nicklaus sunk a 15-foot Birdie putt on the 18th, precipitating a golden roar of approval, and reducing many to tears of joy.
We hope you enjoyed the article 'The One and Only – Jack Nicklaus.' What is your favourite memory of Jack Nicklaus? Let us know!