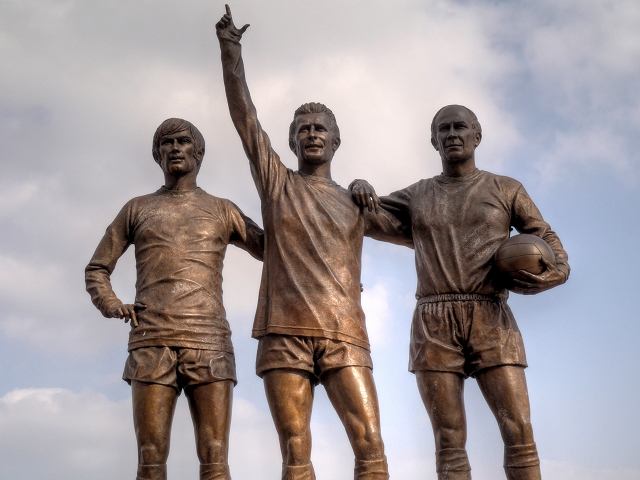 The Long-Arm of the Law
As United await the return of their soldier-of-fortune; spare a thought for The Lawman.
Well-nigh six decades have passed since his 'Italian-Job' (also), lost its allure.
Swapping sun-kissed Turin for slate-grey northern skies; he too sought to re-engage with life's fundamentals.
Denis Law, though Born in Aberdeen – was unquestionably made-in-Manchester.
The former schoolboy international made his professional bow (aged 16), on Christmas Eve 1956. During a four-year apprenticeship at second division Huddersfield Town, Denis was guided by (among others), future Liverpool legend Bill Shankly.
Long-feted by fellow-icon Matt Busby; Law's route to Old Trafford proved circuitous. He duly arrived in August 1962, via Manchester City and Torino.
During a glittering 11-year adventure; Denis and United enjoyed unqualified success. The FA Cup was secured during his breakthrough season (1962-63), swiftly followed by First Division Titles in season (1964-65), and (1967-68).
Denis Law and a fan celebrate Scotland's victory over England at Wembley in 1967 pic.twitter.com/WXBpy635D9

— The League Magazine (@Theleaguemag) September 3, 2021
The pinnacle for Busby et al, arrived in 1968. European Cup glory was achieved (Wembley Stadium), following an extra-time victory over a Eusebio-inspired Benfica. Unfortunately; Denis missed the showpiece fixture through injury.
However; career milestones provided ample compensation for the revered goal-getter. Records reveal that Denis bagged 237 from 404 United appearances – placing him third, in the clubs all-time goal-scoring list. Indeed in season (1963-64), his record tally of 46, helped secure the prestigious Ballon d'Or. (To-date, the only Scotsman to have received this award).
Law is forever associated with United's 'Holy Trinity', – (a triumvirate immortalised in bronze no-less), alongside contemporaries Bobby Charlton, and the late-great Georgie Best.
Law's iconic (one-arm-due-north), goal salute, was also used to great effect on the international stage. The fiercely proud Scot represented his country on 55 occasions. His 30-goal return remains a national record  – alongside Scotland's finest, Kenny Dalglish.
Whilst the circumstances surrounding the present-day Old Trafford returnee, appear somewhat messier; Cristiano's Footballing credentials remain beyond reproach.
Doubters need only ask 'The Lawman.'
We hope you enjoyed the article 'The Long-Arm of the Law.' What is your favourite memory of Denis Law? Let us know!
Read more on football here: