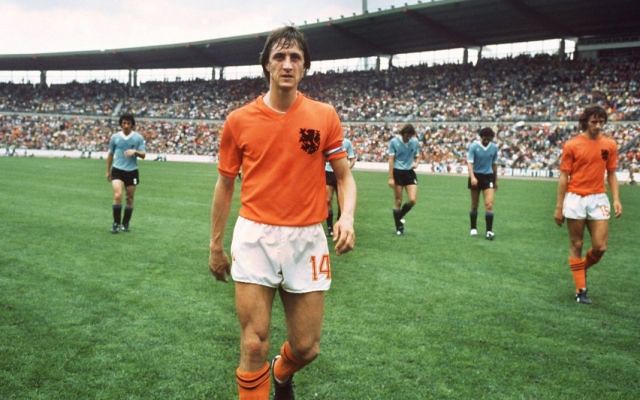 In Search of Johan
Hyde Park, London appears the natural place to begin.
In June 1971, Johan and his merry-men held an impromptu get-together in the shadow of the Serpentine.
Two-nights-hence, their unique brand of 'total football' was unveiled to a packed-house at Wembley Stadium, during the European Cup Final.
Greek Champions Panathinaikos proved ill-equipped for Ajax' Red & White brand – succumbing to a 2 – 0 defeat.
The Dutch outfit would successfully defend the prized trophy in seasons 1971/72 (Inter Milan), and 1972/73 (Juventus), and to-date remain one of a triumvirate – Real Madrid & Bayern Munich, to boast such a feat.
Johan Cruyff (25/04/1947), was so-much more than your average footballer. He was a balletic trailblazer intent on dispelling the deep-rooted myth surrounding positional rigidity. First and foremost Cruyff embraced change.
His playing career spanned two decades (1964-1984), in-which honours were accrued with unflinching regularity, at both domestic and international level.
Cruyff received the prestigious Ballon d'Or on three occasions – 1971, 1973 & 1974; and his exploits throughout the 1974 Munich World Cup, are the stuff of legend.
The shape-shifting 'Cruyff-turn'- apart, he orchestrated his teams advance to the showpiece final (losing narrowly to West Germany).
Outwitting opponents from the first-whistle, Cruyff won a first-minute penalty – which teammate Neeskens converted with aplomb. Indeed, upon retrieving the ball from the goal-net, Sepp Maier became the first West German Player to touch the ball.
Cruyff's transition into management proved seamless. Primarily with his-beloved Ajax – where Cup Winners Cup success (1986/87), was achieved, and latterly at the Nou Camp, where Barcelona's 'Dream-Team' emerged.
Cruyff was instrumental in developing their world-renowned 'La Masia' youth academy, propagating a conveyor-belt of talent commensurate with his fluid footballing ideology – (the footprint of-which is evident in the contemporary game through the likes of high-profile protege Pep Guardiola).
Johan Cruyff operated within a set of basic guidelines; incorporating social interaction through sport. Respect, responsibility and creativity were encompassed within an umbrella of teamwork.
On a recent visit to Hyde Park, the great-man's memory lives-on through that iconic No. 14 shirt.
We hope you enjoyed the article 'In Search of Johan.' What is your favourite memory of Johan Cruyff? Let us know!
Read more on football below: