Looking back at the career of Fabio Cannavaro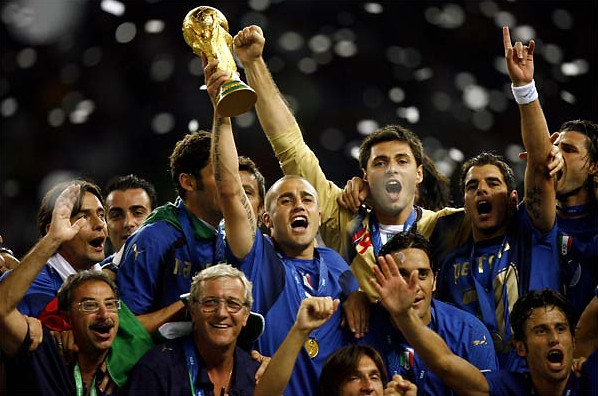 Reflecting on Fabio Cannavaro's outstanding career
Looking back at the career of Fabio Cannavaro
Fabio Cannavaro is one of the best defenders the world of football has ever seen. A fantastic leader, hard as nails, brilliant on the ball and solid in the air despite only being 5'9".
Cannavaro is a serial title winner across Spain and Italy, a World Cup winning captain and one of only three defenders to ever win the Ballon d'Or. He is a perfect player for all up and coming defenders to base their game around.
He has been an inspiration to the next generation of defenders such as Matthijs De Ligt. De Ligt spoke very highly of Cannavaro during his press conference when he signed for Juventus in 2019. He named Cannavaro as one of his biggest inspirations as a child and someone he wanted to emulate in his career.
In this article we take a look back through the career of one of the greatest ever defenders to grace the world of football and see what he's doing now.
The early years
Fabio Cannavaro came through the youth system at Napoli. He started out as a midfielder to be like his idol, one of the all-time great Italian players, Marco Tardelli. However, his youth coach moved him to centre-back and it wasn't long before he'd gained a reputation for himself. There is one particular story about his early training sessions that Fabio has told over the years, where he produced a crunching slide tackle to dispossess Diego Maradona in training, much to the anger of most of the team and staff at the time except Maradona himself who defended Cannavaro and saw the challenge as a sign of talent from a very promising young defender.
Cannavaro made his professional debut in March 1993 against Juventus and it wasn't long before he was a regular starter. In 1994, Cannavaro represented his country at the Under-21 European Championships where he formed a solid partnership in defence with Alessandro Nesta (which was a sign of things to come in their senior careers). Italy won the tournament after establishing themselves as nearly impossible to score past, conceding just one goal all tournament.
🗣 Fabio Cannavaro: "Messi is top but Maradona is another world. I never compare him with other players.

"I never saw Pele but I watched Maradona, for seven years I saw every game.

"He's not one of the best, he's the best."

— Goal (@goal) May 9, 2020
Joining Parma and International Success
In 1995, Napoli suffered from increasing financial issues and sold Cannavaro. He signed for Parma for just over £6m and instantly settled in. Cannavaro became a key player in Parma's golden era, forming a close bond with Gianluigi Buffon and Lilian Thuram, quickly becoming one of Europe's most feared defences.
That summer Cannavaro once again represented his country at the Under-21 European Championships. The Italians claimed their second consecutive title and Cannavaro won Player of the Tournament.
In Cannavaro's second season, Parma finished second in Serie A just two points off winners Juventus. During this season Cannavaro made his senior international debut for Italy. The following year Parma continued to grow and many of their players, including Cannavaro, were becoming big names around Europe. That summer Cannavaro represented Italy in the 1998 World Cup and was one of the standout stars for the Italians.
The following season is when Parma reached their potential, they won the Coppa Italia and the UEFA Cup. This gave Cannavaro his only European trophy of his career and his performances throughout the season established him as one of the best defenders in Italy. The following season Parma continued their great run of form by winning the Italian Super Cup. Another medal for Cannavaro's already impressive collection.
What a centre-back defense !! LilianTHURAM & Fabio CANNAVARO – Parma A.C 1997-98 pic.twitter.com/jrUJqczcpY

— Old School Panini (@OldSchoolPanini) May 2, 2021
Euro 2000 and Growing Reputation
That summer Cannavaro represented Italy at Euro 2000. He lined up in defence with Alessandro Nesta and Paolo Maldini in one of the most feared defences football has ever seen. The Azzurri went all way to the final before eventually losing to David Trezeguet's golden goal. Another impressive tournament from Cannavaro put him on the radar of a lot of Europe's top clubs that continued to monitor him over the next few seasons.
The next two seasons Parma made back to back Coppa Italia finals losing out to Fiorentina in 2000/01 before winning their second title in 2001/02 against Juventus. During this period Parma started to have financial difficulties and they needed to sell key players to solve them. Cannavaro had consistently proven he was a star at the top level which made him a target for top clubs.
2002 World Cup & Inter Milan
The 2002 World Cup was a disappointing tournament for Italy but Cannavaro is credited as single-handedly holding the team's defence together after they suffered multiple key injuries. After the tournament Paolo Maldini retired from international football and Cannavaro took over as the new captain of the national team.
Cannavaro signed for Inter Milan in the summer after the tournament for £20.7m. Inter were in the process of a rebuild after losing Ronaldo to Real Madrid and Cannavaro was one of many marquee signings made. Ultimately, Inter failed to live up to expectation and failed to win a trophy while Cannavaro was there.
Euro 2004 & Juventus
Euro 2004 was Cannavaro's first tournament as Italy captain but it unfortunately turned out to be a huge disappointment. Cannavaro was booked in both of Italy's opening games which saw him suspended for the final group game. Italy failed to get out of the group stage on goal difference.
After the Euros, Cannavaro signed for Juventus for £9m where he reunited with Lilian Thuram and Gianluigi Buffon. The trio once again formed a near impenetrable defence and Juventus won the Serie A title in Cannavaro's first season. Cannavaro impressed significantly in his debut season and won the Defender of the Year award in Serie A.
2006 was the peak of Cannavaro's extremely successful career. The year began with Juventus storming to their the second successive Serie A win. Another outstanding season meant Fabio was awarded Footballer of the Year, Italian Footballer of the Year and his second consecutive Defender of the Year at the Serie A end of season awards.
2006 World Cup & Signing for Real Madrid
Attention then turned to the 2006 World Cup where Cannavaro captained the Azzurri to their fourth World Cup title. The Italians once again were solid at the back keeping a record five clean sheets and conceding just 2 goals all tournament. A huge part of this was down to the performances of Cannavaro, particularly in the semi-final against Germany. He made a crucial clearance in the last minute of extra time to deny the Germans an equaliser before starting the counter-attack that led to the Italians second.
Cannavaro was also crucial in Italy's penalty shoot-out victory over France in the final in Berlin. His performance in the final was so impressive it earned him the nickname "The Wall of Berlin". Cannavaro earned a place in the Team of the Tournament and finished second in the vote for Player of the Tournament, narrowly losing out to Zinedine Zidane. An unbelievable tournament ended with Fabio becoming just the fourth Italian in history to lift the World Cup as captain of his country with the added bonus of it being on the night of his 100th international cap.
After the World Cup the verdict of the Calciopoli match fixing trial was announced. It deemed that Juventus would be stripped of both the 2004/05 and 2005/06 league title. They were also immediately relegated to Serie B. The verdict and the relegation that followed led to Fabio deciding to leave Juventus and he signed for Real Madrid for £6.3m.
Fifteen years since Italy-Germany in the 2006 World Cup semi-final. Grosso's goal was great, but I'll always like watching Cannavaro's involvement in the second.

— Karan Tejwani (@karan_tejwani26) July 4, 2021
Fabio Cannavaro Ballon d'Or
Making history
At the end of 2006, Cannavaro won the Ballon d'Or and FIFA World Player of the Year. Cannavaro also earned a place in the UEFA Team of the Year and the FIFPro World XI. Winning the Ballon d'Or was a historic achievement as he is one of only three defenders in history to win football's biggest accolade alongside Germans Franz Beckenbauer and Matthias Sammer. Cannavaro is also one of only five Italians to win the award.
Winning both the Ballon d'Or and the FIFA World Player of the Year in the same year is quite frankly an unbelievable achievement, even more so in the case of Fabio Cannavaro as defenders are so often overlooked in favour of attacking players when it comes to awards. It shows how amazing a player he was to be worthy of both awards over all the attacking talent of that year. Fabio Cannavaro to this day remains the only defender in history to win the FIFA World Player of the Year.
Time in Madrid & Euro 2008 Heartbreak
Cannavaro instantly became a fans favourite in Madrid and was part of an incredibly strong defence alongside Roberto Carlos, Ivan Helguera and a young Sergio Ramos in front of Iker Casillas. Los Blancos lifted the La Liga title after one of the most exciting La Liga seasons in history. They claimed the title by having a better head to head record than Barcelona after they finished on equal points. Cannavaro's performances earned him a place in the FIFPro World XI for the second year running. The following year Real lifted the La Liga title once again and had the best defence in the league largely helped by Cannavaro's presence.
In the Summer of 2008 Cannavaro was preparing to captain Italy at Euro 2008 but he was injured in training, causing him to miss the tournament. This unfortunately became a common theme as his career began to wind down. As he was getting older injuries started to become more common and his form was starting to dip. He was struggling to keep up with the growing pace of the game in La Liga with players such as Lionel Messi and David Villa causing him a lot more problems than they would've done five years prior.
Cannavaro: "I never thought that I would get to play for Real Madrid. From the first day I noticed the feeling, the respect of the people. The three years I lived in Madrid they were the best three of my life. My last game at home to Mallorca was crazy (title winning match)." pic.twitter.com/HODtkzCFmv

— SB (@Realmadridplace) May 7, 2020
Return to Juventus & breaking records
Cannavaro left Real Madrid at the end of his contract in 2009 after 106 games for the club. He returned to Juventus where he reunited with Gianluigi Buffon. He formed a good partnership in the centre of defence with Giorgio Chiellini. The season started off well for Juventus but Cannavaro suffered a significant injury a couple of months into the season. Once he returned he struggled to find form and Juventus' season quickly went downhill.
During the season Cannavaro overtook Paolo Maldini as Italy's all-time leading appearance maker after making his 127th cap in a friendly against Switzerland. That turned out to be the one positive in a really poor season. Juventus suffered their worst Serie A finish for a decade and were embarrassingly eliminated from the Europa League by Fulham. Juventus won the first leg 3-1 but were comfortably beaten 4-1 at Craven Cottage and Cannavaro was sent off. This embarrassing season only worsened Cannavaro's relationship with the Juventus fans. They were still hurt from his departure to Real Madrid in 2006. This meant his Juventus contract was not renewed and he departed as a free agent.
The final years
Cannavaro captained Italy at the 2010 World Cup in South Africa but the Azzurri suffered an embarrassing tournament. They went out in the group stage without winning a single game. After the tournament Cannavaro announced his retirement from international football. He left as Italy's most capped player of all time with 136 appearances. Since his Cannavaro's retirement, Gianluigi Buffon has overtaken him as Italy's most capped player. Cannavaro signed for UAE League side Al-Ahli after the World Cup. He was plagued by injuries throughout his time there which made it clear he didn't have long left in the game. Fabio Cannavaro announced his retirement from football in 2011 following a serious knee problem. Three years later he was inducted into the Italian football Hall of Fame at the Museum of Football.
What is he doing now?
Since his retirement Fabio Cannavaro has become a manager working out in China. His first job in management was at Al-Ahli in 2013 where he led them to a league and cup double in his only season in charge. He then had unsuccessful spells in charge at Guangzhou Evergrande in China from 2014-2015 and then Al-Nassr in Saudi Arabia from 2015-16.
Cannavaro then took over at Chinese League One side Tianjin Quanjian in 2016. He led them to the league title and promotion to the Chinese Super League in his only season in charge. Cannavaro won the Chinese Football Association Coach of the Year that year. Later that year he returned to Guangzhou Evergrande where he is still currently in charge. After a slow start he won the Chinese FA Super Cup in 2018 and the Chinese Super League in 2019.
Due to the inflated salaries in China Cannavaro is one of the highest paid managers in football. In 2018, Cannavaro was the fourth highest paid manager in the world ahead of the likes of Klopp, Zidane and Wenger to name a few.
Cannavaro has proven he's a very capable manager and has had considerable success in his career so far. With the current manager carousel we are seeing in Serie A and Serie B over the last few years we could be seeing Fabio Cannavaro return to Italian football in the near future, if he's willing to take a significant pay cut.
We hope you enjoyed the article "Looking back at the career of Fabio Cannavaro". Where would you rank Cannavaro amongst the all-time great defenders? Let us know!
Read more on football here: