Oscar Valdez: Boxing's Under the Radar Star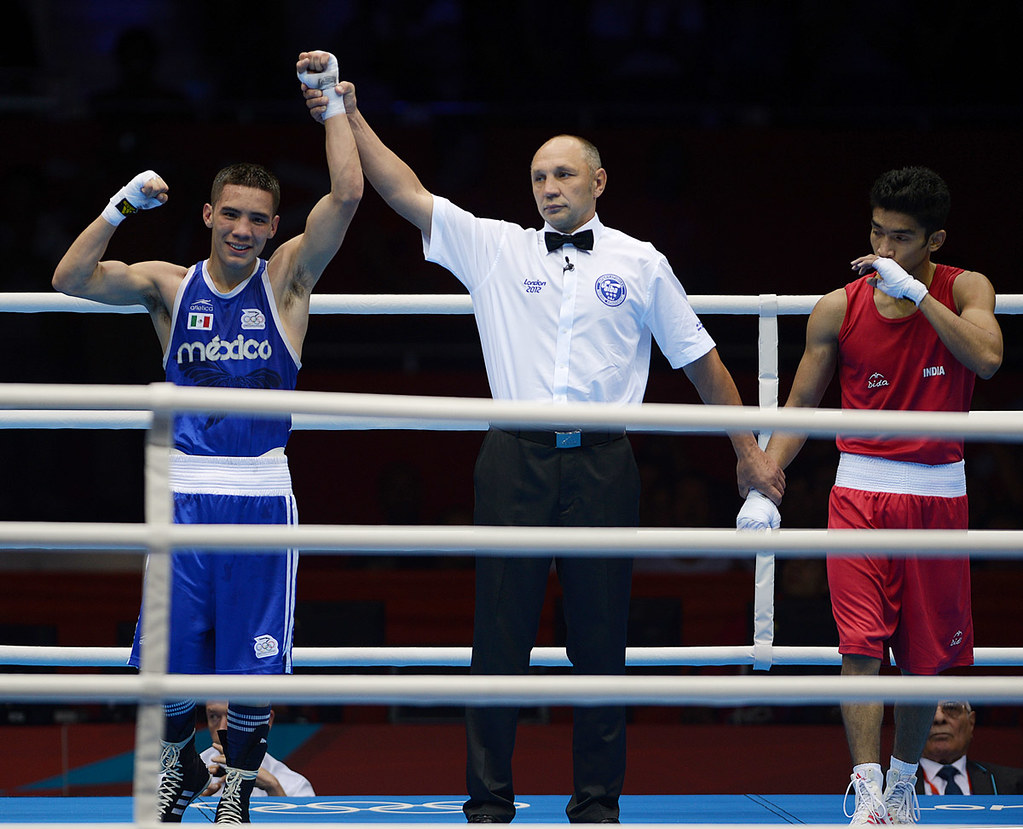 Oscar Valdez: Boxing's Under the Radar Star
On February 21st, Oscar Valdez faced fellow countryman Miguel Berchelt for the WBC Super Featherweight Championship.
In a brilliant display of technical prowess and ruthless punishment, Valdez prised Berchelt's title belt away from him, scoring a vicious 10th round knockout.
Crisp counterpunches, exquisite footwork and defensive awareness were the key to victory. Going into this fight, Valdez was a 3/1 underdog, although those odds drastically shortened as the fight progressed.
For such a clean, technically sound boxer with no outstanding weaknesses, it's odd he's not talked about more. Today, I'll be looking into why this might be. Hopefully I can shed some light on this exquisitely talented fighter for those who are unaware of his existence.
El Comienzo
Valdez began his professional boxing career in 2012 following a successful stint in the amateurs, winning multiple gold medals. He represented Mexico in the 2008 and 2012 Olympics, but came home empty handed on both occasions.
During this time, he would face a host of recognisable fighters, such as Rey Vargas, Carlos Cuadras and Vasyl Lomachenko. He defeated the first two, but Loma was far too much for the younger man.
His first nine fights resulted nine straight victories within the distance. Meanwhile, thanks to his impressive amateur career, the former El Nino was snapped up by Top Rank. A promotion known for protecting its fighters, this would be both a blessing and a curse for Valdez.
Valdez encountered his first major fight in 2014, for the vacant NABF Junior Super Featherweight title, against Adrian Perez.
This primordial version of Valdez showed his strengths, but was noticeably defensively negligent. Taking shots he didn't need to, he nevertheless persevered to deliver a sickening body shot KO in the fourth. It was already clear that a regional belt was far from the limit of Valdez's potential.
This was further evidenced in his next notable encounter, against former world title contender, Chris Avalos. Valdez set about dismantling his opponent in startling fashion. His crisp, lightning-quick jab repeatedly tattooed the face of Avalos, while evading his retaliatory power punches with effective head movement. A swift left hook in the 5th was enough to prompt a stoppage from referee Russell Mora.
El Titulo Mundial
After Lomachenko vacated the WBO Featherweight title, Valdez was given a chance to claim it.
Across the ring stood Matias Rueda, an undefeated Argentinian who had won all but three of his fights by knockout.
Despite this impressive record, it was clear very early on that he wasn't fit to lace Vargas' gloves. Rueda was consistently tagged by Valdez's left hook, making basic mistakes that exposed him.
It only took two rounds before Valdez had finished off Rueda with a surgical liver shot. It was impressive stuff, but it was also clear that Valdez needed to start facing tougher opposition. Now he owned a world title, there was a target on his back.
His first real trial by fire came against Genesis Servania. Servania did everything in his power to make this a gritty, brutal encounter. In the 4th, Valdez lost focus for a split second and was caught square on, dropping him to the mat. Servania had Valdez hurt again as the round closed out, with all signs pointing to a massive upset.
However, Valdez's heart shone through, buoyed by a raucous crowd. He connected with a sneaky left hook in the following round that spun Servania around and left him face down.
Until the 12th, they continued to exchange heavy blows, neither man willing to give the other an inch. At the bout's conclusion, the two embraced and the scores came in – Oscar Valdez was still the world champ. Check this fight out if you can, it's a bit of a hidden gem.
But just as one war ended, another was about to rear its head. New audiences were given a taste of Valdez when he fought a former world champion, Scott Quigg. And fight they did.
Quigg came into the fight three pounds overweight, meaning the title was not on the line. Not one to back down from a challenge, Valdez accepted the fight regardless.
Valdez consistently displayed the cleaner technical ability through the bout, timing his punches to precision. Quigg looked to stay on the inside, roughing up the champion and unsettling him.
Quigg was aggressive, but Valdez's superior footwork and speed left him in good positions to unload. In the 5th, Valdez left the Brit with a laceration above his right eye. Later in the fight, a right hand crushed Quigg's nose.
Valdez did not escape unscathed – a thunderous overhand right shattered his jaw, leaving it hanging loosely through the rest of the fight.
As the fight reached its endgame, blood soaked the canvas and the two fighters. The scores were announced, and Valdez's broken smile told the story. Another gruelling win for the rising star.
El Futuro
As we've already covered, Valdez is currently the WBC world Super Featherweight champion after dismantling Miguel Berchelt.
But where does he go from here? The clash with Berchelt was highly anticipated and Valdez looked great in victory, but what's left for him at Super Featherweight?
It is unlikely Gervonta Davis will challenge him, with so many more financially lucrative options residing in the division above.
Likewise, Leo Santa Cruz needs a big win following his latest defeat and his team will probably deem Valdez to be too great of a risk.
All the signs seem to be pointed towards a showdown with Shakur Stevenson. This would be an intriguing clash – Stevenson has yet to face a truly elite level opponent, but aged, 23, this is understandable.
He has a boxing IQ beyond his years, along with the speed and reflexes to upset Valdez. We've seen him get caught off-guard before and Stevenson is a master of doing this to his foes. I would still expect the Mexican to win, it's just whether Top Rank are willing to pit two of their best assets against each other.
Top Rank has unfortunately held Valdez back through his career. A boxer of his calibre should have bigger names on his resume, but yet, he does not.
Now at age 30, it is time for him to cement his legacy. He needs to secure high profile bouts, and if this does not happen, he needs to find a new promoter.
It's time for Bob Arum to stop protecting Valdez – he's proven he doesn't need it.
We hope you enjoyed the article 'Oscar Valdez: Boxing's Under the Radar Star.' Who do you think Valdez should fight next? Let us know!
Read more on boxing here: