Nick Kyrgios: Sport's Greatest Enigma?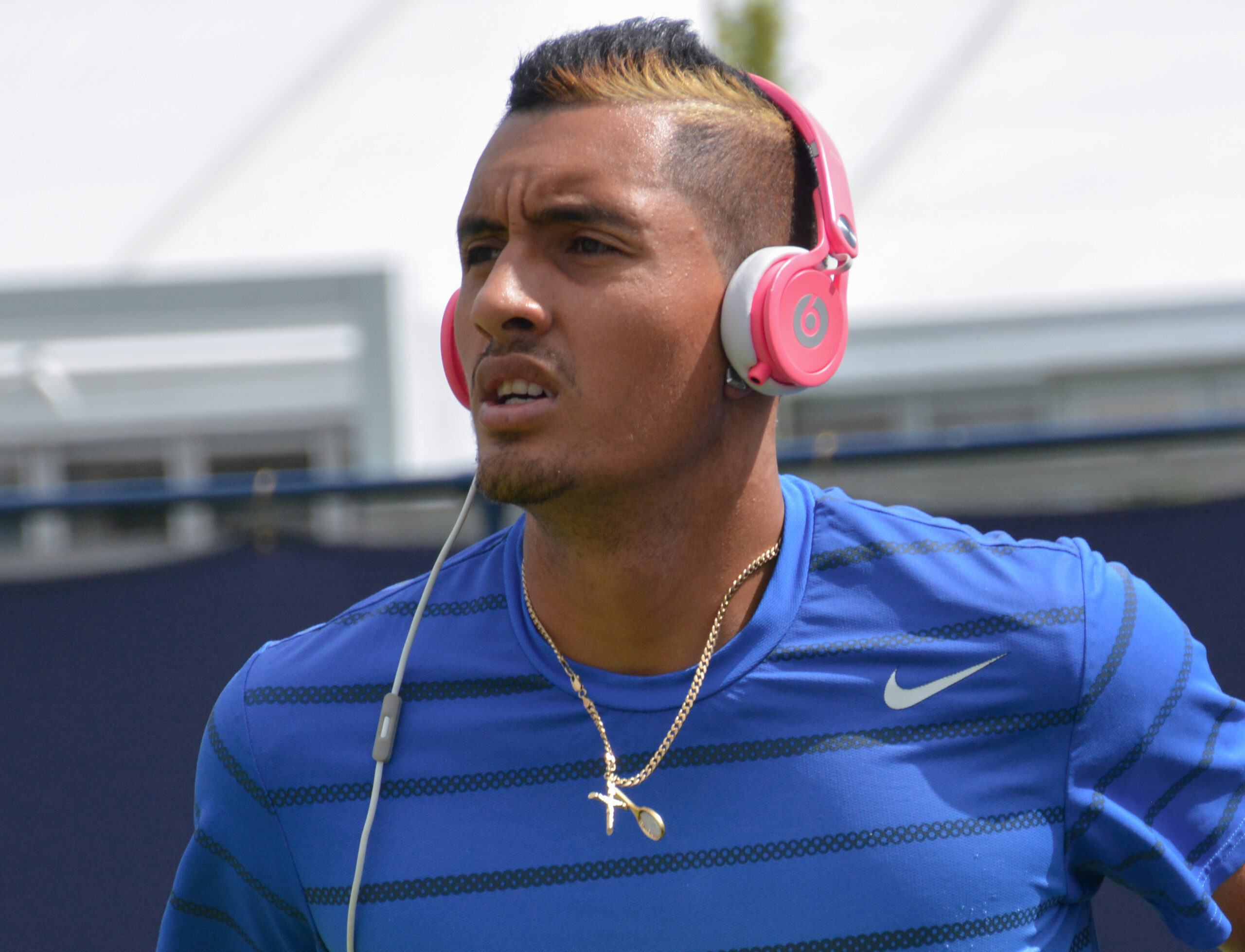 Nick Kyrgios: Sport's Greatest Enigma?
He's the biggest enigma in sports. He divides opinion more than Heinz Baked Beans on Weetabix. Alright, that doesn't really divide opinion, it is actually disgusting.
Nick Kyrgios is 26 in April. He has won just seven titles, one doubles and seven singles. The furthest he's managed in a grand slam is the quarter-final stage. On February 12, at the 2021 Australian Open, he lost to third seed Dominic Thiem in the third round. It is an 'acceptable' defeat, given Kyrgios was unseeded for the tournament.
Kyrgios has reached two quarter-finals, the first in 2014 at Wimbledon and the second in 2015 at the Australian Open. He's been in the 4th round four times; two in Australia (2018, 2020) and two in SW19 (2015, 2016). At Roland Garros and the US Open he's never been past the 3rd round.
The last of his seven titles was the Washington Open in August 2019, when he won against Daniil Medvedev.
But it does make you think – what is Nick Kyrgios?
Is he an entertainer, or a let down? Is he uninterested in tennis, or is it a useful excuse? Can he ever go deeper than a quarter-final?
What a reaction!! 💪🇦🇺@NickKyrgios triumphs in a rollercoaster five set classic 👏#AusOpen | #AO2021 pic.twitter.com/ihiI57wSKl

— #AusOpen (@AustralianOpen) February 10, 2021
Crowd entertainer or consistent let down?
Despite his record, Nick Kyrgios is still one of the most revered players on the tour for some. Perhaps it's the near-guarantee of fireworks. Perhaps it's the guaranteed coverage due to his outspoken nature. Kyrgios is always in the conversation.
The difficult thing is, how should fans think of him? In a sport so divided by opinions, he is undoubtedly the single most polarising player in tennis. You either love him for making things exciting by throwing in an underarm serve; or you hate him for exactly that.
His unique talent is sadly, though, combined with an immature desire to look like he is not trying. His aggressive play style means that, when he doesn't put in the effort, he looks like he is tanking. It's worth noting that he sometimes is.
"I feel old. I just wanna have a glass of red wine."@NickKyrgios is all of us. 🍷#AusOpen | #AO2021 pic.twitter.com/fucc9nyfxf

— #AusOpen (@AustralianOpen) February 10, 2021
The truth is, he really does care. He's an athlete in the top fifty in his sport. He might say he loves Basketball more but you don't go professional in a sport you don't care for.
So, from his record and big fan base, that must mean he's a let down – right? Well, it's not so simple. Sure, he could have won more titles. But at Grand Slams, he can be a recipient of harsh draws.
In his first main draw appearance – the 2013 French Open – he was defeated by 10th seed Marin Čilić. Next up, at the 2013 US Open, he lost to 4th seed David Ferrer. Then 27th seed Benoît Paire at the 2014 Australian Open. Followed up by 8th seed Milos Raonic at the 2014 Roland Garros. All of these were as a wildcard. It was his next tournament, Wimbledon 2014, that he finally progressed past the seeded players.
First he beat 13th seed Richard Gasquet (Round 2) before defeating second seed – and defending champion – Rafael Nadal in the fourth round. He once again came unstuck against Milos Raonic in the next round. In his only other run to a quarter-final, he played one seeded player in the first four rounds: 23rd seed Ivo Karlović in round two. He then lost to 6th seed Andy Murray in the quarters.
You could go on, but the list sees him losing to familiar names: Nadal, Murray, Gasquet, Raonic… Roger Federer.
The frustration is that some of his slam appearances as an established player have been ended abruptly by unseeded players. At the 2016 US open, Illya Marchenko stopped him as Kyrgios retired injured. A year later John Millman ended his run in the first. In fact, every Grand Slam exit in 2017 was to unseeded players. In Australia Andreas Seppi won in 5, in France Kevin Anderson won in 4, at Wimbledon it was Pierre-Hugues Herbert, and John Millman in the US.
It's hard to argue that this side of his game is not seriously disappointing.
His entertainment value is arguably second-to-none, but is he a let down given his consistent underperformance? It depends where you're standing on the is he good for tennis or bad debate; but I think it goes without saying we would all like to see him progressing deeper into competitions more regularly from now on.
18 reasons to love @NickKyrgios this Valentine's Day thread ❤️ pic.twitter.com/sknXrh5mA7

— Nevena (@nevenaspirovska) February 13, 2021
Does he really not care?
Another regularly presented issue is his interest, or lack of, in tennis. After losing to Millman at the US Open he revealed "not dedicated to the game at all". Also saying there are "players out there that are more dedicated, that want to get better, that strive to get better every day, the one-percenters.
"I'm not that guy."
That self-criticism, after an early exit from the final slam of the year, is a typical Kyrgios line of comment. He is dismissive of his performance, his effort levels and often gives 'banter' about his life in press conferences or on court. At Wimbledon he joked with a journalist that he had seen them at the pub the night before his match. On court he has also followed that line, often caught on microphones dropping lines along the lines of 'why was I up on (NBA)2k until the early hours'.
The sad thing is, it's probably true. The sadder thing is, it's all for show.
A player as gifted as Nick Kyrgios doesn't get the recognition he has received without a little bit of proof. His dislike for Rafael Nadal, but admiration for Roger Federer, could be perceived as coming from this 'I don't work hard' mindset.
Nick Kyrgios using a underarm serve to win the set is such a savage move ☠️ #AusOpen pic.twitter.com/YAOxGDTiUd

— BroBible (@BroBible) February 12, 2021
His victory over Nadal at Wimbledon, when the Kyrgios stock flew up in price, is the greatest example of the moment his talent merged with something of a work ethic. Sure, he also messed about that day swinging his chain and pulling off tweeners and hotdogs galore; but he won that game because he brought everything together.
He doesn't work hard because if he did, and he didn't succeed, he would feel embarrassed for having tried. However if he rarely wins without trying, when will it click that he's wasted the golden opportunity that is about to arise.
The generation of players around him, including his opponent at the Australian Open Thiem, have all failed to take advantage of the gap as the 'Big Three' get older. He, like many who make the top 50 in the world, has not won a slam; but neither have a lot of the players who were earmarked to. Grigor Dimitrov – who modelled himself on being Roger Federer's clone – hasn't. Alexander Zverev hasn't. Daniil Medvedev hasn't, though he has won the ATP Finals. You get the point.
It's useful to Kyrgios that his lack of hard work is talked about, rather than his waste of talent and opportunity. If he doesn't care for tennis, then he won't be nervous in a winner takes all tiebreak – right?
The truth is he does care, but not enough to try and win a major tournament. He's content not winning but still being somewhat successful. He's interested in appearing uninterested.
👑@NickKyrgios takes the Mickey out of @DjokerNole in one of the funniest walk outs in tennis history! 🤣🤣🤣

WATCH: @9Gem
STREAM: https://t.co/7uAf53PWTv#9WWOS #AusOpen #AO2021 #Tennis #ATP pic.twitter.com/hOclt9t644

— Wide World of Sports (@wwos) February 14, 2021
Can he ever win a Slam?
Yes. One thousand times yes.
Nick Kyrgios, with a fixed mindset and his eyes on the prize, could win at Wimbledon. His style suits a run there. It's unpredictable, lots of brilliant players lose to some not very brilliant ones, but there are some skills that gift you a shot at the title.
His serve is big, arguably his second serve is even bigger, and he has great hands at the net. He likes to combine those two things as well, playing with a serve and volley. That's the Wimbledon tradition.
He also has the physical attributes. He's quick and covers a lot of ground to stay in points. He's always willing to chase lobs, even if it is just to play through the leg shots.
His difficulty comes at clay tournaments and, unfortunately for him, there is Roland Garros. He gets constrained; which might be why he hasn't gone since 2017.
BUT. His first singles final – which he lost – was on clay. His only doubles final – a win – was on clay as well. 'Even broken clocks are right twice a day' springs to mind.
He should be able to turn his title wins on hard courts into wins in America and Australia. The difference, maybe, is the crowd sizes. Perhaps if he felt no one was watching, he would win a slam through sheer desire to one up his opponents. However, once a big crowd is added, his mind moves to 'entertainment' mode.
In my humble view, he will win a slam – especially if he is given a favourable run. Maybe a match up against Novak Djokovic might help that desire too?
We hope you enjoyed this article 'Nick Kyrgios: Sport's Greatest Enigma?'. Do you think Kyrgios will ever win a Grand Slam? Let us know!
Read more on Tennis here: