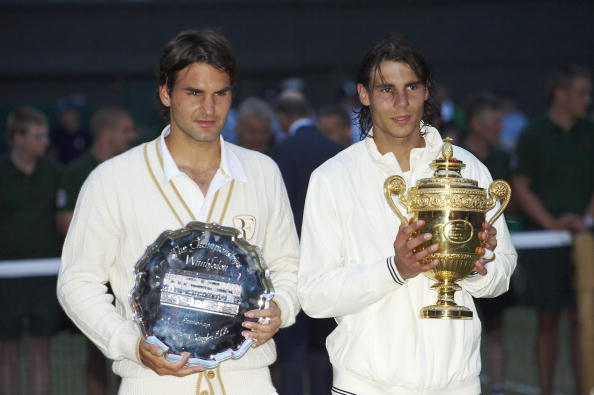 Ask any tennis fan why they love the sport and you better have plenty of time on your hands. Fans have been spoiled over the last couple of decades with some of the best tennis players of all time playing between the year 2000 and today including Pete Sampras, Roger Federer, Rafael Nadal and Novak Djokovic to name but a few. It's truly a worldwide sport, but in Britain, tennis holds a special place in the hearts of its inhabitants. Here, we'll take a look at why the British love tennis.
Wimbledon
The Wimbledon Championships are the pinnacle of tennis and widely regarded by many in the sport to be the ultimate measure of a player's ability. SW19 has hosted some of the most memorable tennis matches ever, with the 2008 men's final between Nadal and Federer widely regarded as the best tennis match of all time.
After a lightning start which saw Nadal take a 2-0 set lead, the Swiss pegged the Spaniard back to 2-2 to take it to a deciding set. With it being a final, there was no tiebreak, and so the final set contained a total of 16 games, with Nadal eventually running out the 9-7 winner to end Federer's run of five consecutive Wimbledon titles. The match lasted a total of 4 hours and 48 minutes, ending in almost pitch black darkness, and was the ultimate advert for the Wimbledon Championships.
One of Wimbledon's most iconic moments came in 1981, when a 22 year old, frizzy-haired, John McEnroe uttered the immortal words "you cannot be serious", after umpire Edward James refused to call his serve in. Replays would suggest McEnroe had a case, however the powers that be did not take too kindly to the American's ill-tempered tirade and although he won the men's single championship that year, the All England Club broke with tradition and refused to make him an honorary member.
It's a tournament that has produced countless legends and the British are certainly proud to be the hosts of it.
Homegrown talents
Something that the British love more than most is cheering on one of their own, regardless of the sport. The difference between most other sports and tennis is that, rather than representing England, Scotland, Wales or Northern Ireland, tennis players represent Great Britain when taking part in ATP tour events. What that does is very special, it brings the whole of Britain together in a way that no other sport does.
This really came to fruition in the 90s and early 2000s, with Tim Henman bearing the expectations of a nation on his shoulders. As the British number one at the time, he was considered Britain's best chance to have a Wimbledon winner since Fred Perry in the 1930s. Although he would never go on to win a Grand Slam title, he did provide fans with some memorable moments and became somewhat of a favourite. So much so that the hill at SW19 that allowed fans to watch from outside the centre court was nicknamed 'Henman Hill'.
British players struggled for a little while until a certain Andy Murray came along and re-wrote tennis history for the nation. The Scot became the first Brit in more than 80 years to win a Wimbledon title in 2013 and went on to win a second in 2016 to firmly cement his place as Britain's greatest player in almost a century.
With this illustrious history in the sport, it's no surprise that the British really love their tennis.
Read more on Tennis here: