Baseball legend Hank Aaron leaves a great legacy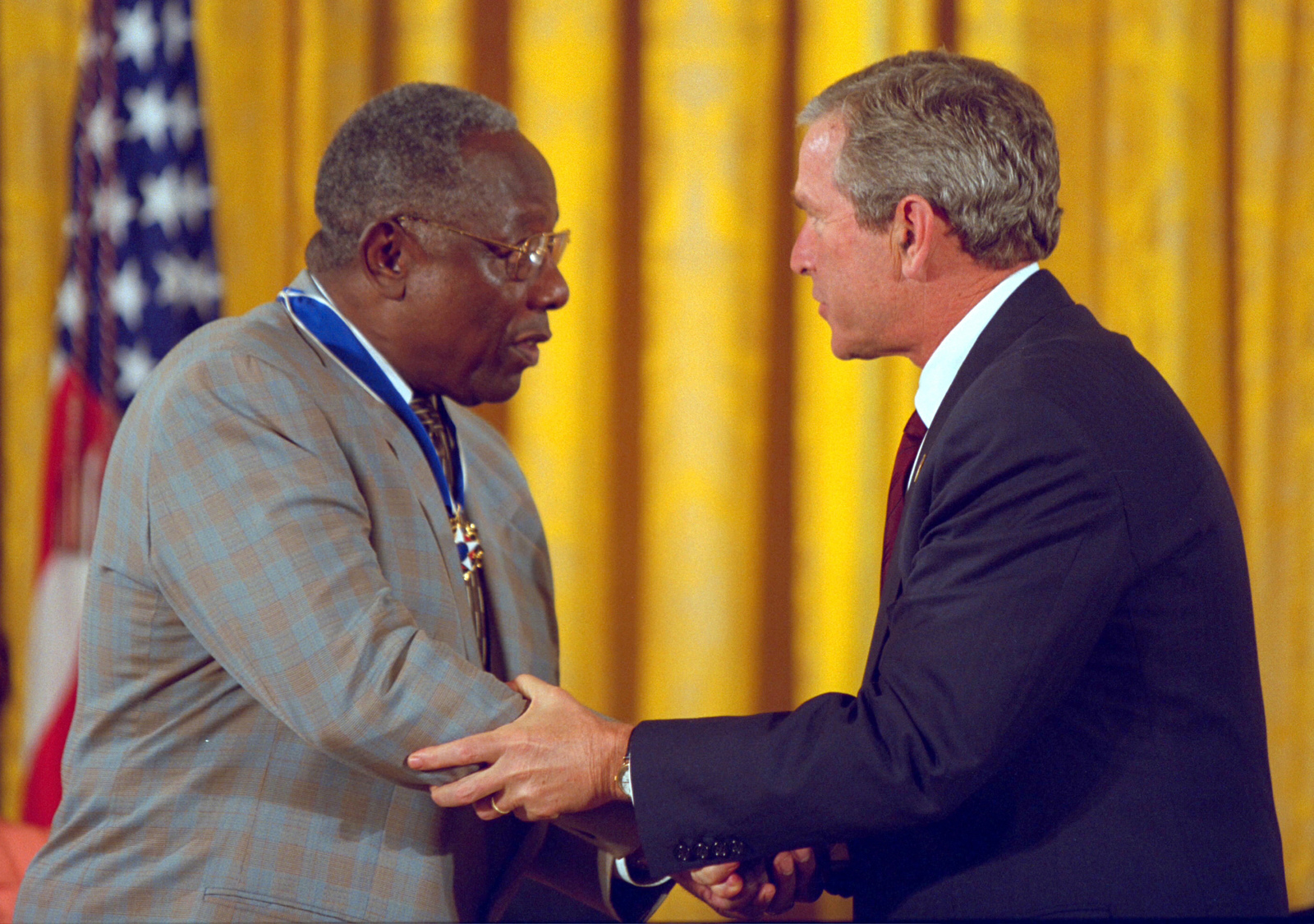 Hank Aaron leaves a great legacy in both baseball and life
Hank Aaron the man who rose from the negro leagues to break Babe Ruth's insurmountable Major League Baseball homerun record has died aged 86.
We are devastated by the passing of Hammerin' Hank Aaron, one of the greatest players and people in the history of our game. He was 86. pic.twitter.com/bCvLOydGBZ

— MLB (@MLB) January 22, 2021
Henry Louis (Hank) Aaron passed away peacefully in his sleep at home in Atlanta on Friday January 22nd. Aaron played 23 seasons in Major League Baseball. His career began in the segregated South and he was one of the first black players in baseball. Encountering racism throughout his career and even death threats as he closed in on Ruth's record Hank Aaron continued to play outstanding baseball. He still holds a wide range of records. These include the all time leader in the number of runs scored due to his hits (RBI). He has also appeared in the All Star game a record number of times. Throughout his career baseball was the number one sport in America generating more interest and money than basketball and NFL combined.
Atlanta Braves hired Aaron as an executive after his retirement in 1976 and he was active in the organisation until his death. A documentary of his life story appeared in 1995 which was shortlisted for best feature length documentary in the 1996 Oscar nominations. Throughout his life Hank Aaron did the impossible, then encouraged others to do it too.  The details of his exploits in baseball only tell half the story of a remarkable life.
Hank Aaron was one of the best baseball players we've ever seen and one of the strongest people I've ever met. Michelle and I send our thoughts and prayers to the Aaron family and everyone who was inspired by this unassuming man and his towering example. pic.twitter.com/2RZdc82Y18

— Barack Obama (@BarackObama) January 22, 2021
Early days in baseball
While growing up in Mobile Alabama Hank Aaron made his own baseball equipment with broom shanks and bottle caps for bats and balls. His former home has since been turned into a museum. Aaron signed for the Indianapolis Clowns of the negro league as an eighteen year old in 1951. He played in the league for less than three months before receiving offers from teams in Major League Baseball. Despite the league attracting big crowds institutional racism and segregation affected the teams.
"We had breakfast while we were waiting for the rain to stop, and I can still envision sitting with the Clowns in a restaurant behind Griffith Stadium and hearing them break all the plates in the kitchen after we finished eating," Aaron once said.
"What a horrible sound. Even as a kid, the irony of it hit me: here we were in the capital in the land of freedom and equality, and they had to destroy the plates that had touched the forks that had been in the mouths of black men. If dogs had eaten off those plates, they'd have washed them."
Jackie Robinson broke the major league colour bar in 1947 and had also previously played in the negro leagues. Aaron believed the negro league was as high quality as the major leagues.
"Too bad integration didn't come sooner, because there were so many ballplayers that could have made the major leagues. That's why, you look back, and – not to take away anything from Babe Ruth or some of those other guys – they didn't play against the greatest ballplayers in the world."
Joining the Braves
In early 1952 two teams offered a contract to join the major leagues and Aaron chose the Boston Braves, initially joining their farm teams. Two years of impressive performances in the minor leagues followed including league Most Valuable Player honours for the A-league Jacksonville Braves in 1953.  The Braves also won the league championship and their top prospect was promoted to the major leagues for the 1954 season. Despite the success of the team Aaron and other black players were routinely abused.  "In Jacksonville, Florida, fans threw rocks, wore mops on their heads to mock Black players and threw black cats onto the field."
Major league career
Making his debut on April 13th Hank Aaron hit 13 home runs during the 1954 season. A  solid but unspectacular start. The Braves had left Boston and relocated to Milwaukee, Wisconsin in 1953. Over the course of his first two seasons in the league Aaron began to pick up the nicknames which would soon be so familiar to millions of Americans, Hammerin' Hank and The Hammer. Over the next few years the Braves consistently challenged for the World Series and were successful in 1957. Hank Aaron scored the winning run in the series and took home baseball's annual Most Valuable Player award for his starring role in the victory. Throughout the late 1950's and early 1960's the Braves continued to play well and Aaron consistently added to all of the baseball statistics each season.
Not just a slugger
In addition to hitting home runs Hank Aaron had also won three gold gloves for outstanding fielding and became only the third player to steal 30 bases and score thirty home runs in a season. The Braves franchise moved from Milwaukee to Atlanta in 1965 and The Hammer arrived in the city. As an Atlanta Brave Aaron began to accumulate baseball records. He was the first player to score 500 home runs and 3,000 hits in 1970. In 1972 another record fell as Hank Aaron overtook Stan Musial's record for total bases.
Excellence personified. pic.twitter.com/Fjn6Tb3HhQ

— MLB Stats (@MLBStats) January 22, 2021
Nearing the home run record and 900,000 letters
As the 1973 season meandered to a conclusion Hank Aaron closed in on Babe Ruth's home run record. From the previous year the star had begun to receive an unbelievable amount of correspondence about the feat. At the end of the season he was one short of Ruth's 714 home runs. Throughout the year he received death threats and racist abuse from people who did not want him to break the record and support from those who did.
When the threats were revealed in the media there was a show of public support for the athlete who received over 930,000 pieces of mail. Guinness World Records gave him an award for the most letters received by a private citizen in a year. A third were estimated to be hate mail most of which Aaron kept to remind himself to keep working against racism. A secretary had to be hired to deal with the correspondence. Two security guards ensured his safety and the FBI investigated the threats. Most writers received a reply to their letter initially with an inked signature then as the volume grew a form letter.
"It really made me see for the first time a clear picture of what this country is about," Aaron told the New York Times in 1990. "My kids had to live like they were in prison because of kidnap threats, and I had to live like a pig in a slaughter camp. I had to duck, I had to go out the back door of the ballparks, I had to have a police escort with me all the time. I was getting threatening letters every single day. All of these things have put a bad taste in my mouth, and it won't go away. They carved a piece of my heart away."
Rest in power, Hank Aaron. One of my favorite pieces of memorabilia is a letter — probably a form letter and probably not actually signed by him — sent to 16-year-old me after I'd sent him a letter encouraging him as he chased Babe Ruth's all-time home run record in 1973. pic.twitter.com/eC8AouybmV

— Jeff Ash (@jeffash26) January 22, 2021
Breaking the record
On April 8th 1974 in his team's home ballpark in Atlanta Hank Aaron passed Babe Ruth with his 715th home run. One of the most memorable sports commentaries accompanied  the achievement. Vin Scully's description included a recognition of the racism Aaron had faced. "…a marvellous moment for the country and the world. A Black man is getting a standing ovation in the Deep South for breaking a record of an all-time baseball idol. And it is a great moment for all of us."
Retirement and the Atlanta Braves
At the end of the 1974 season Hank Aaron was traded to the Brewers based in Milwaukee and played his last two baseball seasons with club. He continued to accumulate records taking over as the major league's RBI leader in 1975. Retiring as the last active player from the negro leagues after the 1976 season, he finished with 755 home runs and a wide range of other records.
After retirement The Hammer continued to live in Atlanta and contribute to the city. He accepted a job as an executive in the Braves organisation in 1976. This was initially in player development and community and he was Senior Vice President at the time of his death. Despite a reduction in mobility over the last few years he was still involved with the team. The Braves released a statement on the death of the club's most famous player.
"He was a beacon for our organization first as a player, then with player development, and always with our community efforts. His incredible talent and resolve helped him achieve the highest accomplishments, yet he never lost his humble nature. Henry Louis Aaron wasn't just our icon, but one across Major League Baseball and around the world. His success on the diamond was matched only by his business accomplishments off the field and capped by his extraordinary philanthropic efforts."
He was also a successful businessman for many years owning car sales garages. At one time he held the franchises for  Honda, Toyota, Land Rover, Mini, BMW and Jaguar.  He sold most of the dealerships in 2007.
Lasting off field legacy
Hank Aaron was not surprisingly enshrined into the Baseball Hall Of Fame in 1982, his first year of eligibility. The Hall of Fame also received all of Hank Aaron's baseball treasures opening a new exhibition Hank Aaron Chasing the Dream in 2009 . In 1999 Aaron was named to baseball's team of the century.
He was also awarded the Presidential Medal of Freedom by George W Bush in 2002, the highest civilian honour in the USA. Founded by President Kennedy it recognises "especially meritorious contribution". The Presidential Medal of Freedom was recently in the news when NFL coach Bill Belichick turned down the honour. This was in the wake of the storming of the US Capitol by supporters of President Trump..
"The former Home Run King wasn't handed his throne. He grew up poor and faced racism as he worked to become one of the greatest baseball players of all time. Hank never let the hatred he faced consume him." – President George W. Bush

Full statement: https://t.co/Fi02eppIRE

— George W. Bush Presidential Center (@TheBushCenter) January 22, 2021
MLB Hank Aaron Award
The Hank Aaron Award is awarded to the best "offensive performer" in each of the two leagues which make up Major League Baseball. It was created in 1999 to mark the 25th anniversary of Aaron breaking the home run record. It is partly a public vote and also includes a panel of experts which until now has included Hank Aaron.
Philanthropy
Over the years Hank and his wife Billye have donated millions of dollars to good causes. The Hank Aaron Chasing The Dream Foundation has helped over 1,000 underprivileged young people achieve their potential through scholarships. Interviewed in 2011 and asked about the greatest moment in his life Aaron replied
"The greatest thing, I know people that the home runs, 'oh you hit 755 home runs,' but the greatest thing that I feel that the contribution I've made since I've been out of baseball was to helping 755 in my foundation,"
In his last public appearance, at the beginning of January, Hank Aaron received his Covid -19 vaccine. He used the occasion to persuade other African Americans to have the injection. Hammerin' Hank was much more than a man who was good at hitting a ball with a stick.
Since the baseball legend's death there has been an outpouring of grief for Hank Aaron the ball player and the man. His home run record has since been surpassed by steroid fuelled Barry Bonds but many of the records Aaron holds will never be broken.  The thousands of people he has helped throughout his life and his stoic refusal to be intimidated by racists will be his true legacy.
I was proud to get the COVID-19 vaccine earlier today at Morehouse School of Medicine. I hope you do the same! https://t.co/RAlkmkCRra

— Hank Aaron (@HenryLouisAaron) January 5, 2021
Atlanta Hammers?
An interesting article on the CBS website suggested the Atlanta Braves should become the Atlanta Hammers. The Braves have so far refused to follow in the footsteps of the NFL's Washington Redskins and MLB's Cleveland Indians in removing Native American imagery from their names. Could the Atlanta Hammers follow the Washington Football Team and Cleveland Baseball Team?  It would certainly be more catchy and honour one of the greats. He even inspired rap star MC Hammer.
MC Hammer got his name from Hank Aaron 🙏🏿 #RIPHankAaron 👑🕊🕊🕊 https://t.co/f7k6lWdVQ0

— MC HAMMER (@MCHammer) January 23, 2021
We hope you enjoyed reading "Baseball legend Hank Aaron leaves a great legacy". Did you meet him? Where do you think he ranks in baseball's all time greats? Let us know!
Read more on sport here: