Anthony Joshua knocks out Kubrat Pulev in an emphatic display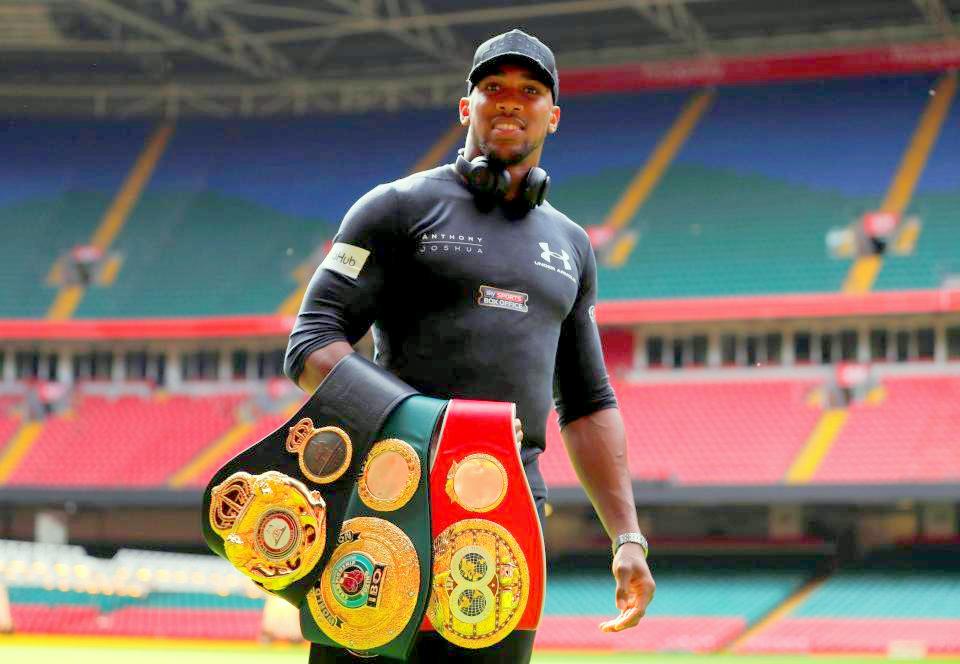 Anthony Joshua remains unified world heavyweight champion and retains his belts after knocking out Kubrat Pulev in the 9th round
Anthony Joshua outclassed his Bulgarian opponent, Kubrat Pulev at Wembley Arena on Saturday. He was forced to go nine rounds with his opponent after putting all three of his belts on the line. Following two knockdowns twice throughout the fight, The British boxer delivered a third devastating blow in the 9th to retain his titles. He now has a 24-1 record, winning 22 0f them by knockout.
Pulev almost looked down and out in the third round, but remarkably managed to hold on until the bell. Afterwards the Bulgarian re-gained some confidence in the fifth and sixth rounds, but Joshua's mix of power and precision proved too much in the end. The Brit utilised his uppercuts and jabs to prove why he is the world heavyweight champion.
His victory over Pulev paves the way for the much-anticipated, blockbuster fight between Joshua and WBC champion, Tyson Fury. Fury won the title after beating Deontay Wilder in Las Vegas earlier this year. The two Brits would go head to head in an historic bout that has been deemed "the biggest fight in British boxing history" according to boxing promoter Eddie Hearn.
The fight saw 1,000 fans return to the stadium, after the government lifted lockdown restrictions last month. This was AJ's first fight in over a year and his first in the UK in over two years. He last beat Andy Ruiz Jr in a rematch fight to win back his heavyweight belts.
Fury was quick to comment on social media after the fight. He posted: "I want the fight. I want the fight next. I'll knock him out inside three rounds. I can't wait to knock him out."
Anthony Joshua spoke to the media after the match as well: "I hope everyone was satisfied tonight. For me, I stuck to what I know best, boxing. You ask the crowd what they want to see."
"Whoever has the belts I want to compete with. If that is Tyson Fury, let it be Tyson Fury." said Joshua.
👑💣 BOOM!@anthonyfjoshua retains his world titles with a huge knockout! pic.twitter.com/JxaPA5vrCo

— Sky Sports Boxing (@SkySportsBoxing) December 12, 2020
What happened in the fight?
As the bookies favourite to win the fight, Joshua came out swinging to try and startle his opponent early on. Dominating the first few rounds, he continued to land right hooks and uppercuts in an attempt to knock out Pulev. Knowing he had to win with all of his belts on the line, Joshua looked back to his better self in the early rounds.
Pulev adopted a cautious approach to the fight, to prevent him from getting carelessly caught. It wasn't until the third round where Pulev found himself deep into trouble, after getting hit by a strong uppercut which put him on the floor. As Joshua kept coming Pulev backed away, but was saved the bell before being dealt with more damage.
As the rounds progressed the pressure eased off. The Bulgarian began to regain some confidence. He started to find his feet, especially in the sixth round, as he landed some hard jabs on Joshua.
The tension was beginning to build, but it was the Brit who was dominating, landing more hits and coming away with less damage. It took until the ninth round for Pulev's remarkable resistance to crumble. A series of uppercuts from Joshua sent Pulev tumbling. As he rose to face off his opponent once more, Joshua was waiting to land a devastating right hand blow to nail him to the canvas.
As someone who had only previously lost a fight once, against none other than Wladimir Klitschko, Pulev showed determination to stay up. But it was Anthony Joshua who put out an emphatic display on the night, to remain the unified world heavyweight champion and raise higher hopes for an AJ v Fury showdown.
Anthony Joshua defeats Kubrat Pulev via KO to retain his IBF, IBO, WBA and WBO heavyweight titles.

He's now 24-1 in his career with 22 KOs. pic.twitter.com/5v3WH02vKn

— Bleacher Report (@BleacherReport) December 12, 2020
What next?
Now that Anthony Joshua has beaten Kubrat Pulev, fans are crying out for a Tyson Fury fight in 2021. It seems that both sides are willing to make it happen. Both Eddie Hearn (AJ's promoter) and Frank Warren (Fury's UK promoter) are keen to negotiate a deal.
Of course it will be difficult to push talks ahead so quickly, with a variety of factors standing in the way. Apparently a financial agreement has already been made, which shines a positive light on the hopes that it will go ahead next. There are however, complex TV broadcasting deals and venues to be decided still.
Then of course there are opponents waiting to challenge each fighter. Ukraine's Oleksandr Usyk, who beat Dereck Chisora last month, is the mandatory challenger for Joshua's WBO belt. There is also a contract in place for Deontay Wilder to fight Fury for a third time. While Fury's team believe they can work around this, Wilder will still be eager to honour the contract.
That being said, it is still likely that both teams can make this fight happen, and deliver one of, if not, the biggest fight of this generation. It will no doubt be a blockbuster match, that will see two of the best British boxers the sport has ever seen go head to head. It will be to secure all four belts and become the undisputed world heavyweight champion of the world.
We hope you enjoyed this article 'Anthony Joshua knocks out Kubrat Pulev in an emphatic display.' Who do you think will win if Anthony Joshua fights Tyson Fury next year? Let us know!
Read more on boxing here: