National League Play-Off Semi-Finals: A Place at Wembley at Stake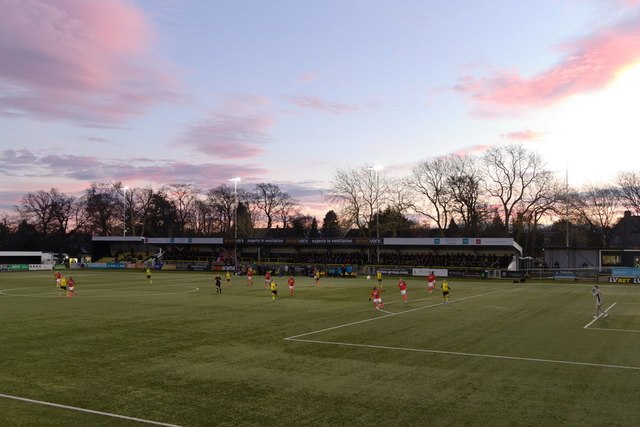 Who Will Advance from the National League Play-Off Semi-Finals?
National League Play-Off Semi-Finals: A Place at Wembley at Stake
The semi-finals of the National League play-offs begin on Saturday afternoon, as Harrogate Town entertain Boreham Wood, before Notts County host Barnet. The fact that a place in the Football League is at stake, will certainly excite everyone connected to the four promotion chasing clubs.
A complicated and controversial end to the National League season, saw 11th placed Barnet secure the last play-off spot. When football was brought to a halt in early March, the National League followed League's 1 and 2 in deciding the final table on a 'Points Per Game' basis. This left a number of clubs who were hopeful of making the play-offs, rather disappointed.
Vanarama National League 📊

🏆 @BarrowAFC
🥈 @HarrogateTown
🥉 @Official_NCFC

🆙🥇 48 years of hurt never stopped those Bluebirds from dreaming! pic.twitter.com/0ShTw8U8Ax

— The National League (@TheVanaramaNL) June 18, 2020
Both Barnet and Boreham Wood saw off Yeovil and Halifax Town respectively, in the elimination round. These fixtures have been implemented since the National League increased the number of teams making the play-offs from 4 to 6. The two North London clubs had their work cut out for them, with two tight games, that could have gone either way. Barnet needed an 86th minute goal, to secure a 2-0 win at Huish Park, whilst Boreham Wood came from behind to win 2-1.
Harrogate Town vs Boreham Wood
Everyone at Harrogate Town felt rather hard done by, as Barrow were made champions on PPG. The Sulphurites were the most in-form team in the league, before the on-going pandemic put a halt on the season. Not only was there 4 points between them and the eventual Champions, but Barrow still had to visit Wetherby Road. A game that all at Harrogate fancied their chances in. The Town will be hoping to continue their 'pre-Lockdown' record in front of goal, after scoring 10 in 4 games. Harrogate will be the more comfortable side as the game progresses, as the Yorkshire-based club have the best 2nd half record in the league.
On Friday 13th March @HarrogateTown were on the brink of making history…

Then everything changed.

This is the story of the club's unprecedented journey through a global pandemic. 💛

🎬 'Proud to be Town' coming soon to BT Sport pic.twitter.com/ufpU2CuMuq

— Football on BT Sport (@btsportfootball) July 23, 2020
Boreham Wood are looking to cement their place in the play-off final for the 2nd time in 3 years. The Wood come into this game after losing just 1 in their last 20 National League games and have the best away record in the division. Boreham Wood have recovered exceptionally well after finding themselves 20th with 7 games played. No matter the opposition, The Wood will be a difficult side to break down and have proved to be devastating at times, on the break this season.
Prediction: Harrogate 1-2 Boreham Wood
In a game that will surely be very competitive, it is difficult to call which team will get it right on the day. Despite Harrogate running very close to winning the league, they have not played since the 7th of March. Boreham Wood proved when they beat Halifax that they were match fit and raring to go. Also, The Wood are u7nbeaten against Harrogate this season. A 2-1 home victory and a 0-0 away, will put the visitors in good stead come Saturday.
🆚 | Here's how our record this season compares with Boreham Wood's ahead of Saturday's winner takes all clash#ProudToBeTown pic.twitter.com/N0MRCEVjQp

— Harrogate Town AFC (@HarrogateTown) July 23, 2020
Notts County vs Barnet
There is increased pressure on Notts County to return to the Football League, with the club winning their last 4 games going into Lockdown. There is a lot of importance for The Magpies to avoid the similar fate of the so-called bigger teams that have experienced the sinkhole nature of the National League. For clubs such as Luton Town, Lincoln City and Oxford United, it took years to get themselves back in the Football league and for clubs such as Wrexham, Kidderminster Harriers and Stockport County, they have never returned. The Magpies are yet to taste defeat at Meadow lane in 2020, and have only lost 2 in their last 16 matches in the league. Notts County will certainly be a hard team to break down, having only conceded 3 in their last 7 home games.
No one is saying Notts County will pick up from where we left off….

But our last five competitive games should at least give us Optimism !

Won ✅
Won ✅
Won ✅
Won ✅
Won ✅

Goals Scored ⚽️⚽️⚽️⚽️⚽️⚽️⚽️⚽️⚽️⚽️⚽️⚽️⚽️⚽️⚽️⚽️

Goals Conceded ⚽️⚽️

🏴🏳🏴🏳🏴🏳🏴🏳🏴🏳🏴🏳

— Notts County History (@magpies_history) July 23, 2020
Despite being members of the Football League themselves just 2 seasons ago, there will definitely be less pressure on Barnet come Saturday. The Bees made the play-offs via the PPG ruling, which took them from 11th to 7th. Despite their league position, Barnet have been just as difficult to beat as their other play-off rivals. All 4 teams playing Saturday have lost 9 games, but Barnet's problem this year, has been grabbing all 3 points in closely fought-out matches. 1 loss in their previous 13, coupled with only conceding 5 goals in 9 games has allowed Barnet to gain some momentum coming into this game and recover from their poor form in Autumn time.
Prediction: Notts County 0-1 Barnet
The fact that both teams have excellent recent defensive records will probably make this game a less exciting spectacle than the first semi-final. However, the experience and expectation on both clubs progressing, may alter the shape of the tie. Like Harrogate, The Magpies have not played since March and regaining match sharpness for a pivotal game like Saturday is a big ask. Notts County have also only beaten 1 team in the top 12 at home this season, including a 2-1 defeat to The Bees.
The inside track on our opponents is here 👀

— Notts County FC (@Official_NCFC) July 23, 2020
The National League play-offs have always provided highly-competitive and entertaining games, where the desire to win is evident from all clubs participating. With Wembley in sight, Saturday promises to be an exciting day for all clubs involved and a great celebration for the eventual winners.
We hope you enjoyed this article 'National League Play-Off Semi-Finals: A Place at Wembley at Stake'. Who do you think will gain promotion to League 2? Let us know!
Read more on football here: