Diego Maradona's Most Iconic Moments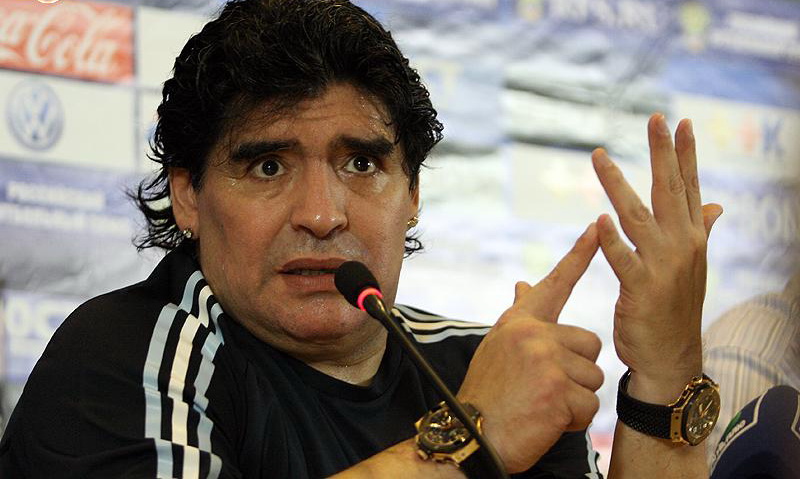 Remembering Diego Maradona
Diego Maradona's Most Iconic Moments
On 25 November, football fans across the world were shocked to hear of the passing of one of football's all time greats, Diego Armando Maradona. The Argentine great known as 'El Pibe de Oro' (The Golden Boy) died of a suspected heart attack at the age of 60. Soon after the news broke, the football world were quick to pay their respects to Maradona, as well as share their fondest memories of him.
Diego certainly lived life to the fullest, and had memorable moments both on and off the field. In a tribute to the great man, here's a collection of just some of the memorable highs and lows from the life of Diego Maradona.
"I lost a great friend and the world lost a legend."

—Pele pic.twitter.com/H0hQB356TE

— ESPN (@espn) November 25, 2020
Hand of God
Where else to start than with that infamous goal scored against England at the 1986 World Cup. A mistimed clearance from England's Steve Hodge sent the ball looping towards Peter Shilton, where Maradona leapt leading with his left arm to score. It was as clear as daylight that it had struck his arm, however despite the England protests, the officials allowed the goal to stand, as they did not have a clear view of the incident.
Maradona did confess that the goal was scored with his hand, although this came in 2005, some 19 years after the infamous goal occurred. Thanks for your honesty Diego!
His Dance Moves at the 2018 World Cup
The 2018 World Cup was one of the best in recent times, with many memorable moments, but none provided quite as much entertainment as Maradona did during Argentina's victory over Nigeria. He never failed to be the centre of attention, whether falling asleep, swearing at fans below him, or dancing with a Nigerian supporter! You couldn't help but smile and laugh at his antics (and probably be concerned at what he has taken).
The Mass Brawl in his last Barcelona Game
One of his most controversial moments came in the 1984 Copa del Rey final against Athletic Bilbao. After being taunted with xenophobic abuse from fans, having items thrown at him, and being fouled countless times, he lost his rag at the final whistle. He headbutted one player, elbowed another and kneed one more in the head, knocking that unfortunate player out cold. This sparked a mass brawl between the players, coaches and fans, and led to more than sixty people being injured.
Following the game, Barcelona executives decided they couldn't continue with Diego any longer, and it would be a disappointing end to his 2-year spell at Barca.
Dont forget him kicking off one of the best football fights ever. #Maradonapic.twitter.com/oJ4rGzQ0kJ

— Lord Vincent (@vincentbrownlow) November 25, 2020
Cult-Hero Status at Napoli
Napoli would be the team Maradona would join from Barcelona (as they were the only team who wanted him), signing him for a then world-record £6.9 million fee. He joined a mid-table side and made history by winning 2 Scudettos, the only Serie A titles in the clubs history. It was the first time a southern Italian side had won the league, in a country with a famous north-south divide.
Subsequently, Maradona became an icon in Naples not just for football, but also a social, cultural and even religious icon. As a result Napoli retired his infamous no. 10 shirt.
Fans gather at Diego Maradona's mural in Naples to remember him after his passing this evening pic.twitter.com/jDPNX9NtuT

— FootballAwaydays (@Awaydays23) November 25, 2020
Partying with Pablo Escobar in Prison
Yes, the Pablo Escobar. The famous drug lord was spending time in a prison which had been designed especially for him, called La Catedral (It even had a football pitch built due to his love for the game). In 1991, he paid Maradona to play an exhibition match at La Catedral. This is what Diego had to say about it:
"We played the game and everyone enjoyed themselves. Later that evening, we had a party with the best girls I've ever seen in my life. And it was in a prison! I couldn't believe it."
Boca Juniors turned off all the lights in their stadium apart from one.

Maradona's VIP box ❤ pic.twitter.com/zjAfmPeqlL

— Football Fights (@footbalIfights) November 26, 2020
The Goal of the Century
And where else to end than with the other unforgettable goal he scored, in the same match as his Hand of God. One of the most beautiful goals of all time. The goal which was awarded as goal of the century. The goal which cemented his status as a true icon and genius of the beautiful game, as he led his country to World Cup glory.
Words don't do it justice. Simply watch it, over and over again, and enjoy.
Rest in Peace Diego.
We hope you enjoyed this article 'Diego Maradona's Most Iconic Moments'. What is your favourite Diego Maradona moment? Let us know!
Read more on football here: