Ballon d'Or 2020: Who are the favourites?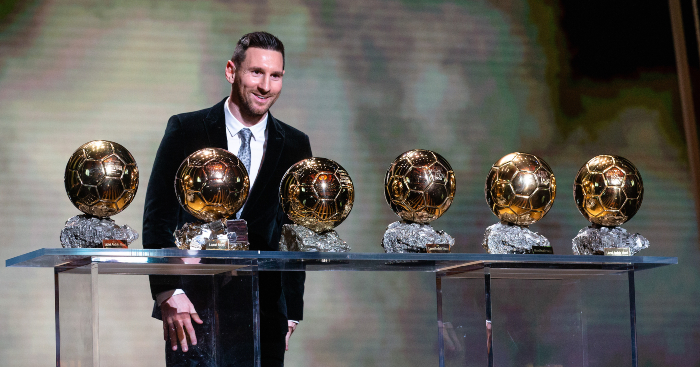 Ballon d'Or shortlist 2020
Ballon d'Or 2020: Who are the favourites?
The Ballon d'Or is an annual football award presented by France Football magazine. The award is given to the Best Footballer for that year. Recently it was announced that the award would not be given this year because of the ongoing pandemic and its effect on football. At some grounds the reason for not giving the award might be reasonable but many are not happy with the decision. If the Ballon d'Or was to be given, which players were the real contenders and who had the chance to win it let us look into it.
Lionel Messi
Lionel Messi is the first name when people talk about the Ballon d'Or. Sometimes considered as the best player world has ever seen, has won the Ballon d'Or 6 times. Barcelona finished 2nd in this year's La Liga campaign, which could have affected the result of the Ballon d'Or.
The Argentinian was great this season. Messi finished as the top scorer of  La Liga and also managed to break the record of most assists in a single season previously held by his former teammate Xavi. Scoring 25 goals and proving 22 assists in just 33 games, is inhuman. He also has 2 goals and 3 assists in Champions League, keeping Barcelona in the competition. Winning a record 7th Pichichi award for his goal scoring form. Even though it was not his best season, he managed to put up some unrealistic numbers like he always does.
Robert Lewandowski
Robert Lewandowski, at the moment the best striker in world football. Lewandowski scored 34 goals to finish as the top scorer of Bundesliga for third time in a row. The striker has been at his best, 51 goals in 43 matches is one of his best performances. With Bayern Munich, he won the German Cup and 8th Bundesliga title. Scoring more than 50 goals in a season, he was in pole position to win the Ballon d'Or. With the Champions League yet to be played, Bayern's treble hopes were still alive. What a campaign it's been for the Poland star and the Ballon d'Or was a very realistic possibility.
"If I measure for goals now and I see that he has scored 34 goals in the Bundesliga this year, then you can think about how a player from the Bundesliga can become the Ballon d'Or winner. So why not? He has laid all the groundwork with this achievement this year and I would wish him well" Hans Flick on Lewandowski chances of winning.
Kevin De Bruyne
The Manchester City star had another great season in Premier League. Manchester City were not able to defend their title but he was player who was consistent throughout. With 21 assists and 13 goals in 44 appearances, these numbers are unmatched when it comes to a midfielder. City still in race for their first ever Champions League title and looking like one of the contenders could have helped his cause. If City could win the Champions League, many could see him win the Ballon d'Or for the first time.
Cristiano Ronaldo
With the announcement of cancellation of the Ballon d'Or, Ronaldo missed his chance to equal with Messi. Was his performance good enough to catch up Lionel Messi and win his 6th Ballon d'Or ? He became the quickest player to reach 50 goals in Serie A. With 34 goals in 42 matches, his goal scoring abilities were not to be questioned. A Champions League win would have increased his chances but looking at other players in contention, Ronaldo's performance this season has not been the best.
Sadio Mane
As Liverpool won their first Premier League title in 30 years, Mane was one of the key players for the Reds. 12 assists and 21 goals in 45 appearances and his consistency throughout Liverpool's campaign was outstanding. He finished in 4th position last year after winning the Champions League and finishing 2nd in Premier League. Elimination in round of 16 of Champions League might have affected his chances of winning but still he was in the race.
Karim Benzema
His name would come as a surprise for few, but what a season for the Frenchman. The veteran forward was sensational for Real Madrid in 2019-20 campaign. Scoring 21 goals in 37 appearances helped the Madrid side to beat their rivals, Barcelona, to the title. Since the restart in June Benzema has been in one of the best players in La Liga. Real Madrid are still in Champions League but are trailing by 2-1 to Manchester City, a success in Champions League would have been a big boost for him.
These 6 players were in contention for the Ballon d'Or if it was to be given. Ballon d'Or is supposed to be given to the best player for his individual performance but every year questions are asked on the criteria of selecting a winner. Considering only the individual performance and not the titles the player won with his club, the final rankings would be :
Robert Lewandowski (34 goals, 4 assists in Bundesliga. 11 goals, 2 assists in UCL)
Lionel Messi (25 goals, 22 assists in La Liga. 2 goals, 3 assists in UCL)
Kevin De Bruyne
Karim Benzema
Sadio Mané
Cristiano Ronaldo 
Rewatch Messi claim his all-time record six Ballon d'Or in 2019
We hope you enjoyed the article 'Ballon d'Or 2020: Who are the favourites?' Which player should win Ballon d'Or 2020? Who made it into your top 5? Let us know!
Read more on football here: