How to Get Wimbledon Tickets: 2023 Ultimate Guide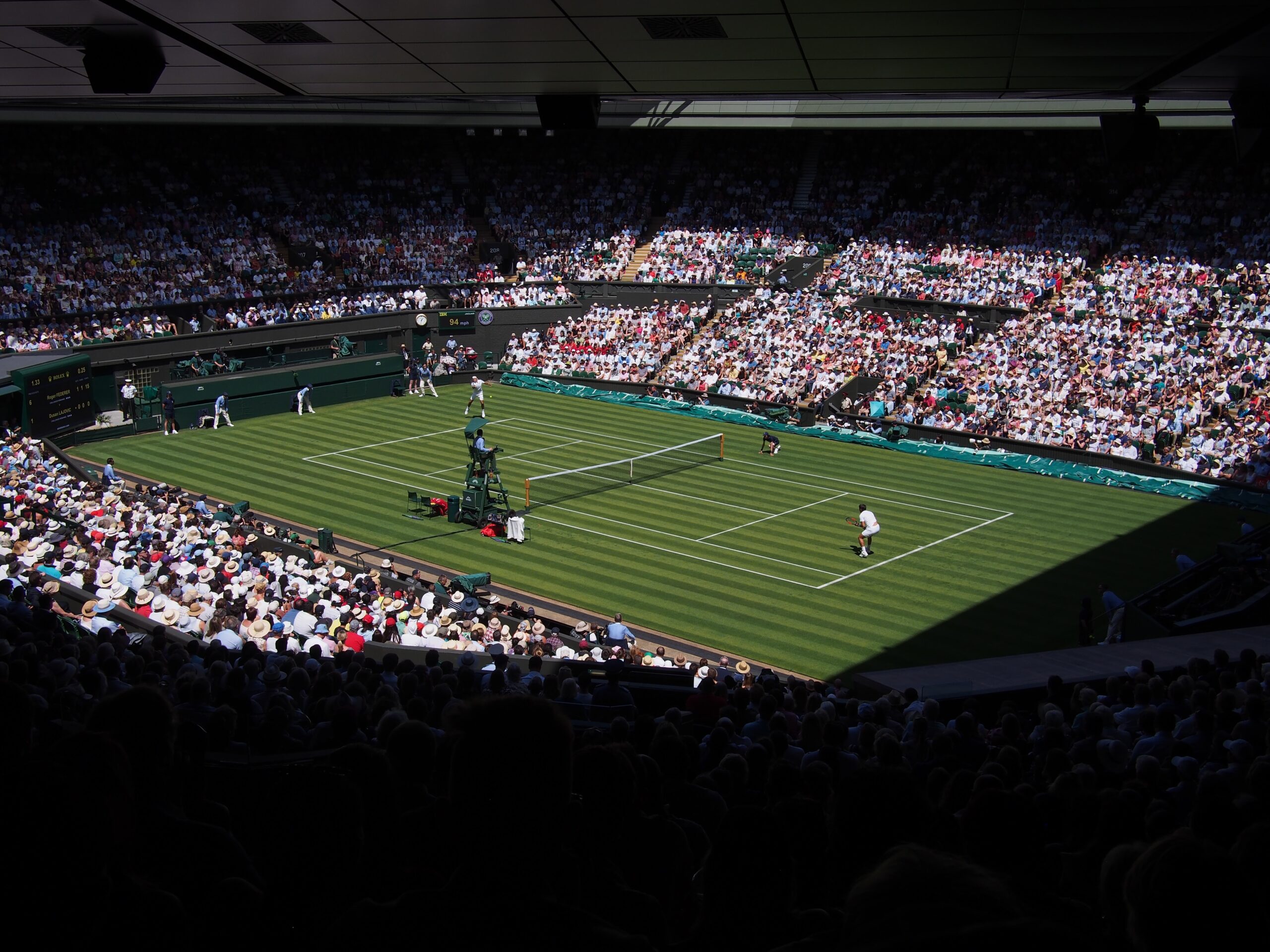 How to Get Wimbledon Tickets: 2023 Ultimate Guide
Wimbledon, the oldest tennis event in the world, is a prestigious tennis tournament that draws in tennis fans from all over the globe. The experience of watching top players compete on the grass courts at Wimbledon is unlike any other. The England Club has played host to the world's tennis elite since its inception in 1877, making it the oldest of the tennis major events. The grounds of SW19 has seen every tennis legend pass through them over the years, from Roger Federer to Serena Williams.
Wimbledon 2023 is expected to be as popular as ever, marking the 136th edition of the beloved tournament. Last year saw over half a million people flock to the England club, with even more expected to descend onto the grounds this year. The action takes place between the 3rd-16th July, with the venue welcoming fans from around the globe to see their favourite tennis stars battle it out, across the 18 championship courts.
Due to limited tickets and high demand, obtaining tickets at the Wimbledon Tennis Championships can be a challenge. However, all is not lost! In this comprehensive guide, we will show you how to maximise your chances of getting Wimbledon tickets while highlighting what is needed to be known about the All England Lawn Tennis Club (AELTC), the official organization behind the tournament.
Understanding the Types of Tickets and Their Availability
Wimbledon offers a variety of ticket types that cater to different budgets and preferences, ranging from a grounds ticket all the way up to a seat on the centre court. The England Lawn Tennis Club has divided ticket prices into different categories, aiming to make it fair for all who attend. Of course, the day upon which you attend will also be a variable when determining how much your Wimbledon tickets cost, so please bear this in mind. An exact rundown of ticket costs on each day can be found here!
Tickets for Wimbledon 2023 are available over a two-week period in early July. The tournament consists of different stages, including the early rounds and the highly anticipated finals. It is crucial to familiarise yourself with the specific dates and duration of the Wimbledon Championships to plan your ticket search effectively. The official website of the All England Lawn Tennis Club (AELTC) serves as the primary source for ticket information, releases, and updates.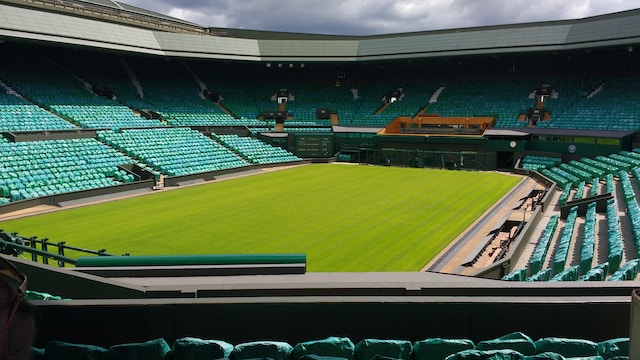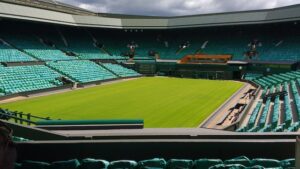 Centre Court Tickets 2023
Among these options, most people attending the Wimbledon Tennis Championships will be hoping to see some action at the hottest court on the grounds. Centre Court tickets provide an exceptional viewing experience, allowing spectators to witness the biggest matches and see tennis legends like Novak Djokovic and Iga Swiatek in action.
Centre Court tickets are highly sought after and offer a prime vantage point for enjoying the tournament's most thrilling moments. These tickets can be achieved through all of the options mentioned below.
How to Get Wimbledon Tickets: 2023 Guide
Entering the Public Ballot
One way to secure Wimbledon tickets is by entering the Public Ballot. The Public Ballot provides tennis fans with a fair opportunity to win tickets through a random selection process. To participate, you must register on the official Wimbledon website during the designated registration period. By entering the Public Ballot, tennis fans have a chance to obtain Centre Court tickets and witness the biggest stars on the tennis stage.
Unfortunately, the deadline for this year's ballot closed in January, with the lucky winners being notified in February. Therefore, for those looking ahead to Wimbledon 2024, this is one of the best options to consider.
Joining the Wimbledon Queue
Wimbledon is notoriously the only Grand Slam tournament whereby you can obtain premium tickets on the day of play, which is done so by queueing. Joining the Wimbledon Queue is another traditional method of acquiring Wimbledon tickets, and an exciting and unique experience on top of this. To secure Centre Court tickets through the Wimbledon Queue, you will need to arrive early and be prepared to wait in line.
Hundreds of fans will camp in tents overnight to get the opportunity to see the best tennis players in the World. Camping at the grounds overnight has gained a cult following with fans over the years, notably adding to the great atmosphere of the tournament and SW19.
While there is no guarantee of obtaining Centre Court tickets, joining the queue increases your chances of experiencing the tournament's pinnacle matches and witnessing remarkable performances from your favourite tennis icons. For people queuing, there are a limited number of tickets available daily for Centre Court, No.1 Court and No.2 Court, apart from the last four days on Centre Court, when all tickets are sold in advance. We recommend arriving as early as possible the day prior if hoping to get a ticket for one of the main courts!
However, if you are not fussed about attending one of the main courts, there are thousands of tickets available daily for ground passes at the turnstiles. This ticket entitles you to roam the grounds freely as well as attend any of the unreserved courts, being No. 3-18. Getting a ticket to these courts during the first few days of the tournament can be a great option, with the top tennis stars appearing at many of the courts across the grounds during the opening rounds.
Wimbledon Debenture Tickets
Debenture Tickets provide an exclusive, albeit expensive, opportunity to enjoy Wimbledon, including Centre Court matches, with added benefits.
Wimbledon debentures grant the holder the exclusive right to buy a ticket for their designated seat on every day of the Wimbledon fortnight, for a period of five years. A Wimbledon debenture gives you the privilege of enjoying some of the finest views in the house. These premium tickets also offer access to Debenture Lounges and other prime seating locations.
Unfortunately, for Centre Court, the current series of debenture tickets run from 2021-2025, with the debenture tickets for Court No. 1 running from 2022-2026.
However, there still remain opportunities to acquire debenture tickets through a private arrangement, as they remain freely transferable. To purchase debenture tickets, you can also explore official channels or authorised resale platforms. More information for acquiring debentures can be found on the Wimbledon website.
Hospitality Packages
For a luxurious Wimbledon experience, Hospitality Packages are an excellent option. These packages offer access to exclusive facilities, fine dining, and premium seating, including Centre Court tickets. Hospitality Packages provide an unforgettable opportunity to witness the exceptional talent of players like Carlos Alcaraz or Jessica Pegula while enjoying exceptional service and comfort.
It is important to note, due to their extreme popularity, Wimbledons' hospitality packages often sell out fast. So it is advised to book well in advance to avoid any disappointment.
Overseas Ballots and Tour Packages
If you reside outside the United Kingdom, you can participate in 'Overseas Ballots' or explore 'Tour Packages.' The International Tennis Federation (ITF) conducts overseas ballots, allowing international fans to secure Centre Court tickets and be part of the Wimbledon excitement. Additionally, various travel agencies offer specialised tour packages that include Centre Court tickets, accommodations, and other amenities.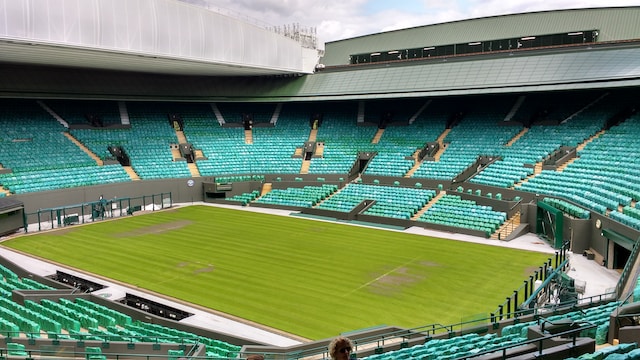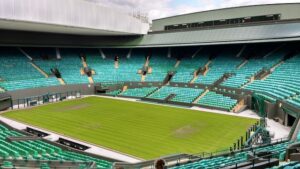 Tips to Maximise Your Chances
To enhance your chances of obtaining Wimbledon tickets, it is crucial to be well-prepared and employ effective strategies. Here are some tips and tricks on how you can maximise your chances of securing a Wimbledon ticket in 2023.
Be Well Prepared
Familiarize yourself with the ticket acquisition process, including the various ticket types and their availability.
Stay up to date with the latest Wimbledon news, announcements, and ticket release information. Good sources of information include the official Wimbledon app and website.
Set a realistic budget for your ticket expenses, taking into account different ticket options and potential add-ons.
Flexibility and Persistence
Remain flexible with your schedule and consider attending multiple sessions or days to increase your chances of securing tickets.
Explore different seating options to find available tickets that meet your preferences.
Persistence is key, as it may require multiple attempts before successfully securing tickets. Stay patient and keep trying.
Utilise Social Media and Fan Forums
Stay connected with the official Wimbledon social media channels such as the official Wimbledon website or app for real-time updates, including ticket releases, availability, and other important information.
Engage with online tennis communities and fan forums to gain valuable insights, tips, and advice from experienced Wimbledon attendees.
Consider Matches and Off-Peak Days
Increase your chances of obtaining tickets by considering matches in the early rounds or during the week when demand is usually lower.
These off-peak sessions often offer a higher likelihood of securing tickets for your desired matches or courts.
Considerations for the Secondary Market
If you are unable to secure tickets through official channels, authorised resale sites provide an opportunity to purchase tickets from debenture holders.
However, exercise caution when dealing with unofficial ticket sellers to avoid scams and ensure the authenticity of the tickets.
Securing your Wimbledon tennis tickets in 2023
When looking to buy Wimbledon tickets, you need to combine planning, strategy and persistence. You can increase your chances of getting tickets to this prestigious event by understanding ticket types and availability. Be prepared, stay informed and explore all options to maximise your Wimbledon ticket purchase experience.
After providing all of the information we can, we hope to see you on Henman Hill with a glass of Pimms and some strawberries and cream in hand!
We hope you enjoyed the article 'How to Get Wimbledon Tickets: 2023 Ultimate Guide.' Will you be attending Wimbledon this year? Let us know!
Read more on sports below: