Should Zidane become the next Manchester United manager?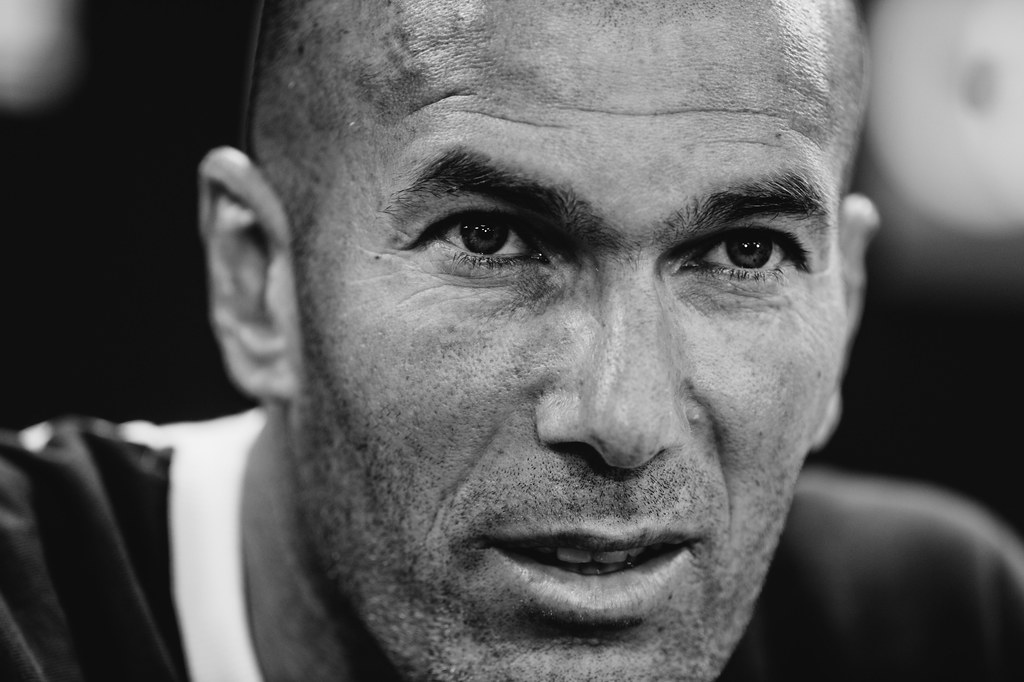 Zinedine 'Zizou' Zidane was one of the world's games most iconic players, synonymous with elegance and skill, he's won everything there is to win as a player and oversaw one of Real Madrid's most successful spells as manager – could he be the man to fulfil the dreams of the 'Red Devils' in the theatre of dreams?
Should Zidane become the next Manchester United manager?
Manchester United have had a tumultuous, frustrating and misguided journey since the retirement of the club's legendary manager, Sir Alex Ferguson in 2014.
From the boardroom bumbling of chief executive Ed Woodward in the transfer market to hiring managers with little degrees of on-field success the club hasn't been as imposing and dominant as they were accustomed to being.
After last weekend's humiliating defeat to historic rivals Liverpool, the pressure on fan-favourite ex-player and current manager Ole Gunnar Solskjær is heavily mounting. Despite a comfortable win over Spurs this weekend, who face their own problems, the result plasters over the cracks of this lacklustre United side.
Managers and Mismanagement
Old Trafford has seen a huge variety of managers come through its doors since Ferguson's departure. From his recommended heir, David Moyes who inherited arguably the world's most difficult boots to fill, and hairdryer to hold in football.
Something of a reality check followed in the subsequent years seeing the arrival and departure of Louis Van Gaal whose historical successes at Bayern and Barca respectively excited the Trafford faithful but never really delivered except a solidarity FA Cup.
However, his tenure is probably remembered for his poor signings, most notably Angel Di Maria for a then record transfer fee of £59.7 million who only scored three goals and then left the following season to PSG.
The club then went for another man who could 'guarantee titles', José Mourinho.
Despite guiding United to a second placed finish in the Premier League and bagging a League Cup and Europa League respectively, José didn't deliver 'The Special One', and his reign ended as many of his does, in chaos.
So, then enters Solskjær.
? Manchester United managers stats since Sir Alex Ferguson left pic.twitter.com/79UolLQUzr

— Football Daily (@footballdaily) October 26, 2021
Originally brought in as a caretaker manager, Ole impressed the hierarchy by putting-out the flames of the Red Devil's playing squad that Mourinho lit, most notably Paul Pogba and Luke Shaw both of which could once again breath the fresh Mancunian air upon his arrival.
Ole managed to guide United into the Champions League places and knocked-out a European giant of PSG in the Champions League.
Despite continuous success in qualifying for the top four, Ole has failed to deliver on silverware and lost last season's Europa League Final to Villareal; this raised some serious doubts about Ole's managerial credentials.
So, why is the Norwegian still in charge?
Firstly, Ole can be paralleled with the job that England manager, Gareth Southgate has done in restoring pride and identity into wearing the shirt with a heavy influence of his great relationship with former boss Ferguson.
Naturally, a club legend is far more likely to be given time and trust. There is a theme of ex-players being given managerial jobs at top clubs that they understand the ethos of, with the fans being asked for patience and to 'trust the process', but the 'Ole's at the wheel' mentality is seemingly fading with poor results and even worse performances.
Barcelona have demonstrated in the sacking of Ronald Koeman this week that you can dispatch of your former-player and Champions League winning goal scorer quite easily, an irony not lost of many United fans calling for Ole's head.
That matched with the added pressure of bringing in what many people consider to be 'The G.O.A.T' (greatest of all time), Cristiano Ronaldo, the fans expectation to succeed has been turned up to ten.
After last weekend's 0-5 slaughtering in front of their home supports at the hands of archrivals Liverpool the pressure could not be greater on Ole.
So, why could Zidane be a viable solution?
The numbers which underline the problems for Ole Gunnar Solskjaer ?

— Sky Sports (@SkySports) October 26, 2021
ZZ Top Candidate
Zidane's first spell as 'Los Blancos' manager was one of the most successful in the club's glittering history.
Zizou was the first manager to win a hat-trick of Champions League/European Cup titles between 2016-2018 and was named the world's best coach twice in that time.
Yet, despite this many people still doubt the tactical capabilities of Zidane, as FourFourTwo described "He's no visionary like Pep Guardiola, no cynic like Jose Mourinho, no disciplinarian like Sir Alex Ferguson."
Many of the Frenchman's critics argue that Zidane had the best players in the world during his first spell as manager with a Cristiano Ronaldo at his unbelievable, often gravity-defying peak.
However, Zidane has outclassed many of Europe's top-rated managers as well as overseeing a side who claimed two La Liga titles. If that isn't consistency, I don't know what is.
Despite his incredible first spell Zidane had far more problems to deal with in his second term.
Zidane returned to a loyal but aging squad with Eden Hazard being almost unusable after his £89 million 'Galactico' move to the Santiago Bernabeu.
Zidane did win the Spanish title upon his return however he left the club last summer after feeling unsupported by club President Florentino Perez.
Zidane has won 11 trophies in 4 years at Real Madrid, including 3 Champions League & 2 League titles.

That's one trophy in every 19 matches

A manager of this calibre is FREE, Do something @ManUtd pic.twitter.com/T2y1YVZVkN

— ' (@TheShowtimeReds) October 24, 2021
What could he fix?
Manchester United are on-paper the best-looking team they've been for a while, with this summer's recruitment of Sancho, Varane and of course Ronaldo they seemingly have all they need in their arsenal to win titles and players for the here and now to achieve it.
With the huge ego's Zizou has managed at Madrid, two of which arrived at Old Trafford in the summer, his man management is arguably the perfect fit for the current United squad. After all he got the best out of Ronaldo before.
Zidane's French connection could also be the only solution to the age-old Paul Pogba question, will he sign a new contract? Pogba has previously stated his desire to play under the former Ballon d'Or winner, "Real Madrid are a dream club, Zidane is a dream coach", said Pogba in 2019.
The only real problem Zidane might have with the Manchester United squad is that there is a real enthesis to promote, play and develop youth players with the likes of Rashford, Greenwood and McTominay all coming through the ranks.
If you could criticise one element of Zizou's time at Real Madrid it would be that he did not focus and trust in the younger players enough, often letting them go for large transfer fees and sticking with his trustable veterans instead of developing and coaching youth. A mistake that Real are now suffering from with an aging squad and little exciting talent coming through to pick up the mantle.
As the dust settles on United's heavily defeat, a deathly silence falls on Carrington training ground, although he's survived with his job for now, a menacing shadow if cast ever further on Ole, that shadow may just headbutt him in the chest.
We hope you enjoyed the article 'Should Zidane become the next Manchester United manager?' Do you think Zidane should be the next manager of Man United? Let us know!
Read more on football below: