Who is the Tallest Football Player in Premier League History?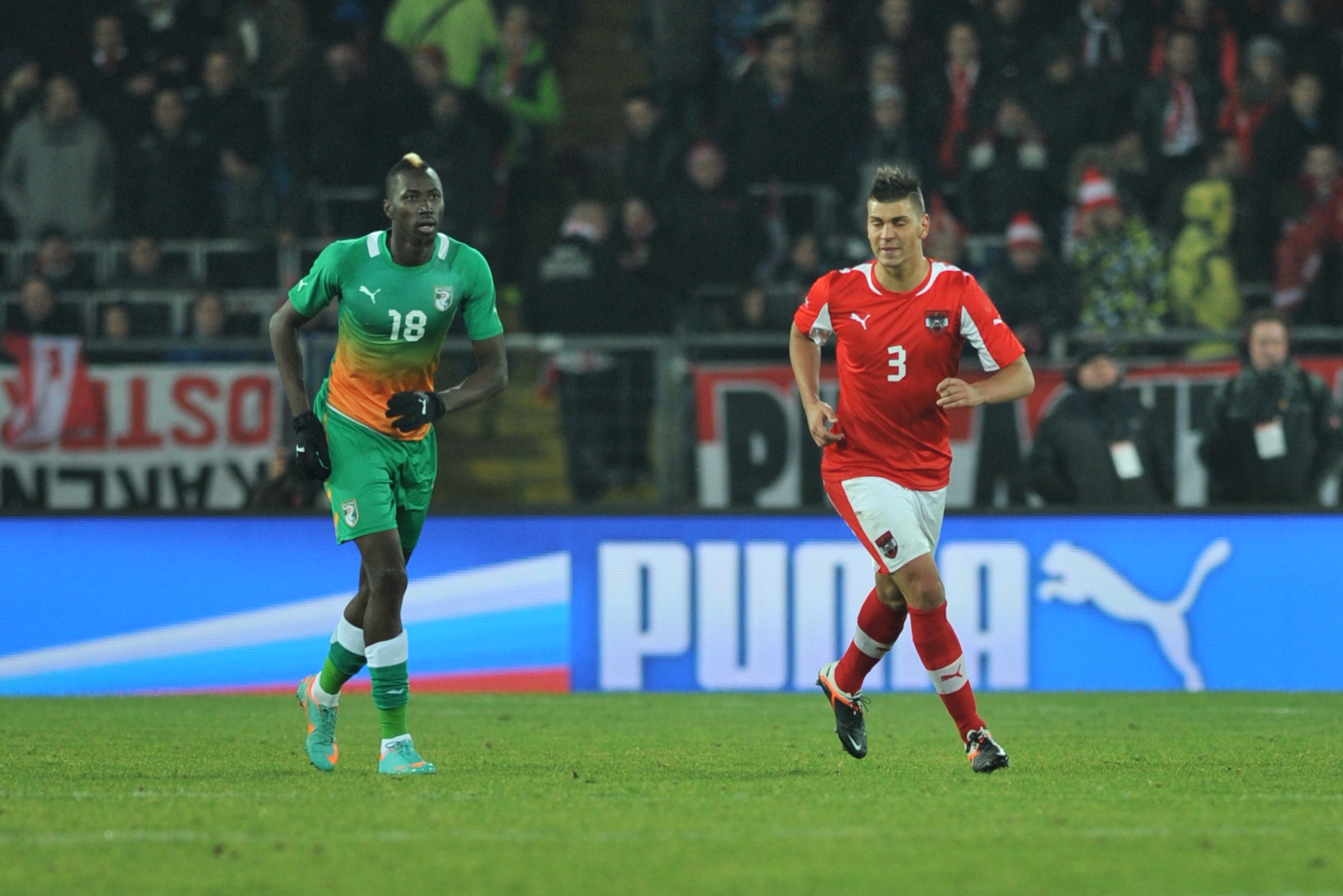 Who is the tallest football player to play in the Premier League?
Who is the Tallest Football Player in Premier League History?
Height has always been something a player can use to their advantage, whether it's a goalkeeper having a longer reach to get to the shots right in the corner or a striker gaining that extra advantage over the defender to get on the end of a cross. Although the modern game is more about pressing, playing out from the back and being good on the ball, having tall players that are able to dominate in the air is still a worthwhile strategy. Just ask Sean Dyche.
Set pieces goals are becoming increasingly common in the Premier League so taller players are becoming a worthy asset. You just have to take a look at the size of Brighton's defence to see how important it is to have height in both boxes. Having players in your squad that can tower over the opposition is something that has been utilised by Premier League clubs since it formed.
Throughout the years the Premier League has seen a whole variety of sizes of players take to the pitch. In this article we take a look at the 11 tallest football players to play in the Premier League (Heights have been taken from worldfootball.net)
11. Ian Feuer- 201cm
The first player in the list of tallest football players in Premier League history is Ian Feuer. Ian Feuer is an American goalkeeper who played in the Premier League for Derby Country and West Ham between 1999 and 2002. At 6ft 7in Feuer was once the joint-tallest goalkeeper to play in the Premier League. Feuer made five Premier League appearances keeping one clean sheet. Feuer spent the majority of his career in the lower divisions of English football. He signed for West Ham in 1994 but was sent on loan to Peterborough United. He signed for Luton Town the following season where he made 110 appearances over 3 seasons. Feuer resigned for West Ham in 1999. He also had spells at Cardiff City, Wimbledon, Tranmere Rovers and Wolves although he hardly played at any of them.
Feuer retired in 2002 and has had spells coaching with LA Galaxy and the US Men's and Women's National Teams. He is currently a coach at the USC Trojans women's soccer team. He also owns his own goalkeeping academy. Interestingly, off the pitch Feuer played the Predator in the 2007 film "Aliens vs. Predator: Requiem".
1519. Ian FEUER

Goalkeeper – 20.05.71 – USA (1/0)

Prem Debut:
15/04/2000 (Derby County vs. WEST HAM UNITED, W 2-1)

Prem Clubs:
West Ham United (94-96 & 00), Derby County (01)

Prem Apps: 5
Prem Goals: 0
Prem Clean Sheets: 1 pic.twitter.com/MMTadYeVCd

— Premier League Players (@premlgeplayers) October 5, 2020
10. Lars Leese- 201cm
Lars Leese was one of those level with Feuer as the joint-tallest goalkeeper in Premier League history. Leese made nine Premier League appearances for Barnsley in the 1997/98 season keeping one clean sheet. The German shot stopper joined the Tykes for £250,000 from Bayer Leverkusen and spent two years at the club. Leese spent the majority of his career in the semi-professional leagues of German football and he had never played a professional game before signing for Barnsley. Once he left Barnsley he went back to being semi-professional in Germany. Leese never played a game for Bayer Leverkusen meaning Barnsley are the only professional football club he has made an appearance for. Surprisingly, Leese's only Premier League clean sheet came at Anfield in a 1-0 Barnsley win. Leese was able to keep out a Liverpool side containing Steve McManaman, Michael Owen and Patrik Berger to name a few.
The Keeper of Dreams: Barnsley's Lars Leese positions his wall during his side's season in the top flight in the mid-90s. pic.twitter.com/i12cePG02Z

— GoaliesAreDifferent (@goalkeepersdiff) December 10, 2018
9. Lubomir Michalik- 201cm
Lubomir Michalik is a Slovakian centre-back who played in the Premier League for Bolton Wanderers from 2006-2008. Michalik made 11 Premier League appearances scoring one goal and getting one assist. He joined the Trotters from Slovakian side FC Senec in 2006 for £450,000. Michalik left Bolton in 2008 and signed for Leeds where he was part of a side that won promotion from League One in 2009/10. He also had spells at Carlisle United and Portsmouth during his career. Michalik didn't have a bad goal record for a centre-back scoring 8 goals during his time in English football. That record carries over to his international career where he's scored two goals in his eight caps. Michalik left Portsmouth in 2015 and played a season in Kazakhstan before returning to Slovakia where he is still playing now. He currently plays for SKF Sered in the Slovak Super Liga.
🎥 Just for you, @MarcIles. Lubomir Michalik's only #BWFC goal, coming against @ChelseaFC in April 2007! pic.twitter.com/8EAVxAhsC4

— Bolton Wanderers (@OfficialBWFC) September 20, 2016
8. Dan Burn- 201cm
The first current Premier League player to feature in the list, Dan Burn stands at a whopping 6ft 7in tall. He is one of the tallest football players currently in the Premier League. Hardly surprising considering most Premier League commentators can't say his name without referring to him as "Big Dan Burn". Dan Burn currently has 70 Premier League appearances to his name scoring 1 goal. Burn is well-known for being arguably the most unorthodox left wing back in Premier League history.
Burn started his career in non-league at Darlington before signing for Fulham in 2011. He stayed at Craven Cottage for five years but had loans spells at Yeovil and Birmingham City. He signed for Wigan in 2016 where he became a key figure in the side that won League One in 2017/18. Burn earned a place in the PFA Team of the Year in League One that season. Wigan also made it to the FA Cup quarter finals that year knocking out Bournemouth, West Ham and Manchester City along the way. This outstanding season for Wigan led to Brighton signing Burn for £3.2m in 2018 but he was loaned straight back to Wigan for a six months.
Since Graham Potter's arrival at the Amex, Burn has become a key player in a new look Brighton side whether that be in the centre of defence or out wide. His height acts as a big presence in both penalty areas which is a perfect fit as Brighton are one of the Premier League's best at set pieces. However, whether his height is best used running up and down the left flank instead of commanding the penalty area is still up for debate.
⌚ FULL-TIME ⌚

What a comeback, what a game. Brighton come from two down to beat Man City thanks to a Dan Burn winner, his first goal for the club! 👏

— Sky Sports Premier League (@SkySportsPL) May 18, 2021
7. Fraser Forster- 201cm
Fraser Forster is the other of the tallest football players currently in the Premier League tied with Burn. A daunting presence in net, Forster's size makes him very difficult for strikers to beat given his incredible reach. Forster currently has 115 Premier League appearances for Southampton keeping 39 clean sheets. He also has 6 England caps to his name.
Forster began his career at Newcastle but never actually played for them. He was sent on loan to three League One sides in three seasons, the most impressive of which was at Norwich. Forster was a huge part of the Norwich side that won promotion from League One in 2009/10. He won the Golden Glove for League One and was named Norwich's Players Player of the Season. Forster spent the next four years of his career with Celtic where he won three Scottish Premierships and two Scottish Cups. He also won four consecutive Golden Gloves.
He signed for Southampton for £11.25m in 2014. Forster became a key member of a golden era for Southampton where they finished in the top eight of the Premier League for four consecutive seasons. The best season in that spell was 2015/16 where the Saints finished 6th and qualified for the Europa League group stage. During this season Forster won Premier League Player of the Month for February. Forster has fallen down the pecking order at Southampton in the last few seasons becoming backup to Alex McCarthy, but has recently started to compete for the number one spot again.
6. Stefan Maierhofer- 202cm
Stefan Maierhofer is a 6ft 7in Austrian striker that played in the Premier League for Wolves between 2009 and 2012. Maierhofer made 9 Premier League appearances scoring one goal. He signed for Wolves from Rapid Vienna following their promotion to the Premier League in 2009/10. He earned 19 caps for Austria between 2008 and 2011 scoring once.
Maierhofer is well travelled having played for over 20 clubs in his career. He spent two seasons at Wolves which including a brief loan spell at Bristol City. He was sold to Red Bull Salzburg in 2011 for about half of what Wolves paid for him. Maierhofer returned to England later in his career for two spells at Millwall either side of a year long stint at Austrian side SC Wiener Neustadt. He made 21 appearances over both spells for the Lions scoring 3 goals. Maierhofer is still playing now but is currently a free agent after leaving 2. Bundesliga side Wurzburger Kickers this summer.
I've just found out that FC Köln have signed Stefan Maierhofer. I kid you not his neck is that long. pic.twitter.com/zT3D77zw

— Lucas Swain-Britton (@LucasSwain95) January 14, 2013
5. Stefan Postma- 202cm
Stefan Postma is a Dutch goalkeeper that played in the Premier League for Aston Villa between 2002 and 2006. He is the fourth and final 6ft 7in goalkeeper featured in this list and was also the joint-tallest goalkeeper for a while with Feuer and Leese. Postma made 11 Premier League appearances for Villa keeping two clean sheets. He signed for Villa from Dutch side De Graafschap to act as cover following Peter Schmeichel's departure to Manchester City.
He spent four seasons at Villa Park which included a loan spell at Wolves in 2005/06. The summer after his loan he moved back to the Netherlands and signed for Ado Den Haag. He left England under the most bizarre circumstances, he was set for a move to Ipswich Town but was forced to move abroad after a public sex scandal. The less said about that the better. He spent the remainder of his career at home in the Netherlands except for a small spell out in Cyprus. He is now a goalkeeping coach at AGOVV Apeldoorn, the club where he retired in 2011.
Stefan Postma – Dutch goalkeeper who played for both Aston Villa (2002-2006) and Wolves (2005-2006 [loan] & 2006). pic.twitter.com/HwORFaButo

— ForgottenFootballers (@ForgotAboutThem) November 8, 2015
4. Nikola Zigic- 202cm
The second 6ft 7in striker to make the list is the Serbian Nikola Zigic. Zigic made 25 Premier League appearances for Birmingham City scoring five goals and grabbing three assists. Zigic arrived from Valencia in 2010 and stayed at Birmingham for 5 years. He made 159 appearances for the Blues scoring 36 goals. He earned 56 caps for the Serbian national team scoring 20 goals.
Zigic's debut season turned out to be his only one in the Premier League as Birmingham were relegated on the final day of the season. Zigic will forever be written in Birmingham City history as that same season they won their first major trophy since 1963 beating Arsenal 2-1 to lift the League Cup. He scored the opener in that game to send them on their way to a famous upset.
Zigic stayed at Birmingham for another four seasons although he was briefly released in 2014 but resigned later that year. In 2013/14, Zigic scored in a crucial 2-2  draw with Bolton Wanderers at the Reebok Stadium which saved Birmingham from relegation to League One. Zigic retired after leaving Birmingham in 2015 and moved back out to Valencia to live a quiet life.
Nikola Žigić's record for Birmingham in all competitions:

👕 159 games
⚽ 36 goals

One of the tallest players to ever grace the Premier League. ⛰️ pic.twitter.com/aGkLGQ9e8r

— Squawka Football (@Squawka) January 3, 2019
3. Peter Crouch- 202cm
By far the most well-known player in this list and probably the first person you thought of when reading the title of this article. Peter Crouch completes a hat-trick of 6ft 7in strikers to play in the Premier League. Crouch played in the Premier League for seven different clubs. He made 468 Premier League appearances scoring 108 goals and getting 58 assists. Crouchy won 42 England caps in his career scoring 22 goals. Crouch played for England at the 2006 and 2010 World Cups. He holds the record for the most headed goals in Premier League history.
Crouch came through the youth system at Tottenham before impressive spells at QPR and Portsmouth saw him sign for Aston Villa in the Premier League. After three underwhelming years he was sent on loan to Norwich where he impressed. Harry Redknapp signed him for Southampton the following year then a year later he signed for Liverpool. While at Liverpool he won the 2006 FA Cup and played in the 2007 Champions League final. He was signed by Redknapp again in 2008 this time for Portsmouth before the pair both moved onto Tottenham. After 3 years at Spurs Crouch moved to Stoke in 2011 where he spent 8 years. He moved to Burnley in 2018/19 where he played a minimal role and he announced his retirement at the end of that season.
Since his retirement in 2019, Crouchy has turned to the media becoming regular pundit on BT Sport and Match of the Day. He also hosts the award winning 'That Peter Crouch Podcast' with Chris Stark and Tom Fordyce and has hosted TV shows on Amazon Prime and BBC. It's safe to say he's doing better now than he was sitting on the bench at Burnley.
Tallest outfield football player in the Premier League
2. Lacina Traore- 203cm
Lacina Traore shares the top spot as the tallest football player in Premier League history at 6ft 8in. The Ivorian striker nicknamed "The Big Tree" signed for Everton on loan from Monaco in 2014. He made just one Premier League appearance for the Toffees due to injury. Traore scored just four minutes into his Everton debut in an FA Cup tie against Swansea but got injured just a week later. His only Premier League appearance for Everton came on the final day of that season against Hull where he came off the bench in the 89th minute. Those few minutes are enough for him to go into Premier League history books as the tallest outfield player ever to play in the Premier League.
Unsurprisingly, Everton decided not to bring Traore back to Goodison Park and he returned to Monaco. He spent another five seasons in France but was sent on loan for three of them, he eventually left in 2018. Traore has won 13 caps for Ivory Coast scoring 4 goals. He was also part of the squad that won the 2015 African Cup of Nations. Traore is still playing now although he's currently without a club after he left Turkish second division side Bandirmaspor in February.
3415. Lacina TRAORÉ

Forward – 20.05.90 – CIV (13/4)

Prem Debut:
11/05/2014 (Hull City vs. EVERTON, W 2-0 – sub 90 mins)

Prem Clubs:
Everton (14)

Prem Apps: 1
Prem Goals: 0 pic.twitter.com/uwYaGZYuEk

— Premier League Players (@premlgeplayers) March 21, 2021
The tallest football player in the Premier League
1. Costel Pantilimon- 203cm
The other tallest football player in Premier League history is Romanian goalkeeper Costel Pantilimon. At 6ft 8in, Pantilimon is the tallest goalkeeper to ever play in the Premier League beating the record that was shared by Feuer, Leese and Postma. He has played in the Premier League for Manchester City, Sunderland and Watford. Pantilimon has made 54 Premier League appearances keeping 17 clean sheets. He also has 27 caps for the Romania national team.
Pantilimon has spent the majority of his career in England signing for Manchester City in 2011. He was primarily backup to Joe Hart but he became City's cup goalkeeper. He didn't make his Premier League debut until the 2013/14 season where he won the Premier League and League Cup with City. That summer he signed for Sunderland where he was a regular for 18 months before signing for Watford. He was just a backup to Heurelho Gomes at Watford and actually played more games out on loan than he did for Watford over his two year spell. Pantilimon also had a two year spell at Nottingham Forest before moving out to Turkish side Denizlispor where is still playing now.
3351. Costel PANTILIMON

Goalkeeper – 01.02.87 – ROM (27/0)

Prem Debut:
02/11/2013 (MANCHESTER CITY vs. Norwich City, W 7-0)

Prem Clubs:
Manchester City (11-14), Sunderland (14-16), Watford (16-18)

Prem Apps: 54
Prem Goals: 0
Prem Clean Sheets: 17

Prem Champion:
2013/14 pic.twitter.com/So1ovTYLgV

— Premier League Players (@premlgeplayers) March 16, 2021
We hope you enjoyed the article "Who is the Tallest Football Player in Premier League History?" Which of these players would you most like in your team? Let us know!
Read more on football here: