Europe's Favourite Team: Denmark Dominate Russia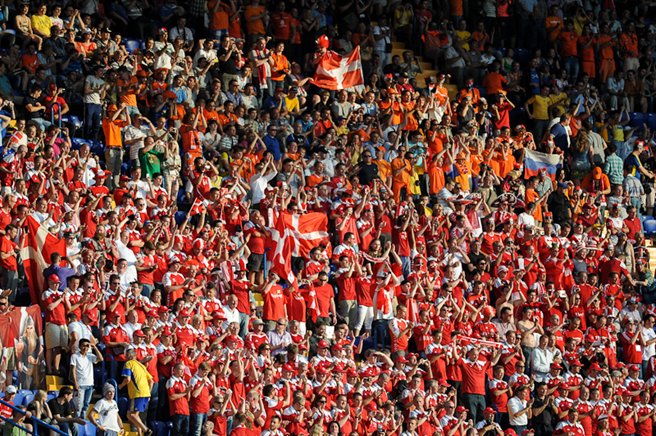 Europe's Favourite Team: Denmark Dominate Russia
In the wake of a truly heartbreaking opening round, Europe's favourite team, Denmark, fought past Russia to defy the odds and seal their spot in the Last 16 of Euro 2020. They'll leave Copenhagen and head to Amsterdam where they'll face Wales on Saturday at 5pm UK time.
The Story So Far
After the harrowing scenes in Denmark's tournament opener against Finland where Danish superstar Christian Eriksen suffered a cardiac arrest on the pitch (Eriksen is thankfully safe and well having been discharged from hospital over the weekend) the Danes have battled back from the brink of an early exit to reach the knockout stages.
The distressing scenes of June 12th, saw the Danish togetherness and spirit put on full display as the team rallied round their wounded teammate. Tears and angst devastated the Copenhagen crowd as medics attended the unconscious Eriksen, with team leaders and long time friends of Eriksen, Simon Kjær and Kasper Schmeichel consoling the former Spurs midfielders family and the rest of their team. Thankfully, the medical staff successfully stabilised Eriksen after almost 30 minutes of emergency attention and the Inter Milan attacking midfield left the pitch conscious.
CHRISTIAN ERIKSEN THAT WAS FOR YOU ❤️

Congratulations, Denmark ?#EURO2020 #DEN pic.twitter.com/0zFki5sPSA

— Goal (@goal) June 21, 2021
Amid great controversy, the Danes returned to the field to complete their opening fixture against the Finns where an understandably energy sapped display saw them slip to a 1-0 defeat.
Legendary Danish goalkeeper Peter Schmeichel voiced his criticism of UEFA claiming the Danish side were given no real choice in restarting the match. His son, and current Danish no.1 Kasper also voiced his criticism, claiming it was a rushed decision and that special consideration should have taken place to allow the Danes to bypass UEFA ruling of a 3-0 defeat under the extraordinary circumstances.
That being said the game proceeded with the Danes falling to defeat. This left them with an uphill battle facing off against world no.1's Belgium in their next fixture.
Desperate for at least a point, Denmark had the dream start with Yussuf Poulsen putting the hosts in front after just two minutes of action. On 10 minutes play stopped as players, coaches and supporters rose to their feet in support of the Danish no.10 Eriksen. A dominant first half display followed, where the Danes pressed hard for a second. Braithwaite and Damsgaard with the best chances to add. A complete performance fitting a side playing for their sidelined star.
Nevertheless, the halfway introduction of Belgium's Kevin De Bruyne changed the whole complexion of the game. The Manchester City midfielder inspired his side to victory assisting Thorgan Hazard's goal and netting the winner himself, with a classy driven finish too Schmeichel's near post. A devastating blow to Danish hopes of advancing as they were left ruing missed opportunities as they out shot Belgium 21 shots to 6 albeit only managing to find the target an equal 5 times with Belgium.
It was a performance Denmark could be proud of with sidelined star Eriksen allegedly messaging the teams WhatsApp group with praise, calling the performance a 'fantastic' display.
❤️ Denmark and Belgium unite to show their support for Christian Eriksen.#EURO2020 pic.twitter.com/jaaTpCNA3n

— UEFA EURO 2020 (@EURO2020) June 17, 2021
Against All Odds
After 2 defeats from 2, Denmark were on the brink of an early exit. They were relying on beating Russia by as many goals as possible to strengthen their goal difference on the chance they finished third in the group, as well as hoping that Finland fell to already qualified Belgium to see the Danes seize 2nd in the group and automatic qualification if they were successful against Russia. That being said, both the Russians and the Finns were fighting for their chance to move onto the next rounds, both knowing a point in each of their games would likely be enough to send them through to the knockout stages.
Group B winners: Belgium ??✅
Group B runners-up: Denmark ??✅#EURO2020

— UEFA EURO 2020 (@EURO2020) June 21, 2021
A Touch of Class
Another dominant Danish performance ensued and finally they got their just reward. After a tournament of devastation and bad luck, Denmark cruised to a 4-1 thrashing of Russia as they booked their place in Saturday's last 16 against Wales.
Although Denmark dominated the game, a cagey opening 30 minutes played out as Russia went close with Golovin. As for the Danes, Højbjerg came the closest with a well struck effort from 25 yards beating Safonov in the Russian goal but also the woodwork. Finally, on 38 minutes, a touch of class from 20 year old Mikkel Damsgaard broke the deadlock and sent the Danish crowd into a frenzy. A well bent right foot shot into the top right hand corner from just outside the box gave Denmark the lead going into the halftime break.
Damsgaard with a lovely goal for Denmark ?? pic.twitter.com/ccDogaW2Qi

— FootballJOE (@FootballJOE) June 21, 2021
Delight for Denmark
Denmark continued to push forward in seek of a second. Centre backs. Kjær, Christensen and Vestergaard continued to attack the set piece and wing backs Wass and Mæhle pursued opportunities high up the pitch. The Russians were quiet with key men Miranchuk and Golovin struggling to get into the game.
On 59 minutes Denmark added a second as Poulsen capitalised on a gift from Russian midfielder Kuzyayev. The Zenit midfielder had looked up the pitch for options before electing to head home to his goalkeeper, failing to see the emerging Poulsen he misplaced the back pass into the strikers path leaving the simplest of finishes for the Leipzig forward.
Shortly after, Denmark looked destined to make it three as Braithwaite and Dolberg combined to set the latter free with only the touch and finish to come. A heavy touch followed as the newly introduced Dolberg watched the chance go begging. The Nice forward was back on the attack right away being cynically brought down by Russian fullback Fyodor Kudryashov who was already on a yellow card. The referee taking a sympathetic view to let the left back off from receiving his marching orders.
What a picture of Yussuf Poulsen celebrating #DEN's second goal in Copenhagen ? pic.twitter.com/l3D0r0dUBV

— B/R Football (@brfootball) June 21, 2021
Danish Determination
Kasper Hjulmand's men dominated the early encounters of the second half and with word from Saint Petersburg that Belgium had gone ahead against Finland, the Copenhagen crowd were sent into ecstasy.  Nevertheless, their elation was short lived as Russia found themselves in the Danish penalty area. Totally against the run of play, Russia were awarded a penalty as Sobolev was tripped by Vestergaard. The Southampton defender was caught playing his opponent too tight leaving a dangling leg for the trip. It was up to the Russian captain Artem Dzyuba to step up and cooly place his penalty down the centre of the goal avoiding the leftward diving Schmeichel in net. To rub salt into Danish wounds, Romelu Lukaku's opener in Saint Petersburg had been ruled out for offside as Finland remained second in the group on 4 points, to Denmark and Russia's 3.
Despite the setback, Denmark fought back, driven on by survival. They showed the courage and desire that had served them so well throughout the tournament thus far as they pushed on for a third. They continued to test the young Safonov in the Russian goal forcing the Krasnodar keeper into a fumble from a corner where a chaotic scramble ensued on the Russian 6 yard line before being cleared.
The crowd of the Parken Stadium continued to cheer home their side. A chant 'We are red. We are White. We stand together. Side by Side.' Rang out amongst the Danish faithful as Denmark continued to turn the screw. Cheers began again as more news of a Belgium goal against Finland came through. This time the goal stood, as Finnish keeper Hradecky fell harsh victim to a cruel rebound off his left post into his body and into his net. Jubilation amongst Danish fans, knowing that as it stood Denmark were heading through.
Artem Dzyuba halves the arrears for #RUS from the penalty spot ⚽️

? @BBCMOTD pic.twitter.com/PhOCFM3G9l

— The Athletic UK (@TheAthleticUK) June 21, 2021
Christensen Cracker
There was still time for more Danish delight, as unlikely scorer Andreas Christensen stepped up with a 25 yard first time thunderbolt into the Russian goal, making it 3-1 Denmark and almost certainly booking his side a ticket to the knockout stages. The goal following a string of strong blocks from Safonov with the clearance falling to Christensen who struck it passed the scrambling Russian goalkeeper.
?? Scintillating first-time effort from distance by Andreas Christensen!

?Goal of the Round ?????????? #EUROGOTR | @GazpromFootball pic.twitter.com/r3Fr0Kuzq8

— UEFA EURO 2020 (@EURO2020) June 21, 2021
Icing On The Cake
As if three wasn't enough, Denmark added a fourth moments later through wing back Joakim Mæhle. The Atalanta man getting a  deserving goal as he slotted past a helpless Safonov amidst poor tracking from the Russian defenders after a Danish free kick. In turn, Lukaku added a second for Belgium, all but sealing Denmark's advancement. As the final whistle rang out to scenes of Danish players surrounding an officials phone to check score in the Finland game and make sure their celebrations weren't premature.
?? Wait for it…

Denmark have their round of 16 spot confirmed! ?@dbulandshold | #EURO2020 pic.twitter.com/SkXKdB9V6c

— UEFA EURO 2020 (@EURO2020) June 21, 2021
Europe's Favourite Team
After what was probably the most haunting scene I have ever witnessed as a football fan in my entire 22 year life, I think I speak for the masses when stating my gratitude to the emergency services and pure relief upon the second we learned that Eriksen was ok.
On the cusp of tragedy, and in a state of emergency it is uplifting to witness the togetherness and rallying of people far and wide united in the well wishes of Eriksen on that day. Upon that remarkable and wished avoidable day, the Danish national team have gained many the fan in the hardship they and their star no.10 have been dealt so far. But their refusal to concede to defeat and rise like a phoenix from the flames to make the knockout rounds makes them the fairytale story of this years tournament and thus becoming Europe's favourite team.
They've been impressive ever since but particularly against Russia when they were only one Russian goal away from going out. Yet, their heart and determination to keep attacking in search for a third saw them rewarded when they could play out the final 10 minutes knowing they'd done enough. They gave their fans a magic moment which will be enjoyed long into the night.
As I'm sure many others will be, I'll be rooting for the Danes in second behind my native England. With their viking spirit on full display and after already overcoming such adversity, they are now Europe's favourite team. In addition, the Danes could be a real dark horse for the tournament, likened to their wildcard victory of 1992. As special as 1992 was, I can't help but feel a second Danish win would topple that achievement in being a touching tribute to their longtime hero Christian Eriksen. If they continue to play with the quality and fight we've seen so far, who's to say that the Danes won't be marching on Wembley come July 11th.
CHRISTIAN ERIKSEN THAT WAS FOR YOU ?

What a beautiful moment for Denmark and their fans ❤️ pic.twitter.com/FGncK2XlCv

— International Champions Cup (@IntChampionsCup) June 21, 2021
We hope you enjoyed the article 'Europe's Favourite Team: Denmark Dominate Russia' How far do you think the Danes can go? Let us know!
Read more on football here: