Aintree 1973: Memories are Made of This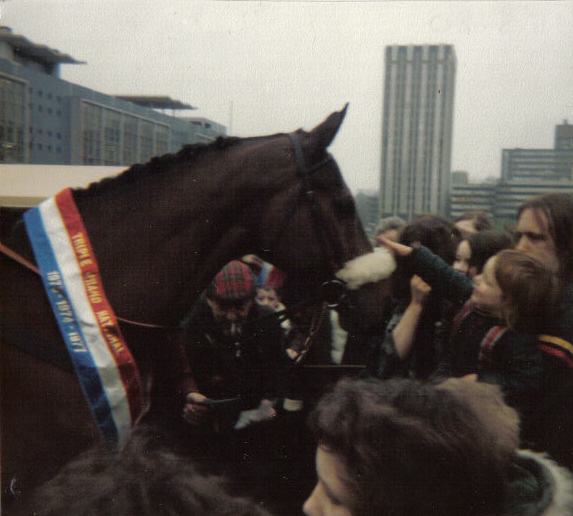 Aintree 1973: Memories are Made of This
It was our calendar event.
The gate-leg table-top meticulously polished; broadsheet newspaper spread corner-to-corner. The selection process was age-determined and duly noted; as the black & white television set purred to life.
Taking our seats in heightened anticipation, the famed BBC outside broadcast unit fine-tuned their preparations.
The soothing tones of anchor David Coleman, coaxed viewers toward the impending sporting-spectacle, that was the 1973 Grand National.
Widely regarded as the World's premier steeplechase; The 'National' dates back to the mid-nineteenth century, and is run annually at Aintree Racecourse, Liverpool.
The demanding four-mile-plus trip, with obstacles aplenty, lays bare the true artistry/bravery, of horse & rider.
47 years ago since Red Rum denied Crisp in the 1973 Grand National – what a race this was ? pic.twitter.com/kdCveNCVI7

— ODDSbible Racing (@ODDSbibleRacing) April 1, 2020
On that particular afternoon in March '73, market interest (principally), surrounded Australian chaser Crisp (ridden by Richard Pitman), and Red Rum, the mount of Brian Fletcher.
Our hopes were routinely scattered, among the thirty-eight runners & riders who went to post.
Richard Pitman was in the twilight of his career; and despite his mount carrying top weight, determined to bowl-along in front. Having settled splendidly into the task; Crisp had opened-up a sizeable lead midway through the second-circuit.
At this point; joint-favourite Red Rum began to emerge from within the fractured chasing-pack. Brian Fletcher's mount had youth, and a significant weight-pull in hand, as he pursued the long-time leader. And on jumping the last, the deficit was little-more than a dozen lengths.
In negotiating the punishing run-in; Crisp was visibly emptying, allowing Red Rum to get-up in the last few strides, to deny his gutsy rival.
Legendary BBC commentator Peter O'Sullevan; provided viewers with an altogether more noteworthy description, of the pain and exaltation of the moment. While simultaneously, our selection list was manually shredded.
Red Rum would repeat-the-feat on two further occasions (1974, '77), and coupled with second place finishes in 1975 & '76, remains the most successful horse in Grand National history.
On the eve of the 2021 renewal a similar routine shall be adhered to. And like-minded paper-shredders need look no-further than Kimberlite Candy, to meet their every need.
? ONE WEEK TO GO ?

We can't wait for the Randox Grand National Festival LIVE on @ITV!

Tune in to The Opening Show EVERY MORNING of the Festival at 9:30am on @ITV4 ?#ITVRacing #TheOpeningShow #GrandNational

— ITV Racing (@itvracing) April 1, 2021
We hope you enjoyed the article 'Aintree 1973: Memories are Made of This.' Do you think Red Rum's Grand National record will ever be beaten? Let us know!
Read more on horse racing here: