Juventus Claim Ninth Consecutive Serie A title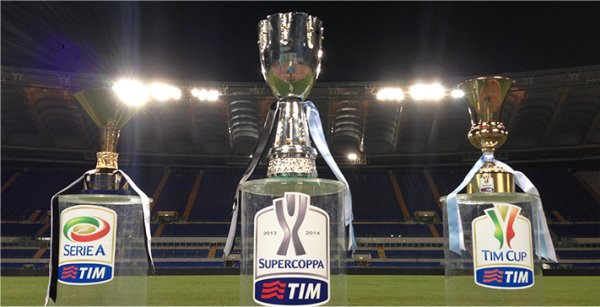 Serie A title to stay with Juventus for ninth year running
Juventus secured a record extending ninth successive Serie A title and their 36th overall in a 2-0 victory over Sampdoria. In doing so, the Bianconeri continue their reign as Europe's most dominant team, nearing a decade as kings of Italian football.
Cristiano Ronaldo stretched his goal scoring tally to 31 this season, firing in a free kick towards the end of the first half.
The Portuguese forward is only the third Juventus player score over 30 goals in a season.
In the 67th minute winger Federico Bernardeschi scored his first Serie A goal in nearly two years, sealing the Championship.
Ronaldo continues Italian job
Taking to Instagram Ronaldo said: "Delighted for the second consecutive championship and to continue building the history of this great and splendid club."
Proving that age is just a number Ronaldo, 35, was the fastest player to score 50 Serie A goals. It took the former Manchester United man just 61 appearances to beat Andriy Shevchenko's record of 68 games.
Ronaldo has also added to their firepower by scoring over 40% of Juventus' league goals this season.
12 – Excluding penalties, Cristiano #Ronaldo has scored the most goals in #SerieA in 2020 (12). Flexible. pic.twitter.com/i8AoYGULQf

— OptaPaolo (@OptaPaolo) July 27, 2020
The close play between Ronaldo and Paulo Dybala has been extremely effective, and the pair have scored nearly 60% of Juventus' goals.
In their clash against Sampdoria, Dybala was forced off injured, leaving the Argentine in fresh doubt for the club's European campaign.
Sarri wins first league title as manager
Former Chelsea coach Maurizio Sarri continued the title-winning tradition, making him the oldest manager ever to win the Serie A title at 61.
Reflecting on winning the league Sarri said: "It has a special feeling, of course. It's difficult to win, it becomes even more complicated to keep winning, as taking something for granted in sport is one of the biggest lies in the world."
Sarri becomes the third Juventus coach to win the Championship in their nine-year hold. Antonio Conte began the streak in 2011 and Massimiliano Allegri continued this run before leaving last season.
Winning the Serie A was a minimum requirement for Sarri when he was appointed manager last year.
A disappointing season with a successful finale
Disappointingly, Juventus lost the Coppa Italia Final to Napoli on penalties and were defeated by Lazio in the Supercoppa.
Whilst they may have won the title, Juventus have put together a string of underwhelming performances since play returned in Italy.
Moreover, the Bianconeri went into Sunday's match with just one win in their last five matches.
They even failed to clinch the title on Thursday when they lost 2-1 to a struggling Udinese side.
Udinese have beaten Juventus at home in Serie A for the first time since April 2010.

An incredible comeback victory for Le Zebrette. 🤯 pic.twitter.com/3cwF4AJWTV

— Squawka Football (@Squawka) July 23, 2020
So far this season, Juventus have thrown away 18 points from winning positions, more than any other season in their unbroken run of Serie A titles.
Defender Leonardo Bonucci said: "It is the most beautiful success, even the most difficult because we wanted it and suffered.
We started on a new path with a lot of scepticism around us, we gave everything despite some slip – ups."
Juventus will lift the trophy at home against Roma on Sunday.
We hope you enjoyed the article 'Juventus claim ninth consecutive Serie A title'. Can they extend their record to ten titles? Let us know!
Read more on Italian football here: