Is the Championship More Compelling than the Premier League?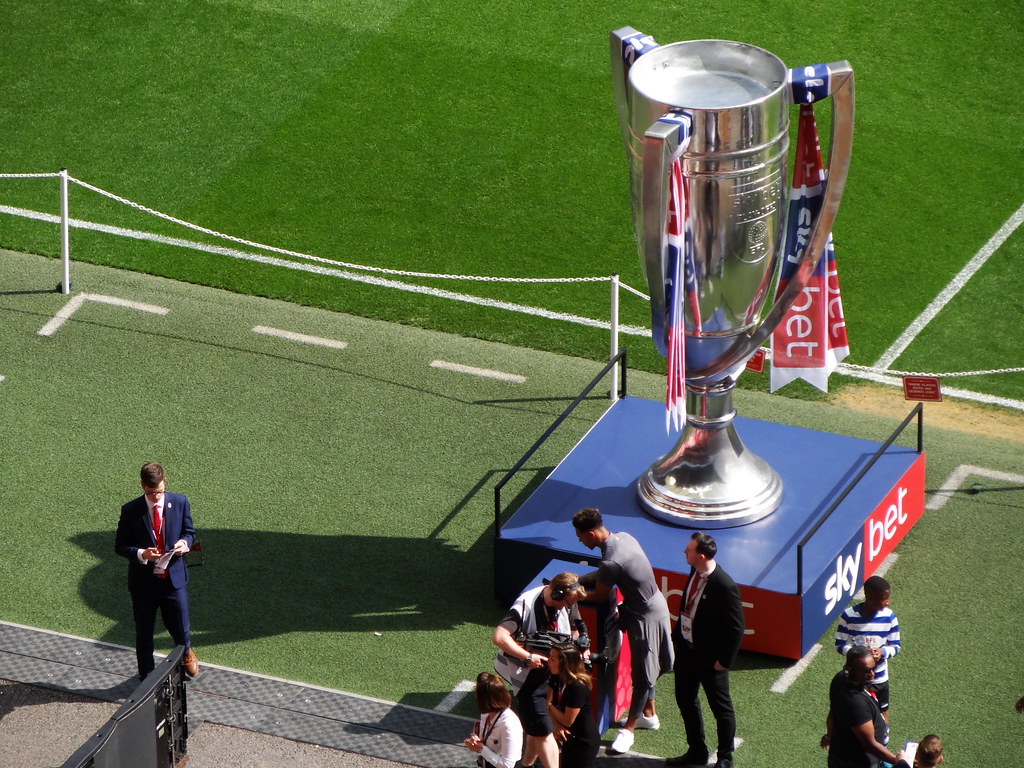 Championship vs Premier League
Is the Championship More Compelling than the Premier League?
As the restarted Premier League and Championship seasons continue toward their conclusions, the debate as to which is more entertaining or "better" raises its head again. At their heart, they are exactly the same; a league of 90-minute matches between two teams of 11 players, settled by the amount of goals scored. And yet, beyond the different amount of teams, it is widely regarded that the two leagues provide very different levels of entertainment.
Amongst such a complex debate, there is an initial line of thinking that should be explored before looking at a league comparison; one that suggests that interest is driven by a person's stake in individual clubs (whether in support of or a preference they fail) as opposed to entire leagues. We, as football fans, end up supporting a club – either through choice or family tradition – and tend to follow that club through our lifetime. But in doing so, we have a vested interest, be it consciously or unconsciously, in the welfare of our club in relation to what goes on around the game. It is from this that we look at football in terms of entire leagues. Something happening in the Premier League has the potential to impact the Championship and vice versa. But does this make one superior to the other? Let's explore…
Here's what's still possible in the Championship this season (although Wigan's 12-point penalty hasn't been applied yet). pic.twitter.com/7opT4JbEpc

— Ben Mayhew (@experimental361) July 6, 2020
First of all, those that favour the Championship will cite the fact that is generally far more competitive than the Premier League. It is very rare that a team run away with the league title, and very rarely will they get cut far adrift at the bottom of the table. Even Newcastle United didn't have things their own way when they dipped into the second tier. Yes, clubs amass big points totals over the course of a Championship campaign, but the Championship has a culture in which teams are constantly taking points off each other – often in surprising circumstances. Such unpredictability makes for that extra bit of spice, both in the race for survival and in the chase for a place in the "promised land."
But despite the dominance of Manchester City and, most recently, Liverpool, the Premier League is no forgone conclusion either. In fact, looking back at last season, Pep Guardiola's side were forced to win their last 14 league matches to finish top of the table by just a single point from Liverpool. Behind these, the next three positions were split by just two points and the race for the final Europa League place saw four teams within five points of each other. At the other end of the spectrum, the previous season saw the bottom quarter of the table split by just six points. "Mini-leagues" form inside the division according to individual clubs' aspirations and success is often defined by their standing within these mini-leagues. Be it for the title, European qualification, the race to avoid relegation or for simple improvement on the previous campaign while consolidating their league status, the Premier League is definitely no less competitive.
Title-winning form by Man City:

✅3-1 Arsenal
✅2-0 Everton
✅6-0 Chelsea
✅1-0 West Ham
✅1-0 Bournemouth
✅3-1 Watford
✅2-0 Fulham
✅2-0 Cardiff
✅3-1 Palace
✅1-0 Spurs
✅2-0 Man Utd
✅1-0 Burnley
✅1-0 Leicester

13 wins, 10 cleansheets

— David Kappel (@kappilinho) May 6, 2019
With this competitiveness established, a further argument in favour of the Championship is that the individual matches are more physically demanding than their top-tier counterparts. It is a common feature of EFL matches that when a player has the ball at his feet, he will not have it unchallenged for as long as he likely would do in the Premier League. This is as a result of every player playing with a sense of urgency – a desire instilled within the purpose of winning everything from a 50/50 on the halfway line to the 94th-minute header to turn one point into three. In comparison, it is considered among groups of supporters than Premier League games can produce "boring" matches between teams deliberately playing at a lesser tempo, simply afraid to lose due to financial ramifications of failure.
However, the last few seasons has seen more revolutionary systems of play than the previous ten years. With Pep Guardiola, Antonio Conte and most recently, Jurgen Klopp bringing new ideas and tactics to the English game, clubs have more often been playing a game in which progressively less time on the ball is afforded to the opposition. Further to this, we now have Chris Wilder's overlapping centre-halves adding a new dimension to the game and with footballers being the fittest they've ever been, it can be claimed that the days of being able to claim "you get less time in the EFL and therefore it's tougher" are dwindling.
When Chris Wilder took charge of Sheffield United in May 2016, they had just finished 11th in League One.

Four years later, they have just beaten Jose Mourinho's Spurs 3-1 to leapfrog them in the Premier League table.

? #twitterblades pic.twitter.com/WHPAuqsOvM

— bet365 (@bet365) July 2, 2020
Advocates of the Championship often claim that "it isn't tainted by money" meaning that while the Premier League is a standalone product with vast financial backing at all levels, there is a more of a sense of "reality" about life in the lower divisions. This is compounded by the Saturday-Tuesday-Saturday nature of the fixtures in the EFL, a far cry from the more "protected" once-a-week setting of the Premier League. The extra exertions on the squad give more of a feeling that a team is capable to achieve something without having to spend hundreds of millions and have corporate sponsorship from multi-national corporations in order to do so. This idea is further hammered home by the fact that money has been the downfall of many clubs and has resulted in not only failing to climb into the highest echelon of the English game (e.g. QPR, Derby), but can result in further relegation further down the pyramid (Sunderland, Ipswich Town, Southampton and Leeds among numerous others).
While Premier League footballers' wages have always been in a different stratosphere to the rest of English football, the ridiculous sums of money spent by worldwide corporations and TV broadcasters are a major contributing factor to the expanding gulf between the Premier League and EFL products. Off the back of these deals, clubs are able to attract further huge corporate deals. It's the old adage of "money goes to money" playing out in front of us. And if the Championship really was more compelling, why doesn't it attract the big name companies? To this end, is it that the Premier League is tainted by money or is it jealousy that the Championship (and below) is unable to to generate its own such financial muscle due to being a generally inferior product?
Wolves will have roughly made £124.3 million this year in the Premier League from prize money and TV revenue ??#WWFC #TalkingWolves pic.twitter.com/N4QbhU2NYX

— Talking Wolves (@TalkingWolves) May 14, 2019
Furthermore, money has the power to attracts the best players in the world, as well as players who clearly have potential and then advancing themselves to become a leader on the world stage. Many will look to Lionel Messi and Cristiano Ronaldo playing abroad and think that's where "world class" ends. But look at the likes of Sergio Aguero, Thierry Henry, Ruud van Nistelrooy, Virgil van Dijk, Harry Kane, Frank Lampard, Ashley Cole – the list goes on. These players, at one point or another in their careers have been considered one of the very best there is and it is because money has been invested in them to allow them to improve to that level, whether it's through transfer fees, coaching or a combination of the two. These players produce, as do a whole host of other Premier League players, far better quality than their Championship equivalents through killer passes or skillful first-time finishes, doing so more consistently and to produce the moments that live longest in the memory (Agueroooooo for example). So money hasn't tainted the Premier League nearly as much as it has improved it and taken it to new levels of entertainment.
It is often claimed that fans of the EFL divisions across the board are more passionate about their clubs, particularly considering the comparable lack of finances their club holds. Smaller clubs in working class areas often have a fanbase that would describe themselves as having more love for their team and less of a sense of entitlement than those of Premier League clubs and almost a sense that they are on the same level as the players they spend their money to watch. This ends up with the atmosphere – frequently regarded as "the 12th man" – being far superior at Championship grounds usually being better, despite the vast different in stadium size.
"It's the only league in the world where you can achieve something without much money."

"It's a brilliant league and that's testament to the passion of the fans."

Where does The Championship rank amongst the World's best leagues? pic.twitter.com/9YfWoCZgWv

— talkSPORT (@talkSPORT) February 28, 2019
While there may be a more obvious disconnect between Premier League players and their supporters, the work they do off the field is often equally effective in reaching out to them and as a result of the difference in the size of the clubs, reach a wider audience. And with the potential for a subsequently larger fanbase, it increases the opportunity of filling these bigger stadiums with supporters. While some will look to the notion of "plastic supporters only supporting the big clubs" or "tourist supporters," it must be considered that no matter who or what a person is in everyday life, if they are going to spend money on a ticket, travel and expenses at a 70,000 capacity game – even if it's the only game they ever go to – they're exactly the same as a season ticket holder at the lowliest club elsewhere.
Finally, the Championship's main spectacle – the play-off final is widely considered the richest game in football. With an estimated value of between £170m and £300m (depending on whether the winners survive their first season in the Premier League), following an entire season's work, the potential for long-term financial security hinges on the result of a single game at Wembley. This is something that the Premier League cannot match; the match of closest importance would be a final-day Champions League, Europa League or relegation decider but nothing comes close to the financial reward of the Championship's showpiece.
The news has caused dismay and frustration for some clubs in the Championship…

Clubs promoted to the Premier League over the next two seasons will receive less money than expected.

Full story: https://t.co/dNqD1JqNCB pic.twitter.com/28FRTHlzJC

— BBC Sport (@BBCSport) July 2, 2020
The Premier League equivalent to achieving a level above themselves would be the gateway to UEFA's two European club competitions, the Champions League and the Europa League. Teams that qualify for either of these end up with additional TV coverage and the financial reward that comes with it which, in turn, goes full circle to attracting top players. European success also brings the possibility of heightened sponsorship deals, many of which have the potential, albeit over a longer period of time, to dwarf that of winning the Play-offs.
In conclusion, when we think of something as compelling, we tend to have a conscious preference for something within that topic. In football, we usually support a specific team and we are automatically tuned into the matches and news that have a bearing on our club. But for the neutral observer, the English football tree has many branches, all of which have different strengths. In a direct comparison between the Premier League and Championship, both have their attractive qualities. But these qualities will only resonate with someone whose club is directly affected by them. So is the Championship more compelling than the Premier League? Yes, if you wholeheartedly and unerringly support a Championship club. For everyone else, the chances are the Premier League's superior players, coverage and standing on a global scale make it far more interesting.
We hope you enjoyed this article 'Is the Championship More Compelling than the Premier League?'. Do you think the Championship is more entertaining than the Premier League? Let us know!
Read more on football here: