The Best NBA Players of All Time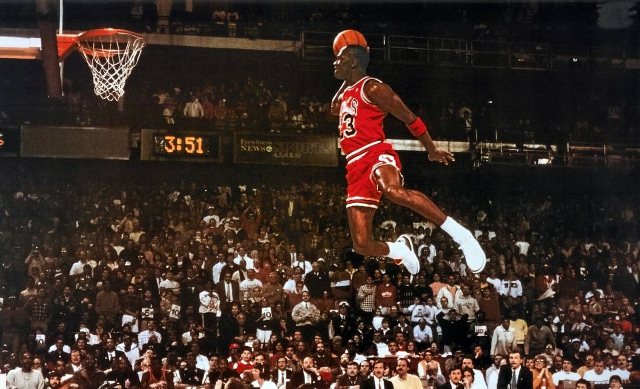 Who is the Greatest NBA Player of all Time?
Who are the best NBA players of all time?
ESPN recently deliberated as to who is the ultimate king of the court. The American sports conglomerate carefully debated using an expert panel, voting on thousands of head-to-head matchups. Each matchup took into consideration many variables ranging from total career value and peak performance.
We run through the top 10 picks, ranking the greatest players in the league's 74-year history.
10. Shaquille O'Neal
Career Statistics
Shaquille O'Neal was completely unguardable in his prime, the 7ft 1 monster was one of the tallest and heaviest players ever to grace the NBA. The giant center was most known for his strength and physical dominance on the court. O'Neal's lethal combination of size, agility and explosiveness transformed the game and was regarded as a nightmare match-up for any defence.
Shaq notably led the LA Lakers to three consecutive Championships in the early 2000's as well as being awarded the NBA Finals MVP for each of those Championship winning seasons.
9. Kobe Bryant
Career Statistics
1996-2016 Los Angeles Lakers
25.0 PPG, 5.2 RPG, 4.7 APG, 1.4 SPG, 1.4 3s PG
2007-08 Season MVP, 2x NBA Finals MVP, 18x NBA All-Star, 5x NBA Champion, 2x NBA Scoring Champion.
'The Black Mamba' will forever be remembered as one of the NBA greats with few players receiving more accolades than Bryant himself. Kobe Bryant's 'Mamba mentality' saw him possess a sharp mental edge and burning desire to master the sport, spanning the whole of his career.
Bryant is the fourth-leading scorer of all time and most notably celebrated all of his achievements with a single franchise during his 20 year playing career. The shooting guard became a 5x NBA Champion with the Lakers, being named League MVP in 2008 as well a 2x NBA Finals MVP. The Lakers legend also holds the record for the second most points scored in a single game, with his 81 point game in 2006.
RIP Kobe Bryant.
8. Tim Duncan
Career Statistics
1997-2016 San Antonio Spurs
19.0 PPG, 10.8 RPG, 3.0 APG, 2.2 BPG
2x NBA Season MVP, 3x NBA Finals MVP, 15x NBA All-Star, 5x NBA Champion, 1998 Rookie of the Year.
Tim Duncan aka "The Big Fundamental" proved as the model of consistency during his 19 year stint with a single franchise. Duncan dominated on both ends of the court during his reign with the Spurs, a dominant rim protector coupled with his perfect positional defence ensured Duncan became part of the All-Defensive Team for 13 consecutive seasons.
On the other side of the court Duncan averaged 19.0 PPG and was effectively known for his midrange bank shot, impeccable footwork and consistency during post moves.
Despite all of the accolades, what made Duncan arguably one of the greats was his pure selflessness. His humble attitude and utter devotion for the team excelled the power forward into legendary status. Duncan led the Spurs to 5 NBA Championships, became a 2x League MVP and a 3x NBA Finals MVP.
7.  Larry Bird
Career Statistics
1979-92 Boston Celtics
24.3 PPG, 10.0 RPG, 6.3 APG, 1.7 SPG
3x NBA Season MVP, 2x NBA Finals MVP, 12x NBA All-Star, 3x NBA Champion, 1980 Rookie of the Year.
Arguably one of the NBA's most skilled players, Larry Bird possessed a rare mixture of world class skill, ferocious competitiveness and advanced basketball IQ. Bird (along with Magic Johnson) revitalized the NBA during the 90's as well as reigniting the infamous Lakers-Celtic feud.
The Celtics legend was considered the best small forward ever (until Lebron James) and remains one of eight players to be part of the 50-40-90 club to date.
Despite his career being brought to an early retirement due to back problems, Larry Bird had a highly illustrious career during his 13 year tenure with the Celtics. Bird won 3 Championships with the Celtics as well as winning League MVP in consecutive seasons (1984-86.)
After retirement Bird took up coaching, notably serving as head coach for the Indiana Pacers from 1997-2000. During is time as head coach he was awarded NBA Coach of the Year (1997-98) as well as taking the Pacers to the NBA Finals in 2000.
6. Wilt Chamberlain
Career Statistics
1959-62 Philadelphia Warriors, 1962-65 San Francisco Warriors; 1965-68 Philadelphia 76ers; 1968-73 Los Angeles Lakers
30.1 PPG, 22.9 RPG, 4.4 APG
4x NBA Season MVP, 1972 NBA Finals MVP, 13x NBA All-Star, 2x NBA Champion, 1960 Rookie of the Year.
Wilt Chamberlain was considered truly ahead of his time. 'The Big Dipper' famously recorded  an NBA record 100 points during a game in 1962, something that will almost certainly never be accomplished again.  On top of this Chamberlain maintained a mythical 50 points per game, for an entire season.
Chamberlain was to be considered the Babe Ruth of basketball during his era, he remains to this day the true stat king of the NBA and is likely to never be dethroned.
Chamberlain won 2 NBA Championships as well as being awarded the NBA League MVP 4 times.
5. Magic Johnson
Career Statistics
1979-91, 1996 Los Angeles Lakers
19.5 PPG, 7.2 RPG, 11.2 APG, 1.9 SPG
3x NBA Season MVP, 3x NBA Finals MVP, 12x NBA All-Star, 5x NBA Champion.
Magic Johnson was a revolutionary player of his time, his infamous feud with Larry Bird and the Celtics propelled the NBA into the modern era.
Johnson remains one of five players in NBA history to record 10,000 career assists, his fast breaks and infamous no-look passes made him arguably the best passer in league history. His 6ft 9 structure became a nightmare to defend, Johnson using his frame to shred through defences with the utmost precision.
Magic Johnson led the 'Showtime' Lakers to 9 NBA Finals, winning 5 in total. The point guard  was a 3x NBA League MVP as well as 3x NBA Finals MVP.
4. Bill Russell
Career Statistics
1956-69 Boston Celtics
15.1 PPG, 22.5 RPG, 4.3 APG
5x NBA Season MVP, 12x NBA All-Star, 11x NBA Champion.
Bill Russell is the most decorated NBA Champion within the league's history, the Celtics legend infamously won more Championship rings than he had fingers (11 in total.) During his 13 year reign Russell led the Celtics to 11 Championships and in doing so was awarded the NBA League MVP five times. His 11 Championship rings is a feat that will almost certainly never be replicated within the modern era.
Though not an offensive powerhouse the same can never be said for his defensive duties. Russell turned the Celtics into a defensive juggernaut, his defensive capabilities were second to none and proved to be the perfect foil for Wilt Chamberlain and Jerry West.
The 6ft 10 center went onto coach the Celtics, becoming the first black coach in North American professional sports. During his time as player-coach he led the Celtics to two NBA Titles.
3. Kareem Abdul-Jabbar
Career Statistics
1969-75 Milwaukee Bucks; 1975-89 Los Angeles Lakers
24.6 PPG, 11.2 RPG, 3.6 APG
6x NBA Season MVP, 2x NBA Finals MVP, 19x NBA All-Star, 6x NBA Champion, 1970 Rookie of the Year.
Jabbar's world class longevity spanned over twenty years, his ability to maintain such such averages over the span of two decades is a true testament to the centers greatness. The centers two NBA Finals MVP awards came 14 years apart, showcasing his true consistency as an elite player. Jabbar also accomplished 6 NBA Championships, with the first and last spanning 17 years from one another.
Kareem Abdul-Jabbar tops the list as the leading NBA scorer in history (38,387 points.) The center holds an abundance of records including a record 19x NBA All-Star appearances, the record field goals made (15,837) and career wins (1,074.)
2. Lebron James
Career Statistics
2003-10, 2014-18 Cleveland Cavaliers; 2010-14 Miami Heat; 2018-20 Los Angeles Lakers
27.1 PPG, 7.4 RPG, 7.4 APG, 1.6 SPG
4x NBA Season MVP, 3x NBA Finals MVP, 16x NBA All-Star, 3x NBA Champion, 2004 Rookie of the Year.
LeBron James has become the epitome of the ultimate player in modern basketball. James' game is built on sheer power, the 6ft 9 small/power forward possesses a 40-inch vertical and passing ability that simply cannot be matched.
"King James" already boasts one of the most prestigious careers within the NBA and has still yet to retire. James has truly re-invented the classic archetype for an athlete's prime, at 35 LBJ is playing some of his best basketball yet and is chasing yet another NBA Championship. James could become the first NBA player ever to be a Finals MVP with three different teams.
If LBJ can maintain his electrifying output he will be on-course to overtake Kareem Abdul-Jabbar's all time scoring record, a daunting yet not impossible task for the king.
James currently has led his past two franchises to NBA Championships including the infamous 2016 Championship, which saw the Cleveland Cavaliers famously overcome the Golden State Warriors from a 3-1 deficit, ending the 52 year Cleveland Sports Curse.
LBJ has been awarded the NBA League MVP 4 times as well as being a 3x NBA Finals MVP. If "King James" can continue to perform at the same pace, he may just solidify himself as basketball's 'GOAT.'
1. Michael Jordan
Career statistics
1984-93, 1995-98 Chicago Bulls; 2001-03 Washington Wizards
30.1 PPG, 6.2 RPG, 5.3 APG, 2.3 SP
5x NBA Season MVP, 6x NBA Finals MVP, 14x NBA All-Star, 6x NBA Champion, 10x NBA Scoring Champion.
The undisputed GOAT. If one thing is certain, it's that Michael Jordan deserves to top the list at the greatest basketball player to grace the court. Jordan became a worldwide icon on and off the floor, his game truly transcended the sport.
MJ's magnificence on both sides of the court set a new precedent for the those following in his footsteps. Jordan was truly unplayable at his prime, performing always to the highest level when at the biggest stage.
Jordan went a perfect 6-for-6 in NBA Finals as well as sweeping up the Finals MVP award for each Championship. MJ also notably won ten scoring titles and 5 NBA League MVP awards.
Outside of basketball Jordan also flourished with many high profile product endorsements such as the legendary "Air Jordan" sneaker collaboration with Nike, which remains as ever popular today. In 2014 MJ became the first basketball player to become a billionaire, with an estimated net worth of $2.1billion he is the fourth-richest African-American in the USA.
We hoped you enjoyed our article discussing the best NBA players of all time. Do you think Michael Jordan is The Best NBA Player of All Time? Let us know!
Fancy writing for us: Apply to become a Sports Writer at the Sporting Ferret
If you liked this article why not check out: