Essential Gear for an Enjoyable Day of Paddle Boarding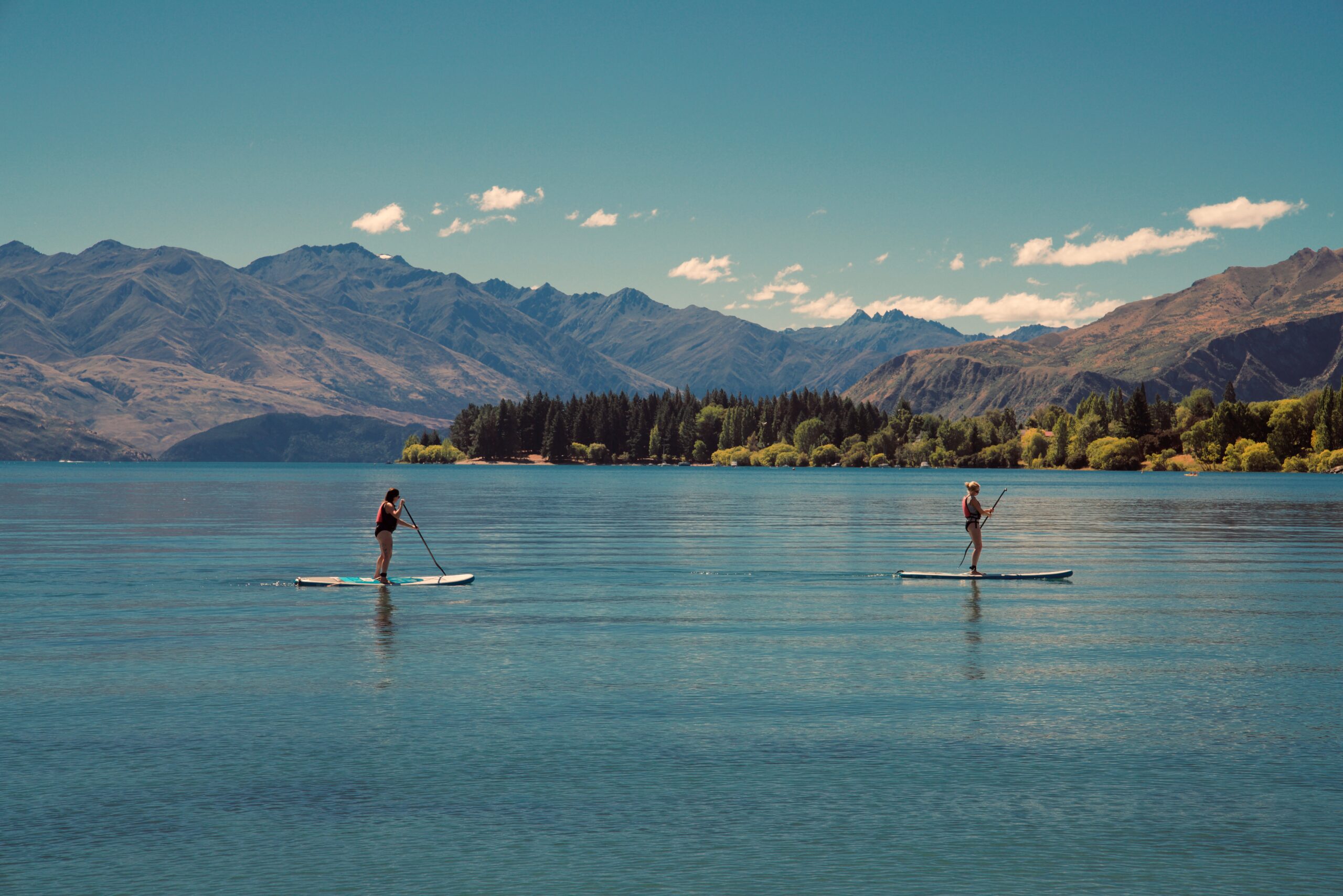 Essential Gear for an Enjoyable Day of Paddle Boarding
Paddle boarding is an exciting way to enjoy the outdoors and get some exercise. Whether you're a beginner or an experienced paddle boarder, having the right gear can make your day much more enjoyable. From life jackets to boards, paddles, and anchors – there are certain items that every person should have before heading out for a day of fun on the water.
In this article, we'll discuss what essential gear you need for an enjoyable day of paddle boarding. We'll also provide tips on how to choose the best gear for your needs so that you can focus on enjoying yourself while staying safe in all conditions. So grab your wetsuit, sunscreen, and sunglasses – it's time to explore!
Choose the right paddle board for your needs
Paddle boarding is a relaxing and exciting way to explore the waterways, but it's important to make sure that you select the right board for your needs. Many factors need to be taken into account such as the size of the board, its design, and what types of activities you are likely to use it for. Ensure you are buying your paddle board from experts in the industry, a highly reputable company such as Get On The Water, who can aide and assist you in making the right decision for your needs.
The size should be based on both your weight and how well you manoeuvre the board in different conditions, while the design affects how stable or fast the ride can be. Knowing what type of elements you expect to encounter will go a long way towards helping you pick a board from a manufacturer with experience in crafting boards for those conditions.
With so many varieties out there, it's essential to ensure that you choose a paddle board that properly meets your needs for an enjoyable and safe adventure.
Invest in a good quality life jacket
When paddle boarding, it's important to invest in a good quality life jacket. Not only can a life jacket save your life if you fall off your board in open water, but it can also provide additional buoyancy and helps you paddle faster.
A life jacket also prevents you from tiring quickly as it holds the paddler in an upright position rather than being slightly hunched over. As such, investing in a quality life jacket is important for paddle boarders who want greater safety and improved performance on the water.
Get a lightweight, waterproof bag to store your belongings
If you're an outdoor enthusiast, a lightweight, waterproof bag is essential for paddle boarding or any other activity in the great outdoors.
A lightweight, waterproof bag that will make sure your valuable items stay safe and dry wherever your journey takes you. With such an accessory at your disposal, you can paddle board with peace of mind knowing that your essentials are stowed away safely with no need to worry about water exposure ruining them.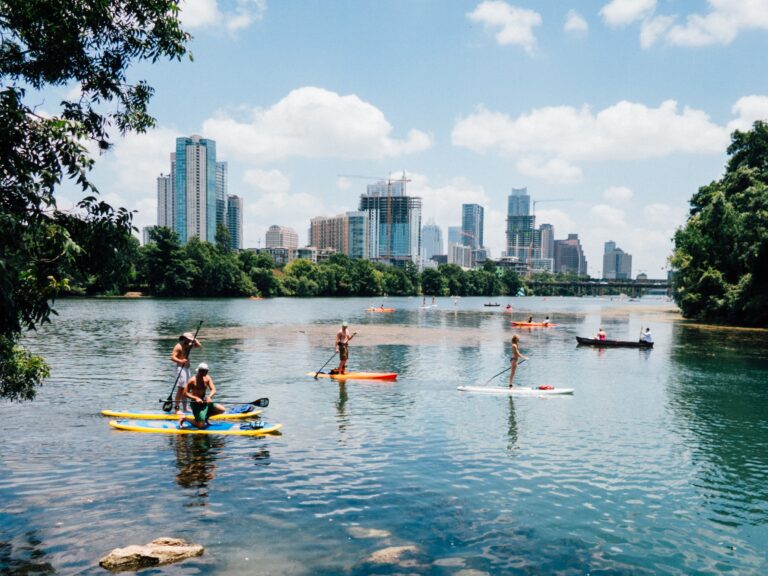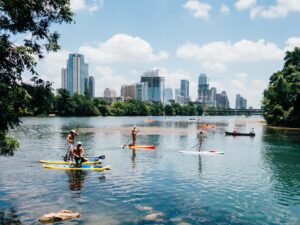 Wear sunscreen and sunglasses to protect yourself from the sun's rays
Paddle boarding is a fun, active sport that allows us to enjoy being out in the sun and paddle boarding on our favourite body of water. Yet even so, it's important to not take our safety for granted and always wear sunscreen and sunglasses when paddle boarding. By protecting our skin and eyes from the sun's rays, we can stay safe while also enjoying paddle boarding.
Not only will these precautionary measures protect you from painful sunburns, but wearing UV-blocking sunglasses may help decrease the long-term risk of developing some types of eye diseases. So the next time you paddle board, make sure you don't forget your sunscreen and sunglasses.
Bring along some snacks and drinks for energy throughout the day
Paddle boarding is an amazing way to enjoy the outdoors, get exercise and have some fun. However, paddle boarding can become quite tiring after a few hours out on the water. One of the best ways to ensure you've got energy for the entire day is to bring along snacks and drinks. This may include items like trail mix, cereal bars, protein bars or even fresh fruit.
It's always beneficial to stay hydrated during paddle boarding too; having a cooler with drinks such as sodas, bottled water or sports drinks is a great way to refuel while you paddle. By having snacks and drinks ready when you need them, you can ensure your paddle boarding experience lasts all day long.
Pack an extra set of clothes in case you get wet or fall into the water
It's a smart idea to pack an extra set of clothes when paddle boarding because you never know when you might end up taking an unexpected dip.
Whether it's due to rough waves, clumsy balance, or getting knocked over by another boarder, having an extra outfit on hand can easily save you from embarrassment and discomfort. It's wise to be prepared for any situation before paddle boarding and packing an extra set of clothes is a simple way to do that.
Bring a first aid kit with bandages, antiseptic wipes, and other items just in case of an emergency
Paddle boarding on a warm summer's day sounds like a perfect way to relax, but never forget to pack your first aid kit! Your kit should include essentials such as bandages, antiseptic wipes, gauze pads, and adhesive tape. It is also important to bring along survival items that could prove helpful in the event of an emergency, like a flashlight and an extra phone battery charger.
Don't forget your camera – capture all those special moments!
When paddle boarding, don't forget to bring your camera. The sights can be breathtaking and the sheer beauty of nature should not remain unseen. Take it all in – paddle by paddle.
Capture those precious moments in dappled light glistening across the crystal blue water or a perfect sunset photographed with friends and family on the bow of the paddle board. Don't let those lasting memories fade away. Grab your camera for a unique experience out at sea like no other and create some special photo-op moments that will last forever.
Conclusion
Paddle boarding is an amazing way to get out and enjoy the outdoors, however, it's important to take these steps for your safety before you hit the water. With these tips in mind and the essentials at hand, paddle boarding can provide a safe and enjoyable experience that will create lasting memories.
We hope you enjoyed the article "Essential Gear for an Enjoyable Day of Paddle Boarding." Are you a fan of paddle boarding? Let us know!
Read more on sports below: