MotoGP 2021 Grid: The Final Line-up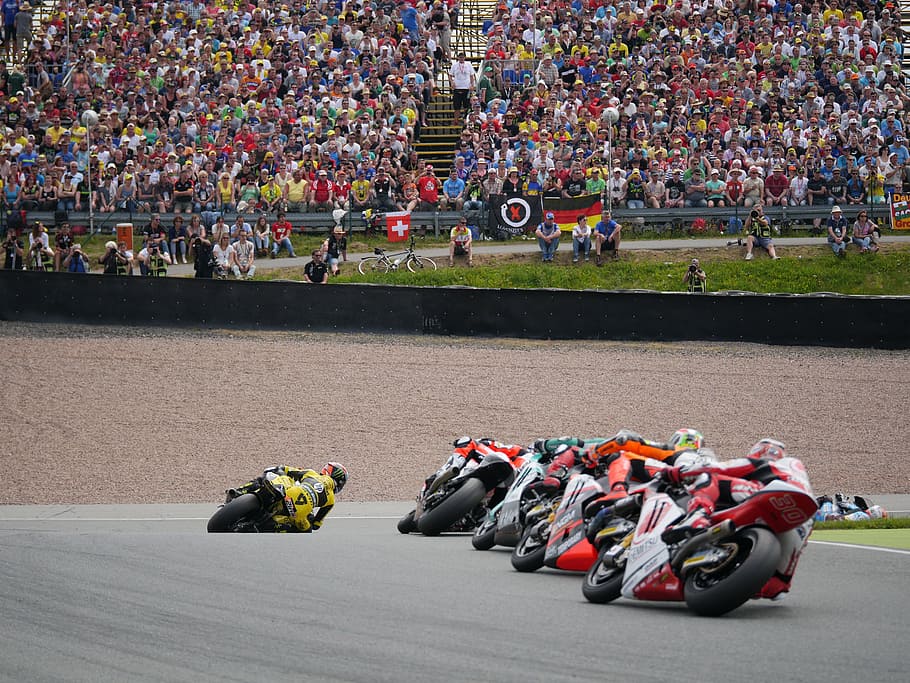 MotoGP 2021 Grid: The Final Line-up
The MotoGP 2021 grid has been finalised, so we examine the new line-ups for next season and reflect on 2020. Despite the COVID-19 global pandemic ravaging the 2020 season, MotoGP managed to complete a 14 round season across six countries, instead of the planned 20 rounds in 16 countries. An ambitious schedule is planned for 2021, featuring 20 rounds with 3 in reserve.
Aprilia Racing Team Gresini (riding the RS-GP)
Aleix Espargaro (17th with 42 points in 2020)

Bradley Smith and Lorenzo Savadori (21st with 12 points and 25th with 0 points in 2020)
Aprilia struggled yet again in 2020. They finished last in both the constructors' and teams' championships, with their riders all in the bottom half of the championship. The team decided to defend Andrea Iannone to the hilt, reserving his place in the team for 2021 right up until he was handed a four year ban for being a drugs cheat.
This decision left them scrambling to find a replacement, with most top-level riders either already signed to a team or unwilling to ride the frankly dreadful RS-GP machine. Moto2 stars including Joe Roberts, Jake Dixon, Fabio Di Giannantonio and Marco Bezzecchi all turned Aprilia down.
Rumours linking World Superbikes stalwarts Chaz Davies, Eugene Laverty and Loriz Baz to the team have come to nothing. The end result is Aprilia enter 2021 with their hopes pinned on Aleix Espargaro, a man with only two podiums in 263 world championship starts across the MotoGP, Moto2, 250 cc and 125 cc classes. Beside him will be either Bradley Smith or Lorenzo Savadori, depending on who performs best in winter testing.
Neither of them, or Espargaro, seem particularly likely to set the world on fire, so expect another lacklustre season for the Aprilia team in 2021.
Ducati Team (riding the Desmosedici GP21)
Jack Miller (7th with 132 points in 2020)

Francesco Bagnaia (16th with 47 points in 2020)
It's all change for the factory Ducati team as the underperforming, aging veterans Andrea Dovizioso and Danilo Petrucci are shown the door. They will be replaced by the younger, more dynamic duo of Jack Miller and Francesco 'Pecco' Bagnaia.
Miller had a strong season in 2020, claiming four podiums but despite some close last lap battles, a victory eluded him. The Australian also had some bad luck, including a DNF (did not finish) caused by another rider's tearoff getting tangled in his engine. Miller is only 25 years-old but already has six full seasons of MotoGP experience, so Ducati will be hoping he can spearhead their title challenge for many seasons to come.
Bagnaia had a 'what if' season, as he missed three races early in the season with injury and crashed out of the lead in Misano race two. Nonetheless, a second place and two fastest laps wasn't a terrible return for only his second season trying to master the troublesome Desmosedici bike. Ducati should expect Pecco to continue to progress and learn to handle the spotlight that comes with being a factory rider.
2021 offers a fresh start for a team torn apart by poor relationships between Ducati, Dovizioso and Petrucci. Certainly expect Miller and Bagnaia to be in the mix for podiums and victories, although the championship itself might prove a goal too far.
Pramac Racing (riding the Desmosedici GP21)
Johann Zarco (13th with 77 points in 2020)

Jorge Martin (5th in Moto2 with 160 points in 2020)
The effectiveness of Pramac as Ducati's junior team is demonstrated by both it's 2020 riders being promoted to the factory Ducati team. This means two new arrivals in the form of a rejuvenated Johan Zarco, and a fresh graduate from Moto2, Jorge Martin.
After a disastrous tenure with KTM that ended acrimoniously before one year of a two year deal was completed, Zarco's career was in a tailspin. Three rides on a satellite Honda proved little, so a 2020 season on one of the least competitive bikes on the grid was a risk, but paid off handsomely. A third place, two fifth places, a pole and a fastest lap was a fine harvest and enough to earn promotion to Pramac. The team will be looking for Zarco to continue to improve on the Ducati, with even greater factory support.
Beside the Frenchman will be 2018 Moto3 world champion, Jorge Martin. After two solid seasons of constant improvement im Moto2, the Spaniard is rewarded with a good bike at one of the strongest satellite teams on the grid. Victories might be beyond the reach of the pair, but it seems likely they will be in contention for podiums and top ten finishes.
Esponsorama Racing (riding the Desmosedici GP20)
Enea Bastianini (1st in Moto2 with 205 points in 2020)

Luca Marini (2nd in Moto2 with 196 points in 2020)
Considered by most to be the second-worst team on the grid, ahead of only Aprilia, Esponsorama Racing have pulled off a real success by clinching the signatures of the top two finishers in the 2020 Moto2 world championship.
After strong results of 3rd, 2nd, 6th and 4th overall in Moto3, Enea Bastianini found a new level of consistency in his second Moto2 season. This enabled him to lift the championship at the final round of the year. Already a fierce, fast competitor, his status as a world champion should mean 'the Beast' enters MotoGP full of confidence and ready to compete instantly.
Alongside Bastianini will be fellow Moto2 graduate Luca Marini, who is famously Valentino Rossi's half-brother. The Italian appeared to be the champion-elect for much of the season, until a massive high-side at Le Mans bruised his body and dented his confidence. A neat, metronomic rider, Marini's riding style will translate well to managing the extra power a MotoGP bike brings.
With two rookies leading the team for 2021, Esponsorama will undoubtedly suffer from crashes and confusion as they find their way in the premier class. But don't be surprised if the youthful pair are collecting points relatively soon into the season, and potentially breaking into the top ten as the year progresses.
Repsol Honda (riding the RC213V)
Marc Marquez (Unclassified with 0 points in 2020)

Pol Espargaro (5th with 135 points in 2020)
The biggest question hanging over Repsol Honda's 2021 season is whether or not Marc Marquez will be back to full fitness. Having won seven of the eight MotoGP championships since he joined the class in 2013, Marquez' erratic style final caught up with him. A huge crash at the first race of 2020, while trying to carve back through the field after running off track early on, resulted in a mangled arm.
Marc's brother Alex Marquez and replacement Stefan Bradl tried their best to salvage something for the factory, but 14th and 19th in the championship is far from the kind of performance Repsol is accustomed to.
However, there is reason to be positive about 2021, as Pol Espargaro joins the team, replacing Alex Marquez. After four years of wrestling the KTM from an also-ran to a race winning machine, Espargaro makes the jump to Honda with the goal of adding a MotoGP championship to the Moto2 title he won in 2013.
Marquez and Espargaro are hugely entertaining to watch, as their all-action riding style involves hanging off the bike at extreme angles and sliding sideways round corners in a manner reminiscent of speedway.
Repsol Honda finished 9th out of 11 teams in 2020, but this is an anomoly. With a determined Pol and resurgent Marc, the team should be challenging for wins every weekend and be in the mix for the championship with both riders.
LCR Honda (riding the RC213V)
Takaaki Nakagami (10th with 116 points in 2020)

Alex Marquez (14th with 74 points in 2020)
LCR say goodbye to Cal Crutchlow after five seasons and three victories with the tough, outspoken British rider. Replacing him is sophomore rider Alex Marquez. Repsol signing Pol Espargaro meant Marquez was, perhaps harshly, demoted from the factory Honda team before starting even one race.
Nonetheless, the former Moto2 and Moto3 world champion put together a respectable MotoGP rookie season, with two second places and lots of points finishes. The more relaxed environment of Lucio Cecchinello's team should help Marquez develop, as Repsol Honda has a notorious pressure-cooker atmosphere.
Alongside him will be Takaaki Nakagami, Japan's latest MotoGP hero. Taka put together his best MotoGP season yet in 2020, scoring points in all but two races. He claimed pole position at Aragon race two but unfortunately crashed on the first lap, admitting the pressure to convert pole into a podium got to him.
LCR has been one of the best satellite teams in recent years and with two talented riders that will continue to be the case. A race win for either, or both, Marquez and Nakagami is not beyond the realms of possibility.
Red Bull KTM Factory Racing (riding the RC16)
Brad Binder (11th with 87 points in 2020)

Miguel Oliveira (9th with 125 points in 2020)
2020 was a breakout year for KTM as a MotoGP manufacturer. Many supposed MotoGP 'experts' said the Austrian factory would never be truly competitive. This view always seemed faintly ridiculous, as KTM have eventually won in every class of motorcycle racing they've entered, from enduro, motocross and the Dakar rally, to Moto3 and briefly, Moto2.
Three race wins, four other podiums and finishing only 21 points away from lifting the constructors' title was a resounding rebuttal to their critics. Brad Binder continues with the team for 2021 after a stunning first season in MotoGP, where he clinched a victory in only his third race, scored points in all but four races and finished top rookie. The 2016 Moto3 world champion will be looking to build on this strong start next season, so expect to see Binder regularly challenging for podiums and race wins.
The South African will have a new team mate as Pol Espargaro departs for the hallowed turf of the Repsol Honda garage. Espargaro has played a pivotal role in developing the RC16 since its introduction in 2017. He achieved the bike's first podium in 2018 and KTM's best finish in the championship of 5th, but a race victory proved elusive.
Miguel Oliveira jumps up from Tech3 as his replacement, fresh from the final race of the year where he claimed pole position, fastest lap and the race victory at his home grand prix. The Portuguese rider added this to his earlier victory at the Styrian grand prix, and finished a very respectable 9th in the championship.
Binder and Oliveria are products of KTM's long-term investment in the lower classes of racing, as both were teammates for KTM's Moto3 and Moto2 teams. The pair have brought their talent and charm to the premier class of racing, which allied with KTM's technical prowess is a potent force. Don't be surprised if in the near future a MotoGP world champion is crowned wearing the distinctive orange of KTM.
Red Bull KTM Tech3
Iker Lecuona (20th with 27 points in 2020)

Danilo Petrucci (12th with 78 points in 2020)
Tech3 have raced in the MotoGP paddock for over 20 years, a project driven by the passion and skill of Herve Poncharal and Guy Coulon. They won the 250 cc world championship in 2000 and had other successes in the support classes, but a premier class victory had long proved out of reach. Then suddenly, two came along at once in 2020, delivered by Miguel Oliveira.
The Portuguese superstar earns a well-deserved promotion to the factory team for 2021, so factory Ducati reject Danilo Petrucci comes in as his replacement. Petrucci comes across as a great person, but arguably is vastly overrated as a MotoGP rider. In two seasons on the rocketship that is the factory Ducati bike, the Italian managed only two wins and two third places, three of which came in a row at the start of 2019. Nevertheless, he can be relied on to score top ten finishes and usually avoids silly crashes, so could be a good fit for Tech3, who need a consistent points scorer.
Iker Lecuona continues for a second season at the French outfit, looking to develop further after a mixed 2020 that featured a number of points finishes but also crashes and a bout of COVID-19. The Spaniard should be given some leeway though, as he is still only 20 years old and came to road racing very late, considering most stars are racing as toddlers. It's hard to see Tech3 repeating their successes of 2020, but 2021 shouldn't be a horrorshow either.
Team Suzuki Ecstar (riding the GSX-RR)
Joan Mir (1st with 171 points in 2020)

Alex Rins (3rd with 139 points in 2020)
Suzuki continue with Joan Mir and Alex Rins for 2021, as their faith in the young Spanish pair was magnificently rewarded in 2020. The duo fulfilled their long-heralded potential as Mir put together a consistent season and was crowned MotoGP champion, an accolade to add to his Moto3 championship title from 2017. Meanwhile, Rins clinched 3rd in the standings despite an injury in the first race of the year.
These strong results meant Suzuki comfortably won the teams' championship and was in contention for the constructors' championship despite only having two bikes on the grid. Suzuki will continue with just two riders next season, the only factory other than Aprilia with less than four riders, but there are rumours the VR46 team could enter MotoGP in 2022 aboard Suzuki machinery.
The GSX-RR is a great bike with no specific superiority over the other bikes, but it is well-balanced and suffers few major weaknesses. The goal for 2021 will be to retain the MotoGP crown, but which rider will emerge victorious is not obvious. Mir looks at home in MotoGP and will head into the new season full of confidence. However, if Rins can stay fit and healthy for the whole season, he could snatch the title from his team mate.
Expect both riders to be in the mix for victories every weekend, given their talent and the strong all-round performance of the Suzuki bike, which means they will be competitive at any type of track.
Monster Energy Yamaha MotoGP
Maverick Vinales (6th with 132 points in 2020)

Fabio Quartararo (8th with 127 points in 2020)
2020 was a disaster for the factory Yamaha team, there's no avoiding it. Engine problems led to the factory breaking regulations when they changed faulty values, and saw points penalties given in both the teams' and constructors' championships.
Maverick Vinales started with his usual positivity, claiming 2nd in the first two races, but his only other trip to the podium all season was a win from pole at San Marino race two. He finished 6th overall and never really looked like a genuine championship contender.
On the other side of the garage, Valentino Rossi endured the worst ever season in his 25 years of racing in the world championship paddock. He has never before placed as lowly as 15th in a championship or scored as few as 66 points. The Italian's season was wrecked by five crashes and two races missed due to suffering with Coronavirus, alongside dissatisfaction with the bike.
Rossi moves to Petronas Yamaha for 2021, swapping with Fabio Quartararo, who is a full 20 years his junior. Quartararo was a pre-season favourite for the title in 2020 and looked like he would run away with the season after winning the first two races in Jerez. However, it wasn't to be as he managed only one more victory and finished a distant 8th in the championship, seeming lost and confused by the end of the season.
Vinales and Quartararo are undoubtedly talented, and very fast riders when the bike and conditions suit them, but they appear to be woefully inept at developing a bike. Every season Vinales is fast in preseason testing, then loses the plot as the season progresses and his championship challenge falters.
The factory Yamaha team seems to be a coin flip on competitiveness: heads, fast, tails slow. If Yamaha can get the bike sorted, their young duo may clear off into the distance, but it could go completely the other way and they'll be struggling even to break into the top 10.
Petronas Yamaha SRT
Franco Morbidelli (2nd with 158 points in 2020)

Valentino Rossi (15th with 66 points in 2020)
The Petronas Yamaha team are relatively new to the pinnacle of the sport given 2020 was only their second season in MotoGP, after a few years in the lower classes. Nonetheless, they've made a huge impact.
2017 Moto2 world champion Franco Morbidelli finally delivered on his potential. The laid-back Italian put together an impressive season featuring three race wins, each collected in his calm, smooth style, that left him only 13 points adrift of being champion. As mentioned above, Quartararo shone brightly for a time then faded badly, but he's no longer Petronas' problem.
Instead, they receive 41 year-old Valentino Rossi. An icon of the sport, his MotoGP CV features seven championship triumphs, 354 race starts, 89 wins, 199 podiums, 55 poles and 76 fastest laps, plus 250cc and 125cc world title victories. Rossi is an undoubted legend of the sport, but his last three seasons have returned no race wins and only eight podiums, five of which came way back in 2018.
Petronas will be hoping Rossi can have one last resurgence, some glorious moments for fans to revel in as he enters the final stage of his career. His VR46 academy prodigy Morbidelli will have his sights set on going one better in 2021. In the process he would become the first Italian not named Valentino Rossi to win the premier class of motorcycle racing since Franco Uncini in 1982.
MotoGP 2021 Could Be the Best Season Yet
It's impossible to say who will be crowned MotoGP 2021 champion, as there is a huge mix of riders and teams who could feasibly win. Five out of six bikes available are capable of winning races, while as many as a dozen riders will be confident of contending for race wins and even the championship.
What we definitely can say is that it will be unpredictable, exciting and hopefully a return to normality after the trials and tribulations of the Coronavirus pandemic. Let's hope that the on track action is what makes all the headlines in 2021, and that fans can return to the stands to hear the engines roar.
We hope you enjoyed this article 'MotoGP 2021 Grid: The Final Line-up'. Who do you think will be crowned world champion in 2021? Let us know!
Read more about MotoGP and motorcycle racing here: