Cristiano Ronaldo Manchester United Iconic Moments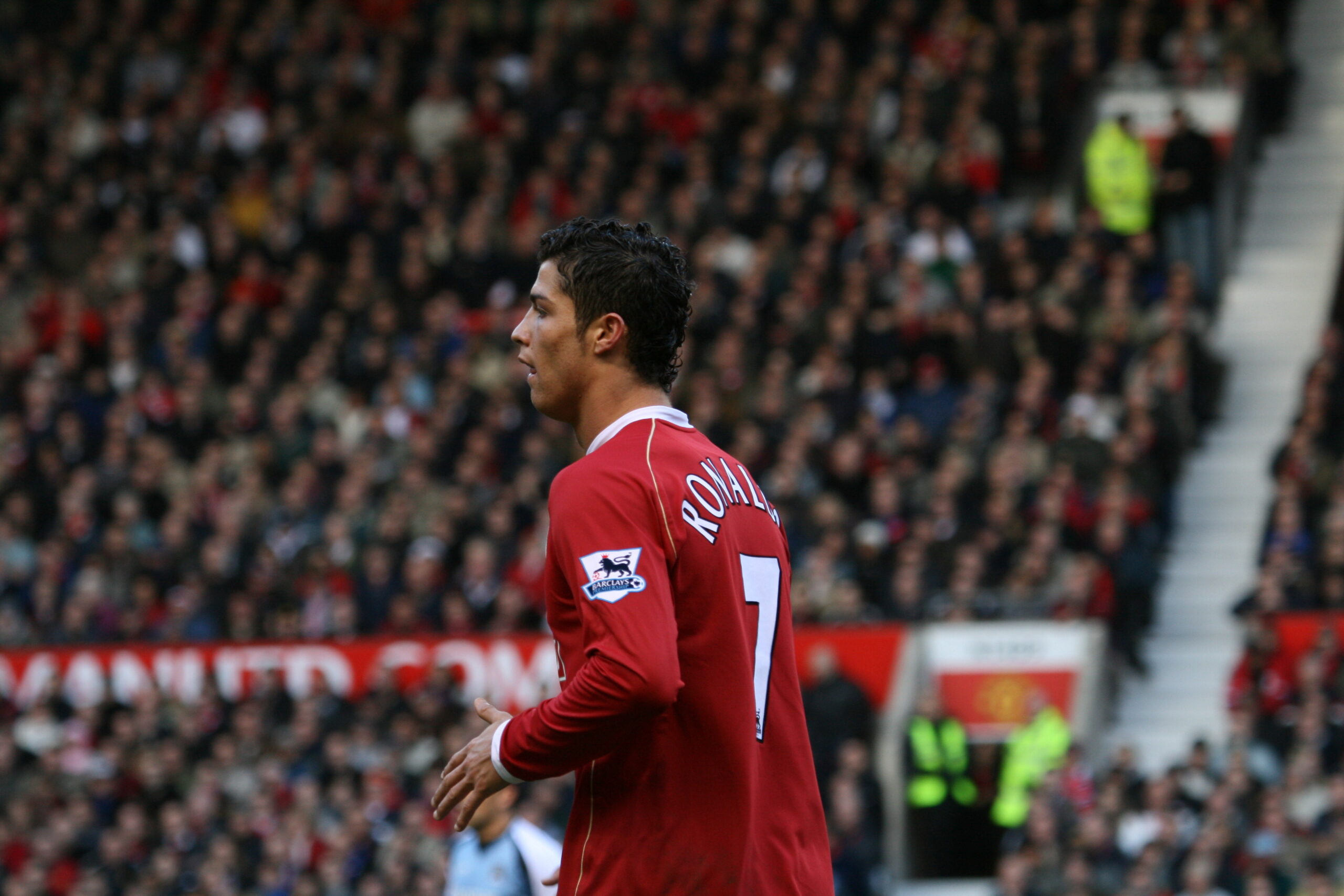 Looking back at Ronaldo's best moments at United ahead of his return
Cristiano Ronaldo Manchester United Iconic Moments
Cristiano Ronaldo is one of Manchester United's best ever players and his historic return to Old Trafford was one of the transfers of the summer. As the Premier League eagerly awaits the return of one of the G.O.A.T's it is the perfect time to remind ourselves of some Cristiano Ronaldo Manchester United highlights. Ronaldo spent five years at Old Trafford from 2003-2008 and that time was filled with incredible goals, broken records and a lot of terrorised defenders.
He's arguably the best player to ever play in the Premier League and the hype surrounding his return is huge. Ronaldo's Manchester United career is full of many amazing moments so it was difficult to narrow it down to just ten. In this article we mark his return with a walk down memory lane of Ronaldo's most iconic moments in a Manchester United shirt before he wears the famous red again this weekend.
First day back 👀

🤜 @Cristiano 🤛#MUFC | #UnitedOnTikTok pic.twitter.com/vVT3NGoxQD

— Manchester United (@ManUtd) September 7, 2021
Impressing the United players at Sporting
Obviously Ronaldo wasn't a Manchester United player at this point. However, this game was effectively the beginning of his United career. Ronaldo's performance in a friendly for Sporting Lisbon against United in 2003 was the key to his arrival. Ronaldo was so impressive that the United players went to Sir Alex Ferguson after the game and urged him to sign Ronaldo. Ferguson didn't need much persuasion and Ronaldo was signed for £17m within a week. What a bargain that turned out to be.
Sir Alex told United's official website about how impressed the players were. He said: "After we played Sporting last week, the lads in the dressing room talked about him constantly, and on the plane back from the game they urged me to sign him. That's how highly they rated him." Ronaldo was just 18 years old at the time but the United players saw his quality and were desperate to add him to their squad. Ronaldo destroyed the United defence all game, particularly John O'Shea, showing signs of the incredible player he was to become.
The 2004 FA Cup Final
Ronaldo enjoyed a successful first season at United. Primarily being used off the bench in the first half of the season Ronaldo soon established a spot in the starting XI. United reached the FA Cup Final that year where they faced second division Millwall. Ronaldo was outstanding on the day and key to United's triumph. Victory gave Ronaldo his first trophy in English football.
Ronaldo headed in a Gary Neville cross late in the first half to give United a lead. United went on to win 3-0 thanks to a Ruud Van Nistelrooy brace but Ronaldo's performance was the big talking point. Ronaldo's runs in behind and skill on the ball terrorised Millwall full-back Robbie Ryan. Ronaldo was key to the majority of United's dangerous attacks and was a real thorn in Millwall's side all game. Ronaldo was really starting to thrive in the United shirt and this carried on over the next few seasons where he became a key part of United's attack.
#OTD in 2004: Cristiano Ronaldo scored in his first final and won his first professional trophy as Manchester United beat Millwall 3-0 to win the FA Cup.

— TCR. (@TeamCRonaldo) May 22, 2018
Back-to-Back Player of the Month Wins
Ronaldo returned from the 2006 World Cup as public enemy No. 1 after the incident where he appeared to get Wayne Rooney sent off. This left many wondering if he could continue in England as most of English fans had turned on him. It wasn't just fans that had turned on him but the press as well, with The Guardian going as far as running an article claiming he should "get out of Manchester." However, he stayed and proved all his doubters wrong.
Ronaldo enjoyed an incredible start to the 2006/07 season to quickly put all the negative press behind him. November and December were particularly impressive as he picked up Premier League Player of the Month for both. Only Robbie Fowler and Dennis Bergkamp had won back-to-back awards before. Ronaldo enjoyed an outstanding festive period scoring six goals and getting one assist in three games. All in the space of a week from December 23rd to December 30th!
Winning the title at City
After a couple of seasons of Jose Mourinho's Chelsea being dominant in the Premier League Manchester United won the Premier League for a ninth time in 2006/07. They won the title in one of the best ways possible by beating their arch rivals on their own turf. United won 1-0 at the City of Manchester Stadium to move within touching distance of the title and unsurprisingly Ronaldo was the key behind this.
Cristiano caused the City defence problems all game particularly Michael Ball. Ball struggled to deal with Ronaldo's skill on the ball, constantly fouling the Portuguese. One challenge in particular was costly as he brought down Ronaldo in the box. Ronaldo got himself up and put away the penalty himself claiming the three points for United. United's first title since 2003 was sewn up the next day when Chelsea dropped points away at Arsenal. Ronaldo's penalty against City secured him his first Premier League title which turned out to be the first of three consecutive title wins for Manchester United.
9 – Manchester United won their ninth Premier League title in 2006-07 and their first since lifting the trophy in 2002-03. Rebound. #OptaPLSeasons pic.twitter.com/UCOZCidcaK

— OptaJoe (@OptaJoe) April 10, 2020
Winning all the awards
The 2006/07 season didn't just provide Ronaldo with his first Premier League title but a whole host of individual awards. Ronaldo was awarded the PFA Player of the Year and PFA Young Player of the Year award in the same season, becoming just the second player to do so. He also won the PFA Fans' Player of the Year, Football Writers' Footballer of the Year and Premier League Player of the Season. Ronaldo finished the season with 17 goals and 16 assists in the Premier League.
He became the first player in history to win all five major awards in the same season. Ronaldo certainly didn't slow down as he won all of them except PFA Young Player of the Year again the following season. He only narrowly lost out to Cesc Fabregas in the PFA Young Player of the Year as well. Winning 9 out 10 of the major individual awards over two seasons firmly cemented Cristiano Ronaldo as a Manchester United and Premier League great. And he still had more to come.
Cristiano Ronaldo 2006/07 individual English Awards:

1- PFA Player's (POTY)
2- PFA Young (POTY)
3- PFA Fan's (POTY)
4- FWA (Footballer OTY)
5- Premier League (POTY)
6- PFA (TOTY)

🥇 Only player to achieve all of these six in the same season. pic.twitter.com/0SmMy2KRvX

— TCR. (@TeamCRonaldo) January 5, 2021
Iconic free kick against Portsmouth
This goal is arguably the most memorable Cristiano Ronaldo Manchester United moment. It is one of the most iconic goals of his career and with the catalogue of goals Ronaldo has that shows how amazing this was. Let's set the scene. United were sitting top of the table when Portsmouth visited Old Trafford and they were in no mood for an upset. United are already 1-0 up when Ronaldo is brought down around 25 yards out from goal.
Ronaldo stands over the free kick in his famous stance. He steps up and strikes a perfect knuckleball that dips and swerves straight into the top corner of the Portsmouth goal. Portsmouth keeper David James can only stand and watch as the ball is fired past him. Everyone in the stadium stands and applauds in disbelief at the incredible free kick they've just seen. A truly incredible goal from an incredible player. It is quite often the first thing you think of when you remember Ronaldo's time at United and rightly so.
Breaking George Best's record
At this point in his United career Ronaldo seemed to be breaking records every week. The biggest of which he claimed in March 2008 against Bolton Wanderers at Old Trafford. United won the game 2-0 with Ronaldo scoring both goals. Coincidentally, this game was the first and only time Ronaldo would captain Manchester United although that may change this season. His first of the day took his tally to 33 goals for the season. This broke George Best's record of most goals scored by a midfielder in a single season for United.
Best scored 32 in the 1967/68 season and the record had stood for 40 years until Ronaldo came along. Never one to slow down when it comes to goalscoring Ronaldo scored another on the day to move two ahead of Best's record. There was still two months left of the season! Ronaldo went on to score 42 goals in 49 games in the 2007/08 season. 31 of those came in the Premier League which levelled Alan Shearer's record for most goals in a Premier League season.
"The most obvious way Cristiano Ronaldo could provide an upgrade is in front of goal.

"While he has scored at least 25 league goals in each of the 12 seasons since he left, Man Utd have not had a player reach that level since Robin van Persie in 2012-13."#ManUtd #MUFC

— Sporting Life Football & Infogol (@InfogolApp) September 1, 2021
2008 Champions League Final
Shortly after United secured their third consecutive league title they headed to Moscow to face Chelsea in the Champions League final. The 2007/08 season had cemented Ronaldo as one the best players in the world so winning the Champions League was a great way to cap it off. Ronaldo scored United's goal, heading in from a Wes Brown cross. As usual Ronaldo was brilliant on the day and was voted the Fans Man of the Match.
Ronaldo's penalty in the shootout was saved by Petr Cech but it didn't matter thanks to John Terry's infamous slip. United's victory gave Ronaldo his first European trophy and he couldn't control his emotions. He laid on the pitch and cried tears of joy in a really wholesome moment. This show of emotions won the hearts of a lot of fans who just two year priors had been hating him due to the World Cup. The penalty miss combined with the tears of joy also helped to confirm he was actually human after an unbelievable season.
Cristiano Ronaldo's stats vs. Chelsea (UCL Finals, 2008)

•1 Goal
•4 Chances created
•12 Successful dribbles
•28 Passes into final third
•9 Passes into box
•9 Fouls suffered
•8 Crosses
•5 Shots (1 on target) pic.twitter.com/ygcKQw0OYN

— TCR7. (@TotalCRonaldo7) September 4, 2021
100th goal for United
Ronaldo's 2008/09 season was slightly quieter than his previous two thanks to an ankle injury but he still reached a huge milestone. Ronaldo scored a brace in a game against Stoke in November of that season. The first of which was his 100th goal for Manchester United. Typically for Ronaldo both his goals on the day were free kicks. Ronaldo went on to reach 118 goals for United before his departure to Real Madrid at the end of the season.
One goalscoring achievement Ronaldo failed to reach in his first spell was 100 Premier League goals. Ronaldo currently has 84 Premier League goals to his name so that will certainly be a target during his return. It is likely he will reach that target this season assuming he stays fit. The real question is how far will he climb up the Premier League all-time scorers list come the end of his second spell in England.
Cristiano Ronaldo scored not one, but two free-kicks against Stoke City and reached 100 goals for Manchester United. pic.twitter.com/GBFnw0GRMW

— Cristiano Ronaldo Fans (@CRonaldoLive) November 16, 2020
Winning his first Ballon d'Or
December 2008 saw Ronaldo win the Ballon d'Or after a truly astonishing season. It was a landslide victory for Ronaldo as he finished 165 voting points ahead of Lionel Messi in second. Ronaldo became the first Manchester United player to win the Ballon d'Or since George Best in 1968. He also became the first Premier League player to win the award since Michael Owen in 2001. Not one Premier League player has won the Ballon d'Or since 2008 but Ronaldo may change that now he has returned.
Ronaldo was quoted after winning the award about how he wanted to push on from this. He said: "This [trophy] is one that I want to win again because it is so good. Therefore, I will wake and I will say to myself 'I want to be even better'." Safe to say he stuck to his promise having won four more Ballon d'Ors since. Ronaldo and Messi's dominance in the Ballon d'Or over the last 12 years is the main reason why no Premier League player has won the Ballon d'Or since Ronaldo.
Cristiano Ronaldo was the last player from premier league to win the ballon dor back in 2008.
Surely he will win it again as a premier league player but 14 years later 😂 pic.twitter.com/P04jJQd5xb

— ranny (@ranny_ft) August 27, 2021
We hope you enjoyed the article 'Cristiano Ronaldo Manchester United Iconic Moments.' Which of these moments is your favourite? Let us know!
Read more on football here: