Marvellous Marvin Hagler: So Good He Couldn't Be Ignored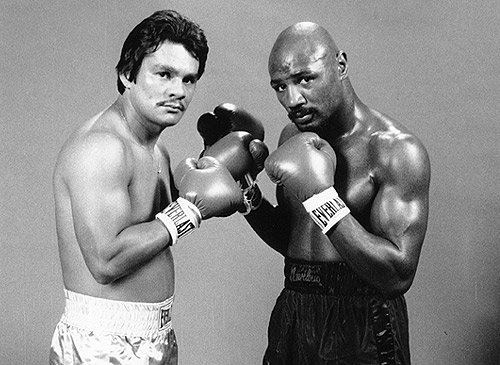 Marvellous Marvin Hagler: So Good He Couldn't Be Ignored
The Boxing world is mourning the loss of one its biggest legends: Marvellous Marvin Hagler.
I include his nickname when referring to him, because that's how he would've wanted it. In fact, in 1982, he legally changed his name to include the word "Marvellous". It was not unearned – when watching Hagler box, there was little one could do but marvel at him.
Truly a tragic loss; Hagler was one of the very best in an era stacked to the brim with talent. Some may have even called him THE best of his time.
One thing is certain – his toughness was legendary. He could take your best shot, shrug it off and respond by leaving you flat on your back. The middleweight division was absolutely terrified of Hagler and rightly so.
A Division on Notice
Hagler's early years in the professional ranks are often characterised as such: bums lined up, bums got knocked over. Unfortunately, as most high-ranking middleweights were unwilling to fight him, this wasn't far from the truth.
He did actually lose two fights before earning a title shot, but they were both contentious decisions that Hagler would go on to avenge by knockout.
As many did back then, Hagler would fight on an almost monthly basis. Finally, after 50 bouts, he finally got his chance at a world title against Vito Antuofermo.
Hagler dominated the early rounds, but failed to press the issue late on, feeling he had done enough. The judges turned in a controversial draw, which many felt was harsh on the marvellous one. As you can imagine, Hagler was not content with this.
Some believe it took Hagler so long to secure high profile bouts due to the colour of his skin. While this may or may not be true, there is no doubt that his first world title victory came in a mire of racial bigotry.
In 1980, after three more comfortable wins, Hagler was given another opportunity. He stepped up once again to fight the British Alan Minter. Minter thoroughly embarrassed himself in the prelude, stating that "No black man is gonna take my title". He was wrong.
Amidst a viciously hostile London crowd, Hagler battered Minter in a thrilling encounter, leaving him a bloodied mess. The cuts were so severe that the referee stopped the fight in the third, awarding Hagler his first world title.
What should've been a celebratory coronation of a man who worked tirelessly to get to the top turned sour very quickly. Racially charged riots broke out around the ring with bottles and other missiles thrown at the new champion. One of the ugliest moments in the history of British Boxing, Hagler would never fight in the UK again.
Marvin Hagler was an absolute warrior. He won his first world title against a guy named Alan Minter who said he "did not intend to lose his title to a black man." Hagler beat the guy so badly in three rounds he needed 15 stitches and surgery. RIP to one of the best fighters ever. pic.twitter.com/q0vt4cX9TD

— Kevin Clark (@bykevinclark) March 14, 2021
Fighting Champion
Hagler, now a champion, showed no signs of slowing down. He said: "It's tough to get out of bed at 5am to do roadwork when you've been sleeping in silk pajamas". Of course, Hagler was no stranger to doing things the hard way.
He would fight Antuofermo again, making the Italian quit on his stool after just three rounds. His first seven victories as champion all came within the distance.
In 1983, a unification bout was scheduled in the division. Hagler's IBF belt was on the line, as well as the vacant WBC and WBA counterparts. The only thing standing in Hagler's way was none other than Roberto Duran.
Hagler tried to keep Duran at length early on, but the fight quickly turned into a slugfest, with both exchanging bombs. The fight was as technical as a brawl could be, but both were happy to take the other's best shots.
After an especially gruelling 15 rounds, it was Hagler's size and power that won the day, as he was awarded a unanimous decision. The fact that neither man touched the canvas is a testament to their toughness.
Now the undisputed champion, Hagler would be knocked down in his next fight against Juan Roldan, under contentious circumstances. It certainly looked more like a slip and Hagler was unfazed, but the referee ruled it as such anyway. Regardless, Hagler recuperated and finished off Roldan in the 10th round.
The War
When you think of Hagler's boxing career, the first fight that will likely spring to mind is Hagler vs Hearns.
Marvin Hagler and Tommy Hearns, at least before the fight, did not like each other. Before the physical blows came, they traded verbal attacks on live TV, helping to build anticipation for an already mouth-watering clash.
The previous year, Hearns annihilated Duran in two rounds, a man Hagler had to go the distance with.
The brawl was 100mph from the first bell. Both men swung and landed with evil intentions, looking to take the other's head off. Hagler was badly hurt very early on, but his supernatural chin didn't let this stop him.
He tried to focus on attacking Hearns' body, but this often left him open to short hooks and uppercuts.
Momentum shifted time and time again with each crushing hit, as Hagler slowly abandoned his assault on the midsection and went for the knockout. He needed it – the ringside doctors were watching closely, as a cut on Hagler's head began pouring blood.
In the third round, he got it. Hearns stumbled after a right hand, followed up by another which sent him crashing to the floor. He got up, but the referee had seen enough. Hagler had won the war.
This fight is considered by many, myself included, to be the greatest boxing match in history.
Hagler vs Leonard
After a hellacious battle with John Mugabi, Hagler took on the final member of the fabulous four – Sugar Ray Leonard.
Leonard had been out of the ring for nearly three years by this point and went in as the underdog, despite his pedigree. He had also never fought at middleweight, being a career welterweight.
A fascinating clash of styles ensued, with Leonard as the swift, slick operator and Hagler as the no-nonsense scrapper.
Strangely, Hagler opened in an orthodox stance, allowing Leonard to establish his range far more easily. In the third round, he switched back to southpaw and found more success.
From southpaw, Hagler found it easier to land power shots when Leonard got careless, although Sugar Ray kept out of his opponent's grasp whenever possible.
Hagler was behind at the midway point, but Leonard had begun to tire, allowing Hagler inside to land hard shots. Leonard tried to fight fire with fire, unsuccessfully – he was coming out second best in these skirmishes.
However, he was still managing to sneak in some fast flurries, keeping him in the fight. Hagler hammered away, but Sugar Ray absorbed his onslaughts.
Hagler's rhythm was being regularly disrupted by Leonard, not allowing him to set a fast pace that would've suited him better.
The match became scrappier in its twilight rounds, with both men landing punishing blows. Hagler had taken control of the fight after the 6th and Leonard was exhausted, kept alive by his grit and determination.
A late rally by Sugar Ray saw him burst back into life in the final two rounds, with the boxers' fates in the hands of the judges. Ultimately, it was Sugar Ray Leonard who came out victorious, to the chagrin of Hagler.
Most see this as one of boxing's most controversial decisions. Leonard was more accurate with his punches and landed more, but Hagler's shots were more powerful and meaningful.
Who should've won this contest? Ultimately, it's subjective. Every boxing fan has their own opinion on this call. Hagler campaigned for a rematch, as did his now enormous fanbase, but it never came. This would the last time Marvellous Marvin Hagler would step into the ring in a professional capacity.
A Legacy Cemented
Even with his last fight being as contentious as it was, it did nothing to harm Hagler's legacy. Leonard is one of the best boxers of all time, losing to him is nothing to be ashamed of, especially in such close circumstances.
Many will remember Hagler for being tough as nails, but he was also extremely technically proficient. His adroit footwork and ability to switch hit with ease truly made him ahead of his time.
Hagler feared no one and never backed down from a challenge. It's this sort of mentality that many current boxers are sorely lacking.
His death is a truly heartbreaking one, as it came far before his time, aged 66. If you wish to mourn, the best thing you can do is check out some of the encounters listed in this article. Genuinely, you will do extremely well to find an uninteresting Hagler fight.
Boxing is a better sport for his participation in it. His heart, determination, and desire to rise to the top in spite of his many obstacles are just a few reasons why he has been such an inspiration to so many.
Rest in peace, Marvellous Marvin Hagler.
Rest In Peace Marvelous Marvin Hagler. pic.twitter.com/9XiEUut7T7

— World Boxing Council (@WBCBoxing) March 14, 2021
We hope you enjoyed the article 'Marvellous Marvin Hagler: So Good He Couldn't Be Ignored.' What was your favourite memory of Marvellous Marvin Hagler? Let us know!
Read more on boxing here: