Zinedine Zidane's Defensive Masterclass at Real Madrid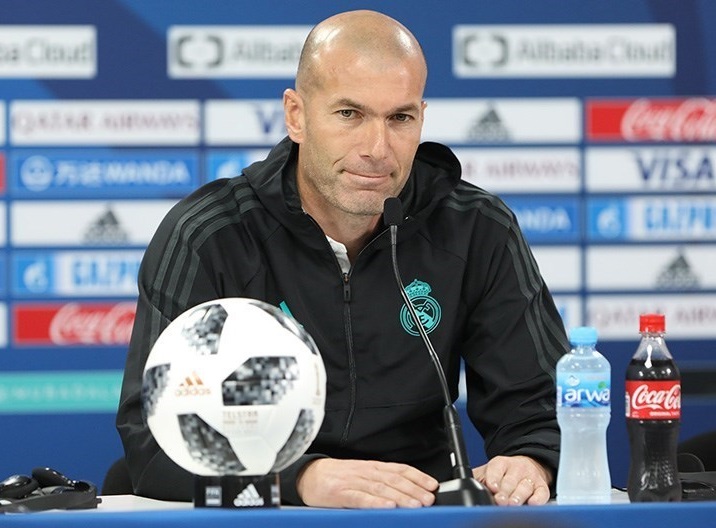 How Zidane transformed Real Madrid's Defense
Zinedine Zidane's Defensive Masterclass at Real Madrid
Following Ronaldo and Zinedine Zidane's departure from Real Madrid in 2018 Real Madrid predictably had an abysmal season under Julen Lopetegui and Santiago Solari.
The three consecutive UCL's Real Madrid won during  Zinedine Zidane's first reign resulted in a terrible aftermath with Cristiano Ronaldo leaving the club with no real replacement. Furthermore the squad was unmotivated after winning all of those trophies in such a short span of time.
Real Madrid under Zidane in 2.5 years 😱

✔ 70% win rate
✔ 9 trophies
✔ Champions League treble
✔ Back-to-back Ballon d'Ors for Ronaldo
✔ 3 tactical evolutions
✔ Won a trophy every 97 days

Legendary player. Legendary manager! #Zidane #RealMadrid pic.twitter.com/FVDKqAb2yq

— Oliver Belcher (@oliverbelcher10) May 31, 2018
So we will take a look at how Zidane returned and transformed his team and led them to their 34th La Liga title. A competition which bitter rivals Barcelona have dominated for the past decade. Though there was one difference between this title winning team and the previous successful squads they had boasted throughout the years: A reliable defense.
Zidane realised that finding a replacement for A player such as Ronaldo was near impossible as he had made scoring 50+ goals per season a normal occurrence for Los Blancos and transfer targets Kylian Mbappe and Robert Lewandowski seemed keen on staying at their respective clubs for the time being.
Cristiano Ronaldo was Real Madrid's top goal scorer in each of his 9 seasons since he arrived at the club:

09/10: 33
10/11: 53
11/12: 60
12/13: 55
13/14: 51
14/15: 61
15/16: 51
16/17: 42
17/18: 44 pic.twitter.com/yaILbKpOSU

— InfoCristiano (@InfoCristiano) July 10, 2018
This led to The French manager deciding that the only way Real Madrid were to compete for this season was to cement their defense. At the beginning starting goalkeeper Thibaut Courtois who signed for Real in 2018 from Chelsea had failed to perform as expected, conceding a large amount of the shots that were taken against him. But Courtois regained his old form halfway through the season and since then Real Madrid's defense led by Sergio Ramos has been rock solid.
Real's Defense In The Past Years
So let's take a look at the amount of goals they have conceded in La Liga the past 5 seasons:
2019-20: 25
2018-19: 46
2017-18: 44 (UCL winners)
2016-17: 41 (La Liga and UCL winners)
2015-16: 34(UCL winners)
2014-15: 38
Real Madrid in the Champions League:

✅🏆 2013/14: Winners
❌🏆 2014/15: Semi-finalists
✅🏆 2015/16: Winners
✅🏆 2016/17: Winners
❓🏆 2017/18: In the final

This is their competition. pic.twitter.com/1fpGQZw272

— Football Tweet (@Football__Tweet) May 1, 2018
Just by looking at these raw numbers we can see the major difference Zidane has made in this season's team as this is their best defensive record along with the 1982-1983 La Liga season where they also conceded 25 goals(though La Liga only had 34 teams at the time).The last time they let in less than 25 in a single league campaign was the 1970-71 season where they conceded 24 goals; only one goal less in a 16 team league with only 30 games played.
Also note that in three of these seasons Real have won the UEFA Champions league.
Zinedine Zidane's second reign as Real Madrid manager has been quite impressive; He has turned their biggest weakness into their biggest strength and his team certainly have a fighting chance in the Champions League next season after their recent exit from the competition at the hands of Manchester City. Had Real Madrid and Juventus not been knocked out at the UCL round of 16,it would have been quite a spectacle to see Ronaldo against this reinvigorated Madrid team.
We hope you enjoyed this article 'Zinedine Zidane's Defensive Masterclass at Real Madrid. How do you think Real Madrid will get on next season? Let us know!
Read more on football here: