Anthony Joshua vs Tyson Fury fight Not To Be Held In UK?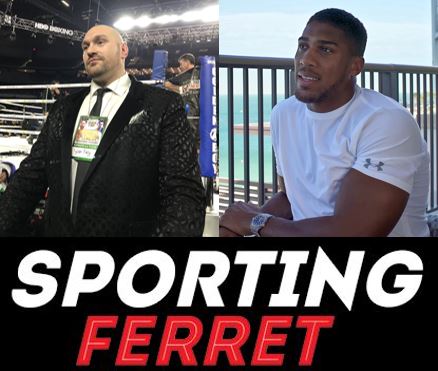 Anthony Joshua vs Tyson Fury may not even be held in the UK
Eddie Hearn tells fans "Anthony Joshua vs Tyson Fury may not even happen in the UK".
The financial element of this fight has already been mutually agreed upon by both parties.
Just because these are two of Britain's elite heavyweights, does not mean the fight will take place in the UK, in an ideal world that's something we'd look at favorably upon" Eddie Hearn tells us.
Hearn respectfully said "If we can do the fight in the UK fantastic, we know that Saudi Arabia would love to have this fight…we've had offers from China and all over the world."
"This is the biggest fight in boxing, it doesn't get any bigger, so there's not gonna be any country that stages major events that won't want this fight". Eddie Hearn says he will deal with venue offers over the months coming.
"When a fight is this big, as we saw against Mayweather and Pacquiao you'd be surprised how many people can work together to get this over the line," this means that "broadcasters cannot get in the way". Eddie Hearn reassures fans this will be overcome with ease, so everyone will be able to watch the fight, and that the fight will go through irrespective of broadcasting rights.
Another obstacle facing this fight is the A side vs B side, who takes A side. "I don't think either guy when it comes down to it wants to disrupt a fight because of those reasons".
However, as everyone knows "Dillian is due to fight before the end of February for that title [WBC]". Eddie Hearn has told us that Dillian has got his lawyers involved in this matter and they are constantly writing to the WBC, which has confirmed Whyte's title shot before the end of February.
Kubrat Pulev and Deontay Wilder are potential disruptions for this heavyweight clash. Eddie Hearn strongly clarifies that this is about the undisputed championship, "if Deontay Wilder beats Tyson Fury we're going straight for Deontay Wilder, for years and years Joshua wanted to fight Deontay Wilder…It's not happening if Tyson Fury loses".
This is reminiscent of when Joshua took his first fight in Madison Square Garden against challenger Andy Ruiz, and there was all this talk surrounding Deontay Wilder vs Anthony Joshua. So it is a must for both fighters to not overlook their opponents amongst a potential major British heavyweight clash.
Tyson Fury tells BT sport that "I hold all the chips, all the cards" "if my mind ain't on it thinking about other fights and other things i'll lose the fight". Fury is 100% focused on the tasks in front of him and not speculative fights in the near future.
We hope you enjoyed the article 'Anthony Joshua vs Tyson Fury fight Not To Be Held In UK?' Where do you think the fight is likely to be held? Let us know!
Read more on boxing here: