Dillian Whyte: Shot At World Title Glory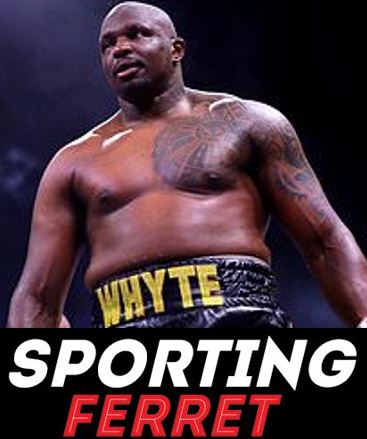 Will Dillian Whyte ever get his shot at world title glory?
Dillian Whyte: Shot At World Title Glory
Dillian Whyte is one of the best-known fighters in British boxing today. The Brixton heavyweight has built an impressive following over the years, and has been edging towards a world title shot for some time now.
Yet that chance at glory continues to elude him. Despite being in the mandatory position for the WBC belt, Whyte is still waiting for confirmation as to when he will get his opportunity. Some may be wondering if it will ever arrive.
Here we look back on his rollercoaster career, and assess just how likely he is to face one of the current heavyweight kings.
Dillian Whyte the Bad Boy of British Boxing
Whyte may be a popular figure now, but that has not always been the case. Having gained little amateur experience, Whyte entered the professional ranks in 2011, only to suffer his first major setback the following year. In October 2012, he failed a drugs test for the banned stimulant Methylhexaneamine (MHA) and was handed a two-year ban.
With his reputation damaged, Whyte returned to the sport in 2014 and swiftly set his sights on fellow heavyweight prospect Anthony Joshua. Due to a combination of his previous drugs ban and taking on the poster-boy of British boxing, Whyte was vilified in the build-up to their clash in December 2015.
He responded well to the adversity that surrounded him though. In a modern-day classic, Whyte rocked Joshua in the second round with a huge left hook, and had some further moments of success before eventually being stopped by the Olympic gold medallist in the seventh round. Whyte had ultimately come up short, but shown enough to suggest that he could be a force moving forwards. He had earned the respect of the British public.
Dillian Whyte Rebuilding to Become a PPV Star
After suffering his first career loss to Joshua, Whyte remained active in 2016, fighting four times in total. The last of these bouts was by far the most dramatic. In December 2016, Whyte took on Dereck Chisora in a fight-of-the-year contender. Following a controversial build-up, the pair delivered in the ring in an epic battle where both men were visibly hurt on multiple occasions. Whyte was awarded the split-decision victory, and his stock rose once more.
2017 saw Whyte notch up two more comfortable wins, but he needed to start building momentum to get into title contention. In 2018, he made his mark in a big way.
Whyte's first challenge of the year came in March when he took on former world champion Lucas Browne. Many expected Browne to offer a stern examination of Whyte's credentials, but that failed to materialise as Whyte dominated the contest, ending proceedings with a brutal left hook in the sixth round.
That conclusive finish led to Whyte earning his first pay-per-view (PPV) headline slot, as he faced another former world titleholder Joseph Parker in July 2018. The show was a resounding success, with Whyte scoring two knockdowns and surviving a trip to the canvas himself in the final round to record a narrow points decision win.
Last up in the calendar year was the long-awaited rematch with Chisora. Two years after their first encounter, the duo produced the goods once again, although this time there was a clear winner as Whyte landed his signature left hook in the penultimate round to bring a dramatic end to the night. With three victories in nine months against highly-ranked opponents, Whyte was now ready for his shot at a world title.
Drugs Confusion Halts Momentum for Dillian Whyte
Thanks to his tendency to be involved in entertaining fights as well as his no-nonsense talking outside the ring, Whyte was now a attracting an ever-increasing group of loyal supporters. Just as things were moving in the right direction, disaster struck.
Whyte had just secured a unanimous points decision win over the durable Colombian Oscar Rivas in July 2019, only for it to be revealed to the public that there had been some irregularities with a drugs sample that Whyte had provided shortly before the bout. Whyte was provisionally suspended and stripped of his WBC mandatory position, with his spot going to Tyson Fury.
Maintaining his innocence throughout the subsequent investigation, Whyte was eventually cleared of any wrongdoing in December and made his comeback shortly afterwards against Mariusz Wach. Clearly out of shape, Whyte laboured to a points win and would then have to watch on as two months later Fury defeated reigning champion Deontay Wilder to take the WBC title.
What Next for Dillian Whyte ?
Fury's win over Wilder back in February has set up a trilogy fight between the duo, as Wilder will be granted the chance to reclaim his title. Meanwhile, old foe Joshua holds the other world title belts, and is set to face IBF mandatory challenger Kubrat Pulev later this year.
Whyte has been reinstated as the WBC mandatory challenger after clearing his name, and is currently scheduled to get his shot in February 2021. Yet if Fury and Joshua win their respective fights, they are expected to face one another in a unification clash in 2021, leaving Whyte on the outside looking in once more.
There is also the issue that Whyte may lose in the meantime. The 32-year-old is set to face Alexander Povetkin in August according to recent reports. Now into his 40s, Povetkin appears to be slowing down but remains dangerous, possessing a left hook that could trouble any heavyweight. It would not be a major shock if he derailed Whyte's plans.
Whyte could be only eight months away from finally getting his title shot. Yet with each passing day, that date appears less likely. He has won his last 11 fights, beating numerous contenders to earn his opportunity. Whether he gets that opportunity remains to be seen.
Relive Whyte's brutal rematch with Chisora below
We hope you enjoyed the article 'Dillian Whyte: Shot At World Title Glory.' Do you think Whyte has a legitimate shot at a world title? Let us know!
Fancy writing for us: Apply to become a Sports Writer at the Sporting Ferret
If you liked this article why not check out: