Top 5 Central Defenders of This Premier League Season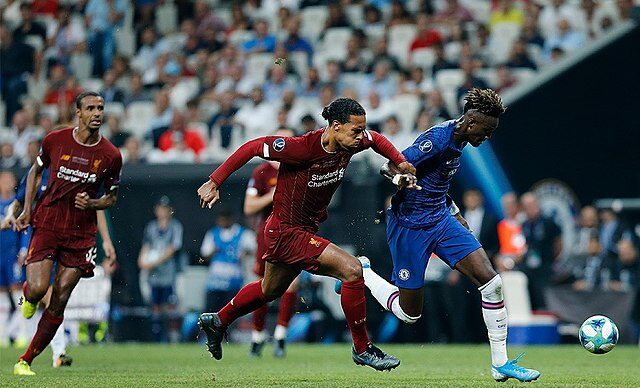 With the Premier league at its end, we will be taking a look at the 5 best central defenders throughout the 2019/20 season
5. Harry Maguire
The big English center back signed for the Red Devils at the beginning of the season from Leicester City for a record amount of £80 million, becoming one of the most expensive defenders in history.
While he has been rather shaky and prone to errors at times, as a whole he has been a major asset to United's backline, helping them secure a champions league spot with the third best defense in the league, with 39 goals conceded. He also managed a to grab a few goals including his winner against Norwich in the FA cup quarter finals and header against Chelsea to beat them 2-0 at Stamford Bridge. It is also worth mentioning that Harry Maguire became the team's first captain in his first season at the club.
Not a single player in Europe has featured in more minutes than Harry Maguire during the 19/20 season. [5,412]

🤯🤯🤯 pic.twitter.com/Tajk3ZdAkz

— United News Hub (@UnitedNewsHub) August 11, 2020
4. César Azpilicueta
The 2019-20 season marked the 8th season at the club for the Chelsea captain, in a year where their defense was disastrous to say the least. Conceding 54 goals in the Premier league, even worse than the 2015-16 season where they finished 10th conceding 53 goals.
With Rudiger, Zouma and Kepa all showing poor form at different points of the season, Chelsea's defense would have been completely lost without Azpilicueta's defensive and leadership qualities while also scoring important goals against Arsenal, Liverpool and a crucial equalizer in a 4-4 draw against ajax to practically keep Chelsea's hope of reaching the final 16 alive.
31 – Only seven defenders have recorded more Premier League assists than @ChelseaFC captain César Azpilicueta (31), with the Spaniard equalling his record for assists in a single campaign in the competition (6 – also 2017-18). Fantastic. pic.twitter.com/FrucbCYltW

— OptaJoe (@OptaJoe) July 4, 2020
3. Çağlar Söyüncü
The 24 year old Turkish international signed for Leicester City back in 2018 but only managed to play 8 games total throughout all competitions in his first season at the club. Since the departure of Harry Maguire, he found his way into Brendan Rodgers' starting eleven, keeping the 2016 Premier league champions in the race for the UCL spot for the whole season.
Leicester city only missed out on the Champions league spot on the last day against Manchester  United where Söyüncü was absent and Wes Morgan and Johnny Evans were unable to keep United at bay. Leicester conceded 41 goals in the league, 13 less than Chelsea which finished above them.
Ilkay Gundogan:

"I agree with the general opinion [that] this season, Caglar Soyuncu is the best performing [CB] in the #PL after Van Dijk. The first thing that comes to my mind about the Turkish player I want to see in @ManCity is Caglar."

[@fanatikcomtr via @ManCityMEN] pic.twitter.com/FkLaiDKsd3

— Man City Report (@cityreport_) June 7, 2020
2. Aymeric Laporte
Though the French defender only played 15 games this season, he was undoubtedly the best of City's defenders and had he not been injured for quite some time, the 18 point gap with Liverpool may have been a lot less with Man City's defensive statistics being noticeably better when Laporte was fit and ready to play.
The 26 year old leads the team in terms of interceptions, tackles and passing abilities amongst the City defenders and without him the team have averaged about 1.8 points per game while the times he has played, they have averaged around 2.7 points per game; An average which would make them title contenders along with Liverpool.
📊| @Laporte Stats:

Aymeric Laporte is the first player in Premier League history to win 43 out of his first 50 games in the competition!

Waporte 🐐 pic.twitter.com/hRblIykTHn

— City Chief (@City_Chief) May 19, 2020
1. Virgil van Dijk
Since his arrival at the club for a record transfer of 75 million pounds at the time, Virgil van Dijk has been worth every penny becoming one of the best defenders in the world and finishing only 8 points behind Lionel Messi for the 2019 Ballon d'or. Van Dijk has been consistent throughout the season helping Liverpool win the Premier league title after 30 years and also finishing as the league's best defense with 33 goals conceded.
The club's third captain played all the minutes available in this season's campaign managing 15 clean sheets. The tall Dutch Center back has been one of the best in the world for the past 2 years and has been overlooked at times during this season for the club.
Most completed passes in the Premier League this season:
7️⃣8️⃣0️⃣ Virgil van Dijk
7️⃣6️⃣5️⃣ Jorginho
7️⃣3️⃣3️⃣ Caglar Soyuncu
7️⃣1️⃣9️⃣ Andy Robertson
7️⃣0️⃣1️⃣ Lewis Dunk
6️⃣8️⃣0️⃣ Dale Stephens
6️⃣6️⃣9️⃣ Rodrigo
6️⃣6️⃣1️⃣ Toby Alderweireld
6️⃣6️⃣1️⃣ Matteo Guendouzi
6️⃣6️⃣0️⃣ Jonny Evans pic.twitter.com/WY9CniS37V

— Goal (@goal) November 13, 2019
We hope you enjoyed the article 'Top 5 Central Defenders of This Premier League Season.' Who do you think was the best performing centre back this season? Let us know!
Read more on football here: