Twenty20 Without Fans: Interview with Glamorgan captain David Lloyd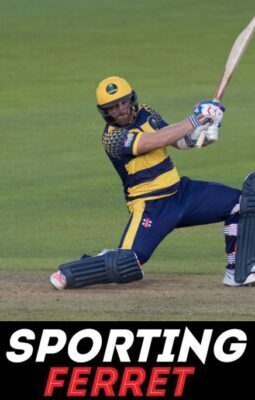 David Lloyd Interview Twenty20 Cricket
Twenty20 cricket without fans – A honeymoon without a bride
As things stand due to the coronavirus pandemic domestic cricket doesn't have a start date. Many county cricketers are not training, with some placed on furlough temporarily until a start is in sight. Later in the year the ICC T20 World Cup is due to take place in Australia. One of the big questions that surrounds not only this tournament but cricket more generally is the attendance of fans. If they can't attend matches, are they worth playing.
Twenty20 cricket in particular was created with spectators in mind. Anyone who has seen a t20 game will know whilst the action on the field can be fast paced and exciting, during the few lulls in between overs there's often fireworks, dancers and music to fill in the gaps.
Outside of International matches, domestic t20 competitions have quickly become the show-piece events of any cricketing summer around the world. The T20 Blast competition may be the most conceivable one to go ahead in a reduced UK summer calendar, as logistically the matches take up the least amount of time and fixtures are regional to decrease travel requirements.
Domestic T20?
I spoke this week to Glamorgan star and limited overs captain David Lloyd on the topic of t20 crickets potential return, both domestically and Internationally without fans. "For me personally it'd be a different experience (playing without fans)" he commented. David can see the flip-side and the positives of getting the show back on the road, "if the clubs can benefit from games being on TV then it can only be a good thing". He also cited the necessity for the cricket world to think safety first "we need to put that first and not rush into anything."
The 2020 ICC T20 World Cup is due to take place this Autumn across Australia. This tournament faces the prospect of being forced to postpone due to questions around fan attendance as well as having large numbers of players and staff fly in to one location from around the world; something that in the current climate seems difficult to imagine. Multiple contingency plans are set to be in place should the tournament be unable to go ahead.
One scenario that has been muted and following the lead of other sports, is the possibility of the tournament taking place without spectators in the stadiums. Sport without fans will never be an ideal solution, however in certain circumstances it's a viable alternative in order to get sport back up and running. Does a showcase tournament such as this, where the best from each country collide, warrant taking place without fans. Football by comparison as a product can cope without fans, albeit maybe for a short period, but t20 in particular relies so much on fan participation to make it what it is.
Twenty20 Cricket World Cup Without Fans?
On the potential of a t20 World Cup behind closed doors David said "I think it has to be seriously looked at". Going on to say "supporters are what makes those big games". David also suggested the possibility of moving the tournament further down the line, similar to what has happened with this years Euros and Olympics, with a view to having fans in the stadiums in future. Lloyd finished by saying "I just don't see the interest being as big if there's no crowds".
The t20 format is 17 years into it's existence has grown exponentially, and some may argue as a product has such worldwide appeal that a tournament of this scale could take place without fans and simply be shown on television. However it is not just the world stars bowling fast and trying to hit the ball over the empty stands that has got t20 where it is today. It's a spectacle on and off the field, full stadiums are the reason the format was created, and if we go away from it now the humble fan may be forgotten about altogether.
Hosting the World Twenty20 in empty stadiums would undoubtedly remove some of the magic from the competition. Although a tough decision is yet to be made I think it's inevitable that unless fans can attend the tournament may have to be postponed until it's safe for crowds.
The Hundred
One cricket tournament that has unfortunately already fell by the wayside in England is the newly formed 'The Hundred' competition. Again like t20 of it's time, charged with the role of attracting a new breed of fan to the sport. 'The Hundred' is an even shorter format with slightly altered rules including 10 ball overs.
I spoke with David about whether he thought the right decision had been made on moving the new competition to 2021, "yes I think they had to suspend it, they've put so much money into making it work". An advocate of the new format David believed fans are an essential part of it's potential success; "to be able to see the best players from around the world competing, people need to be there to witness how the game looks and works".
David himself was looking forward to a watching brief of the new competition having been "disappointed not to be picked up after a good t20 campaign". He remains hopeful of getting some cricket this summer regardless of format "I do love the four day game, it's a test of character so I'm looking forward to playing that whether it be this season or next".
Cricket's organising body the ICC are set to meet on June 10th to discuss the ICC Twenty20 World Cup and whether it can go ahead as planned. Test Matches are set to get underway in July, with the West Indies squad arriving in the UK recently. All matches will be held at hotels in 'bio-secure' stadiums.
Domestic cricket has been suspended till August 1st with a view to players training shortly beforehand. We all hope cricket can get going this summer and possibly even see some competitions run their full course.
I'd like to thank David Lloyd for his time this week and wish him luck for the season, whenever it begins.
Watch David hit 99 v Gloucestershire below: David Lloyd v Gloucestershire
We hope you enjoyed the article 'Twenty20 Without Fans: Interview with Glamorgan captain David Lloyd.' Do you think Twenty20 cricket should go ahead without fans in attendance? Let us know!
Read more on cricket here:
The Last Dance and The Test: How Leadership in Modern Sports has Changed
A Summer To Remember: Ben Stokes 135 Not Out
How England won the 2019 ODI World Cup