How Joey Barton reacted to Man City sending off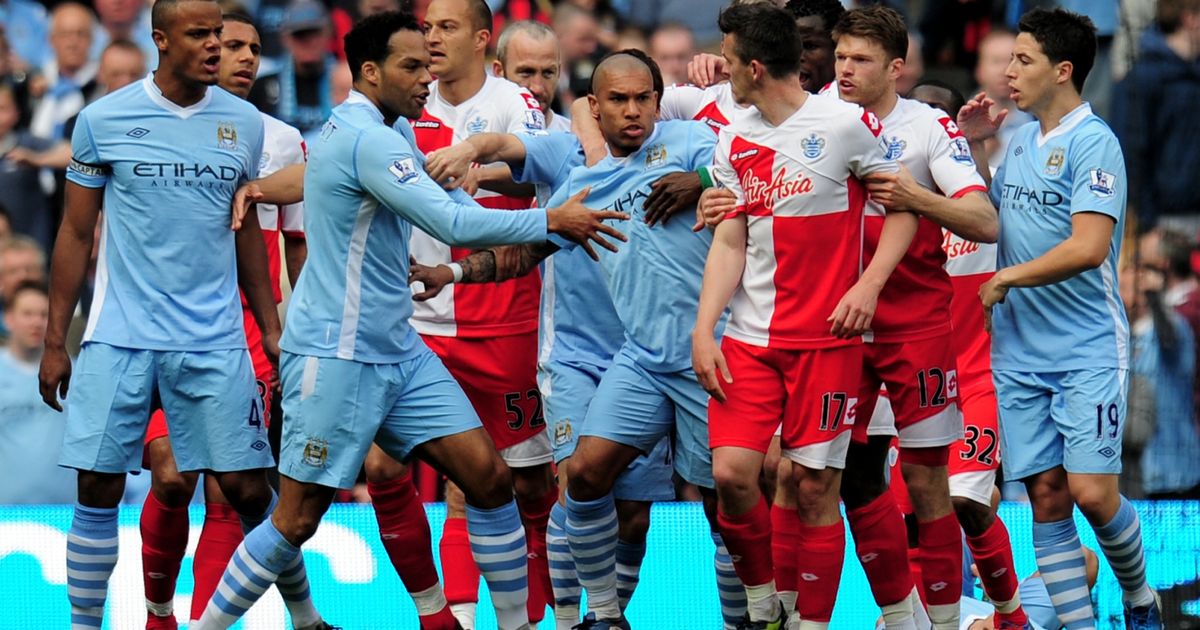 "I'm going to launch every single one of you out of the windows!"
How Joey Barton reacted to Man City sending off
The spine-tingling shriek of Martin Tyler's "Balotelli. AGUEROOOOOO" commentary will forever be etched into Premier League folklore. Two stoppage time goals at home to QPR and, in the process, snatching the three points that saw City become 2011-12 English Champions was a truly iconic footballing afternoon.
Although the dramatic comeback proved to be the clubs' first league title in 44 years, it could have been a completely different outcome had former City midfielder Joey Barton not have been shown red just after the hour mark. Barton initially elbowed Carlos Tevez in the face, before completely losing his head and taking on Sergio Aguero. Shortly after almost trading blows with Mario Balotelli on the touchline.
Although QPR suffered defeat that day, Barton's sending off proved to be not too significant with Mark Hughes' side beating the drop. Former QPR defender Clint Hill however, revealed that Barton was certainly in no mood for celebrations following the aftermath of the game.
'We've gone in (the dressing-room.) Where's Joe? We've survived here. We'll get around him, try get an arm around him,' Hill told the Open Goal podcast. 
'He's on the coach, in his own little world. Fighting god knows what, head butting the wall. We're trying to ring him, saying Joe, come on. Get in here. Have a pint with the lads and he goes "nah, not going in the dressing-room with those frickin idiots."
With Barton deciding against playing any part in the festivities occurring in the away dressing-room, Hill and a few other teammates made their way onto the bus with an aim of raising Barton's spirits – something that appeared to be working until the visit of a few unwanted guests.
'So then we get onto the bus. Having a few beers and a few Man City players get on the bus because we've got a few French boys. 
'I think Cisse is celebrating with them at the end of the game. When the whistle blows, he's on someone's back shouting "go on. Well done. Well done." So these lads get on our bus, which is the worst thing they could've done because we've got an angry Joey Barton on our bus. And these lads are getting on with their medals, trying to give it fuc**** high fives.
Barton, known for his ability to lose his temper at times and not mince his words sent a clear message to the City players.
"Joey's just stood up and gone "lads, if you're not off this fuck*** bus in thirty seconds, I'm going to launch every single one of you out the windows." And they've just gone straight out.'
Hill however made a point of suggesting that there is a slight misconception of what Barton is like and in truth, he just demands standards from everybody and himself.
'A lot of players melted. Couldn't deal with the intensity that he brought. He rubbed a lot of players up the wrong way, but ultimately he wanted the best for the team. Some of the things he did and the way he went about it, I'm not going to fully support it. But he has his own ways, he'll always give 100% and want his best for that club.'
How Joey Barton reacted to Man City sending off. Listen to Joey Barton talk about his infamous sending off  at the Oxford Union. 
Fancy writing for us: Apply to become a Sports Writer at the Sporting Ferret
If you liked this article why not check out: