Should Neal Maupay be Punished for Injuring Bernd Leno?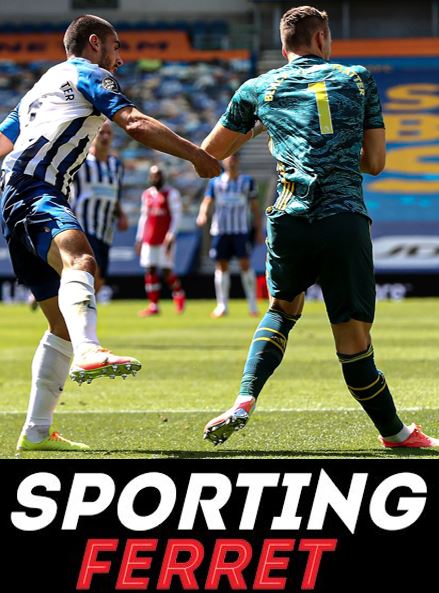 Should Neal Maupay receive punishment after his collision with Bernd Leno led to a serious injury for the Arsenal goalkeeper?
Should Neal Maupay be Punished for Injuring Bernd Leno?
Football in England has returned, and already after just 11 games, there has been no shortage in talking points. One of the more controversial incidents involved a clash between Brighton striker Neal Maupay and  Arsenal goalkeeper Bernd Leno. It was an incident which has divided fans, with many having contrasting opinions on the matter.
The injury occurred when a ball was played over the top for Maupay to run onto. After Leno comfortably gathered the ball, the French striker then jumped into Leno, which caused him to fall awkwardly, seriously injuring his knee in the process.
It does not look like Bernd Leno's knee should be bending that way.

A serious-looking injury. pic.twitter.com/AgFYlfZL4v

— Squawka News (@SquawkaNews) June 20, 2020
On the one hand, you could argue that Maupay was nowhere near the ball, and he made contact with Leno after he had caught the ball. In this sense, Maupay was careless with his actions. He most likely knew that he had no chance of getting the ball, yet he challenged Leno nonetheless.
On the other hand, it is the sort of harmless challenge that you see countless times throughout any game of football. If you've ever played Sunday league football, you will know that one of the most popular shouts is 'let them know you're there'. You could argue that Maupay was simply letting Leno know that he was there.  It was simply an unfortunate consequence that Leno got seriously hurt.
Whilst it was no question a foul by Maupay, it would be unfair for him to be held accountable for Leno's injury. There have been many rougher challenges in the Premier League this season which haven't resulted in injury. It is rare that a player ever intends to injure an opponent. After the game, Maupay denied ever trying to intentionally hurt Leno.
Maupay added insult to injury when he scored a last-minute winner for the Seagulls. He ran onto Aaron Connolly's flick to secure a vital three points for the side battling relegation.
Great movement off the ball, and a great finish to match👌

Neal Maupay could have just scored a vital goal in Brighton's season!

Three points for the home side ✅#PLReturns pic.twitter.com/7PDAbsDGVr

— The Premier League is BACK on BT Sport (@btsportfootball) June 20, 2020
The drama didn't stop there. Following the goal, Matteo Guendouzi appeared to stick out an arm and hit Maupay. Whilst this appeared tame, a more serious incident occurred after the final whistle, when Guendouzi put his hand around the throat of Maupay. This then led to an almighty altercation involving just about every member of the respective sides.
For those watching BT sport broadcasts, and watching them show a slight wack in the stomach as the incident between Guendouzi and Maupay, this is what actually sparked things. When Guendouzi hits out at Maupays throat. Needs a ban for this.

— Caleb 🔥 (@Calebxz) June 20, 2020
Since the referee Martin Atkinson took no action on this at the time, there's a good chance that Guendouzi could receive a retrospective ban for violent conduct. It was another incident that this time seemed to divide the Arsenal fanbase. Whilst many admired him for sticking up for his injured teammate and confronting Maupay. Others however wondered where this energy was during the rest of the match.
The Brighton striker had the last laugh though, as he didn't hold back during his post match interview.
Neal Maupay hit out at the Arsenal players in his post match interview! 😶 pic.twitter.com/jMlnW1oIPx

— 90min (@90min_Football) June 20, 2020
We hope you enjoyed this article 'Should Neal Maupay be Punished for Injuring Bernd Leno?'. Do you think he was at fault for Leno's injury? Let us know!
Read More on Football Here: