How to bet on horse racing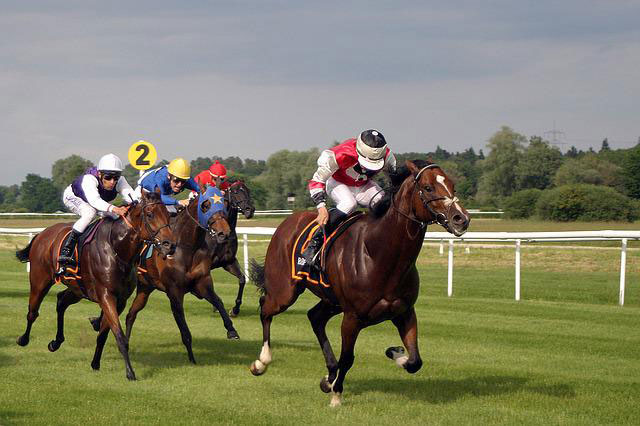 Whether you are taking your first ever trip to the track or you have a desire to gamble on a popular televised meet, you will want to learn some basics before you bet on horse racing.
When you start gambling for the very first time, it can be really confusing. There are a lot of different terms, and you may also struggle to understand the odds and what sort of returns you can expect.
According to the experts at World Sports Network, first and foremost, you need to make sure you find a horse racing sportsbook that is offering you good value, and that operates in the location where you live. Though more and more states are becoming more relaxed about gambling, some still have restrictions when it comes to horse racing and casinos.
Whether you're looking for odds on the Kentucky Derby or a smaller race meet, there is a wealth of info available online, so you can be sure to find the form and do your research before taking the plunge.
Of course, some absolute beginners will still choose to pick based on a random factor like the name or color the jockey is wearing, however, be aware that this is going to lead to totally random outcomes. You might get lucky or you might not.
So how do you bet on horse racing and what do you need in order to arm yourself with information?
Find a site or app to bet with
This can be one of the tougher aspects, as you should always try to find the best place to bet on a particular meet, and this can vary depending on the race. You'll want to find good odds and plenty of markets that you can explore.
Some people just want to bet on who is going to win the race, but others want to bet on things like a place, or even combine the positions of multiple horses within their bets to try to get the best return and predict more outcomes.
The best odds are always worth looking for, so you can shop around between the top betting apps and websites, but markets can vary more between different gambling sites, so be sure to give this careful consideration.
Understand how to read the form
If you want to improve your chances of winning the bet and calling the outcome, then it is time to learn how to read a racecard and study the form. This isn't always easy, but it can become a big part of the fun and enjoyment of going to the races.
Over time, you will probably get better at understanding the form and even be able to chat and debate this with other people. It's a big part of the enjoyment a lot of people get out of heading for a day at the races with their friends.
 Or find a reliable tipster
If you don't want to spend the time studying the form, then you can find reliable tipsters online. Of course, nobody has a 100% record and the sort of people who are sharing tips are just doing their best to try and share their own predictions, so don't expect guaranteed wins of course.
A lot of tipsters have websites and Twitter accounts and share what they think is going to happen and even top tips for certain race meets.
Find a way to watch the races
This is a big part of the fun of it. Fortunately, in the modern age, there are more options for watching sports than ever before, and this includes watching horse racing. If you can't be there in person, you'll probably find it simple enough to find a televised option to watch.
Some of the best gambling apps even allow you to watch the races via live streams, so you can even follow it on the go, as long as you have an internet connection there's often a way to follow.
 Only bet what you can afford to lose
It's always best to be responsible with your gambling. Ask virtually any gambler and they will tell you that there are no real guarantees. There are times when a 100/1 shot will somehow manage to win a race, or where the odds-on favorite will have a bad day.
The way to protect yourself is to only ever bet what you can afford to lose. This way, if you have a bad day, you won't have to worry too much about any money you've lost. Gambling should be fun.