Can Saracens Rugby win the Gallagher Premiership title?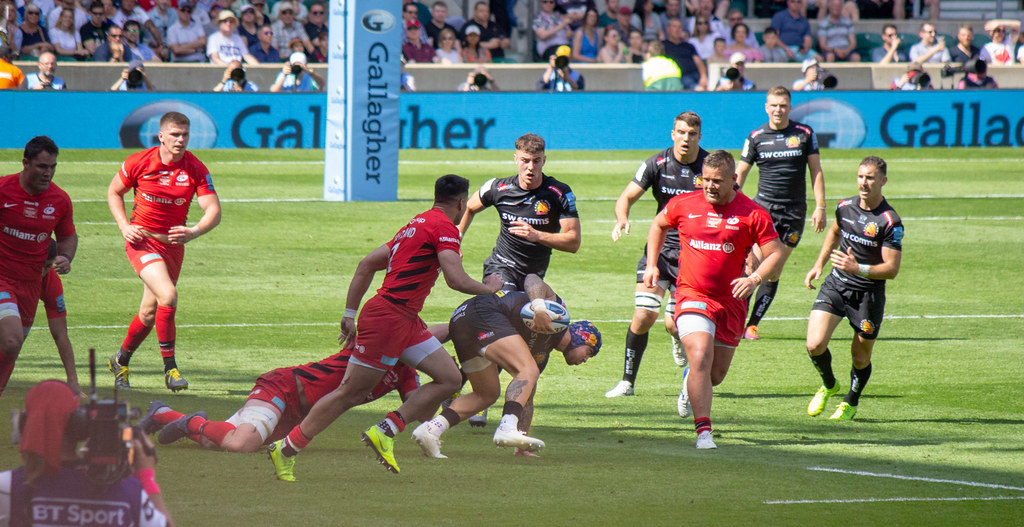 Can Saracens Rugby win the Gallagher Premiership title?
Following the 2019/20 season, Saracens rugby were sensationally relegated from the Gallagher Premiership after persistent breaches of the salary cap regulations. Having dominated European rugby for the previous 5 seasons, winning 4 domestic league titles and 3 European cups, the prospect of England's most decorated club in recent years being consigned to the second tier rocked the rugby world. Many predicted their star-studded squad to dismantle, their best players needing top level competition to be picked for their national sides and to be in with a chance of making the upcoming Lions tour.
However, following their season spent in the Championship, Saracens returned to the 2021/22 Premiership as strong pre-season favourites. Almost all of their top players had remained, head coach Mark McCall had signed a new contract and important structural changes had been made.
In this article, we will take a look at the chances that Saracens have of winning the Gallagher Premiership title in 2021/22. With their continuing recovery from the fallout of the salary cap scandal and lack of game time at the top-level, is it naive to think Saracens can compete with the likes of Exeter, Bristol and reigning champions Harlequins? Or, on the contrary, have Saracens emerged from their hiatus even stronger than before?
Salary Cap Scandal and Relegation – What Happened?
Saracens rugby were handed a £5.6 million fine and 35 point deduction in November 2019 for breaches to the salary cap regulations. In January 2020, after it became clear Saracens were not going to comply with regulations that season, Premiership bosses agreed that automatic relegation was necessary.
The scandal surrounded owner Nigel Wray's 'co-investments' with squad members including property joint ventures, image rights and agents fees. Wray had failed to consult with PRL on these co-investments, claiming he was unaware they counted as salary and never intended to break the cap. Saracens had also been charged with a failure to co-operate with an Investigatory Audit back in 2015.
Wray stood down as Chairman in January 2020. Neil Golding, a restructuring expert from Freshfields, took his place shortly after.
The scandal forced some of Saracens best players to depart the club. Significant gaps were left by the departures of Wales international Liam Williams back to Scarlets and long-time servant Richard Wigglesworth to Leicester. Many more players departed on loan moves. Malins and Earl spent were loaned to Bristol Bears, Isiekwe to Northampton Saints, Lozowski to Montpellier and Goode to the NEC Green Rockets.
On the coaching side, after 17 years at Saracens, defence coach Alex Sanderson left to take up the Director of Rugby role at Sale Sharks in January 2021. 
Saracens competed in the Greene King IPA Championship in the 2020/21 season. Despite a shock loss in their opening game to Cornish Pirates, Saracens comfortably defeated Ealing Trailfinders in the final with an aggregate score of 117–15.
Owen Farrell is enjoying himself 😂

He took on the responsibility of handing out the medals as @Saracens lift the Championship trophy 🏆 pic.twitter.com/nA61Q9MVEp

— Rugby on BT Sport (@btsportrugby) June 20, 2021
Comeback to the Premiership
Despite their exile however, Saracens returned to England rugby's top flight in better shape than many predicted …
On-pitch
From a purely rugby perspective, there was much to be positive about. The spine of Saracens multiple title-winning squad had remained – England internationals Itoje, Farrell, George, and the Vunipola brothers all remained at the club. Along with the return of their loan players, the strength of the Saracens squad appeared no weaker than it was before: indeed, with the Championship allowing them to blood their youngsters including Manu Vunipola, Kpoku and Obatoyinbo, one could argue that their squad depth had grown even stronger. DoR Mark McCall had also extended his contract until 2025.
With much speculation that their squad and coaching team would be broken up, the "unity and togetherness" that Saracens showed in their moment of "crisis" was a huge positive for them.
Off-pitch
Saracens also used their time away to get their house in order. New Chairman Neil Golding led the establishment of a structure and culture geared towards absolute transparency in their off-pitch dealings. In January 2020 Golding declared: "My top priority is to ensure that our processes are robust and stand up to the highest level of scrutiny going forward", assuring that he wants the club to be the "poster children" for salary cap regulations.
In creating a Salary Cap Working Group chaired by Vic Luck, a former non-executive director at the RPA and English Institute of Sport, Golding has established a structure that can allow the club to put the scandal behind them and focus on on-pitch performance.
"What are we saying? That we should have been relegated for two years? Three years, four years? If people think Saracens should have been punished out of existence, they can think what they like." @jimhamilton4 👨‍💻talks to @Saracens chair Neil Golding. https://t.co/aX5h9ClaJj

— RugbyPass (@RugbyPass) October 14, 2021
How have Saracens rugby done so far?
Saracens start to the season has shown they should be considered as strong title contenders. Their 17-71 demolition away at Bath in Round 4 is clear evidence that despite relegation, Saracens remain a top 4 quality side. Not only did that game show the 'old Saracens' is alive and well, but also that Saracens have added new dimensions to their game plan.
In previous years, Saracens rugby style has been defined by their aggressive 'Wolf Pack' defence. However, this season, Saracens have adapted to the attack-focused philosophy that proved so successful for incumbent champions Harlequins. While their set piece remains an important basis for their attack, Saracens showed intent to take advantage of broken field play (Earls' 37th minute try against Bath a great example). Malin's 3 tries in the corner against Wasps a week later showed a similar offloading mindset.
Saracens sit 3rd in the table with a game in hand, and have scored the most points out all teams in the Premiership. With reigning champions and local rivals Harlequins in the next round, Saracens title credentials will be tested to the maximum.
So, can Saracens win the title?
In short, without a doubt. The core players and coaching staff have been there and done it, and a year in the Championship has not affected their quality of their rugby. Top international players do not just lose their talent, and with their England contingent still rock solid, Saracens have the ability to go all the way.
The playoff format of the Gallagher Premiership also plays into Saracens hands. With a squad bursting with big game performers, you would imagine Saracens will be odds-on favourites whether they finish 1st or 4th.
Some of Saracens closest competitors have also endured a difficult start to the season. Bristol Bears, who finished 1st in the regular season in 2021, sit 12th in the table, while Exeter Chiefs are 6th.
However, most importantly, Saracens have a massive point to prove – that they can be champions while playing within the rules. Their previous successes will forever be tainted, but they have a chance to redeem their failings with a win in their first season back.
So Saracens can win the Premiership, but the question is will they? With champions Harlequins starting the season well, it is far from a sure thing. Having caught they eye of so many fans with there all-out-attacking style, Harlequins will be the choice of many people hearts. However, using their heads, many fans will recognise that Saracens are best-placed to win the title.
We hope you enjoyed the article 'Can Saracens rugby win the Gallagher Premiership title?' Do you think Saracens will win this season's Gallagher Premiership title? If not, who? Let us know your thoughts!
Read more on rugby below: