The Best England Football Players of All-Time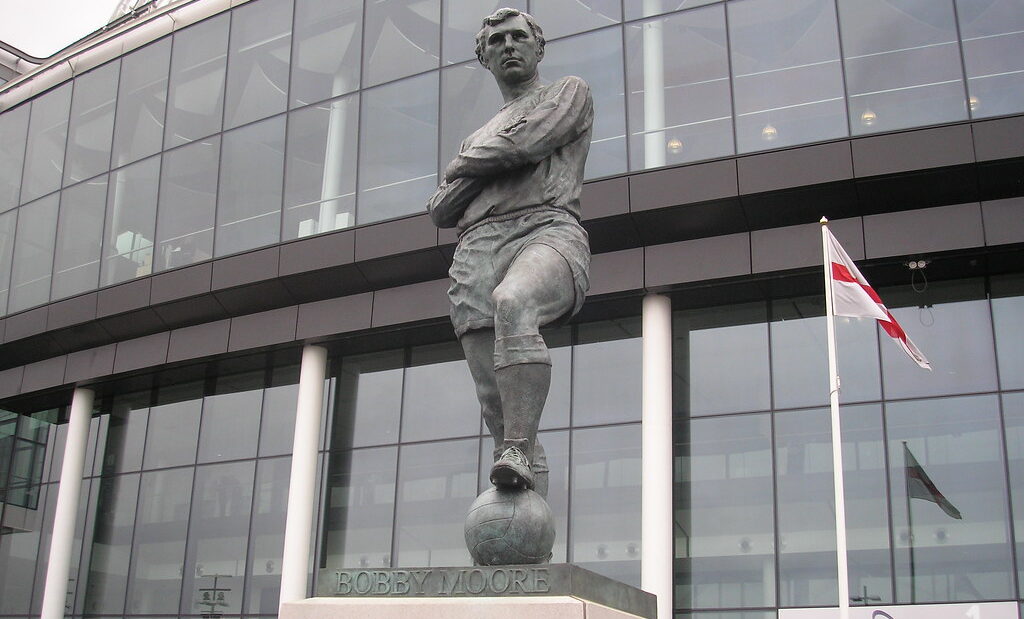 The best England football players of all time
England have been a major footballing powerhouse since the inception of the beautiful game. The current crop of talent has got as close as any other English team to a major international trophy since 1966. England reached the semi finals of the 1990 World Cup and the 1996 Euros, feats equalled by the 2018 team. England have gone a step further and are now in the final of Euro 2020. Despite failing at major tournaments the England squads of the 2000s were packed with extraordinary talents.
This article will select a starting 11 of the best England football players ever. The team will shape up in a 4-4-2 formation, a tactical setup synonymous with English football. However, the set up will be more of a diamond than a flat 4 man midfield.  Players from all eras will be considered and an honourable mention will be included creating a substitute bench.
Best England football players XI
Manager – Sir Alf Ramsey
Appointed in 1962, and taking over in 1963, Alf Ramsey remained at the helm until 1974. Ramsey received a knighthood in 1967 after leading England to World Cup glory in 1966.  The 4-2 victory over West Germany at Wembley in front of 96,000 fans is the single greatest moment in English international football. England came third at Euro 1968 however of only 4 teams in the tournament.
The only managers to take England to two semi-finals of major tournaments are Sir Alf Ramsey and Gareth Southgate.

— Richard Jolly (@RichJolly) July 3, 2021
Goalkeeper – Gordon Banks – 73 Caps
The Sheffield born shot stopper is regarded as one of the all time greats between the sticks. The late great goalkeeper spent the majority of his domestic career in the midlands at Chesterfield, Stoke and Leicester however for England he performed at the highest level  around the world.
Banks made one of the greatest saves of all time at Mexico World Cup in 1970. Superstar Pelé rose above the defence to win a header directed towards the bottom corner only to be denied by a miracle effort from Banks. Gordon Banks made his England debut in 1963 and was England's first choice in the 1966 and 1970 World Cups as well as the 1968 European championship. Despite only achieving one trophy at domestic level, League Cup 1972 – Stoke City, Banks was a key component of the World Cup winning side and certainly England's best ever goalkeeper.
Honourable mention – Peter Shilton, England's most capped player with 125 Shilton was a consistent performer and a mainstay in the England sides in the 1980s and early 1990s.
Left Back – Ashley Cole – 107 Caps
Ashley Cole was the ultimate modern fullback. An attacking and dynamic player Cole was an offensive threat as well as a fantastic defender with ability to shut down the left side. Cole was one of England most crucial players throughout the 2000s and early 2010s, peaking in the 2006 World Cup. The accomplished left back made his England debut in 2001 and retired in 2014 after omission from the World Cup side.
For club Cole was a UEFA Champions League winner in 2012 with Chelsea as well as being a member of both the arsenal invincibles and the Chelsea 2005-06 title winning side. The 7 FA Cup successes of Cole is also the most of any player. Cole is unsurprisingly the most capped England left back and has had a monumental impact on English football as well as the evolution of the modern day full back role.
Ashley Cole has announced his retirement from football…

👏 697 club games
🦁 107 England games
🏆🏆🏆 Premier League titles

One of England's great left-backs 🙌 pic.twitter.com/0LbeP6xO5j

— Football on BT Sport (@btsportfootball) August 18, 2019
Centre Back – Bobby Moore (C) – 108 Caps
Captain Bobby led England to World Cup glory and won BBC Sports Personality of the Year in 1966. A born leader Moore captained his country for the first time in May 1963 at just 22 year of age. Moore was also the prominent figure of West Ham United's glory years, captaining the side to FA Cup and European Cup Winners Cup success. Bobby Moore played for England from 1962 – 1973 captaining 0n 90 occasions. 
Greats of the game such as Pelé refer to Moore as the best defender ever and it is hard to dispute that Moore is one of the best England football players ever. 'That tackle by Moore' on Jairzinho highlights the defensive solidarity of Moore. The perfectly timed, crucial, tackle on one of the most diminutive and skilful dribblers of all time.
That "tackle by Moore" against Brazil never stops being awe-inspiring (for its cleanness above all). pic.twitter.com/DZux9Unwni

— George Eaton (@georgeeaton) July 8, 2021
Centre Back – Rio Ferdinand – 81 Caps
Bobby Moore's defensive partner is a point of contention. We have selected Rolls Royce defender Rio Ferdinand. The English football player was an effortless defender leaving a legacy for club and country. Rio joined Manchester United from Leeds in 2002 for a British record fee of £41.4 million. The defensive phenom appeared 312 times in the league between 2002-2014 for United and 81 times for England, making his debut in 1997 and retiring in 2011. Much like many of the golden generation Rio had an exceptionally successful club career.
He won the Premier League 6 time, the League Cup 3 times and even scaled to the top of Europe lifting the Champions League in 2008. The final, held in Moscow, was one of the most tense spectacles with United winning 6-5 on penalties after, England defensive partner, John Terry missed the pivotal penalty. Ferdinand had a muddled and uneasy relationship with the national side including missed drug tests and consistently being made and replaced as captain. However, Rio is still one of the greats and is the best man to partner Moore in best England football players team.
Honourable mention – John Terry appeared 78 times for England and often partnered Ferdinand for England. Captain, Leader, Legend, super JT played 492 league games for Chelsea with much success. The trophy cabinet consists of: 5 League titles, 5 FA Cups, 3 League Cups and success on the continent winning both a Europa League and Champions League.
Right Back – Gary Neville – 85 Caps
A graduate of 'the class of 92' Neville spent his career at Manchester United. Making 400 appearances for the Red Devils, in a time of dominance, Neville has a staggering trophy cabinet. A 12 time Premier League winner, 4 FA Cups and 3 League Cups in addition to the Champions League on 2 occasions. Neville had an exceptional career at the top level for over 19 years.
Gary Neville's international career lasted a shorter 12 years, 1995-2007, in which he appeared 85 times for England. Part of a drastically underachieving England Neville was a consistent performer. Synonymous with the number 2 shirt for England Neville did not have the same attacking talent as opposite full back Ashley Cole. He was much more of a consistent and defensively oriented full back allowing the attackers to play with more freedom.
Left Midfielder – Paul 'Gazza' Gascoigne – 57 Caps
Paul Gascoigne is arguably the most talented England football player ever. Gazza could operate in advanced areas as an excellent creator, dribbler and goal scorer. Making his debut in 1988, Gascoigne would go on to make 57 appearances for England scoring 10 times. Gascoigne was an inexperienced international player heading into Italia 90, however was a major part of the team laying on assists in both the group stages and knockout rounds. At Euro 96 Gascoigne played a key role guiding England to the semi finals once again. Scoring an amazing goal against Scotland at Wembley in the group stage Gascoigne was an iconic player in an England shirt. Is Gazza the last world class player England football player since 1966?
Honourable mention – Glenn Hoddle played for 20 years at the top level domestically and for 9 years internationally. Achieving 53 caps for the Three Lions Hoddle scored 8 times. He was not a replica of Gascoigne at all however still was sparkplug creating and scoring goals from an advanced playmaking role.
EUROS ICONIC MOMENTS ⚽️🏆

When Paul Gascoigne did 𝐭𝐡𝐢𝐬 at Euro 96 😲 pic.twitter.com/X8UT1M367Z

— ITV Football (@itvfootball) June 7, 2021
Centre Midfielder – Bobby Charlton – 106 Caps
The fourth member of the 1966 setup included in the side, Sir Bobby Charlton is an England legend. Certainly regarded as one of the best England football players ever, Charlton appeared 106 times scoring 49 goals for England. Charlton is also a legend at Manchester United making 606 League appearances netting 199 times. All in all Charlton played 758 times for United, a record beaten by Giggs in 2008, and scored 249 goals before leaving in 1973.  The predatory goal scoring nature of the midfielder led United to 3  League titles, 1 FA Cup and European glory. After the World Cup victory Charlton won the Ballon d'Or and is England's second top scorer in international fixtures. Charlton's place this team is undisputed as he was the best player in the most successful England team ever.
Honourable mention – Frank Lampard is the only English midfielder who could get close to matching Charlton goal scoring exploits from midfield. Netting 29 times in 106 appearances for England Lampard's attacking talents were underutilised. Lampard played between 1999-2014 for England. Spending the majority of his prime in a shoehorned England midfield which failed to get the best out of the goal scoring machine.
A great photo. Brothers Jackie and Bobby Charlton embrace at the end of the 1966 World Cup Final. pic.twitter.com/VKPWkzPeUg

— Prof Frank McDonough (@FXMC1957) July 10, 2021
Centre Midfielder – Bryan Robson – 90 Caps
Another member of the side who played the majority, 345 games and 74 goals, of their career at Manchester United. Robson played 90 times for England between 1980-1991 captaining on 65 occasions. Manager Bobby Robson regularly regarded Bryan as the best England football player during his peak years. However, he faced injuries in 1986 and 1990 World Cups. Robson's diminished role in consecutive England World Cup teams hindered the national side. Well rounded, operating in in the box to box role, Robson brought both balance and exceptional ability to the team. At club level Robson won the League title twice as well as League Cup 3 times and the FA Cup once. 
Right Midfielder – David Beckham – 115 Caps
Beckham had a spectacular career both for club and country. Appearing for some of the biggest clubs across the world, Manchester United, Real Madrid, PSG, AC Milan and LA Galaxy. Beckham epitomised the celebrity nature of footballers and was a true global superstar. Another Manchester United man, Beckham was also a member of the class of 92′ like right back Gary Neville.
Beckham played for England between 1996-2009 scoring 17 goals. The most iconic England free kick came via Beckham against Greece in 2001, rescuing a draw and ensuring England qualification into the 2002 World Cup. In 2001 Beckham was named as BBC Sports Personality of the Year and runner up in FIFA Player of the Year. A versatile player, capable of playing centrally and off the flank. He had immense technical ability including crossing, passing, dead ball delivery and dribbling. Beckham may of had a troubled relationship with the England faithful early on in his international career he has restored his legacy. A truly great England football player.
Striker – Alan Shearer – 63 Caps
Shearer was the definition of a bagsman at club level. Never playing for a British powerhouse Shearer won just one trophy, the Premier League during the 1994-95 season with Blackburn Rovers. Even though Shearer never played for a super club he still holds the record for Premier League all time top scorer with 260 goals. Shearer was a member of the Euro 96 England team that made the semi finals. Making his debut in 1992 Shearer played for just 8 years at the international level. In that time Shearer appeared 63 times scoring 30 times and captaining the national side on 34 occasions. Shearer is one of the most clinical and reliable finishers of all time and had the capacity for an outstanding strike evidenced in a Newcastle 2-1 win against Everton in 2002.
Ultimately Shearer was a definite in the best England football players team of all time due to outrageous goal scoring prowess.
Honourable Mention – Gary Lineker can certainly feel aggrieved being left out of the side. The Leicester born striker had an impressive return in an England shirt netting 48 times in 80 games between 1984-1992. A key member of the Italia 90′ side Lineker was a great attacking player. He also had a more glamorous club career than Shearer. Playing for Leicester, Everton, Tottenham. As well as a trailblazing stint in Catalonia with Barcelona.
Striker – Wayne Rooney – 120 Caps
Wayne Rooney broke onto the scene at Everton as a young teenager. By the age of 17 he had made his England debut. Rooney became a mainstay of England football in the following 15 years. Towards the end of his career Rooney dropped deeper into attacking/centre midfield position. Despite this he was still able to break Charlton's scoring record.
Wayne Rooney scored 53 times in 120 appearances for England however showed much more than goal scoring ability. Rooney had a diverse skill set that allowed him to play in any advanced role. 5 Premier Leagues, 4 League Cups, 1 FA Cup, 1 Europa League and the all important Champions League triumph later, the 17 year old prospect delivered on his promise. The bicycle kick goal in the Manchester derby is a personal highlight in the compilation of Rooney brilliance.
We hope you enjoyed this article 'The best England football players of all time'. Do you agree with our XI? Let us know!
Read more on football here: