Azerbaijan Grand Prix: Thrills and Spills in abundance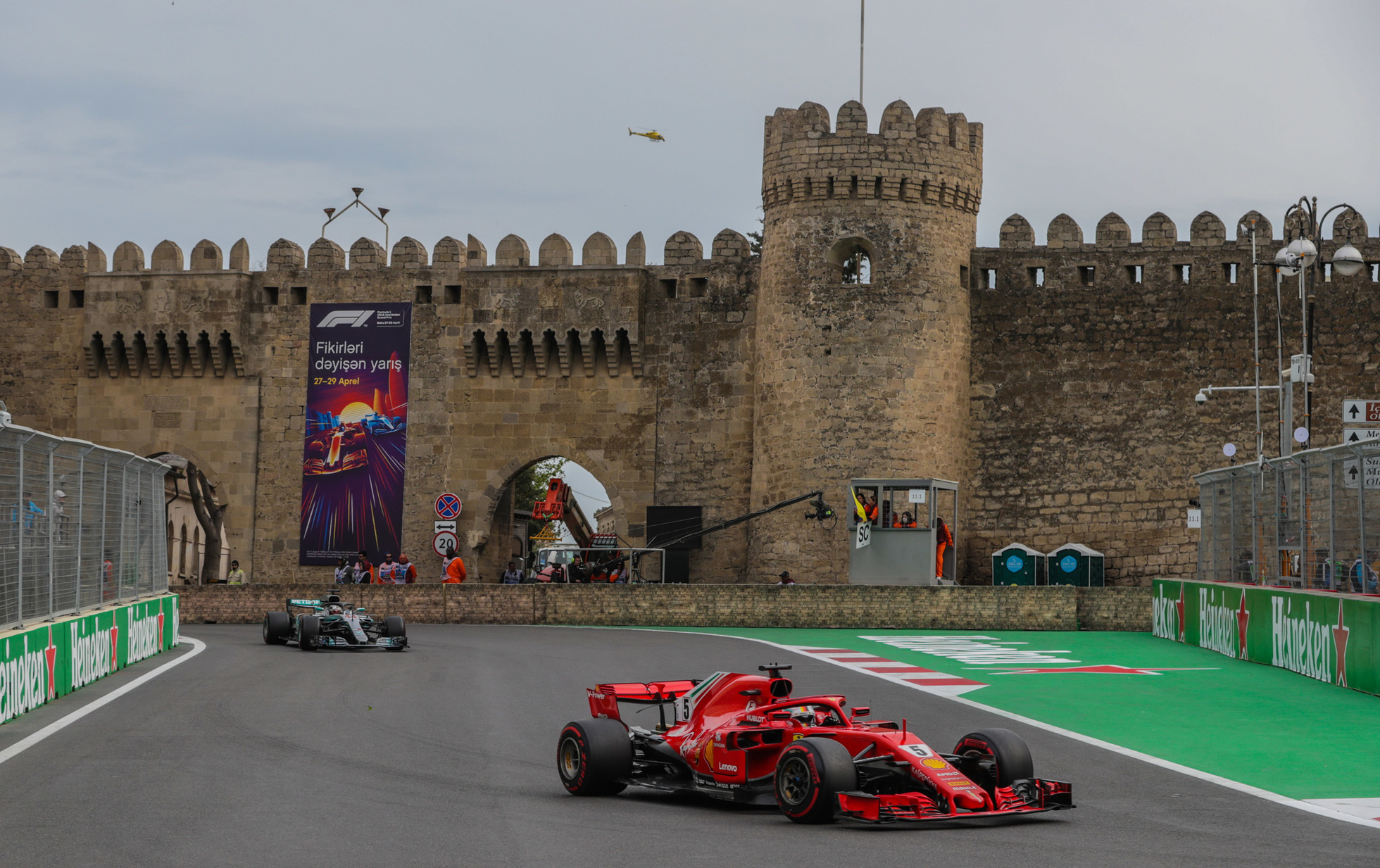 Azerbaijan Grand Prix: Thrills and Spills in abundance
Azerbaijan offered up another magnificent iteration of Grand Prix racing last weekend.
Sergio Perez triumphed ahead of Sebastian Vettel and Pierre Gasly in a spectacular event around the streets of Baku. The Mexican powered his way to his 2nd ever Formula One victory as the Championship heavy-weights failed to score points.
Red Bull emerging as the ones to beat?
Red Bull have shown speed throughout 2021. The RB16B's quest for a Championship double is gathering pace. Upon arrival in Azerbaijan, Horner's men led both classifications. Max Verstappen stood atop of the driver's standings whilst the Bulls held a 1 point advantage over the Hybrid era's standout team, Mercedes Benz.
Thus it was no surprise to see Max and Sergio topping the timesheets in Practice 1 and 2 on Friday.
Going into qualifying, Red Bull had the momentum. Ferrari showed solid pace over a flying lap and Mercedes looked to be short of time overall. Having said that, Mercedes and Lewis Hamilton become an entirely different prospect in qualifying and race specifications.
Scuderia throw caution to the wind with their approach
Charles Leclerc and Carlos Sainz keep improving and showing promise as a partnership for the Scuderia.
The two have a willingness and determination to carry Ferrari back to the front of the grid. In fact, the Italians have looked like a much-improved outfit in many facets at the start of 2021. Tactically, their decision making is more certain. Thus, when the team realised that their car would lack speed on Azerbaijan's monstrous straight, they decided to alter the rear wing. The team believed that a great result on Saturday would benefit them more than handling on Sunday – track position is everything on a street circuit.
Mattia Binotto and his engineers went for a thin rear wing. Thus, compensating for their lack of speed in a straight line but possibly compromising their ability to handle the more technical aspects of the Azerbaijan circuit.
Initially, it appeared to work a treat. In Qualifying, Ferrari placed 1st and 5th on the grid with Leclerc and Sainz respectively. Now, before the weekend, many including Ferrari themselves expected the Scarlet Red cars to battle for 4th to 8th on Sunday. Indicating a slight over-performance by Charles Leclerc, grabbing consecutive pole positions in 2021.
Unfortunately, the Italian manufacturer could not maintain their speed and pace on race day. Although, 4th and 8th is nothing to turn your nose up at. Especially considering their performances in 2020. The result also propels them to 3rd in the constructor's standings as they outscored McLaren significantly in Baku – Norris fighting with a hand behind his back currently as Ricciardo adapts to new surroundings.
Vettel finally shaken off the ghosts of his past?
Sebastian Vettel resembled his old self with a calm and composed drive around Azerbaijan's streets. The German lost his way at Ferrari when he crashed out in the lead at Hockenheim in 2018. From that point onwards, it was a downward spiral that only became more toxic as his contract negotiations broke down.
Now, at Aston Martin, the 4-time World Champion appears to have rediscovered his groove.
Two challenging circuits in two rounds and he has claimed 2nd and 5th respectively. Those are exactly the kind of performances that Aston would have expected of him. In fact, we thought that he would experience a renaissance in British racing green and finish 4th by the end of the season. This prediction looks a long way short now, but his improvement is encouraging to see.
Hamilton feels the pressure
Conversely, Lewis Hamilton succumbed to pressure as the Championship battle hots up. The 7-time World Champion overheated his brakes as the drivers approached the grid for the restart after the red flag. It was obvious that Hamilton had attempted to warm his brakes in anticipation for a dash to the first corner. Unfortunately, the number 44 overcooked it and was unable to slow his car down as the optimal working temperature for his discs was exceeded.
Thus, he thundered off the track as his Mercedes squealed and smoked to a halt.
A man of Lewis' experience would have been aware that negotiating the final laps was vital to his Championship. Verstappen was out, so any points come as a bonus. But, Hamilton went for broke in the hope of securing victory. Consistency and persistence are vital in the endurance race that is the Formula One driver's Championship. Azerbaijan proved that even a veteran can be caught out in a moment of madness.
His frustration and disappointment were evident as he sat stricken in his car after the race had concluded. There will be many opportunities for the British legend to redeem himself. However, could his failure to capitalise on a rival's misfortune prove to be title-defining?
Pirelli tyre controversy in Azerbaijan
Azerbaijan has proved to be a challenging circuit on Pirelli's rubber over the years. Valtteri Bottas suffered a blow-out when in control of the 2018 iteration in Baku. However, many people on social media and within punditry have criticised the tyre supplier for going a step too soft last weekend.
This opens an interesting debate.
Formula One has no refuelling. A rule that has stood unchanged since 2010. Now, strategy is an integral facet of the sport. Tyres and stops are the only way to truly place those strategies on exhibition. Either, the tyres need to be softer because 1-stop races are a thing of utter boredom. If possible, 1-stop strategies should be banished to a circle of hell as it has no place in an entertaining Formula One race. Having said that, there need to be more options with rubber choices.
Either, Pirelli make all five compounds open for selection and teams choose what they feel suit their needs, or, perhaps a step further? Teams should be allowed to sign deals with unique tyre suppliers to bring another aspect of competition to the sport.
Various suppliers make for varying results
Results and predictability are likely to scramble if teams are afforded the opportunity of sourcing their own rubber. Speaking hypothetically, imagine if Ferrari were on Pirelli's, Red Bull had Michelin and Mercedes were on Continentals. Should one be superior in qualifying spec then that team would hold an advantage on a Saturday. However, then their counterpart may offer a more durable option that affords their team the possibility of fewer stops on a Sunday.
"The sport must stay true to its roots" – Vettel
Sebastian Vettel verbalised his concern for the future of Formula One after Azerbaijan's chaotic conclusion. The number 5 driver stated that fans must not expect the sport to focus their energies on making the sport more of a show.
However, there is always scope for improvement.
Essentially, entertainment peaks interest. The MotoGP is experiencing a boom in spectator growth as people crave the chaos and excitement that accompanies each event. 2021 has shown a large improvement in Formula One. Although, Azerbaijan is famous for the incident-packed nature of the circuit.
The FIA and Liberty Media need to prioritise pushing the boundaries and limits of modern technology. Alongside the elite tactical acumen that purists feast upon. Those key elements make Formula One the pinnacle of motor racing.
French Riviera next up
Paul Ricard is ready to host its first event since 2019. Drivers and supporters have a weekend off next week but the action returns in full force from then onwards. A triple-header is lined up as the drivers fend off the challenge of France before consecutive weekends in the Austrian forest.
The Championship battle has been enthralling until now. Should the remainder of the season follow the example set by Azerbaijan then we are in for an absolute rollercoaster over the next six months.
We hope you enjoyed the article 'Azerbaijan Grand Prix: Thrills and Spills in abundance.' What was your favourite moment from Baku? Let us know!

Read more on Formula 1 here: