MotoGP: Fabio coasts to victory in Tuscan hills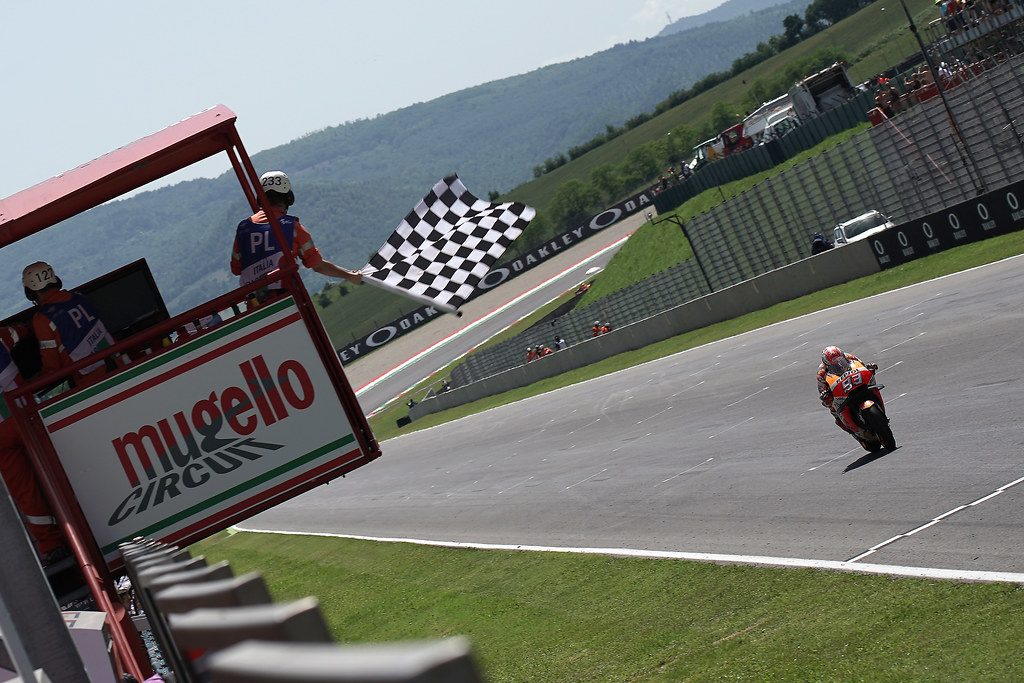 MotoGP: Fabio coasts to victory in Tuscan hills
Fabio Quartararo ended Ducati's hopes of a hat-trick in the MotoGP last weekend. Going into round six, all the momentum appeared to be with the Dukes. Jack Miller had claimed consecutive wins in Jerez and Le Mans to push himself into title contention. Such was his progress, Ducati offered him a contract extension and a ride for 2022 in the factory team. Morale was high and it was reasonable to expect another strong result for the Italians in Tuscany.
However, the weekend did not go according to plan for Ducati. We expected Francesco Bagnaia to put himself on pole and cruise to victory in the Duke's backyard. That was not the case. Fabio Quartararo demonstrated his Saturday mastery once again. Putting his bike on pole for the fourth consecutive race.
'Pecco' Bagnaia did manage to get a fantastic start and take the lead into turn one. But consistent pressure by Fabio forced an error from the young Italian and he crashed out. Handing the lead to Quartararo who delivered an absolute masterclass.
Marquez and Maverick involved in Qualifying controversy
From masterclass to possible pit-lane melee.
Marc Marquez and Maverick Vinales were involved in some qualifying controversy on Saturday afternoon. The two Spaniard's were the biggest names in the Q1 session.
All eyes were on the pair as they looked to get through to the second qualifying session.
Marc Marquez was well aware that he needed to give himself every possibility of progression. Tailing one of the forerunners gave him the best opportunity of doing so. When a rider follows a rival closely, he hopes to slipstream and shadow their racing line. Many other riders do this, in fact, Marc himself has provided a pace bike for various competitors in the past. But this particular instance has made for interesting conversation. The fact that Marc blatantly followed Maverick through the pit lane ruffled the Spaniard's and Yamaha's feathers.
Our race ended earlier than expected due to the crash, but the hardest thing today was losing a teammate, a promising youngster. Rest in peace Jason 🙏🏼#JA50N #ItalianGP pic.twitter.com/SVwoKiPmOL

— Marc Márquez (@marcmarquez93) May 30, 2021
Vinales frustrated with Fabio's form
Couple that with the reality that Fabio Quartararo is wiping the floor with his teammate and you have a ticking time bomb. A prickly situation was aggravated after Marquez progressed to Q2 whilst Vinales languished in the upper reaches of the bottom 10.
Now, Marquez was well within his rights to follow Maverick Vinales as there are no rules to suggest that this act is illegal. However, there may be some who argue in favour of it being unsportsmanlike or against the "gentleman's agreement." But, what it truly boils down to is, Maverick Vinales is unhappy with his current situation in 2021 and Marc Marquez will do anything to gain an advantage – he is a winner. Maverick needs to rediscover his form because Fabio is showing him up in a big way.
No rider likes to be outshone by his teammate on the same machinery. Having said that, Marc may have been too blatant in his behaviour. Nevertheless, it highlights that Repsol Honda's multiple Champion is still feeling his way back and is certainly quite some distance from his illustrious best.
What did you make of the scenario?
Fabio adds another pole to his growing collection
Fabio Quartararo smashed the Mugello lap record in a truly dominant fashion on his way to a fourth consecutive pole position. Despite the nature of his lap on Saturday, few believed that he would be able to convert the pole into the desired 25 points on Sunday. Ducati is remarkably good in a straight line and the start-finish at Mugello offers a great opportunity for them to demonstrate their speed.
However, the technical aspects of the Tuscan circuit flawed Ducati. 'Pecco' pushed hard at the start of the race but fell victim to a pressured error. Tumbling out of the race hurt the Dukes but then Jack Miller was almost powerless to prevent the Suzuki's and KTM's as they soared around the Australian.
'Thriller' would have been favourite – especially when you consider the Ducati dominance in Italy. Unfortunately, he had no response.
Victoryyyy !!! This one is for you JASON ❤️ pic.twitter.com/mHG0hSWqbI

— Fabio Quartararo (@FabioQ20) May 30, 2021
Suzuki and KTM on the after a slow start to 2021?
Suzuki looked a lot more like we have become accustomed to. The 2020 constructor's champions were consistently quick. Throughout the race on Sunday, it felt like a matter of time before Mir and Alex Rins reeled Oliveira and Zarco in to seal a double podium.
Fabio Quartararo was in a class of his own. Avenging his defeat on home soil by delivering a knockout punch to Ducati as the calendar moves towards more technical circuits for the upcoming events. However, Suzuki and KTM looked sharp. Oliveira opted for the hard compound on his front tyres and it worked a charm for the Portuguese rider. He and his South African teammate had strong pace after KTM's recent upgrade.
Suzuki looked superb though.
Mir and Rins actually hurt their own chances with their inter-teammate battle. Jostling for position loses valuable tenths and the pair of them were really fighting it out. Mir got the better of his teammate and made a march on Miguel Oliveira. In honesty, it looked like the KTM rider would struggle to see off their challenge. However, Alex Rins failed himself and his teammates once more. It has become a habit for the Spaniard.
Whenever he finds himself in a good points-paying position, he implodes and crashes out. Mugello was no different. Suzuki had Zarco and Oliveira on the ropes, but poor race craft saw Rins disappear into the gravel trap. Surely patience is wearing thin on his side of the garage? Joan Mir proved that consistency is key to delivering a championship.
Throwing points away is simply unacceptable.
Your #ItalianGP 🇮🇹 Podium

🥇 @FabioQ20
🥈 @_moliveira88
🥉 @JoanMirOfficial #MotoGP 🏁 pic.twitter.com/fHIbRbAfMR

— MotoGP™🏁 (@MotoGP) May 30, 2021
Catalunya on the horizon
Fortunately, Rins and Ducati have the opportunity for a quick recovery as the MotoGP World Championship resumes in Catalunya this weekend. Alex Rins will need to prove his worth as he and his Spanish teammate look for points in the second Spanish race of the season. It is unlikely that Ducati will perform on a technical circuit like the one found in Barcelona – but stranger things have happened in the world of MotoGP.
Finally, we would like to pay tribute and wish our most sincere condolences to the loved ones, friends, family and supporters of Switzerland's Moto3 rider Jason Dupasquier.
No rider should ever go out on track and fail to come home.
May he rest in peace.
We hope you enjoyed the article 'MotoGP: Fabio coasts to victory in Tuscan hills.' What was your favourite moment from the Italian GP? Let us know!

Read more on Formula 1 here: