FIFA 21: Top Ten Player Ratings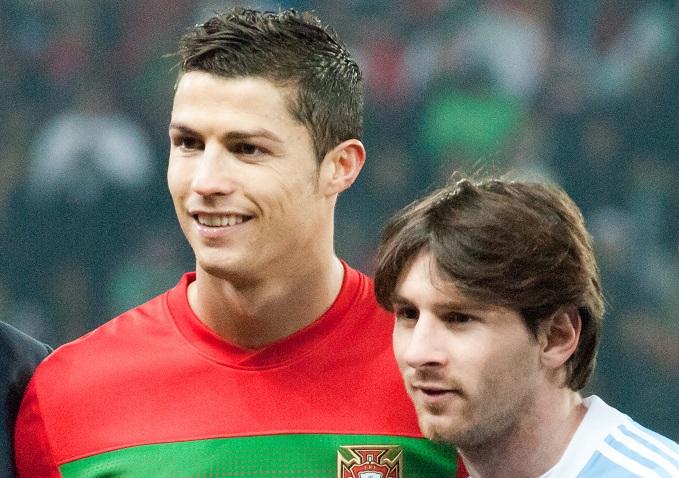 FIFA 21: Top Ten Player Ratings
One of the biggest games out there, FIFA by EA Sports, are back with their video game vehemoth, in the way of FIFA 21. To be launched in October, FIFA 21 will come with many new features and changes. From gameplay to Volta Football. Everyone waits to see who will make it into the top 10 ratings every year and there have been few changes in the Top 10 rated players in FIFA 21. Few players have dropped in rating and some have moved up based on their performance throughout the 2019/20 campaign. Let us look into the Top 10 rated players on FIFA 21
1. Lionel Messi (Ovr 93)
Lionel Messi has retained his position as the highest rated player on the game. With an overall of 93, one less than FIFA 20 (ovr 94) he still is the best player on the game. His dribbling is one of the best in the game with 95 and no player matches that dribbling number. His pace, passing and defending have a dropped by one point each. As a whole the card is obviously a good one, but whether he deserved the highest rated card is a question that remains. After looking at other players, Messi is the best deserved player to lead the line-up.
Despite being named the best player on the game and laying on 26 assists last season, Messi's passing rating was decreased… 😳 https://t.co/IwKYbfhVKp

— SPORTbible (@sportbible) September 26, 2020
2. Cristiano Ronaldo (Ovr 92)
FIFA ratings wouldn't be complete if Ronaldo is not there in the top 3. Being the 2nd highest rated player on the game again for 2nd year in a row. His overall rating has decreased by one point. With a pace of 89 and shooting of 93 he surely deserves his place in the top 3. Gameplay wise his heading was also one of the best making him one of the most desirable players in the game.
3. Lewandowski (Ovr 91)
Lewandowski, one of the best if not the best player this season, has made it into the top 3. What a jump he has made this season, from being ranked 15th in FIFA 20 to becoming the 3rd highest rated player. With a shooting of 91 and a dribbling of 86 he is the best striker in the game. His rise in this game is exceptional and having him in the team would be a boost.
Never stop dreaming. Never give up when you fail. Work hard to achieve your goal🏆💪 @fcbayern #MiaSanMia pic.twitter.com/iYTD8ROYoK

— Robert Lewandowski (@lewy_official) August 23, 2020
4. Neymar (Ovr 91)
After losing the Champions League final to Bayern Munich, and yet again falling short of European football's pinnacle, Neymar's rating was expected to drop. He has slipped from the 3rd position to 4th on FIFA 21. Neymar is still the 2nd best dribbler in FIFA 21 after Messi with 94, pace rated at 91 with a decent shooting and passing. Overall the card is far from disappointing.
5. Kevin de Bruyne (Ovr 91)
Nominated for the UEFA Best Player Award, competing with Lewandowski and Neuer for the trophy. De Bruyne was amazing this season, maintaining his world class performances throughout the season. His consistency has helped in increasing his stats but still remains in 5th position in overall ratings. 93 passing and 88 dribbling are his best figures on the card.
PFA Players' Player of the year 🏆 pic.twitter.com/5DlirRNOMG

— Kevin De Bruyne (@DeBruyneKev) September 9, 2020
6. Jan Oblak (Ovr 91)
Oblak is considered one of the best goalkeepers in the world for few seasons now. He is the backbone of the Atletico Madrid side, his performances have won them many matches. Oblak has retained his position as the 6th best rated player. The only change is seen in his reflexes which have increased to 90 from 89. Oblak is the best keeper for sure to have behind any defence.
7.  Ter Stegen (Ovr 90)
Following Oblak is another goalkeeper from La Liga, Ter Stegen. Ter Stegen's performances have been extraordinary at times, irrespective of Barcelona's underwhelming season. Even though against Bayern he conceded 8 goals, that was not entirely his fault. He now sees himself move from the 10th position to 6th on FIFA 21. His stats are all the same as well as his overall.
8. Van Dijk (Ovr 90)
The Dutch leader of the Liverpool side, Van Dijk gets his name in the top 10 with an overall rating of 90. After a fantastic season with Liverpool in the Premier League, winning the title. The early Champions League exist might have affected his rating but on an overall his stats have improved. Van Dijk in any defence would be enough for your team.
petition for virgil van dijk to be the new netherlands manager look at him go pic.twitter.com/g49RHk38A5

— ari ❦ (@lfcxari) September 23, 2020
9. Sadio Mane (Ovr 90)
What a season for Sadio Mane, his best so far. Mane was the best player for Liverpool throughout the season, scoring crucial goals and providing vital assists game to game. Mane's performance has not gone unnoticed by EA, moving from 28th position in FIFA 20 to 9th, making one of the biggest jumps in the overall ratings. His rating increased from 88 to 90, with a dribbling of 90 he is the best LW in the game.
Sadio Mané has scored more Premier League goals than Cristiano Ronaldo. 👏

🇵🇹 Cristiano Ronaldo:
🏟 Games: 196
⚽️ Goals: 84

🇸🇳 Sadio Mané
🏟 Games: 196
⚽️ Goals: 86

A ridiculous finisher and talent 🔥 pic.twitter.com/ojZPQoLTNl

— talkSPORT (@talkSPORT) September 20, 2020
10. Mohamed Salah (Ovr 90)
The last player to make it into the top 10 is Mohamed Salah. Slipping 2 places from last edition of FIFA, Mo Salah by no means had a bad season but his position on 10th is justified. His overall has not changed but his place in the top 10 has. His card still sees an improvement in dribbling and physical by 1 point each.
We hope you enjoyed this article 'FIFA 21: Top Ten Player Ratings'. Do you agree with the top 10 players in FIFA 21? If not, who do you think should have made the top 10? Let us know!
Read more on football here: